Fantôme Artist: Gaelle Boulanger
| Brasserie Fantôme
BA SCORE
82
good
14
Reviews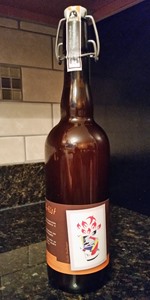 BEER INFO
Brewed by:
Brasserie Fantôme
Belgium
fantome.be
Style:
Saison / Farmhouse Ale
Alcohol by volume (ABV):
8.00%
Availability:
Limited (brewed once)
Notes / Commercial Description:
No notes at this time.
Added by BEERchitect on 04-14-2014
This beer is retired; no longer brewed.
Reviews: 14 | Ratings: 59
2.87
/5
rDev
-18.7%
look: 3 | smell: 3.5 | taste: 2.5 | feel: 3 | overall: 2.75
750 mL bottle. Pours with a ridiculous head. Deep amber body. Smells of black pepper, light green pepper, toasty malt profile. Tastes very bready, black pepper again. Kinda slick and fruity. High carbonation. Very blah.
226 characters

3.47
/5
rDev
-1.7%
look: 3 | smell: 3.5 | taste: 3.5 | feel: 3.5 | overall: 3.5
Thanks to Brad for sharing. Most of the beer exploded, though ready vessels were awaiting. Murky orange body with a thni white collar. Herbal, vegetal...garden aromas. Light medium body. Green veges, subtle onion, hints of tomato. Fantôme.
240 characters

2.84
/5
rDev
-19.5%
look: 2 | smell: 3 | taste: 3 | feel: 3 | overall: 2.5
BOTTLE: Best before end 2018. Swingtop with a paper ribbon strip over the cap. (NOTE: This is one of the only Fantome swingtop bottles I've ever seen). Imported by the Shelton Bastards. Purchased at the Barcelona BierCaB shop. Brown glass (finally, Fantome!). No size is indicated on the label, but it appears to be 750ml.
8% ABV.
Served chilled into a tulip and allowed to come to temperature over the course of consumption. Reviewed live as a saison in absence of any designations on the label (and given that Fantome's usual output is the saison style).
SWEET MOTHER OF FUCK THIS IS A GUSHER! I've never seen such an egregious explosion of liquid from a bottle before. Easily 80% of the beer was lost upon popping the fliptop; I intend to write Fantome for my money back - which is something I've never done for a beer in my life. Insane. We ended up having to clean a wall, floor, desk and ceiling because of the champagne-on-steroids blast of beer that resulted after popping this swingtop. BEWARE.
HEAD: Surprisingly, overcarbonated as it definitely is upon opening, no head forms upon pouring.
BODY: Murky turbid brown with plenty of yeast particulate plainly visible.
Looks alive, but not amazing for a saison.
AROMA: Caramel. Minerals. White pepper. Faint funkiness. Slightly spicy estery Belgian yeast. Red apple (but no cidery notes). Apple skin.
Aromatic intensity is average.
TASTE: Metallic. Mildly funky. White pepper. Coriander. Caramel. Spicy yeast. Doughiness.
Simple, but balanced I guess.
TEXTURE: Smooth, wet, Unrefreshing, medium-bodied. Overcarbonated.
OVERALL: It was hard to get past the disappointment in seeing 80% of this bottle explode on my friends' wall (and end up ruining my laptop's keyboard), but it's not a bad brew. Certainly well below par by Fantome standards.
C (2.84) / AVERAGE
1,831 characters
4.15
/5
rDev
+17.6%
look: 3.75 | smell: 4.25 | taste: 4.25 | feel: 4 | overall: 4
Definite gusher. Lost half the bottle. Muddy orange-gold color (due to said gushing). Smell and taste reminds me of the recent batch of Printemps. Sage and other spice. Slight fruit and tartness. No rubber or plastic phenols at all. Really liked this. Wish I had a full bottle!
277 characters

1.44
/5
rDev
-59.2%
look: 2 | smell: 1.75 | taste: 1 | feel: 2 | overall: 1.5
This gusher had the rare flavor profile of paint thinner aged on ashes of burned down car factories. A flavor I thought I'd never taste
I wouldn't give this beer to my worst enemy.
182 characters
4.46
/5
rDev
+26.3%
look: 4.75 | smell: 4.25 | taste: 4.5 | feel: 4.5 | overall: 4.5
750 ml swing top bottle poured into my snifter. Purchased in Vermont over the summer
A- Body is a dark, hazy, amber hue. Pours with a 3-4 finger foamy rusty white head that eventually fades to 1 finger and leaves lacing all the way down the glass. Translucency is relatively uniform and very hazy.
S- Nose is quite complex. A lot of citrus and floral hops, barnyard funk, a hint of tartness, caramel, bready yeast, peppery spice. There is a lot going on in the nose-but like any classy Belgian it is somewhat soft and balanced.
T- Flavor is a lot like the nose-very complex, yet soft and well balanced. Upfront is a lot of citrus flavor with a lot of floral hop overtones, peppery spice, a hint of caramel, a hint of funk, a slightly metallic flavor,and a solid bready yeast backbone. It is slightly tart, slightly spicy, slightly sweet. The finish adds the bitterness with a much more intense floral hop presence some more peppery spice, a hint of funk, and a hint of tartness. The fruit and caramel flavors fade and the classic fantome saison characters really come through for this finish. Left to linger is a mild to moderate floral hop bitterness, a hint of funk, a lot of spice, some tartness, and a nice bready yeast.
F- Moderate carbonation, medium weight body. Consistency is slightly juicy and big and bready. A balance of smooth and dry.
O- Overall this is a great beer. I love Fantome and I love Saisons. This is a very complex, Belgian IPA-like saison. Its very unique and unlike any other beer I have tried. I was a little concerned when I saw the 3.64 Avg on this one-but I am okay with being well above the rdev.
1,648 characters

2.93
/5
rDev
-17%
Flip top 750 from Tipples. She's a gusher. Consider me not shocked, and this will be my very last Fantome adventure. What a joke. What's left I my beer pours to my glass with 1/2 cm of beer and 6 inches of off white to yellowish head. What I can see of the actual beer part is murky deep orange. Dry funky farmhouse yeast aroma, some spices, light apples, not a lot here. Flavor is dry fruits, lots of spice in the throat, long sweet finish of pears and other sweet fruits. Some other weird stuff. Medium bodied with medium plus carbonation, prickly on the tongue. These guys are pretty disappointing again and again. I can honestly say I won't be buying another Fantome. This was a waste of $23.
696 characters
3.59
/5
rDev
+1.7%
look: 4 | smell: 3.75 | taste: 3.5 | feel: 3.5 | overall: 3.5
I purchased this in Vermont, poured chilled in a teku from the flip-top shared with tenderbranson69.
The color is deep ruby shade with thick creamy off white head frothy thick head with tons of lace clinging. The aroma has a strong phenolic scent with light spice and citrus with a slight toasted grain element. The feel is very yeast driven with light medicinal tine and low sweetness with mildly creamy body and hint of spice texure in the dry finish with moderately high carbonation throughout.
The taste is tangy up front with spicy hop and light band-aid in the taste with herbal and floral hop accents and mild toast/caramel flavor yet yeast adds an aspect that is odd but not overboard w/ burnt aspect of malt that is distracting as it warms. This is not great but I was not terribly dissapointed either just a little bit of a let down by fantome standards. I suppose it was worth a taste.
901 characters
3.76
/5
rDev
+6.5%
look: 4.25 | smell: 3.75 | taste: 3.75 | feel: 3.5 | overall: 3.75
Thanks to GRG1313 for sharing this one at his tasting.
Pours a hazy dark orange with a foamy tan head that settles to a small cap on top of the beer. Foamy swaths of lace form around the glass on the drink down. Smell is of malt, grain, fruit, funk, and earth aromas. Taste is much the same with sweet fruit, funk, and earth flavors on the finish. There is a mild amount of earth bitterness on the palate with each sip. This beer has a lower level of carbonation with a slightly crisp mouthfeel. Overall, this is a pretty good beer with nice fruit and funk qualities all around.
579 characters

4.12
/5
rDev
+16.7%
look: 4.5 | smell: 4.25 | taste: 4 | feel: 4.25 | overall: 4
Poured into Jester King wine glass.
Pours dark, reddish brown, ruby highlights. Nice two finger tan head that has great retention. Tons of lacing.
Aroma is belgian yeast, rich malt (for a saison), no real hop presence. Banana, clove, prune, minerals, and varied spices with cardamom and pepper toward the front. Best way I could describe the aroma is a cross between a banana forward hef and spicy belgian Dubbel. Very nice aroma.
Flavor, there's that fantome funk missing on the nose. Carbonic, band aid, horse collar. Slight dried fruit comes mid palate in the form prune and fig. A spicy overlay caps the flavor profile. What can I say, another ghost.
Mouthfeel is hovering below the medium range with a good carbonation level around the 70 percent mark. Really little complaints here.
Overall a slightly malt forward brew with plenty of fantome house character. Pretty easy to drink and not as weird as some can be. Imagine it will develop nicely. Looking to collect all five of the series for long time cellaring.
1,024 characters

3.92
/5
rDev
+11%
look: 4.25 | smell: 3.5 | taste: 4 | feel: 4.25 | overall: 4
750 ml flip top bottle poured into a Brasserie D'Achouffe tulip glass, poured at 55 deg F..
A: Beer pours a clear and crisp amber/mahogany reddish color with a slight tan or maybe off white head with good lacing that lingers and hangs out for a while. This is a dark beer for a Saison but looks like its going to be more malty and more along the lines of a Biere de Garde more than anything.
S: Surprisingly this has a clean malty/caramel nose with no, what I would call, Fantome character. Its slightly sweet with some dark fruits and brown sugars but besides that its a clean smelling brew considering how other Fantome beers smell. Not bad just not interesting.
T: Oh ok, here is where the beer shines. Its spicy and malty with good caramel maltyness that mingles ok with the spices. The level of malt in this almost exaggerates the spices and makes for a very spice forward brew. Not bad but balance is slightly off. There's also a slight vegetal thing going on at the beginning, not bad just another thing the spices are making more apparent.
M: Dry yet has good malt character and finishes nice and bitter with decent dryness. The finish is also very spice driven. The malt is there to reinforce the spices, which is does very well, and makes for a good desert beer. Definitely like the aftertaste and feel after sipping this brew. Its interesting and is nice to just savor and drag out for a while.
O: Not a bad beer just not like other Fantomes, however, I do like it and would/will buy more. Its a nice drag-out-for-an-hour-or-more beer on a special night when you have the time to simply focus on the beer and fully embrace it.
1,643 characters
3.53
/5
rDev 0%
look: 4.5 | smell: 3.25 | taste: 3.5 | feel: 3.75 | overall: 3.5
750ml fliptop bottle poured into a Fantome squiggle glass. The brew appears a dark amber color with orange clarity around the edges and a khaki head 3 fingers tall. A full wall of lace coats the glass.
The aroma is very malty with a pronounced herbal to citrus hopping to it. Some mineral component brings out a snap of fruited aspect. As far as Fantome offerings go, this has a somewhat clean nose that is very linear - malt, hops, carbonics, repeat.
The taste is herbal with a modest bitterness and snappy carbonic bite. Compared to how sweet this smells, the taste is surprising. It opens with caramel malt that blends to a breadiness and apple fruits and solvent alcohol before finishing bitey with bitterness as carbonic acid.
This is a medium bodied brew with a modest to lively amount of carbonation. It is strangely hoppy and carbonic yet mineral filled and fruity. What a strange hodgepodge concoction. I finished the bottle and still couldnt tell you if I liked it or not...ill need to revist this unique brew again sometime.
1,038 characters
4.2
/5
rDev
+19%
look: 4.75 | smell: 4 | taste: 4.25 | feel: 4 | overall: 4.25
Swing top 750ml bottle into Snifter. May 2014
This is one of the prettiest fantomes I've seen. It's a dark red almost brown, but not quite with a near half inch head that hangs around for days. The nose is different than I expected, but pleasant nonetheless. Very fruity and smells sweeter than I would've guessed, but that fantome funk and earthiness and minerals are there in the background and keeps inviting me back. I must have spent a couple minutes smelling this beer before I realized I hadn't sipped it yet. It is not as sweet as I expected (but in the same breath sweeter than most fantomes) and is incredibly complex. Dark fruits, candy sweet, but also there's layers of spices, bitterness, pepper and a slight tartness. This is actually awesome and I will buy more for sure as it should age quite well.
815 characters
3.87
/5
rDev
+9.6%
look: 4.25 | smell: 4 | taste: 3.75 | feel: 4 | overall: 3.75
Commemorating artist Gaelle Boulager, the "Strange Beer" painting is captured in taste by who's likely the most rustic, most authentic, and unadulturated raw brewery of Fantome.
This first in what's hopefully many in the "Artist" series is rusty in color and in shade as its yeasty haze further emphasized the browns, reds, coppers and garnets that make up its rust appearance. Billowing above is a rocky lather of foam to cap the beer like meringue. Its slight tarnish stain gives the ale a somewhat dirty appearance, yet beautifully so.
Fruit and spice waft about the glass with the character of plumb, apple and cherry. A balance of toast, peppercorn and slight clove works to perfection as this aromatic dance plays out on a toasted, caramel and nutty foundation.
Its bold caramel taste is steely and minerally as the taste of bread crust rise above its sweetness and gives dry impressions early and often. As the apple, plumb, red grape and cherry invite rose wine acidity, the middle palate counters with fresh-cracked black pepper, clove, coriander and fennel. Finishing with a growing vinous wine presence, the beer is spicy-bitter with grass and straw.
Medium-light in body, the ales malty weight is fast-fleeting, allowing the fruit-spice balance to play out on an arid malt structure, highlighting its acidic taste and chalky texture. Its champagne-like effervescence heightens the impression of alcohol heat yet keeps the ale dry, drinkable and crisp.
Playing out with a malt taste that's similar to Belgian Dubbel, this farmhouse ale might be loosely in the Belgian "amber ale" world but with a slight tilt to the dry and effervescent spice over that of fruit or candy- making it rustic, raw and unrefined. That classic clumsiness and regal refinement is what Saison is all about
1,798 characters
Fantôme Artist: Gaelle Boulanger from Brasserie Fantôme
3.53
out of
5
based on
59
ratings.