Fantôme Flop!
| Brasserie Fantôme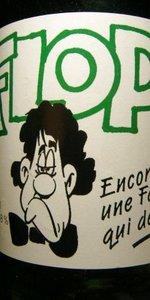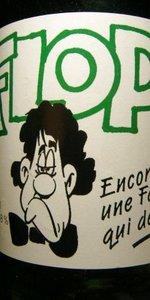 BEER INFO
Brewed by:
Brasserie Fantôme
Belgium
fantome.be
Style:
Saison / Farmhouse Ale
Alcohol by volume (ABV):
8.00%
Availability:
Limited (brewed once)
Notes / Commercial Description:
No notes at this time.
Added by TheLongBeachBum on 04-25-2004
This beer is retired; no longer brewed.
HISTOGRAM
Ratings: 7 | Reviews: 6
Reviews by Goldorak:
2.84
/5
rDev
-23.9%
look: 2 | smell: 3 | taste: 3 | feel: 3 | overall: 2.5
A leftover from my visit to the brewery a few years back, the cork was starting to look pretty bad, so expectations were low on this one. Even the label on the bottle was decrepit and worn.
Surprisingly, the cork popped with no problems, and the Beer had a surprising amount of head, although it died off in a minute or so. The looks were pretty bad, as in murky sewage brown, but at least it didn't have chunks or floaties.
The aroma was moldy cork for the most part, with maybe a little cattyness, but not the kind you get from certain types of hops.
It still tasted carbonated, but that may more from the fact that Fantômes are quite mineral by nature so it might just be an illusion on my tongue. Who knows. Anyways, it's earthy, in a cemetary dirt sort of way, and you could detect some yeast character, but it was obviously dead for a long time. Nothing in the aftertaste but cork and dust.
For an expected trainwreck, I've had plenty worse.
955 characters
More User Reviews:
3.97
/5
rDev
+6.4%
1999 vintage with blue text label poured into a matching Fantome tulip. The brew streams a clear golden copper color with a white creamy froth. A beautiful looking brew considering.
The aroma is a simple mix smelling of somewhat bland citrus mixing with a wet paper/cardboard/cork oxidative note.
The taste is earthy with oxidation like paper/cardboard playing a leading role. More sips reveal a rindy aspect somewhat zesty and bitter with a freshly cracked black pepper feel.
This is a light bodied brew with a modest amount of carbonation. By all means, I was not expecting much of this based on prior reviews but in all seriousness, this surprised me. For being 15 years old, it has really dried out leaving plenty of spice and bitter rinds. The oxidation is a bit much at times but still an enjoyable experience.
820 characters

2.9
/5
rDev
-22.3%
look: 3 | smell: 3 | taste: 3 | feel: 3 | overall: 2.5
Presentation: 750ml typical Belgium green glass bottle. Cork and Caged and purchased at the Fantôme Café for €4. Single obverse white label. In the bottom half left hand side of the label there is a black & white cartoon caricature of a bow-tie wearing chap's face, he looks decidedly sad for some reason. Above this, the word 'FLOP!' is outlined in dark green. Some wording in black print goes on to profess 'Brune plus Amère (Bitterder)' which simply means that this is a Brune plus Bitterness. Also the phrase "Encore une Fantôme Qui Dé Coiffe" appears also. Listed, like many of Dany Prignons creations, as 8.0% ABV.
Appearance: A massive release of gas accompanied the release of the firm cork (marked 2.003) as well as a lot of white gun smoke that looked to form a ghostly figure. The huge release of gas caused some serious disturbance within the beer in the bottle and a humungous and quite violent stirring of the massive amounts of sediment occurred, ruining any chances of a clear pour of the Flop! A very murky amber brown, with some dark orange hints, which was positively alive with swirling sediment. The head was large and expansive at first, but soon settled to a 2" light tan to dirty white frothy mass. Looked like liquid laxative in a glass.
Nose: Malts and light bitterness with a light acidic tingle on the nasal hairs. Very Brune for sure mixed with a healthy dollop of yeast and barnyard odors.
Taste: Starts with a thick yeast pate feel on the tongue that covers the taste buds it seems. Lots of Brune character mixed with a definitive farmyard feel that builds in bitterness towards the middle and ending. Lingering bitterness in the finish once swallowed.
Mouthfeel: I was not that impressed at all with the heavy sediment, it added a raw rasping yeasty feel in the mouth, which gave a sawdust complexion on the tongue. "Muddy" in looks and feel at times.
Drinkability: Well I was more than happy with just the one glass. I found it hard to get into this beer. One 33cl glass was enough to evaluate the beer and take some notes, especially when a bottle of the very rare Black Ghost appeared at our Table. I did however, for the sake of fairness, return to the remnants of another bottle before we left – but came to the same conclusions that I had before. Awkward at times.
Overall: I'm afraid I was not "wow-ed" by this one at all. It is certainly different, it may even need time to develop its character perhaps, but the bottle I had was very average I think, and certainly not what I expect from Fantôme. Certain people in our group tried two or more Glasses of this, and I know for sure that Flop! turned to Plop! for many of them later. I hope to try this again in the future, when it has aged slightly, though I decided against buying any bottles to bring back with me so I am not sure when I will get the chance again.
Meanwhile, it seems to me that Flop! may be a very appropriate name for this offering.
2,984 characters
3.94
/5
rDev
+5.6%
thanks so much to Stakem for sharing this with me, enjoyed chilled from a willybecker.
The color is golden apricot wth good clarity and surprising amount of carbonation visible from the pour with a white head the drops quickly.The smell has slight fruity yeast odor with mild oxidative quaity and mild spice ester with gentle malt in the background. The feel is tangy with spice and moderately carbonated wiht slight dry oxidation in the finish w/ warming alcohol.
The taste is good with some yeast flavor which is best described as tangy with a slight fruity quality with woody element and yeast giving a mild vinous flavor wth slight grainy element backing up the light herbal taste. The age is apparent as there is oxidation in the flavor with light hint of earthy pepper but it does not detract too much. Overall I was pleased with this not knowing what it was like fresh it is a pleasant saison all these years later-way better than expected at 15+ years age on it.
974 characters

4.18
/5
rDev
+12.1%
look: 4 | smell: 4 | taste: 4.25 | feel: 4.25 | overall: 4.25
Bottle shared by Stakem. Thank you, sir.
Light golden / amber body with a thin, off-white collar. Lovely aroma and flavor of well water, funk, mineral, earth. Age has served this beer well.
191 characters
4.3
/5
rDev
+15.3%
look: 4 | smell: 4 | taste: 4.5 | feel: 4 | overall: 4.5
A huge thanks to Mark for sharing this bottle. This is probably something I would have never tried otherwise. Hazy dirty orange in color with an extremely large and lasting head of foam. Aromatics of of a well pronounced fruitiness (pear, apple, peach), hints of coriander and yeast. Fruity and spiced in the flavor. Another distinct, supple and perfect saison from the Fantome brewery.
386 characters
Fantôme Flop! from Brasserie Fantôme
Beer rating:
3.73
out of
5
with
7
ratings