Fantôme Blanche
| Brasserie Fantôme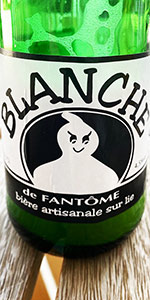 BEER INFO
Brewed by:
Brasserie Fantôme
Belgium
fantome.be
Style:
Witbier
Alcohol by volume (ABV):
4.00%
Availability:
Summer
Notes / Commercial Description:
No notes at this time.
Added by Goldorak on 12-23-2005
Reviews: 33 | Ratings: 57

4.1
/5
rDev
+0.7%
look: 4 | smell: 4 | taste: 4 | feel: 5 | overall: 4
Sampled March 2007
This beer has quite a bit of chill haze to it; the beer went into the freezer brilliantly clear, but now sits in my glass a fully hazy, orangish amber color. It is topped by an initially four-finger thick, pale off white colored head. The aroma is enticingly spicy with notes of orange, earthy spices and some dusty malt notes. There is a touch of herbal character as well as some other spice notes that are quite evident, but that I can't quite pinpoint well enough to tell what they are. Hints of dusty pepper, touches of ginger, and a spicy herbaceous character. There seems to be a touch of funk here as well, this smells in some way like a Lambic, though it could just be the spicing choice and yeast character (a taste will settle that though). The aroma is quite enticing, and I could spend quite some time just smelling this aromatic brew.
Quite light on the palate, in fact it is very light and easy drinking; eminently thirst quenching even. Somehow soft and creamy, sort of tastes like a dry orange cream soda. Lightly tart, though not overly so and it finishes with a spicy, peppery bite that has hints of ginger and arugula. This beer is really quite dry, I am not sure if there is even a hint of malt sweetness left. The peppery finish is quite interesting, it really lingers on after a sip and even tickle the throat with a hint of cayenne-like heat. There is some ingredient here that is really interesting, I can't quite figure it out. It is almost a savory flavor / quality (perhaps it is savory, though in this case the herb not the adjective I meant in the first place). Going back to the finish, perhaps it is more herbaceous than peppery (it is just a hint after all), or more correctly it seems to be some type of green herbal note that has a peppery character to it (something like arugula that I mentioned previously). This beer is also quite earthy at times, I don't mean some generic much, but instead a rich, nutrient rich loam that is peppered with mulched herbs.
Ok, this beer is just packed with complexity and it is only 4% alcohol. Plus the really light, quaffing character of this brew is just wonderful. I love it when brewers make beers with this depth of interesting flavors at relatively low alcohol levels. The spicing here is perfect too, whatever Dany did, this beer has a ton of spicy character that lies just below being recognizable. If it was not for the apparent, aromatic orange character, I would classify this more as a Saison (though historically Wits, and Saisons where really quite similar).
2,569 characters
4.04
/5
rDev
-0.7%
look: 3.5 | smell: 4.5 | taste: 4 | feel: 3.5 | overall: 4
Litle white head due to hardly any carbonisation and a pale golden and hazy beer. Nose shows some orange and wheat but is a good crossover between a lambic and a whitebeer. Bretty and sweaty but still fresh with nice sour twist. Taste is more sour and dusty and very dry. Good touching bitterness in end but only sparely dosed. Litle watery mouthfeel but overall a very refreshing whitebeer that must be very enjoyable on warm days.
432 characters
4.29
/5
rDev
+5.4%
look: 3.5 | smell: 4.5 | taste: 4.5 | feel: 3 | overall: 4.5
Got a pair of these on my visit to the brewery, and since this one only clocks in at 4%ABV, I figured I better drink them sooner than later.
Appearance: Murky banana peel yellow, head consisting of a few spots here and there.
Smell: A citrusy, pineapple funk, with a side of passion fruits and mushrooms covered in dust. Wild stuff!
Taste: Tart and sweet like pink grapefruit juice, with a weird but good yeast flavor, with a tangerine/mandarin orange sweet finish. Enjoyable and refreshing, but cooky for a "Blanche", be it Belgian or otherwise. A bit thin, but still a classic Fantôme that I could drink all day long.
629 characters
Fantôme Blanche from Brasserie Fantôme
4.07
out of
5
based on
57
ratings.