Fantôme La Piétrain
| Brasserie Fantôme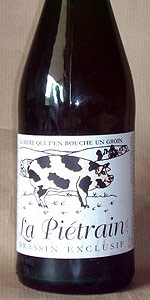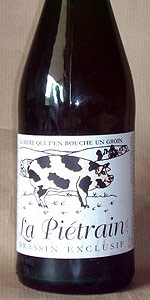 BEER INFO
Brewed by:
Brasserie Fantôme
Belgium
fantome.be
Style:
Saison / Farmhouse Ale
Alcohol by volume (ABV):
8.00%
Availability:
Limited (brewed once)
Notes / Commercial Description:
No notes at this time.
Added by Goldorak on 03-06-2006
This beer is retired; no longer brewed.
HISTOGRAM
Ratings: 14 | Reviews: 8
Reviews by ptykozoon:
4.21
/5
rDev
+1.4%
look: 5 | smell: 4 | taste: 4 | feel: 4.5 | overall: 4.5
Orange glow, ring around the glass. Reminds me of Veritas 007 - love this color, loooove it!
Lemon, funk, candy, sweets.
Very appealing - some non-beeryish people tried it and were smitten. Sweet and lightly sour, candy, peach, orange peel.
Light mouthfeel, the 8% is really truly shocking.
Wonderful beer. I would buy this all the time but will probably never have it again! Blast you Fantome! All in all a very nice lightly funky beer.
442 characters
More User Reviews:
4.09
/5
rDev
-1.4%
look: 3.5 | smell: 4.5 | taste: 4 | feel: 4 | overall: 4
Here's a short summary of my meeting with Dany the brewer at Fantôme...I walk into the barn, and he's there with a few buddies licking and sticking labels. Even though my arrival was announced in advance, he looked at me as if I came straight from outer space. "Can I take a look at the brewery?" I asked, and he said sure, walk through there, knock yourself out. so he just let me walk around his installations unsupervised. He wasn't brewing anything at the moment, but I don't think it would have changed anything if it did. Whoh that equipment looks a hundred years old if not a day. I come back, and ask "Can I buy you some Beer?". "I don't have any" he said, standing shyly in front of about 50 cases full of Beer. "How about some of those right behind you?". His secret cache discovered, he deftly replied "Those aren't ready yet..." As I assured him that I would cellar those Beers for as long as he would instruct me to, one of his cronies said "Hey, what about that box of old Beers you found last week?" My eyes lit up. "Bah, he wouldn't want those" I practically took the whole thing. 5 year-old Pissenlit, Millenium, and this one, la Piétrain, with the label showing off a pig in white with black spots like a cow, with the inscription saying "La bière qui t'en bouche un groin" loosely translated as "The Beer that will give you a snoutfull".
I asked what was the history behind this Beer, why was it made, he had no answer. It still made a nice little pop as we opened this sucker up.
Appearance: Sort of a brownish amber, the foam on top was surprisingly rich and thick.
Smell: A really special yeasty complexion that gave it a strange murkyness, with spices that ranged from celery salt to bay leaves. It reminded me of Strange ghost, but with an extra twang of funk and a bit more corky character.
Taste: Mildly sweet sanguine oranges, still showed plenty of body, the yeast spicy and long aftertaste of spent hops and calcium oxide. How does this guy do it??
1,990 characters
4
/5
rDev
-3.6%
look: 4 | smell: 4 | taste: 4 | feel: 4 | overall: 4

2.68
/5
rDev
-35.4%
look: 4 | smell: 3.5 | taste: 2 | feel: 3 | overall: 2.5
Believe it was Bobby that shared this. Thanks.
Pours cloudy yellow in color with a white head. Strong aromas of banana, lemon, and bubblegum. A bit of grass and yeast. Pretty decent, actually. A very strong and strange smoke flavor as well as some burnt plastic. Not something I would care to drink again.
306 characters

4.5
/5
rDev
+8.4%
look: 4.5 | smell: 4.5 | taste: 4.5 | feel: 4.5 | overall: 4.5
2/25/2012
Thanks for sharing! Snifter. Had this with the Amber and Blonde.
A: Hazy dark orange with a fleeting white head.
S: Peppery and floral with the suggestion of coriander. Bold stone fruit aromatics waft from the glass, redolent of peach and apricot. Ripe apple blends with pie crust and earth.
T: Lightly tart, with notes of apple, peach, lemon, and apricot. There's a little sugary sweetness that reminds me of Pixy Stix and SweeTarts.
M: Medium in body with high carbonation.
Overall: Stellar. I could drink this all day.
537 characters
5
/5
rDev
+20.5%
look: 5 | smell: 5 | taste: 5 | feel: 5 | overall: 5
750ml bottle poured into tulip
Pours pinkish orange with a tiny off white head
Smells of tart cherries and some cranberry with a great amount of barnyard funk
Taste is not nearly as tart as the nose let's on...it is all funk up front with an amazing complexity on the aftertaste....there is just so much going on, lemon grass, ripe apples, white grape
Mouthfeel is all saison and carbonation is really good for a beer that is just about 6 years old
Overall the best beer I have ever had...hands down, I wish I could get more of this stuff
543 characters
3.62
/5
rDev
-12.8%
look: 3.5 | smell: 4 | taste: 3.5 | feel: 2.5 | overall: 4
Review from notes. Thanks to Richard.
Hazy orange golden color whispy white head 3.5
Bright citrusy nose, raspberry like floral scent. Hay and a touch of funk. 4
Taste follows nose. Funky cheese like taste. Grassy and earthy bitterness. Nice lemony citrus notes. A little more bitterness than usual. 3.5
Mouthfeel thin low carbonation. Kind of a bummer. 2.5
Overall 3.5
370 characters
4.32
/5
rDev
+4.1%
look: 3.5 | smell: 4 | taste: 4.5 | feel: 4.5 | overall: 4.5
750ml bottle. do not know much about this brew except for what Goldorak's review said. nothing can really be found on the internet about it.
poured a hazy amber color with a 2-finger white puffy head. receded slowly leaving nice lacing around the glass.
aroma of light malts and grains, floral, yeasty, and citrus + that distinct barnyardy funk that all the other Fantome beers i've drank had.
taste, oddly enough, reminded me of key limes. sweet and tart. finish was yeasty with a little bit of spice and pepper.
medium-bodied. ample carbonation.
The best Fantome beers I have had so far. Much more complex and in a class of its own from the others.
if this is a 5 year old bottle, like Goldorak said, this held up very very well. tasted like a freshly bottled beer. curious how my other bottles will be --- will follow up with other reviews once opened.
861 characters

4.2
/5
rDev
+1.2%
look: 4 | smell: 4 | taste: 4 | feel: 5 | overall: 4.5
Sometimes you just stumble into a beer. 750ml into Fantôme tulip. This beer is allegedly 5 years old, but I can't tell- my label looks like it was ran over a few times.
A- Like apple juice, light enough but some orange and mild brown color to it. Head is 3-fingers, settles and sticks a bit to the glass on its way down.
S- Fantôme funk is heavy, very stinky. I can also smell orange and apple. Faint band-aid.
T- Lots of fruit- orange peel, grapefruit. Twinge of funk, sits on the tongue and lingers after the sip. Beer is sweet- very sweet. I agree with ThoreauLikeAGirl's shout out to key limes- it's pretty close. Beer kind of mellows as it warms up, the funk subsides and the fruit really opens up.
M- Slightly acidic, good tartness, lively carbonation. Really happy with how this one dances on the tongue. I much more enjoyed this as it warmed closer to room temperature. Tart on the lips, really nice.
O- Good stuff. Not sure if it's worth the hunt for some- it's not better than the classic saison, not by a long shot- but it's still a winner in my book. Really great mouthfeel of this one has won me over.
1,124 characters
Fantôme La Piétrain from Brasserie Fantôme
Beer rating:
4.15
out of
5
with
14
ratings