Fantôme La Dalmatienne (Light)
| Brasserie Fantôme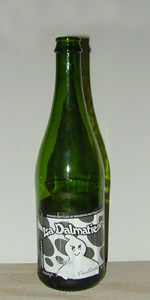 BEER INFO
Brewed by:
Brasserie Fantôme
Belgium
fantome.be
Style:
Saison / Farmhouse Ale
Alcohol by volume (ABV):
8.00%
Availability:
Winter
Notes / Commercial Description:
This listing is for the label depicting a white background with black spots.
Added by Gueuzedude on 12-27-2007
Reviews: 102 | Ratings: 162

4.38
/5
rDev
+8.7%
look: 5 | smell: 4.5 | taste: 4.5 | feel: 4 | overall: 4
Ever wonder what a $16.99 beer tastes like? Paid the outrageous price for this brew from a company that I've never heard of before... The fact that I am only the second person on this site to review it attests to its rare and exotic factor... From a 1pint, 9.4 fl oz champagne-like bottle, this beers pours a beautiful copper-brown, dark golden color with a huge head that just doesn't go away... Aroma was full of esters and alcohol with a spicy, strong, sweet smell... The sticker on the bottle depicts a white ghost, which was what caught my eye along with the eye-popping price tag...the most I ever paid for a single bottle, but what the hell - you only live once... Tastes very much like a strong golden Belgian ale... spicy, sweet taste filled with banans, fruit, esters and cloves... a unique taste, but I must say that I've sampled better brews for much less... The beer has a really good mouthfeel and goes down crisp and smooth... if it weren't for the hefty 8% ABV, drinkability would be much better, as there is a slight presence of alchol which is detectable... Otherwise, a very taste, rich, and inviting brew full of character... If you don't mind the price tag, this is definitely worth a shot...
1,213 characters

4.1
/5
rDev
+1.7%
look: 4 | smell: 4 | taste: 4 | feel: 4 | overall: 4.5
Served at about 58°F, the beer is a slow gusher that I was able to get into my glass before I lost any beer. The head, despite a very careful pour, slowly rises to five-finger in height and is a tan color with specs of dark yeast / particulates on it. The beer is quite clear, at least the liquid portions of it, which shows a pale reddish color when held up to the light, but there is also a ton of chunks floating around in the brew. This has quite a spicy nose to it and this mixes in well with interesting malt notes. Aromatic notes of clove, corn tortillas, spicy ginger, crushed caramel malts, oregano, a touch of sage, black pepper, some cardamom, milkweed, and a green vegetal note towards the end as well as some warming alcohol aromatics. Malt aromatics of soda crackers, fruity caramel notes and grassy grain are all noticeable. There is also a fair amount of fruit aromatics noticeable; I get notes of pears, apples, figs and some berry notes. As usual with a Fantôme brew, this has a very complex, layered aroma to it.
The carbonation has died down quite a bit and the beer now has a creamy texture to it that goes along with a fruit laden sweetness. Fruit notes of ripe plums, star fruit (that is at times striking), brandy soaked raisins and apple butter are all quite noticeable. The up front fruit notes are offset somewhat (but never really suppressed) by a spicy middle and finish that brings to mind flavors of white pepper, cloves, . Herbal notes of milkweed, perhaps a touch of green grass and a touch of sharp basil also add some sharpness and balance to the brew as does some sharp higher alcohol notes.
Towards the end of my first glass a sip gets a little chunky, but does not seem to effect the flavor all that much. The second pour is a bit more yeasty, both with a murky appearance and a yeast-like flavor to it. A touch more bready, but also a touch more herbal / vegetal in the finish, but on the other hand it has softened overall.
Another fantastic creation by Brasserie Fantôme. The texture of this brew is quite exquisite, despite being on the heavy side for a Saison and the distinct green, weed-like herbal note in the finish provides a nice balancing note to the heft and fruit sweetness. If this one starts to go sour it could reach phenomenal heights; even still, this is another home run, a fantastic creation, one which I will most definitely have to age a few of. One thing that does leave me wanting; what is the story behind this brew? I would really like to know why / what / how this brew came into being.
Purchased From: Plaza Liquors, Tucson AZ
2,601 characters
Fantôme La Dalmatienne (Light) from Brasserie Fantôme
4.03
out of
5
based on
162
ratings.