Fantôme La Piétrain Blonde
| Brasserie Fantôme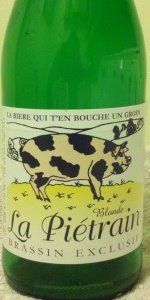 BEER INFO
Brewed by:
Brasserie Fantôme
Belgium
fantome.be
Style:
Saison / Farmhouse Ale
Alcohol by volume (ABV):
6.50%
Availability:
Limited (brewed once)
Notes / Commercial Description:
No notes at this time.
Added by mothman on 08-26-2011
This beer is retired; no longer brewed.
Reviews: 15 | Ratings: 25

4.45
/5
rDev
+14.7%
look: 4.25 | smell: 4.75 | taste: 4.25 | feel: 4.5 | overall: 4.5
2012 vintage, poured into a tulip. Powerful aroma of lemongrass fills the air... Preluding to subtle notes of honey and an underlying herbal funk. A few sips discern citrus, light grain and peppery yeast, leaving and abundance of flavor in the mouth while finishing dry. Highly carbonated and incredibly refreshing... Not uber complex but a fine offering from Fantôme indeed.
376 characters
3.94
/5
rDev
+1.5%
look: 4.5 | smell: 4.25 | taste: 3.75 | feel: 4 | overall: 3.75
750ml split with friends and poured into matching Fantome tulips. The brew appears a perfectly clear yellowish golden color with a fizzy 3 finger cap of white bubbles. Rising carbonation maintains a finger throughout the duration. A swirl effortlessly revives a finger and paints stringy fingers of lace on the glass.
The aroma is quite lemony and a touch herbal. It immediately invokes thoughts of lemon zest and zythos hops. There is a fruity quality about this and stretching to say some notes like lemon grass coupled with a grainy cereal-like sweetness. The overall aromatics are quite lemony and herbal.
The flavor has a grainy sweetness with lemon zest and herbal bitterness. A little rindy to pulpy with hints of sulfur. Some grass and earthen notes overtop a bright freshness like lemon or lime juice/zest. The bitter pulp/herbal feel of rinds lasts into the aftertaste.
This is a medium to lighter bodied brew with a moderate to fizzy amount of carbonation. This is a light, refreshing and easy drinking brew. Maybe a touch more bitter than I would have liked. If that bitterness was tempered just a little bit this would be fantastic.
1,148 characters
4.15
/5
rDev
+7%
look: 4 | smell: 4 | taste: 4 | feel: 4.5 | overall: 4.5
Bottle (2011)
Acquired via online purchase
(Aged for 1+ year)
Hazy golden yellow with a moderate-to-large, off-white, large-bubbled head: big by beer standards, small by some Fantome/saison standards. Leaves the glass oily and spotted with stick. A pretty saison.
Lots of lemon character in the aroma--dominating in fact. Notes of an earthy, though mild, funk complement the citrus and lemon notes, with just a very faint bit of sulfur as well. All comes together nicely. A bright, citrus-forward saison scent--a nice, light, vibrant way to start a tasting.
The flavor is similar to the aroma, with lots of lemon leading the way and mild, earthy funk backing it up. The tiny bit of sulfur in the aroma is completely lost in the flavor.
Thin to medium bodied with high carbonation.
Very nice, very drinkable, lemon-forward saison. Not nearly as complex or even interesting as other Fantome saisons, but, I'm a fan.
920 characters

3.65
/5
rDev
-5.9%
look: 4 | smell: 4 | taste: 3.5 | feel: 3.5 | overall: 3.5
Poured into a snifter. 2011 vintage.
4.0 A: Mildly hazed golden wheat color. Big foamy white head. I needed a few pours to get the glass full. Retention is pretty good and plenty of lacing is left.
4.0 S: Very interesting nose on this. Spruce herbalness with hints of birch. Lemon, apple, and pear fruitiness. Lemongrass, light peppery yeast, and a touch of mustiness. Through and through, this is the most "coniferous" beer I've had without it being piney. Unique, but also exceedingly pleasant.
3.5 T: Taste is a lot less sprucy, but is quite good nonetheless. Lemongrass more than lemon in the taste with apple and pear fruits still being there. Musty cardboard, but not in the bad way. Dirty earthiness, apple orchard, and dry dusty wood. Mild bitterness. Lots of generic herbalness, if that makes sense. Dry, but not super dry. This is easily the most earthy and dry of Fantome's saisons (at least of the ones I've had), but is still quite interesting.
3.5 M: Light to lighter medium body. Good moderate carbonation that is lightly spritzy. Smooth enough and fine overall, but is just missing the balance of fizzy and creamy.
3.5 D: This is probably my least favorite Fantome beer, but it's still pretty good, so that should tell you something about how I feel about the brewery. Interesting to say the least, so give it a try if you come across it.
1,359 characters
4
/5
rDev
+3.1%
look: 4 | smell: 4 | taste: 4 | feel: 4 | overall: 4
Bottle: Poured a hazy bright golden color ale with a rather large white foamy head with good retention and some good lacing. Aroma of rustic malt with light peppery yeast notes and floral undertone is quite nice. Taste is a great mix between some rustic malt notes with light spicy yeast notes with some bread and floral notes. Very light funky notes were also discernable. Body was quite full with great carbonation and no apparent alcohol. Well brewed and something I would drink more often on a hot summer day like yesterday.
528 characters

2.91
/5
rDev
-25%
look: 4.5 | smell: 3.5 | taste: 2.5 | feel: 3 | overall: 2.5
2/25/2012
Thanks for sharing! Snifter.
A: Burnished yellow gold with two fingers of dense white foam. Great retention. Great appearance.
S: Very floral with pronounced lemon notes and some wheat. Pepper-like phenols are evident. 
T: Lemon with a rough aspirin flavor. It tastes like it has smoked malt in it or something. Harsh and astringent with a very dry finish.  
M: Upper light to lower medium body.
Overall: Nice aroma but the flavor is rough. A major step down from the Amber and original.
505 characters

4.1
/5
rDev
+5.7%
look: 4 | smell: 4 | taste: 4 | feel: 4 | overall: 4.5
Opened side-by-side with the Amber
Appearance: Straw-yellow hazy pour, small amount of lacing
Aroma: Wheat, lemongrass, bit of malt and citrus
Mouthfeel: perhaps a touch lighter than the regular fantome
Overall: Good, light fantome with a touch of citrus. Very crisp. Enjoyable, I wish all of these were available all the time.
331 characters

4.25
/5
rDev
+9.5%
look: 4 | smell: 4 | taste: 4.5 | feel: 4.5 | overall: 4
Well, here we are, finally. At the end of the Fantome backlog. I told myself I wouldn't cry and I won't. Shared by Matt side by side with the other one. Served in a Fantome tulip, going to have to let that guy rest up after that.
Beer is yellow, hazy, soft white head, one finger, low retention, minimal lacing, nice carbonation.
Aroma is fruity, ferulic acid, yeasty.
Beer is light in body, sweet, light citric and other acidic flavors, minmal oakiness, funkiness. Crisp, light, airy, enjoyable. I would drink this again for sure.
534 characters
3.92
/5
rDev
+1%
look: 4 | smell: 4.5 | taste: 3.5 | feel: 4 | overall: 4
golden amber color with a huge, towering head of white that refused to part ways no matter what you did. Really just superb looking with tons of lacing down the sides of the glass and a rich and proper looking appearence. Nice elements of light clove, peach, hints of grain and fresh grasses and a nice little spicey punch to it. Warming brings out the wonderful light tart notes through the air that carry over so well into the flavor. Not over done at all, in fact it seemed to fit perfectly as the mellow sourness played off of the rich grainy and frsh flavor.
563 characters

4.05
/5
rDev
+4.4%
look: 4 | smell: 4 | taste: 4 | feel: 4.5 | overall: 4
Bottle courtesy of craytonic at the recent Fantome mega-tasting. Served in a Fantome tulip. Reviewed from notes.
Pours a slightly-hazy straw color with a good white head and some light lacing. The nose has some slight floral notes with a bit of wheat and fruit behind. The flavor has some wheat and light citrus. Light earth. Light body and crisp carbonation with a very dry finish. Very nice.
394 characters

3.38
/5
rDev
-12.9%
look: 4 | smell: 3.5 | taste: 3 | feel: 4 | overall: 3.5
From 11/05/11 notes. Bottle shared by craytonic at the mega-Fantome tasting. Poured from a 750ml bottle into my Cigar City snifter.
a - Pours a yellow color with one inch of white head and moderate carbonation evident. Looks like most of the other Fantome saisons we've opened.
s - Smells of citrus hops, spices, yeast, bready malts. Some nice citrus, but not overally strong.
t - Taste is a bit bland; some bready malts, light pepper and spice, and light citrus hops. Not bad, but pretty average.
m - Medium body and low carbonation. Pretty easy to drink.
o - Overall a pretty good saison, though the taste is a bit bland. Didn't have that Fantome funk like some of the others. Worth trying but probably wouldn't seek it out again.
737 characters

4
/5
rDev
+3.1%
look: 4 | smell: 4 | taste: 4 | feel: 4 | overall: 4
Bottle shared by craytonic. Thanks Matt.
Sampled alongside twenty other Fantôme beers.
The beer appears a light yellow hue and fairly hazy, with a small white head and some decent lacing on the snifter. The aroma offers a lot of musty funk, more than is customary in a Fantôme beer. Additional scents of citrus, floral notes, and a very present spicy aspect. Unorthodox and intriguing. Medium bodied with adequate carbonation. Though complex, intriguing, and well crafted, I found a small serving to be plenty. Abundant spice is best in small quantities. Overall, an interesting beer and certainly worth a try, should you have an opportunity.
646 characters

4.07
/5
rDev
+4.9%
look: 4 | smell: 4.5 | taste: 4 | feel: 3.5 | overall: 4
Bottle poured into a snifter.
A- Pours a cloudy yellow/orange straw color, attractive lacing and retention, white bubbly head.
S- Interesting Lemon aroma upfront, hard to pick out the different notes in this beer, hints of grassy earthy notes, spice, slight citrus aroma.
T- A lot of spice (peppery) some more unique spice flavors coming out, someone in our tasting pointed out sage as the unique spice, slight smokiness, slight citrus, the lemon was not as apparent in the flavor as it was in the aroma, rather refreshing.
M- Medium mouth feel, well carbonated, crisp finish, smoky aftertaste.
O- This was one of the more unique Fantomes at the tasting, enjoyable and refreshing, easy drinkability.
700 characters

4.3
/5
rDev
+10.8%
look: 4 | smell: 4 | taste: 4.5 | feel: 4 | overall: 4.5
790th Review on BA
Bottle to goblet
750ML
@Woodshop Classix
Thanks Kyle for sharing!!!
App- A medium colored yellow with a maybe 1/2" head to it. Dancing bubbles on the top and just a touch of cling down the sides of the glass as it falls.
Smell- When you first take a whiff it has a yeasty backbone and then a little wheat comes in. As the 1st reviewer noted a unique spice note(sage). I agree with the sentiment of the spice but can't pinpoint what it is. A bit of a funk was there just really faint.
Taste- This was a very very tasty beer. It was soft and balanced and a little dry. The yeast pockets pop at different points with a little bit of residual spice and grass flavor in each one.
Mouth- Medium bodied and medium carbonation with a touch of lemony yeast and some old cut grass remain.
Drink- As always Kyle busted something amazing out. A very tasty beer with soft balance and assertiveness when it needed it. I would love to know how he even got this but I'll just be glad I got to try it.
1,009 characters

4.22
/5
rDev
+8.8%
look: 4 | smell: 4.5 | taste: 4 | feel: 4 | overall: 4.5
Part 3 of the Fantome tasting.
Pours a 1/2 finger of white head. Color is a hazed golden orange.
Aroma: Sharp lemon-lime citrus. A slight medicinal kick. More of a farmhouse funk compared to the others. Another unique saison. Some other citrus flavors. A bit of spice in the background. Fresh wet lawn mowed grass.
Taste: A very odd spice here (maybe it's sage). Very unique. Maybe a touch of medicinal flavors. Smokey malts and a bacon flavor. The citrus flavors also show nicely here.
Mouthfeel: Smooth, crisp, and citrusy. Light to medium bodied with a good amount of carbonation. Ends a bit dry.
Overall, this was a very unique beer. It had a nice citrus profile with a very unique smokey malt profile. I definitely was impressed with this one.
764 characters
Fantôme La Piétrain Blonde from Brasserie Fantôme
3.88
out of
5
based on
25
ratings.