Fantôme Santé 7!
| Brasserie Fantôme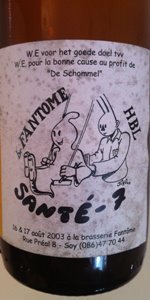 BEER INFO
Brewed by:
Brasserie Fantôme
Belgium
fantome.be
Style:
Saison / Farmhouse Ale
Alcohol by volume (ABV):
8.00%
Availability:
Limited (brewed once)
Notes / Commercial Description:
No notes at this time.
Added by stakem on 11-08-2011
This beer is retired; no longer brewed.
Reviews: 8 | Ratings: 16

3.56
/5
rDev
+2.6%
look: 4.25 | smell: 3.75 | taste: 3.5 | feel: 3 | overall: 3.5
Santé 1-19 vertical. Thanks Brad!
Clear yellowish golden body with a thin, white collar. Aromas include musty basement, rain, mineral funk, floral scents. Light tartness with summertime floral notes. A hint of white wine with vegetable / floral aftertaste. Interesting...
273 characters

3.47
/5
rDev 0%
look: 4 | smell: 3.25 | taste: 3.25 | feel: 4 | overall: 3.75
Sampled August 2013
A soft pour into my New Belgium globe glass produces only a wispy, thin, ring of a head. The beer made only a slight hiss upon opening, and is only lightly carbonated. The beer is a bright amber color that shows a brilliantly clear, copper hue when held up to the light. The aroma has a fruity tartness to it that is close to strawberries, perhaps a touch of kiwi-fruit, and a bit like apple-cider vinager; there does seem to be an acetic edge to the aroma. Some spicy, warming alcohol in the finish adds a bit to the nose, and there is also a hint of oxidized / aged, toasted malt to the aroma that has taken on caramel like notes with age. As the beer warms up the oxidized malt character becomes more expressive, though it does not become overwhelming.
Slightly sweet, definitely with quite a bit of fruit esters (ripe red plums, apple, and perhaps a touch of berry like notes), the beer also has an oxidation character that accentuates the apple cider notes, as well as contributing a hint of moist cardboard, and some stale brown cracker notes. There is a hint of herbal character here, perhaps a touch grassy, not quite lemon like, and there is a rounded earthy spiciness to the finish that provides a touch of bit. The beer is lightly tart, nothing like the nose suggested though, but it does accentuate the fruit notes here; it is too light to say what kind of acidity it might be though. The body is light and quaffable, yet still has a light viscosity to it that is brought out that much more by the very light carbonation.
Still quite drinkable, though with the smaller format bottle, and the greater age, this is a Santé that is on its way downhill. Still enjoyable though, and I am quite happy to be sipping this right now.
1,760 characters

2.22
/5
rDev
-36%
look: 2 | smell: 2.5 | taste: 2.5 | feel: 2 | overall: 1.5
Bottle at Fantome-a-thon 2012
Completely flat pour, amber in color, and no head. The nose is just off. Cider, plastic, and green vegetables all the way on the nose. Mild malt and yeast notes, a little bit funky and perfumey. The flavor is no better. The vegetal character is more pronounced and the beer is just lifeless and bland.
332 characters

3.58
/5
rDev
+3.2%
look: 4 | smell: 3.5 | taste: 3.5 | feel: 4 | overall: 3.5
From 03/09/12 notes. Thanks to Thorep429 for sharing this one.
a - Pours a hazy yellow color with one inch of white head and low carbonation evident.
s - Smells of bready malts, fruity malts, sweet molasses, earthy notes, light spice. Decent but a little sweet.
t - Tastes of sweet fruity malts, earthy notes, spices, bready malts, light sweet caramel malts.
m - Medium body and low carbonation. Easy to drink.
o - Overall a decent beer but not my favorite Fantome. Nose and taste are very sweet and fruity. Worth checking out but probably wouldn't seek it out again.
572 characters

3.5
/5
rDev
+0.9%
look: 3.5 | smell: 3.5 | taste: 3.5 | feel: 3.5 | overall: 3.5
Beer shared with Thorpe on a brewday, served in a Fantome tulip because it tastes better, don't believe me? Try it.
Beer is yellow, hazy, wispy white head, some lacing, low retention, moderate to low carbonation.
Aroma is sweet, like a fruit / caramel faro-esque aroma, musty basement.
Beer doesn't taste like it smells really, it is really musty on the backend of the beer, like dry basement air or the smell of a closed off tomb. Dry finish, sweet, mildly fruity. Interesting but I didn't love it.
502 characters

4.07
/5
rDev
+17.3%
look: 4 | smell: 4.5 | taste: 4 | feel: 3.5 | overall: 4
Bottle courtesy of drabmuh. Served in a Fantome tulip.
Pours a nice golden-peach color with a good head and a bit of lacing on the way down. Collar throughout. The nose carries plenty of tropical fruits, pineapple, and some light acidity. A bit of earthy funk, but the focus is mainly on the fruit. Taste is similar, but not quite as integrated as the nose. Mouthfeel is light and fairly-crisp, though the finish is a bit old and musty. Still quite good, however. Really a nice brew.
484 characters
3.5
/5
rDev
+0.9%
look: 3.5 | smell: 3.5 | taste: 3.5 | feel: 3.5 | overall: 3.5
Bottle: Poured a murky dark beige color ale with a large foamy head with good retention and light lacing. Aroma consists of light spices and loads of funky notes. Taste is a mix between some light spices and a semi-sweet Belgian malt base with some weird funky notes. Body is quite full with good carbonation. This beer has unfortunately seen better days though still quite an interesting experience overall.
408 characters
4.4
/5
rDev
+26.8%
look: 4.5 | smell: 4.5 | taste: 4.5 | feel: 4.5 | overall: 4
Small, 33cl brown bottle (2003) poured into my matching Fantôme tulip. This brew appears a sort of hazed golden copper color that is strikingly similar to a tea cooler. A frothy white cap forms with a finger's strength and slowly fades leaving some spots and fingers of lacing effect on the glass. Despite the most careful of pours, a bit of particulate finds its way into my glass. A light swirl revives a finger of white creamy head back to the surface.
The smell of this brew invokes thoughts somewhat reminiscent of the standard saison but with an extra dark fruity kick of something along the lines of apple or pears. Maybe even a hint of prunes included as well. More sniffs reveal a light indication of tea-like herbal quality with a bright vinous touch. Towards the back of the nose are some light touches of oxidation mixed with some cheesy funk. And finally the 8% abv makes a slight appearance with a tingle to the nose.
The taste is a bit funky and earthy with a fruited touch somewhat like prunes with a herbal, mild astringent kick of something along the lines of tea. Light oxidation is noticed with a faint cardboard flavoring that blends into a flavor reminiscent of toasted rye. As the brew is swirled around in the mouth, there are some lemony fruited notes, lightly lactic that are tart and some funk that is a little musty almost like moist cork and a hint of tobacco, earth and smoke. Very peculiar how seemingly each sip goes off in a different direction of flavoring.
This is a medium bodied brew with a modest level of carbonation. It has a slick almost creamy feel to it that coats the tongue. It has a broad array of character that is quite interesting in the usual fantome way. This was an enjoyable experience and something I would seek out if you had the chance. It isn't until half way through the glass that the 8% starts to be felt with a warmth down the back of the throat.
1,911 characters
Fantôme Santé 7! from Brasserie Fantôme
3.47
out of
5
based on
16
ratings.