Fantôme La Dalmatienne (Dark)
| Brasserie Fantôme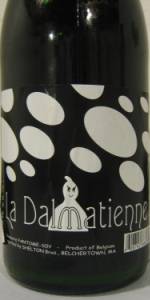 BEER INFO
Brewed by:
Brasserie Fantôme
Belgium
fantome.be
Style:
Saison / Farmhouse Ale
Alcohol by volume (ABV):
8.00%
Availability:
Rotating
Notes / Commercial Description:
This listing is for the label depicting a black background with white spots.
Added by Thorpe429 on 11-15-2011
Reviews: 33 | Ratings: 71

3.78
/5
rDev
-4.8%
look: 4 | smell: 3.5 | taste: 4 | feel: 3 | overall: 4
Bottle at a recent Fantome mega-tasting. Served in a Fantome tulip. Reviewed from notes.
Pours a hazy dark brown with a thin tan head. The nose has a light chocolate character with a bit of roast and earth. Some herbal character there as well. The flavor is full of chocolate with light herbal spices and roast. Finish is dry. The herbal character is odd here. Light body with moderate carbonation. Decent enough, but an off finish.
435 characters
3.78
/5
rDev
-4.8%
look: 4 | smell: 3.5 | taste: 4 | feel: 4 | overall: 3.5
Reviewed from notes and shared with bpk59.
A - Poured into a Duvel tulip a nice slightly hazy reddish amber with a nice one finger offwhite head.
S - Rather shockingly sweet and spicy. This is a saison? Lots of carmel and some slight fruits. Really odd for me.
T - Taste is only slightly better. Gettign some fruit (green apple) and spice notes. A bit of bubblegum too with some molassess as well.
M - Mouthfeel is fairly nice with good carbonation. Nice and light on the tongue.
O - Overall I felt this was a good beer, but just paled in comparison to the original Fantome. Would rather have a bottle of that for less.
624 characters
3.77
/5
rDev
-5%
look: 4 | smell: 3.75 | taste: 3.75 | feel: 3.75 | overall: 3.75
Stomp when opened, good sign.
Nice amber orange color with a huge beige fluffy head with medium retention.
Aroma with notes of oranges, lots of mint, brown sugar, booze and caramels.
Flavor with vinous notes, lots of berries, pineapple and coconut, mint, herbal hops, caramel and slightly toasted malts, mild spices and oxidized apples.
Medium towards full body with medium carbonation. A bit sticky and its alcohol of 8% abv is definitely there.
Very sweet and fruity Saison like they had fermented just fruits, hoppier than average and with an incredible and diverse complexity. I found it a bit too sweet and boozy, though. Not that easy to drink the full bottle.
666 characters
3.7
/5
rDev
-6.8%
look: 4 | smell: 4 | taste: 4 | feel: 3 | overall: 3
Gift fom Geuezedude, thanks a bunch. Pours a four finger cream-tan head over a cloudy red-brown liquid. Smells lemon sour, orange oils, rye, dried hay, candi-sugar, mild alcohol, and some Brett.
Tastes caramel sweet, candi sugar, red fruits, and rounded phenolic. I don't know what that phenol is, but it is one of the most unpleasant flavors I've ever encountered. I find it in belgian-styled beer from time to time and just think it's hideous. Most people don't mind it, in fact, my wife thinks it adds an interesting dimension. Bleech. Chalky toffee, pear juice, old italian herbs (yes, in an unpleasant way), mild peppery, and finishes with a dash of lemony tart. Md-light body with some creaminess. Strong carbonation can't lift the sweet from the palate like I'd expect from a saison. Complex, but misses on the 'lightness' factor of a saison. Rated to style, not my taste preferences.
892 characters
3.68
/5
rDev
-7.3%
look: 4 | smell: 3.5 | taste: 3.5 | feel: 4 | overall: 4
Poured from corked 750 ml bottle
A- Dark amber with 1 inch head that settles to a nice thin layer.
S- Ripe cherries, Green apple, minerals
T- Very unsual. Starts off acidic, fresh apple, bitter but than slowly moves into caramel, dark fruit and a bitter chocolate cigar finish. High alcohol is noticeable.
M- Starts off subtle, carbonation kicks in and finishes nicely.
O- This falls into that proverbial category of "good beer".
Serving type: bottle
Reviewed on: 08-29-2011 04:57:34
491 characters

3.68
/5
rDev
-7.3%
look: 4 | smell: 3.5 | taste: 3.5 | feel: 4 | overall: 4
Appearance: Dark pour with a smallish tan, minimal lacing
Smell: Sweet bready malts with herbs and roast, touch of chocolate
Taste: Similar to the aroma, chocolate, herbs, sweet bread malts, touch of earth and fantome funk
MOuthfeel: Medium body, typical fantome
Overall: Alright, not one of my favorite fantomes.
317 characters

3.53
/5
rDev
-11.1%
look: 4 | smell: 3.5 | taste: 3.5 | feel: 3.5 | overall: 3.5
A-Pours hazy dark brown with over an inch of fluffy pollen yellow/off white head. Leaves spotty,, sticky lacing.
S-That old familiar grassy, earthy Fantome funk. Pond water, musty old wood, a fruit aroma that's hard to place. Maybe cherry juice?
T/M-Medium bodied with moderate carbonation and a dry, hoppy finish. Fairly nondescript. Tastes like a Belgian amber spiked with saison yeast. Dry, earthy hoppiness brings the finish to a screeching halt, obliterating everything that came before it.
O-Not one of Fantome's best. I've come to expect great things from this brewery, as almost everythihg I've had from them has been creative, complex and packed to the brim with funk. This was bland in comparison.
710 characters

3.53
/5
rDev
-11.1%
look: 4 | smell: 3.5 | taste: 3.5 | feel: 3.5 | overall: 3.5
Bottle shared by Thorpe429. Thanks Mike!
Sampled alongside twenty other Fantôme brews.
The beer has a muddy brown appearance with a thin, tan head. Aromas include earth, funk, dank yeast, as well as some herbal and floral notes. Decent flavor, though like La Dalmatienne blonde version, not among my favorite Fantôme brews of the evening. Earth and herbs come through quite a bit. Medium bodied. Overall, worth a try, but not something I would seek out again.
463 characters
Fantôme La Dalmatienne (Dark) from Brasserie Fantôme
3.97
out of
5
based on
71
ratings.