Fantôme La Dalmatienne (Dark)
| Brasserie Fantôme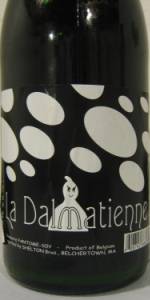 BEER INFO
Brewed by:
Brasserie Fantôme
Belgium
fantome.be
Style:
Saison / Farmhouse Ale
Alcohol by volume (ABV):
8.00%
Availability:
Rotating
Notes / Commercial Description:
This listing is for the label depicting a black background with white spots.
Added by Thorpe429 on 11-15-2011
Reviews: 33 | Ratings: 71

4.25
/5
rDev
+7.1%
look: 4.25 | smell: 4.25 | taste: 4.5 | feel: 3.25 | overall: 4.25
A - Burgandy/copper, finger of light pinkish head, dissipates quickly
S - Sour grape, lemon, cranberry, raspberry
T - Initial: Sweet raspberry, grape, lemon. finish is a sour grape, spices, bitter hop level (1/10)
M - real light, light body
O - Very good. Great sweet and sour notes. Dark sour grape is wonderful. do wish it was thicker.
★
341 characters

3.53
/5
rDev
-11.1%
look: 4 | smell: 3.5 | taste: 3.5 | feel: 3.5 | overall: 3.5
A-Pours hazy dark brown with over an inch of fluffy pollen yellow/off white head. Leaves spotty,, sticky lacing.
S-That old familiar grassy, earthy Fantome funk. Pond water, musty old wood, a fruit aroma that's hard to place. Maybe cherry juice?
T/M-Medium bodied with moderate carbonation and a dry, hoppy finish. Fairly nondescript. Tastes like a Belgian amber spiked with saison yeast. Dry, earthy hoppiness brings the finish to a screeching halt, obliterating everything that came before it.
O-Not one of Fantome's best. I've come to expect great things from this brewery, as almost everythihg I've had from them has been creative, complex and packed to the brim with funk. This was bland in comparison.
★
710 characters

4.38
/5
rDev
+10.3%
look: 4.5 | smell: 4 | taste: 4.5 | feel: 4.5 | overall: 4.5
Bottle marked b/J(#3)(hahaha!)/14. I'm betting that this is fairly fresh. Poured at cellar temp into a Founders snifter.
A - Pours a ruby brown with a thick off-white head. Looks good. Thick lacing remains.
S - !!!! Strawberries, raspberries, light background malts. Really just a burst of fruity aromas. Slight hay and Saison spices. I had the aroma higher, but after a few minutes the smell took on a dirty, musty, sandy water aroma.
T - Tart, unnamed fruity malts upfront, then the raspberry comes through. Some of the traditional Saison spices as well as hay appear in the back 1/2. Mild fruity tartness is from start to finish; nothing abrasive, but like a near-ripe strawberry and raspberry coming together. Nearly perfect.
M - Medium, thicker for the style.
O - I was thoroughly impressed. I didn't expect so much fruit, or any fruit, at all. Strawberries take off and then raspberries take over. This reminds me in some ways of their classic Saison. I'd have to do some digging to find who sent this to me, but I'm beyond thankful. Simply amazing, now I need to pour the rest and take the dogs outside on this hot day.
EDIT - Fantome has been known for batch/bottle variation. After reading some reviews below, I'm certain that this is a great example of the variation.
★
1,285 characters
4.33
/5
rDev
+9.1%
look: 4.5 | smell: 4 | taste: 4.5 | feel: 4 | overall: 4.5
Originally reviewed on 4.11.2010
Poured from a capped 750mL bottle into my tulip glass. The bottle says "Belgian Blond Ale," so I am not sure that this should be called a saison.
When poured with a delicate touch, a big and ample 2-finger head collects atop the caramel coppery body of the beer, even as the beer doesn't reach the convergent/divergent transition in my tulip. Even after the head subsides, a quick swirl recreates the creamy cap that appeared after the pour. Lacing is spritzy and comes in little groups of spotty bubbles.
The aroma is full of brettanomyces funk, but it is unique in my experience, as La Dalmatienne is also characterized by a sweet maltiness in the smell. Sour cherries also come along for the ride. Digging deeper, other fruity esters come through - apricot and pears mainly. There is also, obviously, that barnyard scent that Fantome does so well. The palate brings on a big malty sweetness that is nicely balanced by the bretty funk and slight sourness. The sourness isn't acidic, and is very pleasant. The fruity esters really add a lot to the beer, and they make the malty sweetness find its place nicely.
The mouthfeel is full, but still lightly carbonated, even though there are tons of bubbles that seem to impregnate the entire body. There is a creamy quality to the finish, and the fruity esters and sweetness linger on the palate.
★
1,379 characters
4.08
/5
rDev
+2.8%
look: 4.5 | smell: 4 | taste: 4 | feel: 3.5 | overall: 4.5
750 ml bottle poured into a pint glass.
A - a gorgeous copper brown body with three fingers of foamy vanilla colored head that lingers real well and laces the glass beautifully.
S - notes of grain, caramel, yeast and a whole bunch of spices/herbs in the back. a good inviting nose.
T - theres some sweet malts up front grain and cracker notes followed by a nice citrus bite in the back which leads into just spice/herb bittering madness. its damn good. noticing a bit of a molasses after taste as well.
M - closer to medium bodied than most saisons as this is a winter brew. it seems almost coarse on the tongue. lots of bubbly carbonation in there as well.
O - this is a superb saison and quite glad i made the detour this past weekend to pick it up.
★
756 characters

3.97
/5
rDev 0%
look: 3.5 | smell: 4 | taste: 4 | feel: 4 | overall: 4
The review below has been moved over to the "dark" version now that there are two available to review.
Lot B, best by July 2014, into a tulip.
Cloudy ruby-brown color, decent head, some lacing.
Smells like candi sugar, some darker malt, apple and other fruit.
Taste has strong notes of chocolate and green apple; as it warms, it becomes heavy on candi sugar and a musty apple character.
Mouthfeel is smooth and medium. Not as carbonated as you might expect.
This is a good twist on a saison, with the chocolate notes. Could do with a bit less candi sugar. Fantome makes better beers, but that doesn't mean this one is bad. It's pretty complex.
★
649 characters
3.68
/5
rDev
-7.3%
look: 4 | smell: 3.5 | taste: 3.5 | feel: 4 | overall: 4
Poured from corked 750 ml bottle
A- Dark amber with 1 inch head that settles to a nice thin layer.
S- Ripe cherries, Green apple, minerals
T- Very unsual. Starts off acidic, fresh apple, bitter but than slowly moves into caramel, dark fruit and a bitter chocolate cigar finish. High alcohol is noticeable.
M- Starts off subtle, carbonation kicks in and finishes nicely.
O- This falls into that proverbial category of "good beer".
Serving type: bottle
Reviewed on: 08-29-2011 04:57:34
★
491 characters
4
/5
rDev
+0.8%
look: 4 | smell: 4 | taste: 4 | feel: 4 | overall: 4
Poured from a 750ml into my Stone IRS tulip. (Dated Best Before July, 2014). Pours a slightly hazy amber color (not what I was expecting) and about 3/4 finger of off-white head. A whole bunch of persistent little bubbles keep rising to keep the film alive. Laces very nicely. Really interesting smells going on. A slight sulphur and skunk smell up front. Then there's a really interesting funkiness (much like a Flanders red). A little sweet and sour sauce action up my nose. Tart cherry. On the palate, very unique. Maybe some bell pepper/cucumber/apple combination. Grassy. Very very bitter finish. It lingers for a long while and seems to grow almost to an unpleasant level. Almost like chewing on grapefruit pith. Very different. Mouthfeel is very drying, prickly bubbles. Incredibly unique beer. Glad I got to try this one.
★
828 characters
Fantôme La Dalmatienne (Dark) from Brasserie Fantôme
3.97
out of
5
based on
71
ratings.