Fantôme La Dalmatienne (Dark)
| Brasserie Fantôme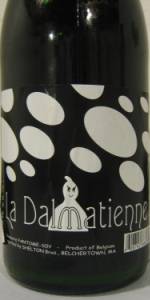 BEER INFO
Brewed by:
Brasserie Fantôme
Belgium
fantome.be
Style:
Saison / Farmhouse Ale
Alcohol by volume (ABV):
8.00%
Availability:
Rotating
Notes / Commercial Description:
This listing is for the label depicting a black background with white spots.
Added by Thorpe429 on 11-15-2011
Reviews: 33 | Ratings: 71
4.59
/5
rDev
+15.6%
look: 4 | smell: 5 | taste: 4.5 | feel: 4.5 | overall: 4.5
Had to move this review, originally had this sometime during the summer of 2011.
750ml shared by the one, the only, cbutova. Always interested in trying a new Fantome and this one blew away my expectations.
Pours a hazy light brown, off-white head retains decently as a cap leaving spots of lacing here and there.
An awesome, totally unique scent. Sweet, funky, spicy lemonade, grassy fields filled with flowers, weird tartness.
The flavor brings similar uniqueness/awesomeness. Pear, apple, lemonade, flowers, lime, some dark fruit, grassy/hay/yeasty notes balance it out. Slight mint?, unidentified spices.
High carbonation, good full mouthfeel, no booze, refreshing.
With Fantome you always get an experience for sure and this is one of the more memorable beers I've had in some time. Hard to picture this as a winter beer, all the tart light fruit and flowers made this perfect for a summer day.
906 characters
3.7
/5
rDev
-6.8%
look: 4 | smell: 4 | taste: 4 | feel: 3 | overall: 3
Gift fom Geuezedude, thanks a bunch. Pours a four finger cream-tan head over a cloudy red-brown liquid. Smells lemon sour, orange oils, rye, dried hay, candi-sugar, mild alcohol, and some Brett.
Tastes caramel sweet, candi sugar, red fruits, and rounded phenolic. I don't know what that phenol is, but it is one of the most unpleasant flavors I've ever encountered. I find it in belgian-styled beer from time to time and just think it's hideous. Most people don't mind it, in fact, my wife thinks it adds an interesting dimension. Bleech. Chalky toffee, pear juice, old italian herbs (yes, in an unpleasant way), mild peppery, and finishes with a dash of lemony tart. Md-light body with some creaminess. Strong carbonation can't lift the sweet from the palate like I'd expect from a saison. Complex, but misses on the 'lightness' factor of a saison. Rated to style, not my taste preferences.
892 characters

4.54
/5
rDev
+14.4%
look: 4 | smell: 5 | taste: 4.5 | feel: 4 | overall: 4.5
Originally reviewed 07/31/11, moved over to this profile for obvious reasons.
A mysterious beer, couldn't find much info about this one.
A- Amber-brown body with a fizzy, bubbly head that forms up to a pretty nice size and has decent retention. No lace on the glass once the head fizzes out.
S- A prevalent fruit note that I can't quite name, juicy exotic peach type feel. Citrus fruit, lavender, floral and more fruit notes.
T- Similar to the nose but with more spice and a bit less fruit. The base has a solid Belgian Strong Dark feel. The unnamed fruit, lemon zest, floral lavender, slight hay barnyard, caramel, oak and raisin make for a complex experience.
MF- Fizzy bodied with high, silky carbonation. Some spice bitterness.
A very interesting, unique beer with flavors I have a hard time putting into words. Great fruit with a good Belgian Strong Dark base.
871 characters

3.53
/5
rDev
-11.1%
look: 4 | smell: 3.5 | taste: 3.5 | feel: 3.5 | overall: 3.5
Bottle shared by Thorpe429. Thanks Mike!
Sampled alongside twenty other Fantôme brews.
The beer has a muddy brown appearance with a thin, tan head. Aromas include earth, funk, dank yeast, as well as some herbal and floral notes. Decent flavor, though like La Dalmatienne blonde version, not among my favorite Fantôme brews of the evening. Earth and herbs come through quite a bit. Medium bodied. Overall, worth a try, but not something I would seek out again.
463 characters
4.33
/5
rDev
+9.1%
look: 4.5 | smell: 4 | taste: 4.5 | feel: 4 | overall: 4.5
Originally reviewed on 4.11.2010
Poured from a capped 750mL bottle into my tulip glass. The bottle says "Belgian Blond Ale," so I am not sure that this should be called a saison.
When poured with a delicate touch, a big and ample 2-finger head collects atop the caramel coppery body of the beer, even as the beer doesn't reach the convergent/divergent transition in my tulip. Even after the head subsides, a quick swirl recreates the creamy cap that appeared after the pour. Lacing is spritzy and comes in little groups of spotty bubbles.
The aroma is full of brettanomyces funk, but it is unique in my experience, as La Dalmatienne is also characterized by a sweet maltiness in the smell. Sour cherries also come along for the ride. Digging deeper, other fruity esters come through - apricot and pears mainly. There is also, obviously, that barnyard scent that Fantome does so well. The palate brings on a big malty sweetness that is nicely balanced by the bretty funk and slight sourness. The sourness isn't acidic, and is very pleasant. The fruity esters really add a lot to the beer, and they make the malty sweetness find its place nicely.
The mouthfeel is full, but still lightly carbonated, even though there are tons of bubbles that seem to impregnate the entire body. There is a creamy quality to the finish, and the fruity esters and sweetness linger on the palate.
1,379 characters
4.1
/5
rDev
+3.3%
look: 4 | smell: 4 | taste: 4 | feel: 4 | overall: 4.5
750mL bottle, capped but not corked, bought 2 months ago at City Beverage for $15.39. I've been sorta saving it, and then last night I heard that Dany Prignon might be closing Fantome. Hopefully just propaganda, but it got Fantome in my head and here I am.
Nothing on the bottle to describe what went into this beer, just the standard Fantome "regular" saison descriptions on the label. Shooting blind, here goes. The beer is dark reddish copper, more red than other Fantome saisons, with some good sized floating yeasty chunks. The aroma is very one-of-a-kind, not the normal Fantome funk but rather kinda fruity. It smells a lot like some sweet-tart like candy I had as a kid, I can't quite place it, but the general adjectives would be chalky and fruity-sweet. A little bit of wood, cedar or redwood) and leather, but mainly sweet tart candy.
This tastes really sweet, sweet malts and esters with just a little tartness and chalk in the aftertaste. The overall result is flavorful and tasty, but not really as good as the regular Fantome, Printemps, Hiver, and Automne. I guess I just like my Fantomes more funky.
Medium body, no noticeable alcohol, goes down like liquid candy. Which it might in fact have, it seems sweeter than just malts alone would make it, probably there's candi sugar in this beer too. Very good, but I'm not too sad that this one is somewhat rare. As long as Dany stays open and makes the regular Fantome I'll be happy.
EDIT: I just got a beermail from Dany indicating that he has no plans to stop brewing. It was just a rumor, thank God.
1,569 characters

3.53
/5
rDev
-11.1%
look: 4 | smell: 3.5 | taste: 3.5 | feel: 3.5 | overall: 3.5
A-Pours hazy dark brown with over an inch of fluffy pollen yellow/off white head. Leaves spotty,, sticky lacing.
S-That old familiar grassy, earthy Fantome funk. Pond water, musty old wood, a fruit aroma that's hard to place. Maybe cherry juice?
T/M-Medium bodied with moderate carbonation and a dry, hoppy finish. Fairly nondescript. Tastes like a Belgian amber spiked with saison yeast. Dry, earthy hoppiness brings the finish to a screeching halt, obliterating everything that came before it.
O-Not one of Fantome's best. I've come to expect great things from this brewery, as almost everythihg I've had from them has been creative, complex and packed to the brim with funk. This was bland in comparison.
710 characters

3.78
/5
rDev
-4.8%
look: 4 | smell: 3.5 | taste: 4 | feel: 3 | overall: 4
Bottle at a recent Fantome mega-tasting. Served in a Fantome tulip. Reviewed from notes.
Pours a hazy dark brown with a thin tan head. The nose has a light chocolate character with a bit of roast and earth. Some herbal character there as well. The flavor is full of chocolate with light herbal spices and roast. Finish is dry. The herbal character is odd here. Light body with moderate carbonation. Decent enough, but an off finish.
435 characters
Fantôme La Dalmatienne (Dark) from Brasserie Fantôme
3.97
out of
5
based on
71
ratings.