Fantôme Clos Preal 2011 (Batch 2)
| Brasserie Fantôme
BA SCORE
84
good
10
Reviews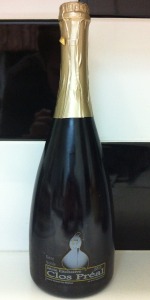 BEER INFO
Brewed by:
Brasserie Fantôme
Belgium
fantome.be
Style:
Bière de Garde
Alcohol by volume (ABV):
10.00%
Availability:
Limited (brewed once)
Notes / Commercial Description:
Gold foil.
Added by stakem on 04-09-2012
This beer is retired; no longer brewed.
Reviews: 10 | Ratings: 27
4.14
/5
rDev
+12.8%
look: 4.25 | smell: 4 | taste: 4.25 | feel: 3.75 | overall: 4.25
750 mL bottle poured into Duvel tulip glass
2011 batch, label says bbef 2016 (I assume that's best before 2016)
A: Cloudy, creamy orage-copper color, the pour produces a big, soda-like head that quickly recedes, leaving no lacing.
S: The nose is of ripe fruit and citrusy esters. A lot of earth and oak, as a little funk edges the bouquet. On a quick whiff it reminds me of orange juice that's been left out for a few hours.
T: Comes across quite different on the palate. Some of the ripe fruit and citrus is there, but it's more funk-forward. Oaky and dry mid-sip, with grassy undertones. As it closes, there's a smooth, toffee-sweetness rounds the flavors, leading to a medium finish.
M: Medium-light complexion, very well carbonated from the extended bottle conditioning.
This beer held up really well after extended aging. The smooth sweetness toward the finish was surprising and ramped up the brew's drinkability. I'd say I'd drink this again, but it looks like this was a one-off.
1,006 characters

4.08
/5
rDev
+11.2%
look: 4.5 | smell: 4 | taste: 4 | feel: 4.5 | overall: 4
Word to the wise...pour slowly
The beer pours a hazy orange with a huge plume of an off-white head. There is great lacing, head retention, and a touch of sediment floating along the bottom. As you near the bottom the yeast becomes a lot denser mimicking cirrus clouds in my glass. The nose is a refined bitter-yeastiness with spices that complement the beer's well hidden ethanol. The taste is both sweet and yeasty with good spice character and a hint of ethanol. The mouthfeel is exceptionally balanced with very few off flavors...slightly rindy lemon/grapefruit bitter/tartness that's pronounced and lingers. Solid beer with great flavor and an excellent mouthfeel.
669 characters

3.86
/5
rDev
+5.2%
look: 4.5 | smell: 3.5 | taste: 4 | feel: 3.5 | overall: 4
Thanks to AsianZero, you da best!
A - Pours a mirky golden yellow, big white frothy head, sticky lace, big cap.
S - Citrus, funk, floral notes, light spice. The 10% really isn't there all that much, which is impressive. On the "higher-funk'd" side of saisons for me. Nothing crazy going on here though...a bit boring.
T - Pretty much spot-on with the nose. Lots of funk, yeast, citrus, lemon, and spice. A touch of fruity tartness in there as well, which adds something else to the mix. Booze is well-hidden here as well. Finish is funk and citrus, pretty dry.
M - Light to medium, lots of carbonation, dry finish.
O - The booze is basically non-existant for 10%, which is impressive by itself. It's good, but not something I'd drop a lot of coin for when I can just buy other Fantôme here in Chicago. Good, but not near world-class.
839 characters

3.84
/5
rDev
+4.6%
look: 4.5 | smell: 4.25 | taste: 3.5 | feel: 4 | overall: 3.75
750ml, gold foil, into a snifter.
A: Pours a glowing grapefruit-skin colored body with a huge white head. Very effective bottle conditioning.
S: Smells of citrus and tropical fruits. Pineapple, tart orange juice, mango, light yeast. Pretty surprising.
T: Taste is substantially drier and less fruity. Chalky yeast, lightly bitter and herbal, a bit of vanilla and citrus on the end. No alcohol.
M: Light-bodied, frothy carbonation.
O: The aroma on this is really interesting, but the taste is bit too dry and herbal to match it. Still, a very unique beer.
559 characters

3.7
/5
rDev
+0.8%
look: 4 | smell: 4 | taste: 3.5 | feel: 4 | overall: 3.5
Thanks to Mike (AgentZero) for this oddball offering. Served in a Captain Lawrence tulip.
A - Giant white foam eventually settles to a thick cap, leaving behind splotches of lace. Murky peach body.
S - Super peppery yeast, with some phenols as well. Light herbal hop aroma, with a backing malt character of stone fruit, hand lotion, and lightly toasted grains. There's a bit of musky funk present, but it's quite mild.
T - Unfortunately, the taste is a bit square. Lots of toasted grain and wheat flavors, with minimal sweetness, and a bitter dandelion and herb finish. Nothing wrong here, but just kind of generic.
M - Medium-full body, grainy and dry. Lower carbonation, and a touch of warmth on the throat. Could use a bit more spritz, although I didn't realize this was 10% at all.
D - It's decent, but I'd just as soon have a regular Fantôme. The herbal bitterness in the finish gets a bit fatiguing, and the beer is a tad heavy. Disappointing considering how difficult this is to obtain.
999 characters
3.63
/5
rDev
-1.1%
look: 4.5 | smell: 4 | taste: 3.5 | feel: 4 | overall: 3
I have added batch 2 as a seperate listing based on Dany Prignon's description of this being a different recipe from Batch 1. There are expectations of 4 different beers being brewed in total in the Clos Preal series.
Poured from a 750ml into a matching Fantome tulip. The brew appears a hazed copper color. 2 fingers worth of yellowish stained tan head appear and slowly fade leaving patches of lacing effect on the glass. Rising bubbles of carbonation maintain a layering atop the brew.
The aroma of this brew is quite herbal with hops. Zesty notes of lemon and grapefruit. Plenty of pulpy scents of fruit and a mild tingle of alcohol. A bit of plastic funk mixes with solvent alcohol and some earth as it warms.
The taste is very herbal with a backing of burnt toasty malt flavor and modest bitterness of pulp and rinds. Some plastic flavors are present with a pretty bold focus on the alcohol inclusion. Some solvent alcohol blends to more of a fusel note. Some green yeasty quality is found throughout the profile with a bit of a veggie flavor. The aftertaste is sulfur, cheese and mildly oak-like mixed with cardboard.
This is a medium bodied brew with a modest level of carbonation. Quite a bold brew with a lot of upfront hop flavor. This is a Fantome offering that strays far off the beaten path. I am a huge Fantome fan but this one was not as enjoyable as I was hoping. Perhaps this is just going through a young, awkward phase at the moment. I will have to revisit it again maybe when some of the hoppiness fades/blends.
1,536 characters
3.61
/5
rDev
-1.6%
look: 4.5 | smell: 3.5 | taste: 3.5 | feel: 4 | overall: 3.5
750 mL bottle poured into a snifter. Reviewed from notes.
Appearance - Cloudy orange. Big white head. Great retention.
Smell - Some sort of spice and a lot of yeastiness. Belgian yeasts and sugars. Something here I can't read. Like a fruitinadfnjsd?
Taste - Interesting, but all over the place. Yeasty, sweet, fruity. Spicy as hell in the end. Like a Belgian pale with spices and herbs.
Mouthfeel - Deceptively light tasting. Well carbonated and dry.
Overall - The flavors are all over. Interesting is the best description.
528 characters
3.53
/5
rDev
-3.8%
look: 3.5 | smell: 3.5 | taste: 3.5 | feel: 3.75 | overall: 3.5
Thanks to GRG1313 for sharing this one at his tasting.
2011 vintage. Lot B11. BBEF 2016.
Pours a hazy golden-orange with a foamy beige head that settles to a partial film on top of the beer. Small dots of lace form around the glass on the drink down. Smell is of malt, grain, fruit, and honey aromas. Taste is much the same with grain, fruit, and earth flavors on the finish. There is a mild amount of earth bitterness on the palate with each sip. This beer has a lower level of carbonation with a slightly crisp mouthfeel. Overall, this is a pretty good beer that is still tasting nice after being around 4 years old at this point.
Serving type: bottle.
658 characters

3.4
/5
rDev
-7.4%
look: 3.5 | smell: 3.5 | taste: 3.5 | feel: 3.5 | overall: 3
Poured into a snifter. 2011 vintage, batch 2.
3.5 A: Well hazed amber peach color. Three fingers of frothy off-white head. Retention is good given the ABV, but just a few whisps of lacing are left.
3.5 S: Wildflowers dominate the nose. Big floral throughout. Underneath there is a dry herbalness and citrusy orange and bitter orange peel. Mild peppery yeastiness. Alcohol is well hidden. Somewhat tame for a Fantome beer, but good enough.
3.5 T: Taste mirrors the nose. Floral with a dry herbalness. Plenty of orange and orange peel. Mild bitterness. Moderately spicy yeastiness focussing on pepper. Toasty malts with just a light booziness. Again, tame for a Fantome beer.
3.5 M: Medium body. Good moderate carbonation that is lightly spritzy. Lacking creaminess though. Overall, good enough.
3.0 D: Some categories were borderline 3.0, so that's why this is. It's not bad, but I hold Fantome to a higher standard when they are dealing with this type of brew. The fact that it was super expensive doesn't improve the situation. Give the brew a try if you have some extra money laying around, but don't expect to be impressed.
1,131 characters
3.33
/5
rDev
-9.3%
look: 3.5 | smell: 3 | taste: 3.5 | feel: 3 | overall: 3.5
Bottle opened on 12.1.12.
A - Pours a cloudy, pale orange with a huge lively off-white head that fades slowly.
S - Earthy spice, Belgian yeast, slight hop grass.
T - Spices, earthy, dirt, tobacco, leather.
D - Tons of carbonation with a light body.
O - Earthy and spicy, lots of darker tones.
297 characters
Fantôme Clos Preal 2011 (Batch 2) from Brasserie Fantôme
3.67
out of
5
based on
27
ratings.