Fantôme Santé 16!
| Brasserie Fantôme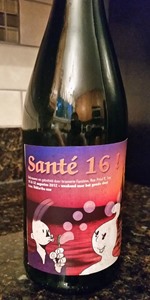 BEER INFO
Brewed by:
Brasserie Fantôme
Belgium
fantome.be
Style:
Saison / Farmhouse Ale
Alcohol by volume (ABV):
7.00%
Availability:
Limited (brewed once)
Notes / Commercial Description:
No notes at this time.
Added by MasterSki on 08-28-2012
This beer is retired; no longer brewed.
Reviews: 7 | Ratings: 18

3.06
/5
rDev
-18.2%
look: 4 | smell: 3 | taste: 3 | feel: 3 | overall: 3
Santé 1-19 vertical.
Copper orange body, mild haze, small white cap that leaves ample lacing in its wake. Aromas of hand lotion, pear, lavender Kleenex brand tissues. Odd flavor. Makes me think of the color purple. Bouquet of floral character. Yet another unique Fantôme experience.
285 characters

3.16
/5
rDev
-15.5%
look: 4 | smell: 3 | taste: 3 | feel: 4 | overall: 3
Bottle from Etre Gourmet. Shared with yourefragile. Served in a Fantome tulip. Nose is fairly fruit with a little bit of malt in the background. Touch of bread yeast in the flavor. Body is dry. Very dry. Hopefully this was just a "miss" bottle, as I really didn't care for it.
276 characters

3.19
/5
rDev
-14.7%
look: 3 | smell: 3.25 | taste: 3.25 | feel: 2.75 | overall: 3.25
I'm forced to review this on my phone since an exploding Fisher bottle of Fantome Artist took out my laptop keyboard. It'll be regrettably brief as a result.
75cl green glass bottle with a colourful label design. A pry-off crown cap covers an internally housed cork. 11th and 12th August 2012.
7% ABV.
Yields a forceful carbonation pop upon opening.
HEAD: White and fluffy. Occupies ~50% of the glass with its ~7cm width. Leaves no lacing as it recedes, which takes ~3-4 minutes.
BODY: Has abundant floating yeast particulate. Dull copper in colour.
Appears highly carbonated.
AROMA: Candi sugar. Caramalts. Pale malts. Surprisingly hoppy, especially for its age, with a bold floral undertone. I don't find any signature Fantome spices here, nor is there any brettanomyces funkiness. But I do get some slightly spicy, biscuity Belgian ale (saccharomyces) yeasts.
Definitely on the sweeter side. Aromatic intensity is above average.
TASTE: Follows the aroma, with loads of floral Hops and flowery notes, including lavender. The Candi sugar seems unnecessary since the caramalts and pale malts provide sufficient sweetness already. Attenuation could be improved (I.e. raised). Apple skin. White pepper. Dandelion. Wildflower.
No Fantome spice intricacy here, nor any brettanomyces funkiness. I don't even find any barnyard character; this is really more of a Belgian ale than a saison, and nothing on the label indicates a style.
Not as imbalanced as my description of its sweetness might make it sound, but still wanting.
TEXTURE: Soft, medium-bodied, smooth, wet, highly carbonated, Unrefreshing. Fizzy prickliness throughout.
There's not an ideal harmony of texture and taste here, but the former suits the latter in a general sense.
OVERALL: Drinkable and enjoyable, with a more pronounced sweetness than I've found in any other Fantome bottle. As a straight Belgian ale, it's nice for what it is (albeit far too expensive). This tends towards the lower end of Fantome's incredible lineup in terms of quality, and I wouldn't buy it again myself. Those expecting a saison (especially a classically spicy Fantome one) will be let down, but those who can appreciate a well made Belgian ale will find it interesting but not dazzling.
C+ (3.19) / ABOVE AVERAGE
2,274 characters
3.6
/5
rDev
-3.7%
look: 4.25 | smell: 3.5 | taste: 3.5 | feel: 4 | overall: 3.5
Coming up on the weekend of the new Sante 17 being released made me realize I havent sat down with a bottle of 16 in awhile. And well, wow I havent written a formal review either despite drinking this half a dozen times. 750ml bottle into a Fantome teku. The cork comes out violently with a pop and pours a crystal clear copper with huge pillows of white that provides patchy lace. Solid retention is displayed as well.
The aroma is initially fruity, dry like pear/apple skins and suggestions of clove. As it breaths, it morphs into hints of plastic and solvent alcohol which are not that enjoyable if you focus on them. Luckily there is as much enjoyable character as not to this nose. Earlier, younger bottles displayed a very boisterous alcohol and burnt plastic character. I am happy to see that sort of fading and blending with age.
The taste is very dry with fruity apple/pear skins, black pepper and plenty of hebal hop bitterness. The solvent alcohol inclusion is ever-present with faint notes of spicy phenolics to almost plastc notes. Some toffee malt and almost a buttery aftertaste is noted in the finish.
This is a medium bodied brew with an effervescent almost overdone amount of prickly carbonation. I think this beer is in a much better place now than where it was at last year. It is progressing nicely but still falls short of many fantome offerings, not just the sante series. In my opinion, I would buy any Sante if it was offered to me, if I had a choice this would be my least favorite.
1,511 characters
3.93
/5
rDev
+5.1%
look: 4 | smell: 3.5 | taste: 4 | feel: 4.5 | overall: 4
750 mL bottle shared with Thorpe.
Pours a cloudy dark copper with a retentive foamy cream colored head. Head fades to a thin film and thin streaks of lace. Aroma has a bready malt base with grains, grass, lemon, and cardboard. Flavor is a little more appealing and fruity than nose, cherry, lemon, cinnamon, and brown sugar. Medium thick body, soft effervescent carbonation. Not quite as enjoyable as Sante 15 was fresh, but a solid dark Fantome regardless.
458 characters

4.2
/5
rDev
+12.3%
look: 4.5 | smell: 4.5 | taste: 4 | feel: 4.5 | overall: 4
Bottle from Etre Gourmet. Served in a Hill Farmstead tulip.
A - Giant foam that occupies a large portion of the glass before settling to a thick cap and splotchy lace. Hazy peach flesh body.
S - As usual, there's something uniquely Fantôme about this aroma. It's a bit heartier and sweeter than the regular Saison, and it features a tropical fruit melange, some Pez-esque candy flavors, pineapple funk, peppery yeast, stone fruit malts, a bit of musty attic, and some grass and herbal dandelion bitterness.
T - Again, huge stone and tropical fruits, Pez-like candy, dank basement, and a fairly hefty amount of bitterness in the finish; guessing there are some Euro hops and perhaps some dandelion or other herbs. Good balance, with the latter bitter flavors balancing the initial fruity sweetness. There's a Gala apple aftertaste the mixes flesh and skin. No booze present.
M - Soft, but active carbonation. Medium body, chewy texture, and a mildly grainy and dry finish. Quite nice, and again there's no alcohol presence.
D - A very enjoyable Saison that's a bit heftier than most, including regular ol' Fantôme (even though this is actually lower in alcohol content). Hard to compare to anything else, and I'm guessing there's significant bottle variation as the beer yourfragile describes in his review is nothing like the one I had. I'd buy it again if it were available in the US, but it's a bit too pricey to order from overseas again.
1,448 characters

4.75
/5
rDev
+27%
look: 4.5 | smell: 4.5 | taste: 5 | feel: 4 | overall: 5
Poured into a tulip. Like almost all Fantome bottles, I needed a few pours to get a full glass.
4.5 A: Moderately hazed orange yellow color. Big frothy white head with great retention and tons of super thick lacing.
4.5 S: Peach, lemon, lime, pear, and apple give a powerful fruitiness. Peach is incredibly potent and thus needs another mentioning - almost like peach rings. It also has a generic citrus fruitiness underneath. This may very well be the fruitiest nose I've ever encountered in a saison. Hay, grass, and musty basement type funk secondary to all the fruit. Also a minor tartness that itself is fruity in nature. One hell of a nose.
5.0 T: The taste is almost as fruity as the nose. There's a hell of a lot of peach again, then lemon and lime (which seems to be a recurring character in the Sante series), pear, and apple. However, the taste is a lot more earthy and wild than the nose. Hay and grass, but also apple orchard, forest after a rain, and the season of fall in general. The interplay between the fruits and the funk works really well, creating a supremely complex beer that also exhibits integrating of the flavors. Lastly, you'll find plenty of woodiness, floral wildflowers, dirt, and a mild herbalness. The only thing I'd change is that I'd lower the bitterness a bit, but it's well within the normal range and I'm nitpicking. Fabulous beer and the best Sante yet (excluding the many I haven't had).
4.0 M: Medium body. A bit too much carbonation, but a few swirls takes care of that problem. My only complaint is that the carbonation is less spritzy than I'm used to from Fantome. I like the spritz and it works well in saisons in general, but it isn't as present in this as I'd like.
5.0 D: Supremely drinkable. This is a hell of a beer. Insane complexity and every flavors exists harmoniously with the rest of them. Highly recommended.
1,873 characters
Fantôme Santé 16! from Brasserie Fantôme
3.74
out of
5
based on
18
ratings.