Brasserie Fantôme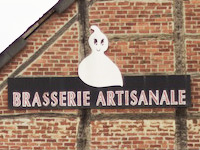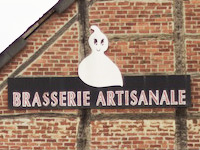 Brewery, Bar, Eatery, Beer-to-go
Rue Préal 8
Soy
, 5454
Belgium
+32 (0)86 47 70 44 |
map
fantome.be
Notes:
Reviews by TheLongBeachBum:
TheLongBeachBum from California
3.83
/5
rDev
-8.2%
vibe: 4.5 | quality: 4 | service: 4 | selection: 3.5 | food: 3
"They are the best of beers and they are the worst of beers. So we leave them unrated", so says the 4th Edition of Tim Webb's Good Beer Guide to Belgium and Holland. He goes on to say "Make up your own mind but either way, find them in best condition at the brewery's sampling café". Fortunately, one of the 30 regulars that attends our annual pilgrimage to Belgium, is a commercial brewer in the UK, and he knows the brewer at Fantôme, Dany Prignon, extremely well. So a tour of the Brewery and a few hours at the Brewery Café were arranged for the Wakefield CAMRA 2004 Belgium Trip.
Easter Sunday morning started cold, but the Sun was soon out and shining brightly as our 50 Seat Coach arrived in Soy. Located in the Belgium province of Luxembourg, Soy is signposted outside the Brewery Café as 5 km from both Hotton and Erezée. We approached from Hotton, and the Brewery Café is easily spotted on the left hand side of the Rue Préal. The Brewery itself is located in an old farm building, a large stone fronted brick built farm building with a high angled 45 degree tiled roof that is at least 150 years old. At one end of the original farm building, an adjoining small lean-to wooden and stone set up has been added at some point and now houses the Café. The familiar black and white Fantôme Ghost hangs with a Pint from the front of the farm building with a roadside sign that simply states Brasserie Artisanale, but with no mention of the word Fantôme. Underneath a small red hanging sign that simply stated 'Ouvert', told us they were open, but this was promptly dislodged by our Coach as we attempted to park a little too close to the Brewery to leave room on the roadside. The Café is entered from a small side entrance that has a large white board resting against a stack of palletized empty 75cl bottle that entices the imbiber with the words "La Bière Fantôme Est Ici".
Once inside the ivy clad lean-too Café, you know that you are in a rural area because lots of wood has been used inside. To the left as you enter, the small brick built bar is topped with thick wooden planks and has two taps dispensing whatever is listed on the tiny chalkboard that says "Au Fût". On our visit, the regular Fantôme and Saison de Printemps were on sale - a large 33cl Goblet costing just €2. A small wooden table to the front of the equally small bar area contained some Bottles for sale, including the 'standard' Fantôme, Saison de Printemps, Pissenlit, Fantôme de Noël, and the newest creation, strangely called "FLOP", all for €4 a piece. To the right of the entrance a few more irregular shaped wobbly wooden tables and chairs make up the furniture. Décor is rural, lots of hops wrap around wooden beams but the eclectic Fantôme does not disappoint, for immediately above your head when you step inside is a very old turn of the last century small engine pedal type Motorcycle mounted on an overhead beam. Also, to your immediate right is an old enamel advert for Wheeler Coal & Ice Co. of Parkersburg W.Va, which is distinctly "non-P.C."
Whilst here, we had a tour of the Brewery, which is effectively behind the bar. A small flight of wooden stairs take you up one floor into the loft area of the original farm building and back in time. The equipment is modern, but with a distinctly old feel. It's cramped, and the quick tour takes you back down a floor to where the bottling, corking and labeling area is, plus the cold storage area for the finished product prior to dispatch. You return to the Café via a small wooden door that is close to the Bar. The whole tour is short and sweet, but worth it.
The regular Fantôme was awesome from the Tap, but I was itching to try the new creation, Flop, a bitter style brune that was well, heavily sedimented and typically Fantôme, LOL. Barry Smith, the Brewer of TigerTops Brewery in the UK, pulled some strings and managed to eek an aged bottle of Black Ghost from Dany, for a few of us to share – awesome stuff. Small snacks are served, but the highlight of a visit here is the fact that you get to drink Fantôme in its true environment, and on a nice day, as during our visit, drink it outside in its agricultural heartland.
If you are lucky, you may also get to see the Fantôme Brewery Transport parked outside. Plated 'OAR-103', it is a Morris Minor 1000 Estate (or Station Wagon-US). A classic piece of 30+ year old British Automobile history in full working order, still used everyday and with the rear Estate portion painted to reflect a half full glass of bubbling beer. Ah yes, you know you're at the Fantôme Brewery! Unique stuff.
On the way out of the Café, make sure you get to grab a photo with the real Fantôme Ghost near the door, but be careful – he moves quickly!!!
Last Visit: Sunday 11th April, 2004
Apr 21, 2004
More User Reviews:

mothman from Minnesota
4.36
/5
rDev
+4.6%
vibe: 4.5 | quality: 4.5 | service: 4.5 | selection: 4
Had a private tour from Dany and enjoyed my experience a lot. Small brewery in the middle of no where. I am not sure when they are even open to the public. Dany gave us a few pours for free and we bought some bottles. A great experience all around!
Jan 28, 2019

phingdong from New Hampshire
4.46
/5
rDev
+7%
vibe: 5 | quality: 4.5 | service: 4.5 | selection: 4.25 | food: 4.25
Jul 14, 2015
SCW from New York
4.39
/5
rDev
+5.3%
vibe: 4.75 | quality: 4.5 | service: 4.5 | selection: 4
about as real, earthy, funky, and grungy as any Belgian brewery I have been...
May 31, 2015

Tuche from Belgium
4.5
/5
rDev
+7.9%
Great place to visit and to have a drink at! Atmosphere is really nice, it has an authentic rural wallonian feel to it. Especially enjoyable when the weather's fine and you can sit in the garden. And of course, there's Fantôme on tap! ;-)
Sep 30, 2014


clintbrimson from Australia
3.98
/5
rDev
-4.6%
vibe: 2 | quality: 4.5 | service: 4.5 | selection: 3.75
We dropped by late on a Monday afternoon and were lucky enough to sit down with Dany for a couple. We were given a tour of the very ramshackle brewery and tried the "Classique" and "Summer Beer" off tap and were sent on our way with another bottle of the "Classique" and Fantôme de Noël. Visiting the brewery is an exceptionally unique experience, even by Belgian standards. A must of any Belgian trip if you travel even remotely close to the brewery.
Nov 12, 2013

Vicktory from California
4.29
/5
rDev
+2.9%
vibe: 5 | quality: 4.5 | service: 4 | selection: 4
We visited Brasserie Fantome on a Saturday evening in November 2010 and absolutely loved our visit. The descriptions of both the location and the appearance from previous reviewers are still extremely accurate, so I guess not much has changed in the past few years.
We got to Soy around 4:30 pm and found the cafe open but very quiet. Three older (60ish and up) ladies were sitting chatting in the corner (in French, of course) and once we sat down one of them served us our beers. I later figured her to be the brewer's wife. (Of course, the beers were excellent, but I'm reviewing the experience of the cafe and not the delicious brews.)
My favorite aspect of our visit was getting a glimpse of brewing culture in Belgium. The general atmosphere was so nonchalant and unimposing that it genuinely feels like being invited into someone's home. Somewhere between the old lady dozing in the corner arm chair and Dany running in and out of the brewery to reset his blue and pink, pig kitchen timer (That's right, a kitchen timer in the shape of a pig. You wind the ears...), I felt like I was experiencing something that I wouldn't find anywhere else, something unique.
As we were getting ready to leave, we decided to ask (or rather, hand-wave with) Dany if we could peek into the brewery. It turns out that Dany can speak a bit of English and he graciously invited us in to take a look around. Going up into the loft to see the brick-insulated mash tun and ducking through the hundred-year-old barn doors, one begins to realize how different a place like this when compared to many craft breweries in the states.
Dec 03, 2010
DaggerEyes from New York
3.31
/5
rDev
-20.6%
vibe: 4 | quality: 4 | service: 2.5 | selection: 3
Visited on a recent trip to Belgium...
Really wished we could speak French better, it's pretty much necessary if you decide to visit and want to interact beyond ordering a few beers. I had emailed with Dany a few times, and he knew we were coming but wasn't there when we showed up and when he did show up he was very nice but ellusive, he moved in and out of parts of the brewery and came and went as if he were a ghost himself.
We each had a glass of the Blanche and the regular Saison. A worth while visit, despite our lack of being able to communicate
Sep 28, 2008
BlackHaddock from England
4.26
/5
rDev
+2.2%
vibe: 3.5 | quality: 5 | service: 4 | selection: 4
Turned up 'out the blue' on a sunny Sunday afternoon in Sept 2008 and joined a brewery trip organised by a bunch of beer lovers from Brussels (thanks lads). They translated for me too, as Danny Prignon only does French (I think).
The bar it's self is very rustic and basic, as the review before me states. The motorbike is still above your head and a ghost is hanging around the door. The little garden/grass area at the front has one large oblong table, which appeared to be for the family. There is a very small terrace at the back, otherwise you sit in the main bar room with its bar, fridge and stairway to the brewery.
I had the summer special, which was the standard Blanche with grapefruit juice added (Blanche Pampelmouse). The girls had the standard Fantom Saison, the only other beer on tap.
As an aside, I couldn't believe how much sugar he added to the beers, an incredible ammount in my opinion, but his beers are great, so what do I know?
Sep 09, 2008
Brasserie Fantôme in Soy, Belgium
Brewery rating:
4.09
out of
5
with
7203
ratings