De Ranke Guldenberg
| Brouwerij De Ranke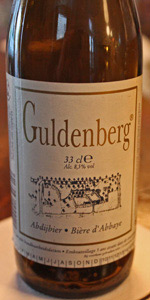 BEER INFO
Brewed by:
Brouwerij De Ranke
Belgium
deranke.be
Style:
Tripel
Alcohol by volume (ABV):
8.50%
Availability:
Year-round
Notes / Commercial Description:
Guldenberg is a tripel-style abbey ale containing 8.5% vol. Alc. Its colour is blond and it's made of pale malt with the addition of candy sugar. The bitterness comes from the Hallertau hops we use as bitterhop and as aromahop. On top of that we use dry – hopping techniques with the same hops which give the ale its unique flavour and aroma and its perfect balance between sweet and bitter. The name came from the former Guldenberg Abbey in Wevelgem, the village of birth of Nino, one of the brewers. According to data in Flandria Illustrata ale was brewed here in the past.
Added by Bierman9 on 04-22-2002
Reviews: 240 | Ratings: 428

3.36
/5
rDev
-16.4%
look: 3.25 | smell: 3.5 | taste: 3.25 | feel: 3.75 | overall: 3.25
On tap at The Sovereign in DC. I thought this tripel was lacking all around. No spice, phenolics or even yeast flavors. No complexity at all. It was cloudy and had a minimal head.
★
179 characters
3.35
/5
rDev
-16.7%
look: 3 | smell: 3 | taste: 3.5 | feel: 3.5 | overall: 3.5
Spicy aroma with some malt underneath. Belgian ales are all beautiful. This one is a cloudy washed out brown with a huge fluffy head. Spicy fore with a bubble gum/sugar mid taste that finishes with a lavender/floral finish. Fun to drink and interesting flavor palate. Thanks to Firemoose for this fine specimen.
★
311 characters
3.35
/5
rDev
-16.7%
look: 4.25 | smell: 3.5 | taste: 3.25 | feel: 3 | overall: 3.25
330ml Bottle (£2.89 from Beers of Europe website):
Orange amber with a finger-sized, bubbly white head that is a solid white colour and settles as a fine, patchy lacing on the surface.
Yeast with touches of spice and a light sourness with light fruits that include some pears, apple and a hint of citrus. The beer seems quite lively on the nose with some further fruits, a little bit of banana and some more spice as well and a few hops towards the end to round things off with.
Spice and yeast to start off with along with some fruits typical of the style; some apple, pear and grapes as well. There is some citrus flavours and a touch of sweetness that follows along with some subtle hops and some floral notes.
Smooth and quite dry with a slightly spicy and sweet mouthfeel that goes down easy with the alcohol content pretty well hidden. The body is a light medium and there is a noticeable carbonation to the beer although its not gassy or overdone.
This one was a slight disappointment when compared to the high standards set by previous Belgian strong ales that I've tried over the past few years and I was definitely expecting a lot more from this one. Whilst not a bad beer it wasn't one I particularly enjoyed, nor one I'd pick up again sadly.
★
1,258 characters
3.3
/5
rDev
-17.9%
look: 5 | smell: 2.5 | taste: 3.5 | feel: 4 | overall: 3
Vintage June 2003.
The spicy, herbal hops are impressive as hell in this beer -- an archetype of Belgian brewing. The body is almost lush, considering the quaffable style, to the point where the weighty alcohol actually adds a creamy, peachy fullness to this beer that makes it seem sweet.
Unfortunately, that's really all this beer is is alcohol -- wafting up into the nose like a volatile cleaning agent and lingering smoky in the back of the mouth like (good) vodka. In fact, this might actually be quite good with a touch of lime (but I won't go that far). As it stands, there's too big of a clash here between the tight, crisp hops and the filling, sweet malt and alcohol.
Were it for a bit more malt support or a cleaner fermentation, this would be nothing short of classic. As it stands, however, the alcohol comes on too strong and selfishly knocks out almost everything good about this beer.
Relax, relax.
ng
★
930 characters
3.21
/5
rDev
-20.1%
look: 4.5 | smell: 3.5 | taste: 3 | feel: 3 | overall: 3
Poured from a strange bottle into a chalice: it was 750 ml but marked as 11.2 ounces, and was corked but capped with a crown cap. I had to withdraw the cork with a corkscrew.
A: Bottle was a gusher, and foam geysered out even after some beer was poured out of the bottle. Pours a hazy light orange with very active apparent carbonation and an enormous rocky head. Foamy head follows beer all the way down the glass, and the head coats the side of the chalice. Striking appearance.
S: I don't know for sure that this beer is brewed with bret, but it sure seems to be. Horse blanket, barnyard funk is the predominant characteristic of the nose, with some clove.
T: Again, bret-like funkiness is the predominant early flavor, with very subdued fruitiness followed by a very dry finish.
M: Very high carbonation and medium to light body. The feel in the mouth is typical for the style.
D: For me, a bit funky for more than one in a session, although at 8.5% that's probably just as well.
Overall: Fans of bret will love this beer. I find it to be a nice beer, but a bit out of balance; there's little more to it than the funkiness. I'm not sure it's a "tripel" as BA calls it. I find this very similar to Orval.
★
1,214 characters
3.18
/5
rDev
-20.9%
look: 4 | smell: 3.5 | taste: 3 | feel: 3 | overall: 3
poured a beautiful golden color with abundant white puffy head. Smell is a mixture of spices. candied sugar, and hops. Tset is sweet, malty and spicy to start, then abundant hops seem to completely take over. Finishes strong and alcoholic. An OK tripel, But not great.
★
268 characters

3.17
/5
rDev
-21.1%
look: 3.5 | smell: 4 | taste: 3 | feel: 3 | overall: 2.5
33cl into a tulip. Pours a hazy orange honey. Head was decent, better lacing.
Aroma of citrus and powdery yeast, lots of hops. Spicy phenolic backbone.
Taste is sharp for a tripel and low in sweetness. The finish dominates the taste which is mostly hop bitters with a little barnyard accent for good measure. Smooth mouthfeel.
You will judge this based upon how you like your belgian hopped. This would be an excellent intro tripel for those who prefer an IPA. This . . . . . . is a belgian ipa.
cheers
jd
★
508 characters
3.1
/5
rDev
-22.9%
look: 3.5 | smell: 3.5 | taste: 2.75 | feel: 3.5 | overall: 3
Poured from a brown 11.2 oz. bottle. Despite zero agitation, this beer can gushing out of the bottle upon opening, resulting with a bronze color and a 1/2 inch head. Smell is of yeast, fruits. Taste is apples, vinegar, some barnyard qualities. Feels medium bodied in the mouth and overall this beer was a disappointment.
★
320 characters
2.97
/5
rDev
-26.1%
look: 2.5 | smell: 3 | taste: 3 | feel: 3 | overall: 3
33cl bottle.
IT pours a murky amber with a fizzy, foamy looking head. I'm not a huge fan of it and it doesn't leave much lacing.
The smell is typical, some dark fruits, dark candi sugar, and malt.
The flavor is decent. It seems to be a bit sweet and lacking though. This brewery has some good beers but this one isn't memorable.
Seems like an old-school tripel, it isn't like the lighter ones that I prefer.
★
411 characters
2.76
/5
rDev
-31.3%
look: 3.5 | smell: 2.5 | taste: 2.5 | feel: 3.5 | overall: 3
Lots of sediment which hazes out a straw yellow, lots of carbonation, foam and some lacing as well.
Light fruit and citrus, maybe banana peel.
First off a bit watery for 8.5%. A few subtle fruit flavors and a tad of earthiness come through. Not much else, not too exciting.
Very dry on the tongue, one of the driest actually. Not detrimental though I don't know if it works for this beer.
Not bad but really nothing above average at all. Maybe I got a bad bottle..
★
469 characters
2.72
/5
rDev
-32.3%
look: 4 | smell: 2 | taste: 3 | feel: 2 | overall: 3
Had this on tap at the Armsby Abbey. Poured into a tulip.
A - Poured a clear golden hue with a one finger white head that left nice side lacing.
S - Really no nose on this one. Some slight belgian spices but thats it. Smells a little soapy too.
T - No banana, just belgian spices and such. Its a bit sweet, with a slight dark fruit aftertaste.
M - Flat and underwhelming. Yep, that sums it up.
O - Just..eh. De Ranke usually has good offerings but this one wasnt it for me. Super underwhelming.
★
499 characters

2.69
/5
rDev
-33.1%
look: 4 | smell: 2.5 | taste: 2.5 | feel: 3 | overall: 2.75
Pour is golden amber with tons of white head with great retention. Nose has a light dustiness to it, moderate malt presence, caramel, faint oxidation. Flavor follows suit, lots of malt, slightly stale caramel, some oxidation, high carb, full body, overly sweet.
★
263 characters
2.58
/5
rDev
-35.8%
look: 3 | smell: 2.5 | taste: 2.5 | feel: 3 | overall: 2.5
bottle shared at tasting. Thanks!
Pours a ligh hazy orange with a malty smell that is fresh and bright. Taste is dusty, well balanced and tame. Maltiness is moderate and the hops are perhaps slighlty more prominant actually. Somewhat dry. Decent beer.
★
251 characters
2.45
/5
rDev
-39.1%
look: 2.5 | smell: 2.5 | taste: 2.5 | feel: 2 | overall: 2.5
(2008 Bottling - tasted Feb. 2011) I only review this beer since it was purchased in 2011 off the shelf of a reputable store. Small bottle format.
Dark orange amber with no head worth noting.
Nose is stale/oxidized carmel but with hints and underlying toffee/carmel; Mouthfeel is very thin and watery.
Flavors are light sugary and thin. Thin brown sugar character. Some burnt grain, coffee, sherry character but I suspect this is a reason why not to age beer. Light bitter coffee finish.
This one was on the shelf and purchased in 2011. Will try it again fresher and perhaps in the larger bottle format.
★
610 characters

2.45
/5
rDev
-39.1%
look: 3 | smell: 3 | taste: 2 | feel: 2.5 | overall: 2.5
Draft at The Pour House in Westmont, NJ.
Pours a golden orange-amber color with tangerine edges and a half finger white head that quickly settles into a very thin ring.  Minimal lacing.
Sweet, slightly hoppy aroma with zesty spice, estery light fruit notes, pale malt and boozy sweetness.  Hints of pepper and alcohol followed by apricot, apple and pear.
On the lighter end of medium bodied with subtle earthy hops countered by a sweet floral presence, light fruits, zesty spice and sweet boozy heat.  Some dry bitterness followed by pepper and coriander spice, apricot and apple before a rush of overly sweet booze comes in.  Kind of all over the place, thin bodied, overly spicy and harshly boozy.  I used to think that this was a great beer but I'm not much of a fan anymore.
★
788 characters
De Ranke Guldenberg from Brouwerij De Ranke
4.02
out of
5
based on
428
ratings.