Dismiss Notice
Dismiss Notice
Gritty McDuff's Maine's Best IPA
| Gritty McDuff's Brewing Company
BA SCORE
77
okay
33
Reviews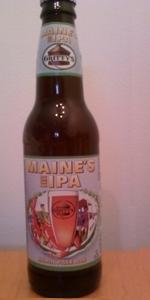 BEER INFO
Brewed by:
Gritty McDuff's Brewing Company
Maine
,
United States
|
website
Style:
American IPA
Alcohol by volume (ABV):
6.80%
Availability:
Year-round
Notes / Commercial Description:
Maine's Best IPA is a unique blend of American hops with a British body utilizing English 2-Row Pale malts. This IPA starts with a hoppy aroma and taste; ending with a sweet finish. Plenty of Munich and caramalts are used to give the beer that golden hue. There are fifty-six pounds of Cascade Hops used in each 50 barrel batch that is brewed! Then we finish the beer with Willamette & Warrior Hops, (Warrior is a high-alpha acid variety of hops).
60 IBU
Added by BeerKangaroo on 03-08-2012
Reviews: 33 | Ratings: 157

3.46
/5
rDev
+7.1%
look: 4 | smell: 3 | taste: 3.5 | feel: 4 | overall: 3.5
Poured from a 22 oz bomber into a into a pint glass. Picked up straight from Freeport store.
Pours cloudy dark amber with white foam. Some layer remains on top. Orange tint. Light fruity nose, but mild. Subdued for an IPA. Taste is a citrus grapfruit. Good malt blend. Little bite at close. The rind gets mixed into the finish. Last note is citrus. NOT the best IPA in Maine (obviously) but still good.
★
403 characters

2.83
/5
rDev
-12.4%
look: 3.5 | smell: 3 | taste: 2.5 | feel: 4 | overall: 2.5
From 08/31/12 notes. Poured from a 12 oz. bottle into a tulip. Bought at Spirit's in Middletown, NJ, best by November 2012 date on the bottle.
a - Pours a hazy orange-amber color with one inch of white head and low to moderate carbonation evident.
s - Smells very malty. Smells of fruity malts, bready malts, light citrus hops. Hops are nice but overall pretty average.
t - Tastes of fruity malts, citrus hops, bready malts, and light caramel malts. Less hops than the nose, and a step down for me.
m - Medium body and low carbonation. Body is pretty smooth and easy to drink.
o - Overall a pretty average beer and a below average IPA. A little bland and not very hoppy, but some fruity malts to it. Suffice to say this is not Maine's Best IPA; wouldn't seek it out again.
★
777 characters
3.72
/5
rDev
+15.2%
look: 3.5 | smell: 4 | taste: 3.5 | feel: 3.5 | overall: 4
Fresh bottle drunk in my hotel room from the store. Likely just their regular IPA but I don't currently know. Grapefruit hop aroma. Decent hop flavour, and then well malted like a red English. Not the best IPA I have had but better balance and drinkability than other hoppy beers I have had here recently. Grapefruit hops and the English style malting make it interesting in any case.
★
384 characters
2.81
/5
rDev
-13%
look: 3.5 | smell: 2.5 | taste: 3 | feel: 3 | overall: 2.5
Had this on tap at the Freeport location. Overall, a so-so IPA and probably not one I would have again. Main problem is lack of hops on the nose. For an IPA on tap, I expected much more. Just an average beer with no special notes worth mentioning.
If you found this review to be lacking but unoffensive, then you know how I felt about this beer.
★
345 characters

3.59
/5
rDev
+11.1%
look: 4 | smell: 2.5 | taste: 4 | feel: 3.5 | overall: 4
Poured from a 22oz bottle (NOT brewed by Shipyard, unlike the 12ozers that have garnered the horrible reviews preceding mine). Sent to me by valdieu!
A: Pours a dark brownish orange with a decent white head. Nice lacing as well.
S: Soapy yeast aroma. Bubblegum. Mild citric hop.
T: Nice tropical hop profile. Lots of fruity esters as well, most prominently banana. Good wave of bitterness in the middle, some grainy malt in the finish.
M: Medium-bodied, nicely carbonated.
O: The smell was a bit odd, but this tasted nice.
★
527 characters
1.39
/5
rDev
-57%
look: 3 | smell: 1.5 | taste: 1 | feel: 1.5 | overall: 1.5
This is ironically named. It should be called Maine's Worst IPA. This beer is a big mess of caramel and buttery Ringwood yeast. The bitterness is average, the hop aroma is non-existent and the hop flavor is hidden by the fracas between the butter and caramel flavors. This is just down right awful. If you're looking for a new IPA to try, this isn't it. It's obvious this beer was created completely out of marketing and it has failed miserably. Gritty's needs to wise up, build their own brewery and stop using Shipyard to contract all their 12oz beers.
★
554 characters
3.03
/5
rDev
-6.2%
look: 3.5 | smell: 3 | taste: 3 | feel: 3 | overall: 3
If you call yourself Maine's Best IPA, you ought to at least be good. This is less than average. Why does Gritty's sub out to Shipyard to brew their 12 oz beers? I really wanted this to be good, but all I could taste was butterscotch. I think that works with certain beers ( HSA ) but an IPA should be about the hops.
I will try this if I find it in a 22oz or on tap. I will not drink it again in a 12oz bottle.
I just had this in a 22oz bottle, which means that Shipyard had nothing to do with it. Much better - not great - but much better.
Not Maine's best IPA, but I would drink it again. I really wish that Gritty's would bottle all their own stuff.
★
654 characters
3.1
/5
rDev
-4%
look: 3 | smell: 3 | taste: 3 | feel: 3 | overall: 3.5
I find it odd that a brewery would name one of their beers as the best of the state that it is brewed in, just seems slightly arrogant.
Anyways, into a pint glass:
A: light golden colored body with a small off-white head that disappeared within a couple seconds, it left a slightly foamy lacing around the glass and rings as it went down, there was a decent amount of bubbles that came up
S: hops and just a bit of pine and citrus
T: hops, but it wasn't heavy or overbearing, some of the pine and the citrus comes back at the end
M: medium, sessionable, moderate amount of harshness on the tongue, no aftertaste or finish
O: this was a pretty decent brew and I might have it again. However, I would most likely lean towards to trying to get it on tap somewhere.
★
767 characters
Gritty McDuff's Maine's Best IPA from Gritty McDuff's Brewing Company
77
out of
100
based on
33
ratings.