Single Hop APA (Amarillo)
| Bitter Root Brewing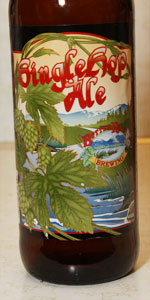 BEER INFO
Brewed by:
Bitter Root Brewing
Montana
,
United States
|
website
Style:
American Pale Ale (APA)
Alcohol by volume (ABV):
6.31%
Availability:
Rotating
Notes / Commercial Description:
No notes at this time.
Added by JohnGalt1 on 07-17-2009
Reviews: 13 | Ratings: 28

3.1
/5
rDev
-19.1%
look: 3 | smell: 3.5 | taste: 2.75 | feel: 3.25 | overall: 3.25
Poured from a bomber into a pint glass in high elevation Kalispell, Mont. Reviewed live.
A- Two-finger white head with thickness and hazy orange body. Nice retention.
S- Amarillo hops, floral and airy. Nice aroma.
T- Tasty, clean and floral. Bitter aftertaste.
M- Thicker and fluffy.
O- Average beer. It's pretty ok. Floral Amarillo hops.
★
344 characters
3.7
/5
rDev
-3.4%
look: 4 | smell: 4 | taste: 3.5 | feel: 3 | overall: 4
A: Pours a misty golden tan ale with a single finger of off-white head which slowly dissipates to a thick quilt of the same. Domineering lacing, thick like a beard.
S: Clean, grassy, soap suds, citrusy lemons. underlying grain bill is subtle. Nice beer. Delicious beer.
T: Relatively bitter ale with sweet hopping flavors. Good, grassy flavors. Decent with well balanced tones. The hop schedule allows for good appreciation of the capacity for the hop.
M: Medium with medium to high carb. Slick finish.
O: Well done beer. Fun ale with capacity to allow for sessionability. I like this beer.
★
594 characters

3.71
/5
rDev
-3.1%
look: 4 | smell: 3.5 | taste: 3.75 | feel: 3.75 | overall: 3.75
From notes taken 06/26/16:
Fairly clear golden amber with suspended, fine-flecked haze. Fluffy, pillowy, chunky, fine-bubbled light yellow head of excellent retention, sticky lacing. Pine, rind, a little soapiness on nose. As expected, quite similar on palate, though nothing seems overemphasized, and with the addition of peppercorns in the back and stronger fruitier citric character throughout, clean like lemon. So bitterness is pleasant, as well as in balance with lighter grain and heavier malt-tart suggestions. Curious what hop varietal was used, it's quite good. Medium-bodied and crisp. Spritzy but mellowing to nearly velvet carbonation. Leaves tip of tongue starting to numb.
★
690 characters

3.8
/5
rDev
-0.8%
look: 4 | smell: 4 | taste: 3.75 | feel: 3.5 | overall: 3.75
Poured from a bomber into a shaker. A normal pour produces a creamy white head of about an inch. The head reduces but sticks around. The beer is quite hazy with moderately high carbonation, and is a distinctly pale lemon-yellow color. It looks like a shandy.
Plenty of floral hops on the nose, with a touch of hemp(?), with a bit of grapefruit and lemon on the palate against a backbone of rather sweet, pale malt. Maybe just a little pine. Quite light and refreshing despite a rather strong ABV.
If a person was so inclined, you could make a lemonade shandy out of this one and I bet it would be awesome. Quite a good beverage in warm weather.
★
647 characters
3.83
/5
rDev 0%
look: 4 | smell: 3.5 | taste: 4 | feel: 3.5 | overall: 4
A: from bottle into a weizen glass - poured a darker golden straw with a two finger head.
S: light citrusy floral. Beaut!
T: nose - a crisp light citrus, follwoed by an earthy tinge of piney grass.
M: mediocre
disclaimer - I paired this with a Oliva Serie 0 torpedo cigar which is a light woody smoke.
★
307 characters
3.92
/5
rDev
+2.3%
look: 3.5 | smell: 4 | taste: 4 | feel: 3.5 | overall: 4
picked up while in Whitefish, Montana (from notes)
A - Hazy bright golden, thumb of white head retained reasonably well
S - Light mandarin and floral, toasty grains and lightly spicy
T - Resiny cascade hops with citrus and floral accents, light grainy malt support, a very pleasant and tasty hop mix
M - Medium body, juicy start that turns to an oily bitter finish
O - A classic NW hopped pale ale, the hops starts relatively relaxed and build throughout the drinking experience, a very nice offering, I will be keeping my eye out for more from this brewer on my next trip to the Pacific NW
★
590 characters
3.97
/5
rDev
+3.7%
look: 3.5 | smell: 4 | taste: 4 | feel: 4 | overall: 4
We hit Hamilton with a goal of getting some good food and a beer or two.. Bitter Root had pretty much all of their bottled selection on tap, so I immediately turned my attention to the Brewer's Whim chalkboard... The single hop caught my eye almost immediately.. Poured into a standard shaker pint.
Good head and lace atop a hazy pale golden brew.. good lace for the entire glass...
Nose is bunches of citric hops with a great fruity hoppiness to it.. good pale maltiness.
Flavor has a fruity minerally hoppiness to it.. reminds me of the Flintstone vitamins I had as a kid.. citrus and some background pineapple.. the maltiness is there to pull the hops to the middle of the palate.. Good body and expected carbonation.. Out of the gate, this reminded me of a AIPA.. but as it warms, I realize there is not enough bitterness for an IPA.. Very drinkable and I am digging the Amarillo hops.. I swear I could pick them out of a line-up.. I like the experimentation the brewers are doing.. The huckleberry beer was pretty damn good.. and that was my next pint. :-)
Bitter Root should be a staple stop for anyone within 50 miles of Missoula.. the menu is very nice and the beer is always solid.. I just want to spend more time there than my alotted 3 pints.
★
1,266 characters

3.98
/5
rDev
+3.9%
look: 4.5 | smell: 4 | taste: 4 | feel: 3.5 | overall: 4
Enjoyed 19 June 2012, reviewed from notes. Thanks to RWNewhouse and EricCioe for the bottle. I'm having a hard time determining if this is the Amarillo or the CTZ version, but I'm fairly confident it's the Amarillo.
Pours pale yellow with a touch of orange. Almost completely clear, just a bit of haze. An eruptive, massive, fragrant white head forces me to stop the pour. It gradually subsides, cratering and leaving gobs of foam sticking to the glass. Wow. Almost perfect, but it just has too much head.
Smell is dominated by herbal hops, with slight spice and a sweet citrus burst.
Taste is quite good. Medium-thin bready malts that provide just enough base. Slightly spicy, like a saison, with a mild bitter finish.
Medium-light body, plenty of carbonation. Rather dry finish.
This beer works well for me. Nothing about it stands out, but I really like it. It's like a cross between a pale ale and a saison, with hints of spice backing a hop-forward pale ale.
★
969 characters
4.03
/5
rDev
+5.2%
look: 4.5 | smell: 4 | taste: 4 | feel: 4 | overall: 4
22oz bottle, from a grocery in Bozeman. Part of the NW Yoga and Beer tour, 2011...
This beer pours a cloudy, opaque, sediment-infested, burnished golden hue, with three healthy fingers of chunky, rocky off-white head, which leaves a panorama of webbed high-hanging lace around the glass in its rather long-awaited dissipation. It smells of bitter pine and citrus pith, and a light bready, cracker malt. The taste is more restrained bitter grassy, earthy, leafy hops, and a nice bready malt to keep things all on the level. The carbonation is mild enough to be a non-issue, the body a lower-middle class medium-weight, and pretty damned smooth. It finishes off-dry, clean, and nicely hoppy from a persistent, yet waning, single minded bitterness.
Lacking complexity, to be sure, but still a nice balanced hoppy pale ale affair. Nothing stands too far out, and by extension, nothing gets chopped off - this can be a good thing when you just want a decent damned drink!
★
968 characters

4.08
/5
rDev
+6.5%
look: 4.5 | smell: 4 | taste: 4 | feel: 3.5 | overall: 4.5
A- Big fluffy head, long lasting retention, fantastic lacing that isn't complete but enjoyable. Creamy head with very, very tiny bubbles when identified. Much, much carbonation. The streams are many and rapid. Clear to light and cloudy without, murky honey body.
S- Light floral and grassy hop notes, maybe citrus. Barest lemon zest and pulp nature to it. Very simple and light but exactly what I'm looking for.
T- Clean, light sweetness. Some faint bitterness creeps in just ever so gently. Very refreshing amount of bitterness. Also has what may be grassy hop flavor, vegetal. Finish is bits of pine needles and sucrose. Delightful.
M- Grainy, full bodied, low stickiness, medium to light bittering the cheeks and tongue. That grainyness is disappointing though. Its almost as if this is a cousin to sand water. Not as oppressive, but you think they might be related. Very crisp opening hid the grainy nature for a while before I realized what it was.
Without that grainyness this beer was good, almost great.
★
1,018 characters

4.1
/5
rDev
+7%
look: 4.5 | smell: 4.5 | taste: 4 | feel: 3.5 | overall: 4
This pours a hazy, particulate-laden orange-peel orange with one of the frothier heads I've ever seen that stuck around forever. On the nose there is a pungent, citric-centric hop note that dominates a base of pale malt. It's a very vivid nose. In the mouth, the pale malt sweetens up the bitterness I was expecting and turns the body into a rather soft affair, sort of a strange cognitive disconnect for me. But the flavors are good, with the amarillo fading back perhaps a bit too much for my taste, but then it's important to remember this is an APA rather than an IPA. The finish is medium long and rather soft, like the body was, with orange peel hanging on longest.
Overall, this beer far exceeded my expectations. Having just moved out here, I've been told that Bitter Root beers aren't worth it. But I cannot resist a single hop pale. I like what they did here. I'd be curious to see what a similar but slightly bigger beer would turn out like. Highly recommended from a totally unknown brewery.
★
1,004 characters
4.21
/5
rDev
+9.9%
look: 4 | smell: 4.25 | taste: 4.25 | feel: 4 | overall: 4.25
yeah boi, poured this beer into a big mtn brew fest mini glass. Anywaaaays, it drools a pale yellow and nice white lacing . Straw yellow with a touch a cloudiness. Aromas are hops and bright, sweet citrus fruit. Quite a nice softness to the spices that are detectable on the nose. Huge hop mouth, bold obnoxiously bright fruit and kind of a fruit-perfume mouth. Nice brew, the mouthfeel is high level carbonation... off-dry complementing the fruit, i feel. Quite a quenching brew. i would love to have this as my drink of choice on my yacht in the mediterranean, soaking up the sun.
★
582 characters

4.45
/5
rDev
+16.2%
look: 4.5 | smell: 4.5 | taste: 4.5 | feel: 4 | overall: 4.5
I found this out while talking with them at the Blues, Brews, and BBQ festival in Salmon, Idaho. The website list the name of the hop strain used as CTZ.
Appearance: Lots of white head. The brew itself is a light tan and somewhat opaque but not much due to the lack of filtering. Laces exceptionally.
Smell: Fruity and a tad bit earthy hop smell. The nose is pretty big on this one and quite nice too!
Taste: Follows the smell almost to a T. Very delicious. The hop strain is apparently a cross strain.
Mouthfeel: Smooth with a good amount of carbonation.
Drinkability: I went back to this brew all night long at the BBB festival in Salmon. Was definitely better than anything else the other breweries had to offer. Would seek out again. The ABV according to the brewers website is apparently 6.33% ABV.
★
810 characters
Single Hop APA (Amarillo) from Bitter Root Brewing
85
out of
100
based on
13
ratings.