Huckleberry Honey Ale
| Bitter Root Brewing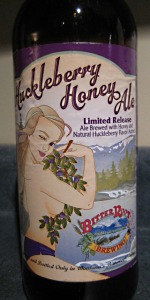 BEER INFO
Brewed by:
Bitter Root Brewing
Montana
,
United States
bitterrootbrewing.com
Style:
Fruit / Vegetable Beer
Alcohol by volume (ABV):
5.90%
Availability:
Rotating
Notes / Commercial Description:
No notes at this time.
Added by cavedave on 07-02-2010
Reviews: 19 | Ratings: 45
4.17
/5
rDev
+5%
look: 3.5 | smell: 4 | taste: 4.5 | feel: 4 | overall: 4
Pour: Hazy light yellow-golden color. A finger of white head that dissipated quickly but left some streaks of lacing.
Smell: Sweet aroma, huckleberries dominate and honey asserts its presence. Light pale malt character.
Taste: Tart and fruity from front to back. Huckleberry is the star, supported by a backbone of honey and pale malt. Clean finish with light hops.
Mouthfeel: Crisp and clean. Light to medium bodied. Low carbonation.
Drinkability/overall: Excellent choice for having a few. Crisp and refreshing, and you can actually taste the beer under the flavoring agents, unlike a lot of fruit beers.
Final Notes: Great summer beer, and one of the best fruit beers I've tried. Light and refreshing and fruity, but it still tastes like beer instead of an alcopop or something.
★
789 characters
3.97
/5
rDev 0%
look: 3.5 | smell: 4 | taste: 4 | feel: 4 | overall: 4
22oz bomber, also sampled on-tap at the brewery
from notes; split
appearance: served in a shaker pint, roughly clear, yellow body, 1/2" white head
smell: sweet - huckleberry sweetness comes through strong with some earthy honey notes
taste: i incorrectly assumed this would be a gimmick beer as huckleberry is the official gimmick ingredient of Montana, but this beer actually turned out pretty nice - sweet "soapy" presence from the huckleberry, lots of honey as well, grain
mouthfeel: lighter and sweet
overall: surprisingly good
★
537 characters

3.92
/5
rDev
-1.3%
look: 4 | smell: 4.5 | taste: 3.5 | feel: 4 | overall: 4
The aroma is awesome - sweet berry juice dominates over a bit of a crisp wheat like note. The color is amber orange with a decent white head. The flavor is light, crisp, dry, and has tons of berry flavor. It ends a bit bitter with a decent body, overall good.
★
259 characters
4.22
/5
rDev
+6.3%
look: 4 | smell: 4.5 | taste: 4.5 | feel: 3 | overall: 4
Poured from a bomber into a pint glass.
A Pours a nice honey colored yellow with a very thick and long lasting head.
S A very strong sweet smell of huckleberries. It dominates the nose to the point there is really nothing else there.
T Like the nose the taste is dominated by sweet huckleberries, very one dimensional in this regard, with what might be a hint of hop bitterness on the finish.
M A little over carbonated but pretty smooth and an easy drink.
Overall I really liked this one as the taste brought back moments of running around the woods as a kid eating wild huckleberries. But overall I thought it was an enjoyable drink and a pretty good way to recover from a hard bike race. If this was in my area I would drink one on occasion.
★
754 characters
4
/5
rDev
+0.8%
look: 4 | smell: 4 | taste: 4 | feel: 4 | overall: 4
reviewed from notes.
a - nice label art ;) pour is light yellow with a white head.
s - very sweet. I have no idea what huckleberries smell/taste like, but i'll assume thats what I'm smelling. kind of like apple/grape.
t - sweet fruit flavor, but backed with some spice.
m - light body. good carbonation.
overall - i was pleasantly surprised with this beer. quite tasty. would make for a good summer beer.
★
409 characters

4.19
/5
rDev
+5.5%
look: 3.5 | smell: 4.5 | taste: 4 | feel: 4 | overall: 4.5
Bomber served in a Duvel tulip
A - Light amber & cloudy, decent head and lacing
S - Fresh huckleberries & fragrant honey = great nose!
T - Fresh berries & a dollop of honey --> newly harvested grains and a bouquet of flowers --> fruity, tart finish (not sweet or really sour)
M - Light to medium-bodied; good carbonation; refreshing
D - For the style, it's really drinkable
All in all, I'm impressed. Most fruit beers aren't too drinkable for me, so this is up there with the best in that category. The taste doesn't quite live up to the nose, but it's still good. Nice beer - glad I could taste it.
★
611 characters
3.99
/5
rDev
+0.5%
look: 3 | smell: 4 | taste: 4 | feel: 3.5 | overall: 4.5
I've sent probably a case of these out in extras... surprised to only see 2 other reviews.. Picked this one up at Brewforia tonight on the way home from work.. sharing it with Brenda while we are taking care of a sick, puking/shitting all over the place Siamese... yum.. smells like huckleberry and partially digested Iams.. I keed I keeeed.
1" head in my Old Guardian goblet.. the brew is slightly hazed orange. Nose shows pretty big huckleberry elements and almost nothing else.
Flavor is a damn good fruit beer pretty much from beginning to end... the berries come out punching alot mid palate and just linger forever.. the only "honey" I get could maybe be described as the finish on honey sweetened green tea..
Body is lite medium with a smooth medium carbonation... very good... I've liked every bottle that I've scored of this one since the first up at the Moscow COOP. A very well made fruit beer without being too sweet and never obnoxious.
3/4/4/3.5/3.5
★
968 characters
4.12
/5
rDev
+3.8%
look: 4 | smell: 4.5 | taste: 4 | feel: 4 | overall: 4
22oz bomber from a recent sojourn to Montana. Pretty damn sexy label too...the um, lake, reminds me very much of a roadstop lunch vista along the western shore of Flathead Lake....
This beer pours a hazy pale golden orange hue, with two fingers of dense creamy white head, which dissipates slowly, leaving some random blotches of lace around the glass. It smells like that simulated grape Pop Rocks candy from my over-sugared youth - sweet, floral, berry fruit. I can't help but say that this is actually compelling - cursed nostalgic pull... The taste is sweet white grain, earthy, acidic, juicy huckleberries, field honey, and a somewhat cutting crisp, leafy hoppiness. The carbonation is quite soft, the body medium weight, smooth, and well, juicy. It finishes fairly sweet, but not overly so, the dry biscuit and earthy hops putting up a slowly losing fight against the latent, intrinsic fruit and honey.
A very refreshing, and overall balanced, fruity beer. The huckleberries take center stage, with a lesser role filled by the titular honey, and the flavour is all the better for it. Glad I cracked this during the waning days of summer.
★
1,145 characters

4.3
/5
rDev
+8.3%
look: 4 | smell: 4 | taste: 4.5 | feel: 4 | overall: 4.5
Huge and sincere thanks to JohnGalt1 for this wonderfully tasty brew. Note: I live in blueberry country and I don't use the term huckleberries.
It pours a cloudy straw color, topped briefly by an active white head, then a nice skim island and ring which hang for most of the ride.
The smell is blueberries, not syrupy or artificial or overbearing, but like the smell of a bucket full of fresh. There is a tart note which could be yeast, or the tart of the berries, a nice neutral sweet to it, and just a hint of floral and spicy hops, almost like a ghost aroma.
The sip starts with some tart yeast and nice berry, gains momentum as bitter (not quite herbal, not quite citrus pith) joins the party, and the berry sweet of it and tart stay in the sip to a finish that gets drier, and better, as the ale warms. The honey finally shows itself a bit near room temp., and adds just the right undernote to a flavor profile that is simple and delicious, clean and satisfying. Near room temp. is where this one shines.
Mouthfeel is where fruit beers often let down. Many are cloying, artificial, or leave a thick unpleasant resin on the palate. This one is low/med. carb., very light in the mouth due to the honey, natural tasting, and has a clean semi-dry finish that highlights the flavors.
Drinkability is quite good, rated as a beer one could drink all night without palate fatigue.
Impression: Yet another fine beer which requires air travel to revisit.
★
1,467 characters
Huckleberry Honey Ale from Bitter Root Brewing
3.97
out of
5
based on
45
ratings.