New Grist Gluten-Free Pilsner Style Beer
| Lakefront Brewery, Inc.
BA SCORE
65
poor
207
Reviews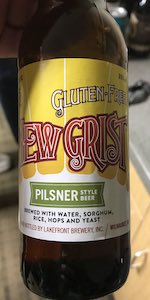 BEER INFO
Brewed by:
Lakefront Brewery, Inc.
Wisconsin
,
United States
lakefrontbrewery.com
Style:
Fruit / Vegetable Beer
Alcohol by volume (ABV):
5.75%
Availability:
Year-round
Notes / Commercial Description:
No notes at this time.
Added by mentor on 10-13-2005
Reviews: 207 | Ratings: 379
2.53
/5
rDev
-7.3%
look: 3 | smell: 2.5 | taste: 2.5 | feel: 2.5 | overall: 2.5
Presentation: 12 oz longneck. Brewed during month and week notched on the side.
Appearance: Pours clear golden, with a bit more head than I've come to expect from the gluten free beer varieties. Not much retention.
Smell: Fruity with a bit of over-ripe vegetable aroma. Also a bit of lambic funk in there.
Taste: Starts off tart, with a bit of a corn-like flavor. This is almost beer, but not quite.
Overall impression: My wife is a celiac, so I grab any and all gluten free beer I can get my hands on for her to try. This one isn't horrible, but it still isn't beer. So far I think Bard's has come the closest, but apparently they were having a bottle bomb problem. Oh well, the search continues.
712 characters
2.13
/5
rDev
-22%
look: 2.5 | smell: 2 | taste: 2 | feel: 3 | overall: 2
Appearance: Glear bright golden body, lots of carbonation on the side of the glass. Head is large, until it fades to a rocky, uneven froth.
Smell: Smell is fruity, with some cooked veggie smell. Metallic and somewhat sharp.
Taste: What an odd flavored beer, fruity yet grainy, yeasty with a slight rotten flavor, somewhat appley. Not very good, pretty offensive.
Mouthfeel: OK, sharp carbonation and a slightly sticky mouthfeel.
Drinkability: I will pass, if you are a celiac, have at it, if not, skip it.
517 characters
3.93
/5
rDev
+44%
look: 4 | smell: 3.5 | taste: 4 | feel: 3.5 | overall: 4.5
gluten-free "beer".
A- golden. slight haze. a bit of lace, okay carbonation.
B- alka seltzer-like. a little vegetable, maybe tomato?
T- a bit sour. reminds me faintly of a belgian lambic. this sourness is common in sorgum beers, comes with the territory. suggestion of hop. slight metallic tinge. do i taste canned asparagus? not as bad as it seems in writing.
F- refreshingly sour.
the trick to this beer is to drink it cold. sort of reminds me of what a belgian lambic brewery's interpretation of a pale american lager would taste like. interesting. and to be honest, i'd prefer this over a bud or MGD any day.
629 characters

1.71
/5
rDev
-37.4%
look: 3 | smell: 2 | taste: 1.5 | feel: 2.5 | overall: 1
This unusual sorghum beer (no barley malt whatsoever) pours a clear bright medium gold color. Head generation is minimal despite a lot of upcharging bubbles. No laces to mention at all. Odd buttered popcorn aroma, some residual sweetness is noticeable as well. Mouthfeel is light, carbonation plenty adequate. This is truly a distinct brew and reviewing it is difficult. It has an extremely artificial butter character to it, even to the point of the burnt popcorn kernels at the bottom of a microwave bag, combined with a sizzling cinnamon and over-applied vanilla second stage to the profile. The finish has a slight lactic astringency that may be similar to sour fermented porridges made from sorghum in some cultures. There's a real granularity in texture here (chalky old-fashioned antacids like Gelusil) and a strange aftertaste with a salty sweetness almost like taffy. It IS unique, but personally, I don't like it all -- practically undrinkable and one of the few beers I've ever regretted buying in a six pack.
1,020 characters
3.59
/5
rDev
+31.5%
look: 3 | smell: 4 | taste: 3.5 | feel: 3.5 | overall: 3.5
I had a bottle of this with my fish fry down at the brewery, and chatted a bit with Russ Klisch, the brewmaster, about it. He told me that it was for sufferers of Celiac disease, with renders a person unable to process gluten, ruling out both wheat and barley, and thus, most beer. Apparently 1 in 133 people has it, so this beer may be more of a hit than you'd think. He says that he's received many letters of thanks from people now freed from drinking chardonnay at Packer parties.
Anyway, onto New Grist itself. It's a very pale clear golden color, not especially attractive. It certainly smells and tastes interesting, like a combination of cream soda and tequila, minus the alcohol bite, with a big helping of buttery diacetyl on top that gains in prominence as the beer warms. Definitely one of the odder beers I've had, and quite experimental coming from Lakefront, though less so now that I understand the motives behind it. Still, surprisingly drinkable given the fact it basically lacks the main ingredient of beer.
1,029 characters
3.42
/5
rDev
+25.3%
look: 3 | smell: 3.5 | taste: 3.5 | feel: 3 | overall: 3.5
Another entry from the Lakefront Brewery of Milwaukee, WI. I found this locally at a grocery co-op in single bottles and grabbed two. You can't ever go too wrong with anything Lakefront puts out.
Smell is soft, malty & earthy. Mouthfeel is moderate with a malty, light hop, near sour effect. This never becomes intrusive or overpowering. It is a well-crafted Sorghum brew. Not quite sure how Gluten-Free effects me, but it tastes like a fine beer & that's what matters. It reminds me a little of a New Glarus beer. Natural, earthy, refined but uncomplicated. Seemingly effortless. -sure sounds like a compliment
612 characters
3.63
/5
rDev
+33%
look: 4 | smell: 3.5 | taste: 3.5 | feel: 3.5 | overall: 4
Bottle provided amid a bunch of stuff given to me for volunteering at 2005 GABF. Thanks, I appreciate the opportunity to try new craft beers. Pours a single finger off yellow head over a clear light copper liquid. Smells very mild, but it's malty sweet with a pumpkin character. A little bit of phenolic funk, which I can't tell if it's from the malt, hops, or yeast. Tastes a little bit of funk with some green apples and dried hay. A sweet beer with a carb stingy finish that cuts (but doesn't kill) the wet. I think I get mild tettnanger hops in the aftertaste as a flowery floral. Plus, there is a piney quality, but not from west coast cirusy hops. It's clearly a malty sour character that comes across as having a flavor remniscent of pine. Md-light body with moderate carbonation. Well done for a gluten free beer. Tastes more like beer than the other non-gluten beer I've tried (Bard's Tale "Dragon's Gold"), but the flavors in this beer are not as strong as I would like. Although I've listed this as an "American Macro Lager", I'm judging it to the style of "Non-Gluten Beer". If offered another right now, I would gladly accept.
1,139 characters
New Grist Gluten-Free Pilsner Style Beer from Lakefront Brewery, Inc.
2.73
out of
5
based on
379
ratings.