Heidelberg Restaurant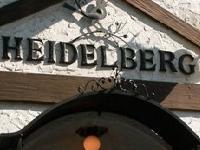 PLACE INFO
Type:
Bar, Eatery
1648 Second Avenue
New York
,
New York
, 10028-3111
United States
(212) 628-2332 |
map
heidelbergrestaurant.com
Notes:
No notes at this time.
Added by saltydog
Ratings: 11 | Reviews: 10
Reviews by scottum:
4.16
/5
rDev
+7.2%
vibe: 4 | quality: 4.5 | service: 4.5 | selection: 3.5
We were walking around this neighborhood where we were staying. As we walk by this place my friend mentions in passing that they serve liters of German beer. I say "cool!' A while later, we decide to get a beer. The first bar we walk into doesn't look very inviting. I say "what about that German place?" "Of course!"
Very German in atmosphere. There was German being spoken at the bar. Apparently this place is the last holdout from an earlier German population center in the city. A good selection of fresh German beer. We went with the Spaten lager. It was nice and fresh, the best sample of the beer I've yet to taste. The service was very nice. Alas, we didn't have enough time or money to stick around. I'd go back and maybe try some food next time.
756 characters
More User Reviews:
3.66
/5
rDev
-5.7%
vibe: 3.5 | quality: 4 | service: 3 | selection: 3.75 | food: 4.25
Somehow, I've had it in my head that this place was called the Old Heidelberg, so I may or may not have been calling it that for years. So that's something. It's Saturday and I feel like I should be at TAP NY and not mulling around the Upper East Side, especially because stupid Benface, whose idea this was in the first place, selfishly bagged due to his parents coming to town. But we're going anyway...
Enter in; bar to the left, seating to the right and wrap around past the bar divided. We walked through and set up in a slightly raised 4 table penned area down past the bar. Mural scened white textured uppers; its trim with dangling ceramic steins, over wood plank lowers. Deep green ceiling and wood plank floors. Hanging window panel sections above the trim between here & there, stainless glass, needlepoint & paintings, a coat of arms, the obligatory stag's head, and a vintage jagermeister print in the front corner. Warsteiner & Dinkel Acker signage above the bar seating and adjacent counter space. Track lighting where we are and chandeliers over the main seating area with mounted lanterns & single bulb lamps, and drop candle looking lamps tracing the bar.
'L' shaped panel wood topped bar, with a base of the same and a brass foot rail; seating for nearly a dozen and a half on wood chairs. Mirrored paneled barback with tiered booze fronting. Large glassware below the bar and more dangling above from the underside of an angled slate exterior looking roof. There's an old style wagon delivering barrels atop on center, and some strung farm tools riddled about; one of which is a scythe with its blade hanging over the edge; beware ye tall people tending lest you lose an ear or eye. Flats in the corners showing the Mets going to lose to the Yankees after we broke their hearts and 11 game winning streak last night, and a disco ball hanging from the ceiling, 'cause nothing says good time party like an old school German restaurant.
8 taps (Bitburger Pils, Spaten Lager, Franziskaner Weissbier, Dinkelacker Oktoberfest & Pils, Hofbrau Lager & Dunkel, Warsteiner Pils). Drafts in .3, .5, 1L, & 2L boot (and that'll be a $60 cash deposit on that boot, frat boy). I drank shortys of the Hofbrau Lager & Dunkel, they were in good shape.
+ a dozen or so bottles (Andechs Vollbier Hell, Weissebier Hell, Weissbier Dunkel, & Dopplebock Dunkel, Erdinger Weissbier & Kristallklar, Weihenstephaner Hefeweissbier & Dunkel, Augustiner Edlestoff, Stiegl Radler, Bitburger Drive N/A, and Bayerischer Bahnhof Beliner Weisse for $11 which I'm calling a wee pricey).
Wanted to play soup (gulasch) & sandwich (Andy's special pork schnitzel) but apparently the lunch menu doesn't happen on Saturdays and I'm not about the brunch menu, so we'll be jumping right into the pricier dinnerings, grumble grumble. Set us up with a bit of bread beforehand, it was of nutty goodness. We both had the wiener schnitzel, mine with home fries and red cabbage; the latter of which I Witzelpushed. And he traded up the home fries for spatzel, which he deemed 'good stuff'.
A dozen and a half tables on the far side of phat wood mix & match sizings, a barrel table in the front corner of the barside, and a mall backyard space; 5 picnic tables and a little square table, some of 'em are umbrella'd up.
Servers were wearing traditional German dirndls, yeah, that works. The music however is not traditional German anything. Would like to see a bit more in the beer range (read: Aventinus) but I like their variety of Pilsners. Food's very good, albeit a little a lot pricey but so is this borough, and some of the others now, too. Our server was a bit asleep at the wheel on a relatively light day. Good house all in all. I'm thinking it may well be the last German joint standing in the 'hood. I must admit that I've always been curious about this place is about and now I know, yo.
3,921 characters

4.78
/5
rDev
+23.2%
vibe: 4.75 | quality: 4.75 | service: 5 | selection: 4.5 | food: 5
Great German food and beer. The Heidelberg is a peice of New York City history that is great, not just for its longevity, but for the quality that it delivers. Once one of many German establishments in Yorkville, The Heidelberg and Schaller and Weber are the last of the UES German community. Not far from the 4-5-6 train on Lexington and 86th, the Heidelberg is well worth the trip for anyone visiting NYC.
407 characters


3.8
/5
rDev
-2.1%
vibe: 4.5 | quality: 4 | service: 3 | selection: 4 | food: 4
Great German place about 40 paces out of my apartment (which makes it even more appealing). Jovial atmosphere, awesome viener schniztel and beef goulash and a great selection of German beers served in small to large glasses--the largest (the boot) holds a half gallon (or more?)of beer. Nice little area outside to sit. Service was good but only 2 fraus--I mean watresses for the entire main section inside the restaurant. Good food and reliable German beer. Very touristy but don't let stop you from visiting. Sehr gut mein freund!
532 characters
3.86
/5
rDev
-0.5%
vibe: 4 | quality: 4 | service: 4 | selection: 3.5
The highlight of my recent trip to New York was the Heidelberg restaurant, not because they've got great German food (although I'm sure they do, I just didn't try it), and not because they've got a great beer selection (it's good, even very good), but simply because they've got a very comfortable little bar and dining area, and a friendly fraulein behind the bar. Sometimes atmosphere trumps everything, and in this case, that worked for me.
There are some oddities. The boots. "DAS BOOT"! The bartender explained how they came to serve them, and how the younger crowd enthusiastically took them up. And, she also pointed out that by the time you're done drinking your 2 or 3 liters of beer it's already gone flat and warmed up. Too true! But why then do they do a foamy pour of some beers? There's even a sign that says it takes 7 minuted to pour a proper German beer. German brewers would scream if they saw the bartenders foaming up the brau and then letting it settle down. All you need to do is give it a proper head! Damn, you might as well run it through a "sparkler" tap like Guinness. Fortunately, they seem to give everyone a regular pour unless they ask for the foamy stuff.
But enough negatives. They've got a pretty decent selection of German beers on tap, covering most of the styles. It's no Zum Schneider, but don't expect to be wanting for a hefe weizen.
Prices are, ah, slightly pricey, but again, it's east-side New York. I'm inclined to call it reasonable.
Oh, and the best part... it's just a few doors down from an awesome little German butcher shop called Schaller & Weber. Lots of great stuff! If only they had the room to sell beer!
1,663 characters
4.5
/5
rDev
+16%
vibe: 4.5 | quality: 4.5 | service: 4.5 | selection: 4.5 | food: 4.5
I love this place. The atmosphere is fantastic,(I just returned from Germany and this place is more German looking than most places there). The quality of the beer is great(the lines are always clean),the service is good and there is a good selection of food. Hilda, The delightful bartender, is always pleasant and friendly. If you want to spend a weekend afternoon drinking great beer with good food, you should go here. The sign over the door as you leave say's "Come as strangers, leave as friends" and it is true.
518 characters

3.58
/5
rDev
-7.7%
vibe: 4 | quality: 3 | service: 4.5 | selection: 3 | food: 4
My scores here are a slightly low in terms of indicating what a great and pleasant place it is but I am using the descriptions for each number and when you have Zum Schneider in a cooler neighborhood with better food and a much more outrageous strictly German beer selection the number scores are gonna have to suffer at least a little.
This place is basically a German family restaurant in what was once a completely German neighborhood on the upper east side of Manhattan. I think it is called Yorktown and I believe that this place and the butcher shop nearby are the only remaining remnants of the old Yorktown neighborhood. It is open for lunch and that is a plus because there are plenty of places in NYC that are not. In fact, we ended up here because David Copperfields doesnt open till 3 on Saturdays.
The beer selection was your standard German--Warsteiner, Spaten, Paulaner hefe, Franziskaner, DAB, etc. I had Dinckel Lacker--which was decent and the wife had Franziskaner. Both were clean enough and served properly. We had a few food items--lanjaeger--which is a must--like a German slim jim and then the potato salad here might have been some of the best I have ever had but the potato pancakes were poor and so was this pork loaf thing which I forget the name of.
One thing that needs mentioning is how nice the bartender was. She reminded me of my of what a nice German grandmother would be like if she were a bartender in Manhattan. She also explained the Bavarian mardi gras called fasching or something like that which was really cool to learn about. I liked this place alot and next time I will go more with entrees rather than a few appetizers.
1,676 characters

3.93
/5
rDev
+1.3%
vibe: 4.5 | quality: 4 | service: 4 | selection: 3.5
I stopped into this medium sized upper east side restaurant and I felt I had ventured to Bavaria. This place oozes German. Full menu of traditional German fare, welcoming bar to the left as you enter, 8 taps dispensing the expected variety of German Imports. Beer selections seemed to remain in the middle of the German road, but I rarely complain about Franzikaner Hefe on tap out of a traditional and appropriate Hefe glass. Dont go for the beer, its the food and athmosphere that are the pull here.
501 characters
3.55
/5
rDev
-8.5%
vibe: 3.5 | quality: 3.5 | service: 3.5 | selection: 3.5 | food: 4
This really was the last stop of the NYC BA Rally, and was a great place to grab a Beer, a bite to eat and to allow us to swap a few beers and sadly, say our collective Good-Byes.
Oddly enough, after the two previous rather heavy sessions not that many of the assembled BA's hit the beers available, they opted for Coffees!!
The beer range is decidedly Teutonic and there is at least half a dozen on draft. I recall beers from Paulaner, Franziskaner, Erdinger, Spaten and Warsteiner (I may even have spotted Bitburger). It is mainly a collection of Hefe's, Weisse's, Dunkels and Lagers, but you can also get a 2 Litre boot of Dinkelacker if you fancy one.
Sadly the bottled beer range is much smaller, but it does include the Berliner Weisse, which you can have neat if you're hard, or with the raspberry syrup if you're a Jessie. And if you really are from out of town – then you can have a Bud, Coors Lite, Amstel Lite, or even a "skunky" Heineken if you really need one – oh dear!
The food range is very traditional, as expected; I opted for some Wurst with a little Sauerkraut and cold Potato Salad. The staff, all of whom were attired in traditional costume, was reasonably attentive, but easily confused by our large group it seemed at times. Price-wise the draft beer was around $5-6 each, and the food was upwards of $9, so it's exactly not cheap, and your Final Bill, like ours, can soon swell if you enjoy a few beers and some food here.
Nice place, come for the food and enjoy the beer.
1,523 characters
3.78
/5
rDev
-2.6%
vibe: 4 | quality: 3.5 | service: 4 | selection: 3.5 | food: 4.5
The last remaining German restaurant in the Yorkville, once home to many. Heidelberg serves excellent German food in an atmospheric setting, and has a decent line up of draft German beers, which were in excellent shape at my last visit. Their bottled beers include Hefeweizen from Erdinger, Franziskaner, and Paulaner, and also Berliner Weisse.
344 characters
Heidelberg Restaurant in New York, NY
3.88
out of
5
based on
11
ratings.