De Zolder Keldercafe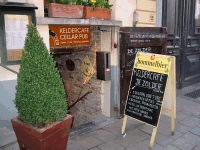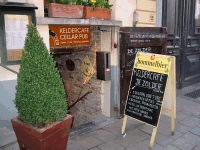 Bar, Eatery
53 Vlamingstraat
Brugge
, 8000
Belgium
// CLOSED //
Notes: Changed owners and name in 2010.
See new listing: http://beeradvocate.com/beer/profile/23653
Reviews by JohnfromDublin:

JohnfromDublin from Ireland
4.13
/5
rDev
+4.8%
vibe: 4 | quality: 4 | service: 4.5 | selection: 4 | food: 4
Visited De Zolder on 22nd May 2005. Took a little time to locate, as it is quite a way along Vlamingstraat walking away from the Markt square (on the left). You must be careful not to bang your head, as you stoop to descend the stone steps down to this atmospheric cellar bar. Someone told be that the owner used to work in T' Brugs Beertje, before opening this place. The atmosphere is very different from Beertje, though almost as good. This place is much quieter.
It has (as already stated in another review) 60 bottled beers on the beer list, grouped by region and followed with Bl for blonde, Br for Bruin, Amb for amber or Wit for witbier. There were 5 beers on tap; Petrus Blond, Pils Bavik, De Koninck, St Bernardus Tripel and beer of the week (McChouffe when we visited).
I had the St Bernardus Tripel (preferred the bottled version), McChouffe and finally an Orval.
De Zolder does a limited food menu, it goes for 4 or 5 main meals done well (homecooked), rather than having a large menu. Chilli con carné, and Flemish stew (meat in St Bern beer).
Music was ambient rock/retro rock classic stuff. Nice clean toilets. Excellent cellar bar, will return.
2006: visited a couple of times on a recent early April weekend. Glad to report that business appears to be thriving, and standards being maintained. And if you want to know what music is being played, they display the CD cover up at the bar!
May 24, 2005
More User Reviews:
BlackHaddock from England
4
/5
rDev
+1.5%
vibe: 4 | quality: 4 | service: 4 | selection: 4
I have used this bar when it first opened way back, two years ago and again in June 2009.
It has changed, but it is now a laid back, low lite, cool music, calm, relaxed place and I like it more now, than ever before.
My party of 12 found a large table to sit around, the beers flowed and the staff glowed, a good night was had by all. Around 40 beers if I remember correctly, I bumped into fellow BA and owner of 'The Belgian Beer Board' (Filip Geerts) in here on this visit, we exchanged a couple of bottles as arranged. Filip lives in Brugge and he also rates De Zolder highly.
There was another group of Brits on an adjacent table and some locals using the bar stools, good friendly atmosphere.
Brugge is getting more and more good quality beer bars (it has always had a few), this is certainly as good as most and well worth popping in for a look and a couple of beers. Not in the Tim Webb 6th Edition (GBG Belgium) because of ownership change, pity, I bet it gets into the 7th Edition.
Jul 14, 2009
i13tony from Pennsylvania
4.2
/5
rDev
+6.6%
vibe: 4.5 | quality: 4 | service: 4.5 | selection: 4
I'm pretty sure I went to this place; however, the picture I took last week is a little different. The fancy sign shown here above the door is now a hand-written board advertising "Bruges' Coziest Cellar". (and Carlsburg on draught!) I found this place quite by accident, but I was glad I did. Decent selection, and true to their word, a very cozy cellar. The staff were friendly, and the Irish lass tending bar was quite nice and helpful, too. Only had a few beers here, and then, had trouble finding it again the next day. But, if you see the stairs and you're lost in Brugge, it's not a bad place to take a load off for a while!
Nov 24, 2008
4thoseabout2bock from Illinois
2.46
/5
rDev
-37.6%
vibe: 3.5 | quality: 2 | service: 3 | selection: 2
This place has changed hands.
Its a shadow of its former self.
No longer deserves to be in the Good Beer Guide.
The positive reviews are from the previous owner.
Beer list is no longer impressive -- corporate and mass market. Taps now include Carlsburg and Carlsburg Light?.
Go across the street to the new place -- much better beer list (both bottle and taps).
The new place is directly across the street.
Also in the cellar.
't Poatersgat
Vlamingstraat 82
8000 Brugge
Number of beers: 120
Open daily from 5pm onwards.
Nov 24, 2008

ggaughan from Pennsylvania
4.06
/5
rDev
+3%
vibe: 4.5 | quality: 4 | service: 4 | selection: 4
My wife and I visited De Zolder on a recent visit to Brugge. The entrance from the street is tiny but has a certain charm. There is breweriana on the walls leading into this cellar bar and all throughout the bar, very well placed. De Zolder has a nice draft selection and also a very nice selection of bottles as well. We were only here for one drink but the drafts we had were very fresh. My wife had a Brugs Zot and I had a Bush Noel. It looks like they had a nice food menu here as well. With the fireplace going on a cold winter night, we could have stayed much longer but will be back on our next trip.
Jan 08, 2008
TheLongBeachBum from California
4
/5
rDev
+1.5%
vibe: 4.5 | quality: 4 | service: 4 | selection: 4 | food: 3.5
After a decent drinking session in the Hotel Erasmus, the crowded streets were getting a little annoying. So a quick thumb through Tim Webb's Guide and a long walk along Vlamingstraat had us heading well out of the crush & push of Brugge. A small potted shrub and a battered Hommelbier Sandwich Board with the words "Keldercafé De Zolder" chalked on it are all that attracted our fleeting attention as we nearly all walked past this Cellar Pub. A light brown sign sits above a small entranceway; you may have to stoop down to get in here. The small stone entrance leads down to a couple of steps which in turn leads to a door on the left hand side. Once through this door a darkened interior opens up revealing a single rectangular room. The wooden topped stone built Bar is down the right hand side. Several stools line the length of the bar whilst the rest of the room has many 4-seater tables than can be put together for larger parties. Toilets are at the back just past the bar and near to the kitchen.
The open fire, tabletop candles, stone and wooden floors, brick walls, dark woods, archways and a dimly lit interior certainly lends a Cellar Bar feel to the Zolder. The décor is rather strange though, the walls are adorned with many Brewery adverts, nothing too strange, but there are also maps of Belgium and even a Belgium map of Gr. Brittanie, weird to see the spellings of Engeland, Schotland & Ierland as well as seeing the English Channel labeled Kanaal….LOL. Some stone statues lend an ecclesiastical feel whilst other old adverts and empty Jenever stoneware bottles litter the walls in a random manner.
The Beer Menu is 5 draft beers and 60 bottled beers. Draft brews were Bavik Pils & Witterkerke at €1.80, a Bolleke of De Koninck for €2.00, St. Bernardus Tripel for €2.50 or the Abt for €2.80.
The Bottled Beers are nicely varied and range from €2.00 for the Vichtenaar up to €7.00 for a 75cl of La Chouffe. NO brews from the Big Boys – so it gets brownie points for that. In between this price range there are many interesting and decent beers to while away the afternoon including; Hapkin, Oerbier, Arabier, Brugge Tripel, AdR Montagnarde, Hommelbier, Kasteelbier, Liefmans Frambois, Kriek & Goudenband, Pilaarbijter Blond & Brune, Jan Van Gent, Gouden Carolus, Cuvée des Trolls, The Lamoral Degmont, Moinette, Duchesse de Bourgogne, St. Bernadus Pater, Prior & Abt, Ecaussins Ultra Brune, Watou Tripel, brews from Chimay, Rochefort, Orval and Westmalle, Ezel Wit & Bruin, Delirium Tremens, Duvel, Gulden Draak, Barbar, Zattie Bie, Hellakapelle, Kapel van Viven, Klooster van Viven, Leute Bokbier, Straffe Hendrick, Kelzer Karel, Tripel Karmaliet, Petrus Oud Bruin & Speciale, Lindemans Kriek, Mort Subite Gueuze & Kriek and the simply awful De Troch Banaan. Thankfully more palatable lambic offerings are available with 3-Fonteinen Gueuze plus Hanssens Gueuze, Kriek & Oud Beitje.
I tried the draft St. Bernardus Tripel and then the Witterkerke Rosé, a new offering from the Bavik stables advertised as "the fruity pink"……..well I couldn't resist that sort of subliminal marketing. Turns out it's a sort of Wheat Beer with a dash of Raspberry flavoring, drier than expected and not that bad.
There is also a small but nice range of Jenevers too, but discretion is the better part of valor and after bad experiences in the past I avoided these even though I was tempted by the simply gorgeous but dangerously drinkable Watermelon Jenever.
Food is offered, but the menu is a little limited, yet it includes a good Chilli and Vlaamse Stoverij Met Sint Bernadus, a meat stew made with Watou's finest. I needed carbs and I managed to fill up with a massive steaming hot bowl of Spaghetti Bolognese for only €6.80 and stave off a Sumerian Beer Trance.
Service was attentive and courteous as well as humorous and genuinely attentive. Music played in the background and helped add to the ambience but was never intrusive.
A warm and cozy Cellar Pub that is a nice quiet escape from the nosier parts of Brugge and its cramped streets. Well worth a visit but note that it only opens from 5pm onwards and is closed on Tuesdays.
Last Visit: Good Friday 25th March, 2005.
Apr 18, 2005
wbthink from New York
4.06
/5
rDev
+3%
vibe: 4.5 | quality: 4 | service: 4 | selection: 4
The Zolder is a cozy, comfortable Bruge cellar bar has fireplaces, a brick bar, and nice bier selection. I always liked their catacomb "cellar" look with a fair amount of open space. Their bier list includes local favorites from Regenboog, among others. A different slant on enjoying some of Belgium greatest biers in a hip, but warm space. Put this place on your Brugge pub crawl, and you won't be disappointed.
Oct 20, 2003
saltydog from New York
4.06
/5
rDev
+3%
vibe: 4.5 | quality: 4 | service: 4.5 | selection: 3.5
Beautiful, atmospheric medieval cellar café. Fireplace, walls plaster & brick, archways, wood floor, brick bars.A wonderfully atmopsheric place. Edith Piaf playing, amongst other very good music. Fireplace. Only about 50 beers, but highly rated in other areas. St. Bernardus on draft when I was there. Service was very good.
Oct 20, 2003
pluto from Washington
4.53
/5
rDev
+15%
vibe: 4.5 | quality: 4.5 | service: 4.5 | selection: 5 | food: 3.5
A cozy cellar bar located north of the Markt on Vlamingstraat. Located down a narrow flight of stairs, this feels a bit more remote than more centrally located beer bars but still gets reasonably busy. I believe they had three beers on tap, the one I had was St. Bernardus Triple. Excellent beer list of 50, including Drie Fonteinen and Sint Bernardus. Great music selection for fans of 80's alternative. Staff were very helpful in choosing our many selections and were spot on.
Food choices were limited but decent--we had vegetarian spaghetti, and beef stew.
One of our most enjoyable evenings in Bruges was spent here. Highly recommended
Oct 19, 2003
De Zolder Keldercafe in Brugge, Belgium
Place rating:
3.94
out of
5
with
9
ratings