Imperial Jo
| Lancaster Brewing Company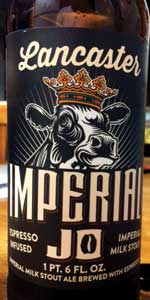 BEER INFO
Brewed by:
Lancaster Brewing Company
Pennsylvania
,
United States
lancasterbrewing.com
Style:
Milk / Sweet Stout
Alcohol by volume (ABV):
8.00%
Availability:
Spring
Notes / Commercial Description:
Imagine the rich roasted malts, smooth mouth feel and subtle sweetness of our award-winning Milk Stout, kicked up a notch or two, by the infusion of dark-roasted, small batch coffee from our friends at Lancaster County Roasters. At 8% ABV, cracked coffee beans in the mash, coffee in the boil and cold brewed espresso in the finished beer, just think of Imperial Jo as Milk Stout's rowdy big sister.
Added by bigfnjoe on 02-28-2014
Reviews: 12 | Ratings: 82
3.83
/5
rDev
-4.3%
look: 3.75 | smell: 3.75 | taste: 3.75 | feel: 4 | overall: 4
Poured into a small chalice: color is black, head is tan and presents about 1/2 inch thick, fine to medium sized bubbles.
Smell is fairly coffee/espresso dominant, not to bitter or harsh with a subtle chocolate/roast malt backbone.
Taste is similar coffee/espresso hit first, then some subtle bitter chocolate/cocoa like flavors, with roasted malts.
Mouthfeel is a bit full, nice presence and full body presentation from the lactose sweetness.
Overall, a good beer with great lingering qualities and good aroma/flavor for its components
541 characters
4.32
/5
rDev
+8%
look: 4.75 | smell: 4 | taste: 4.5 | feel: 4.25 | overall: 4.25
Lancaster Milk Stout was one of my gateways so it stands to reason I would like this. Pours very pretty black with mahogany highlighting yes my preferred look for stouts. Prefer this one in my 5 oz snifter, less head, concentrate the aroma and flavor. Espresso infused milk stout all day at $8 per four. Yea. Hard to find a flaw here ...
337 characters

4.04
/5
rDev
+1%
look: 4 | smell: 3.75 | taste: 4.25 | feel: 4 | overall: 4
Poured into stout glass. It pours a dark mahogany - virtually black - with a thick, foamy khaki-colored head and extensive lacing. It smells of burnt coffee, nuts, and roasted malt. The taste is coffee-forward but there is also some nice baker's chocolate and caramel at the finish. It's better than I anticipated. The feel is fairly chewy for a milk stout, which is a plus for me, as is the 8% ABV, which gives it an oomph. Overall, this milk stout was better than I anticipated. It's well-crafted, tasty, and a pleasure to drink.
532 characters
4
/5
rDev 0%
look: 4 | smell: 4 | taste: 4 | feel: 4 | overall: 4
Just the right balance of maltiness, slight sweetness and coffee overtones make this brew a real winner. It is important to pour this one the right way to release the aromas a bit as you drink it. ABV not overpowering. One of my favorite coffee stouts.
255 characters
3.86
/5
rDev
-3.5%
look: 4.25 | smell: 3.75 | taste: 3.75 | feel: 4 | overall: 4
Sampling a cellar temp growler poured into a snifter. Beer is a gift of my brother Brian.
The beer pours a dark cola brown hue with a fizzy tan head of 3 cm foaming up and actually spilling over the rim of my glass even with a gentle pour.
The aroma is a mix of coffee grinds and roasted malt with some light hits of sugary sweetness, but the sweet is buried and there is no hop presence.
First sip reveals a very fine and tingly carbonation paired with a silky smooth texture and slightly thicker body.
Flavor is very roasted with some dark chocolate and a bit of coffee grinds. I dont get any hops and the booze is well hidden too, although as I get closer to the end of the growler I do feel the effects.
This is a nice roasted malty beer and Im glad to have tried it.
772 characters
3.9
/5
rDev
-2.5%
look: 4 | smell: 4 | taste: 3.75 | feel: 4 | overall: 4
On draft, served in a 10 oz wide mouthed glass. black in color, roasty aroma. overall a nice beer- like a scaled up version of their milk stout , but with some nice coffee flavor
180 characters

4.04
/5
rDev
+1%
look: 4 | smell: 4.25 | taste: 4 | feel: 3.75 | overall: 4
Dark brown in color. The nose smells like rich ground coffee beans. The roast on the flavor profile is fairly potent. The roasted bitterness comes on in the finish as one drinks more and more of this offering. The body is a touch lighter than I'd like but that's a minor complaint.
This is one great coffee infused beer.
328 characters
3.73
/5
rDev
-6.8%
look: 4 | smell: 3.5 | taste: 3.75 | feel: 4 | overall: 3.75
A: The beer is very close to being jet black in color—only traces of red are visible near the bottom of the glass when it is held up to the light. It poured with a quarter finger high creamy tan head that died down but consistently left a short head covering the surface and lots of lacing down the sides of the glass.
S: Light to moderate aromas of lactose, black licorice and espresso are present in the nose.
T: The taste starts out with initial flavors of lactose but flavors of roasted espresso are prevalent in the back end. The espresso becomes stronger as the beer warms up.
M: It feels medium-bodied and smooth on the palate with a moderate amount of carbonation.
O: This beer has a really nice mouthfeel and makes for a good breakfast beer if you want something that can wake you up on a weekend. Any traces of alcohol are very well hidden.
Serving type: bottle
875 characters

4.01
/5
rDev
+0.2%
look: 4.25 | smell: 4.5 | taste: 4 | feel: 3.25 | overall: 3.75
Poured from bottle into a snifter
Appearance – The beer pours an almost pitch black color with a one finger of tan colored head. The head has a good level of retention, slowly fading to leave a moderate level of lace on the sides of the glass.
Smell – The aroma of the beer is huge of a sweet caramel and milk chocolate smell mixed with tons of a milky smell. Along with these sweeter smells are some hints of a roasted malt and a bit of a coffee like smell, bringing a bit of a late like aroma to the smell. This one has very big, sweet and darker aroma producing a smell that is akin to chocolate milk shake with a bit of a coffee smell mixed within. Overall the aroma is very delicious smelling.
Taste – The taste begins much drier then the nose would have let on. It begins with tons of a roasted malt taste with some hints of a dark chocolate flavor and a bit of a caramel and vanilla flavor. As the taste moves forward the caramel and vanilla begin fading, all the while, with a bitter coffee flavor working its way onto the tongue. The coffee starts out lighter, but grows rather intense more toward the end of the flavor profile with a little bit of an earthy and herbal taste coming to the tongue as well, bittering the overall taste even more. In the end with a bit of a lactose sugar flavor bringing a light level of milky sweetness to the brew, one is left with a nice cappuccino like flavor to linger on the tongue.
Mouthfeel – The body of the beer is on slightly thinner side for a milk stout of 8 % abv. with a carbonation level that is on the lower side. The lower carbonation is fantastic for the darker and coffee flavors of the brew, but a thicker and creamier body would have been better for creating a more milk chocolate cappuccino like feel to the brew, really accentuating all the nice flavors. Overall the feel was just OK.
Overall – The aroma was awesome, the taste was dry, but quite nice none the less, but the feel could have used a bit of a thicker feel. Overall rather nice however and a nice one to try if you are looking for a somewhat drier coffee milk stout.
2,108 characters
3.57
/5
rDev
-10.8%
look: 4.5 | smell: 3.75 | taste: 3.25 | feel: 4 | overall: 3.5
Thanks Slatetank for sharing this brew with me. Growler poured into a cervoise, the brew appears black in color with a rich mocha head. 2 fingers slowly fade leaving a webbing and patchy lace sticking to the glass. Some cola clarity is seen around the edges when held to the light.
The aroma is fruity with alcohol and mostly raison-like blending to some roasty milk chocolate. There is a touch of green yeastiness about the brew and it really doesnt pop with the coffee character you would expect based off the description.
The flavor has some green yeastiness about it as well that makes it seem like homebrew that was bottled too early. Some minor vegetative aspect blending to herbal hops. It is quite bitter caught between pine-like hoppiness and burnt char of grain. If I didnt know any better, if say this was a strange attempt at a black ipa, not a coffee stout.
This is medium bodied with a modest level of carbonation. This is an interesting offering. It seems like it is a poorly made black ipa or very vegetative stout but with a slick, quick finish yet some sips linger with roast and others like pine resin. The look is hands down the best characteristics of this brew. The flavor is quite muddled and messy. The aroma is nice but missing the advertised coffee attributes. Thank you Matt for sharing.
1,317 characters
4.36
/5
rDev
+9%
look: 4.5 | smell: 4 | taste: 4.5 | feel: 4.25 | overall: 4.5
LBC Milk Stout has always been a favorite of mine. When my buddy told me about Imperial Jo coming out, I was excited. It's essentially their Milk Stout, brewed with coffee, as far as I know. I love coffee stouts. First had it on tap at their brewpub in Harrisburg. Very smooth, maybe a nitro tap?
Appearance: Poured straight down the center of a snifter. 1 and a half finger or head. Looks just as good as any other stout I've had. Very dark. Looks look great.
Smell: Definitely coffee, but not over bearing. Nothing amazing about the smell, but good regardless
Taste: Just as I'd expect a coffee milk stout to be. It's quite literally the Milk stout with coffee! Exactly what I was hoping for. Sweetness of the milk stout and the bitterness of the coffee are a great blend. One of the better coffee flavored beers I've had.
Mouthfeel: Again, if you've had their Milk Stout, it's about the same. Not very creamy or thick, but good nonetheless. I first had in on tap as I mentioned, and it was nitro, I believe. It was very smooth, however, I prefer it out of the 22oz bomber. I like carbonation. And to me, it's better from the bottle. To each their own.
Overall: It's my second favorite coffee style stout, thus far. Coffee stouts being my favorite of all beers, being second is quite an achievement. I'm sure this will be rotating availability, I hope it gains enough popularity to be brewed more often.
1,412 characters
4.17
/5
rDev
+4.3%
look: 4.25 | smell: 4 | taste: 4.25 | feel: 4 | overall: 4.25
I picked this growler up at the brewpud in Harrisburg, poured chilled into a mug.
The color is deep onyx with thick pale tan cream with very fine bead and wavy lace. The clarity is opaque and retention is good. The smell is rich and has a mixture of sweet malt with a nice roasted coffee scent which is both earthy and adds a cocoa-like aroma. The feel is great - very smooth with mild roast and moderately carbonated. The sweetness level is great considering how sweet it smells with a nice semi dry finish and practically no alcohol is detectable with full feel in the mouth in general.
The taste is excellent..lots of roasted flavor with a slight sweet creamy flavor of lactose juxtaposed with the malt fullness on the palate. The bitterness to balance is there but this fits a sweet stout to my palate yet the alcohol is not very apparent in that it does not have the taste of an Imperial stout. The flavor of the coffee is delicious and smooth blending with the lactose in a way that reminds of a nice cappuccino -both coffee and cream stout are represented well. I really enjoy the way coffee adds slight bitterness as it finishes. This is not a style that is imperialized often but this particular example works well in my opinion.
1,242 characters
Imperial Jo from Lancaster Brewing Company
4
out of
5
based on
82
ratings.