Single Batch India Pale Ale
| Little Creatures Brewing Company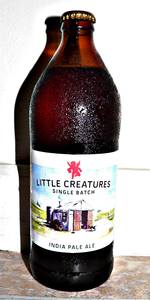 BEER INFO
Brewed by:
Little Creatures Brewing Company
Australia
littlecreatures.com.au
Style:
English India Pale Ale (IPA)
Alcohol by volume (ABV):
5.40%
Availability:
Limited (brewed once)
Notes / Commercial Description:
No notes at this time.
Added by eric5bellies on 03-24-2010
This beer is retired; no longer brewed.
Ratings: 10 | Reviews: 8
Reviews by vancurly:
More User Reviews:
4.35
/5
rDev
+17.9%
look: 4.5 | smell: 4.5 | taste: 4.5 | feel: 4 | overall: 4
A: nice colour and head. Lacing like a rapidly receding spider's web. 4.5
S: sweet, lovely flowers and citrusy notes such as lemon; mixed with a strong malt presence. Good stuff. 4.5
T: leafy hops, decent amount of bitterness. Also a really juicy fruit quality, almost a bit like "juicy fruit" bubble gum. It is decently sweet from the malt. As has been said previously it's not amazingly different from the LCPA, but it is hoppier. As a result while it's not a hop bomb IPA (which would have been more spectacular), it really is lovely and well balanced, and extremely drinkable. 4.5
M: creamy, good carbonation, good on the whole. 4
D: no complaints about its drinkability. 4
I very recently had the Redoak IPA, which for me tasted very similar to this. I think the Redoak edged it out very slightly, the bitterness was more pronounced and somehow more poignant. However one has to factor in the fact it was on draft and was more than twice the price of the LC IPA being at a bar. So with this "drinkability" consideration I would probably rate them about neck and neck. It's really nice to have some quality, distinctive Australian IPAs; even if they aren't exactly readily or cheaply available (limited edition bottle versus only available on draft AFAIK). Now we just need some tasty DIPAs.
1,300 characters
3.73
/5
rDev
+1.1%
look: 4 | smell: 3.5 | taste: 4 | feel: 3.5 | overall: 3.5
Drank from my Bombardier conic pint glass.
This beer is now 1 year old and I'm interested to see how it's aged.
A - Still pouring a burnt orange colour, with am off white head that retains well and laces the glass.
S - Still plenty of citrus hops on the nose, dominated by mandarin.
T - The hops have slightly died away in the taste but the finish is as bitter as 1 year ago.
Plenty of passionfruit flavours present and some pine.
M - A little watery on the tongue but carbonation is very good
D - Still not an EIPA for me, but looking back this was a good attempt by Alex because what has come after with the exception of the Oatmeal stout has been shite.
662 characters
3.56
/5
rDev
-3.5%
look: 4 | smell: 3 | taste: 3.5 | feel: 4 | overall: 4
This is very much an IPA for the people. By that I mean the masses, not the geeks. It is s decently made beer with no major flaws or faults in brewing, however it is a fairly weak interpretation of an IPA. The nose is pleasant with plenty of cascade aromas floating about but it lacks the kick of an IPA, this is even more apparent on the palate. If it was out and out an EIPA it would be pretty close to bang on but they've gone with cascade which indicates AIPA. It ends up falling in the middle; not as a hybrid but as in identity crisis. Nothing unpleasant about it. A tasty beer but perhaps not particularly memorable.
623 characters
3.75
/5
rDev
+1.6%
look: 4 | smell: 4 | taste: 3.5 | feel: 3.5 | overall: 4
568 ML bottle poured into an Odell Imperial Pint glass
A-- Very well carbonated, pretty aggressive pour and got almost half a glass of head!! A clear Orange Carmel color with a light brown head that was 1 finger, once it settled. Lots of thick sticky lacing on the sides of the glass. Good head retention when swirling the glass.
S-- Want to say a grapefruit, orange, lemon and pine biscuit. Has a bit of a sweet biscuit finish in the smell. Interesting touch to it. Was a dead giveaway that it is an English IPA. Was hoping for a US style IPA. Still different but good.
T-- Sweetness followed by the grapefruit, orange and pine flavors in the hops. Hop bit is fairly soft and reserved.
M-- Nowhere near the IBU's that are listed on the bottle (55). Seems much softer than that. Also the hops really back off and let the malt take over. Flavors really linger for a long time but the sweetness really stands out longer. Fairly creamy and moderate carbonation in the mouth.
D-- Low ABV at 5.4% and pretty darned easy to drink. A little sweet for my taste on a IPA but it works. Very attractive label for the bottle and getting an imperial pint for under $6 AU is a big bonus.
On the other side of the coin I am disappointed that LC decided to do an English IPA for a single batch. By rankings their APA is in the top 15 of the world and a tasty beer but to LC decided to take an easy way out and make a EIPA instead of going all out an doing a US IPA. Could have easily pushed the envelope and done an aggressive IPA. A good beer but other breweries are doing much more interesting IPA's. disappointing to say the least.
1,625 characters

3.76
/5
rDev
+1.9%
look: 4 | smell: 3 | taste: 4 | feel: 4 | overall: 4
Picked up to my great surprise at the Clock bottleshop in Surry Hills.
Pours a burnt orange colour with a faint yellow tinge at the edge, with lots of thick fizzy bubbles giving it a ginger ale appearance. Head is splendid, dense white foam that sinks slowly & patchily, leaving a faint trail of lace behind. The fizz dissipates, leaving a steady bead and a very good-looking IPA.
Ooh yeah, that's the Cascade. Fresh and citrusy with a lot of lemon pulp and orange zest, a hint of passionfruit seed, and some cakey malt underlying. It's a pleasant smell indeed but truth be told I don't notice a lot of difference between this and the pale ale, it's really not as super-hoppy as I'd expected. Just a little more citrus zing to it maybe.
Taste is fairly bitter from the get go. Starts with a slight caramelised malt character and the hops kick in immediately, giving off citric tang with lemon & orange rind, pineapple and passionfruit. Starts getting properly bitter right where it should, towards the back, with a yellow grapefruit sharpness, a hint of pine and even a slight solvent character like furniture polish, but not nearly enough to spoil.
Mouthfeel is fairly fluid with a bit of bite from the bubbles and hops on the back, quite a dry finish. Crisp, more than anything else.
I'm not sure why this is classified as an English IPA since its only hop is a quintessential American variety, but I guess it's much of a muchness. A solid IPA and a great testament to the wonders of the Cascade hop. If anything it just needs a bit more enamel-peeling bitterness.
1,572 characters
4.25
/5
rDev
+15.2%
look: 4.5 | smell: 4.5 | taste: 4 | feel: 4 | overall: 4.5
Appearance - Hazy amber, 3 fingers of head with good retention and lacing.
Smell - Sweet citrus and passionfruit. Very strong.
Taste - I don't dislike very bitter beers (in fact there are many that I like), but this beer confirms my belief that IPAs do not need very obvious bitterness to be enjoyable. Sweet orange upfront with loads of passionfruit, as expected.
Mouthfeel - Pretty smooth, good carbonation level.
Drinkability - Well hidden bitterness means high drinkability.
Overall - This is my style of IPA - very fruity with low detectable bitterness.
563 characters
3.92
/5
rDev
+6.2%
look: 3.5 | smell: 4 | taste: 4 | feel: 3.5 | overall: 4
Finally i get to see what all the hype is about just picked some of this up from my bottleshop,it pours a deep copper hue with nice carbonation that leaves behind a creamy two finger head and sticky lacing all around the glass,obviously with the use of cascade hops it smells very similar to their Pale Ale with notes of citrus,pine needles and grapefruit,it has a nice light sticky mouthfeel to it with citrus,passionfruit,grapefruit and also some biscuty caramel malts and it finishes nice and bitter but not bitter enough for my liking in an IPA but this does give it a very sessionable taste but in saying that its not like its gonna be a regular in their lineup and like the label says its a single batch so i would of liked to seen some more elements to this brew and i hate saying it as im stoked they decided to bottle it and i know little creatures have done heaps for WA microbrewing but honestly id prefer a Feral Hop Hog(if it was bottled)anyday of the week.
970 characters
4.05
/5
rDev
+9.8%
look: 4.5 | smell: 4.5 | taste: 4 | feel: 3 | overall: 4
Appearance - 4.5
Pours a bright golden amber, almost clear, with an inch of cream coloured foam head that reduced to a thin layer, leaving lots of sticky lace.
Smell - 4.5
Like sticking your face into a sack of cascade hops - the nasal passage is assaulted by grapefruit, sweet orange, passionfruit, musky perfume, honey and a faint background of biscuity malt.
Taste - 4.0
Unmistakably a Little Creatures beer. Use of purely cascade hops gives the beer a somewhat one dimensional character - although it tastes less than the quoted 55IBU. Honeyed malt, biscuit, a dab of caramel and considerable sweetness balance out an avalanche of fresh, floral, citric hops.
Mouthfeel - 3.0
Thick, sticky and syrupy in the mouth, moderately carbonated with fine bead.
Drinkability - 4.0
For me, this is a sessionable beer, which an IPA perhaps shouldn't be! Some will find the hops too much, but I love it.
OVERALL - 4.1
It's difficult to say whether this beer should be classified as an American IPA or an American Pale Ale. The bitterness suggests IPA, but the alcohol is definitely on the APA side of things. Ultimately the only disappointment is that Little Creatures IPA is too similar to the pale ale. While the pale ale is a truly great beer, it would be good to see the Fremantle brewery branch out, provide greater differentiation and be known for more than just one great beer.
1,380 characters
Single Batch India Pale Ale from Little Creatures Brewing Company
3.69
out of
5
based on
10
ratings.