Dismiss Notice
Extreme Beer Fest:Los Angeles
Join us December 9th in Los Angeles for the ultimate throwdown of craft beer creativity!
Learn more...
Dismiss Notice
Little Creatures Oatmeal Stout
| Little Creatures Brewing Company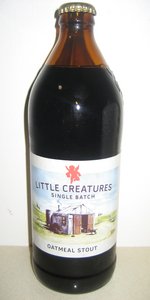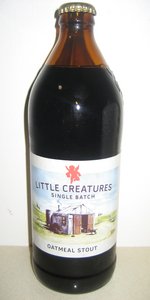 BEER INFO
Brewed by:
Little Creatures Brewing Company
Australia
littlecreatures.com.au
Style:
Oatmeal Stout
Alcohol by volume (ABV):
4.20%
Availability:
Limited (brewed once)
Notes / Commercial Description:
No notes at this time.
Added by dgilks on 09-06-2010
This beer is retired; no longer brewed.
HISTOGRAM
Ratings: 12 | Reviews: 11
Reviews by jarmby1711:
3.9
/5
rDev
+4.8%
look: 4 | smell: 4 | taste: 4 | feel: 3 | overall: 4
Not as black and opaque as most stouts allowing light through the edge giving of a reddish hue.
First up the negatives: it is thin and watery and has previously been noted lacks the velvety creamy mouthfeel expected from an Oatmeal Stout.
However as a drink it is damn enjoyable. Understated coffeeness and a mid range bitterness combined with a subtle sweetness make this a god beer.
Thicken it up a bit and its a real goer
424 characters
More User Reviews:
3.42
/5
rDev
-8.1%
look: 3 | smell: 3.5 | taste: 3.5 | feel: 3 | overall: 3.5
Pours black with a small tan head.
Nose shows milk chocolate, oatmeal and lightly roasted malt. Simple but nice.
Similar flavours, quite light, not aggressively roasty at all. And hence not much bitterness either.
Body could be thicker.
Very approachable.
255 characters
3.67
/5
rDev
-1.3%
look: 3 | smell: 3.5 | taste: 4 | feel: 3.5 | overall: 3.5
Drank from my Bombardier Conic Pint Glass
A - Pours a dark ebony colour with an off white tanned head that reduces to a film.
S - Is nutmeg and roasted coffee.
T - I really like this. Vanilla roasted malts and some coffee, and very well balanced.
M - Fullish body with good low carbonation
D - I like the lingering creamyness of this brew, on face value it's the best single batch to date.
1 year on 08/08/2011
A - Pours a classic Ebony colour with an Ivory coloured head that is two fingered and reduces to a smaller head. - 3.0
S - Still plenty of roasted malt that is a little sweet and caramelised. - 3.5
T - Still a little vanilla in there but has turned a little metalic, the coffee is less pronounced than before. - 3.5
M - Medium to full body with medium carbonation. - 3.5
O - Still an enjoyable beer without being spectacular. Now that I have had the Export Stout, this seems a little bland. Another opportunity missed. - 3.5
946 characters
4.05
/5
rDev
+8.9%
look: 4 | smell: 4 | taste: 4 | feel: 4.5 | overall: 4
Imperial Pint poured into a globe glass
Thought when first released this was a wreck and held onto a couple Best by date August 2011. Just slightly past expiration
A-- Poured a dark cola color and setttled black in the glass. Just some touches of ruby here and there but otherwise no light penetrating this. One finger white head. Very solid looking and shows very nice carbonation for the age of this. Head holds up well before receding to a nice thick film that leaves good streaks of lacing.
S-- A bit thin. It is a 4.2% beer so will not fault it there. Decent amounts of rolled oats, carmel, dairy and milk chocolate. More it warms the flavors pick up more and nose gets better and bigger. Still soft but a well rounded nose.
T-- Oatmeal. Lots of oatmeal. Actually really well done. Good backing of Carmel and milk chocolate. Very smooth beer.
M-- Very dry. Good thing the hops have dropped off in this. Classic oatmeal stout. Really nice rich oats with the right touches of Carmel and chocolate. Dry finish.
O-- Thought when released this was not good at all. Now a really nice beer. Getting of the belief that LC is rushing out product in the single batch series. Cold conditioning did wonders for this beer. For me one of the best of this entire lineup but with long cellaring.
Suggest cold conditioning with the rest of the releases so they mature more.
1,371 characters

3.41
/5
rDev
-8.3%
look: 4.5 | smell: 3.5 | taste: 3 | feel: 3 | overall: 4
Pours a very dark brown, only colour is around the edge when held up to the light. Head is very generous, beige-coloured with large bubbles around the side, but nice dense foam on top, sinking unevenly but slowly. Lace is small and speckly, but yeah, great-looking stout here.
Smell is dark fruits at first, quite sour with plum and raisin notes. Hiding behind is a roasty, almost burnt, bitterness, espresso aroma mostly but with some light cherry on there as well. Hints of cocoa and maybe some black pepper. Fairly standard smell for a stout though, all the roasty/sour notes of dark malt, not bad but also nothing out of the ordinary.
Taste is alright but a bit thin overall. Fairly chocolatey throughout with dark, slightly sour cocoa on the very front and then late-mid as well. Some dark fruit notes come through mid-palate with plum, raisins and a small hint of peach as well. Roastiness dominates the back with a nice char/deep-roast espresso bitterness. It's distinct but not very potent or full. Hint of tobacco midway as well spices it up a bit. The palate has a very dry finish - not entirely sure why as it's not needed. Not a bad palate profile but it seems a little watery with the flavour never quite reaching fullness. They could extract a bit more flavour without upping the strength too much.
Texture is a bit thin too, which doesn't help proceedings.
A decent attempt at an oatmeal stout but frankly it's not a huge deal better than a good garage-brew batch. Good drinking though, it's something pleasant to put in your mouth.
1,551 characters
3.95
/5
rDev
+6.2%
look: 4 | smell: 4 | taste: 4 | feel: 3.5 | overall: 4
On tap at Harts Pub with @tobeerornottobe.
Pours a nice opaque black brown, the colour of dark chocolate.
Head is fine but crusty with good lacing. Decent body to it. Nice.
Nose is pleasantly, but mildly roasted. Hint of leather, vegemite and soy sauce, with a smooth sweetness to back it up perhaps vanilla pastry. Not really robust, but very pleasant.
Taste is smooth and rich, with really nice mild stout characteristics, roasted bitterness that lingers, but a sharp bite of something fresher on the back. It could be a pleasant hop bite, but it's disguised with the darkness. Really pleasant structure, and quite sophisticated.
Tasty brew. Nice, smooth and well crafted. Could use a touch more body, and a touch more strength on the nose, but otherwise its an extremely well made oatmeal stout.
802 characters
3.42
/5
rDev
-8.1%
look: 3 | smell: 3.5 | taste: 3.5 | feel: 3 | overall: 3.5
Before i really get into this review the first thing ive gotta say is whats with the 4.2%ABV i mean dont get me wrong i love that LC's does these single batches but i just think they should be consisent given their first two offering's were 5.4% and that they charge the same price anyway onto the brew it pours a very dark,dark mahogany hue with nice carbonation that leaves behind a two finger cappicino laced head and some sticky,clingy lacing,the smell of this is very enticing with aromas of burnt toast,dark coffee,dark chocolate,oats and a tinge of fruitiness,i really cant believe this mouthfeel its such a let down for an Oatmeal Stout its very light and sessionable not what you look for in an Oatmeal Stout and the taste is only just above average too with tastes of oats,xmas pudding,light latte and a fruity bitterness right at the end,overall this is prob the worst of the LC's single batches for it lacks the body and look needed for an Oatmeal Stout and the smell is the only thing that saves it and seriously its almost like a darker,beefed up version of their rogers with a way more inviting aroma,even though im let down with this offering ill still look forward to see whats next in stall.
1,209 characters
3.23
/5
rDev
-13.2%
look: 3.5 | smell: 3 | taste: 3.5 | feel: 3 | overall: 3
A- pours about an 1 cm of off-white head, head dissipates quickly but never really leaves. pours a slightly opaque black. looks alright.
S- first up is a raostiness, bit of coffee there too. was expecting a bit more.
T- initially a hoppy slightly piny bitterness, followed very quickly by a roasty bitterness. a little bit of coffee, a tiny bit of dark chocolate, but its very faint.
M- all back of the mouth bitterness, however it lacks that smoothness that you find in great Oatmeal stouts.
D- its very easy to drink. although it seems a little thin for the style
571 characters
3.83
/5
rDev
+3%
look: 4 | smell: 3.5 | taste: 4 | feel: 3.5 | overall: 4
A - Very dark brown with a 2cm beige head. Fair bit of lace.
S - Roasted barley mainly with some sweet chocolate character.
T - Roasted barley also in the taste with some sweet chocolate again. Some light caramel & fruity notes also come though.
M - Medium to full bodied with a low carbonation.
D - A decent Stout that doesn't push the boundaries as such but is still a welcome departure from the Pale beers Little Creatures is known for.
439 characters

3.73
/5
rDev
+0.3%
look: 4 | smell: 3.5 | taste: 4 | feel: 3.5 | overall: 3.5
This pours a clear, very dark, brown colour with a moderate, creamy tan head. Good.
Mild toast and roast aroma with a light nuttiness. Just a touch dull.
Well rounded flavour with a hint of fruitiness and moderate roast. A touch of earthy hop character finishes it off.
Medium-light body with moderately-high carbonation. This is fine though carbonation could be a bit lower.
A tasty, straight-forward stout from a solid brewery. While this Single Batch series isn't really pushing any boundaries they are making some pretty solid, classic beers.
558 characters
4.04
/5
rDev
+8.6%
look: 3 | smell: 4 | taste: 4 | feel: 4 | overall: 4.5
Appearance - 3.0
Pours a thin beige head that quickly receded, leaving a patchy layer. Opaque and black in colour, though brown around the edges and more easily penetrated by light than most stouts.
Smell - 4.0
Rather muted, though very pleasant aroma. A little hop character, but it's mostly malt, a little each of roasty, chocolate, toasty and caramel.
Taste - 4.0
The first thing you notice is the lack of roasted malt, or burnt taste - which will no doubt disappoint some and please others (personally I would like a little more). Malty flavours of wholemeal toast and savoury biscuits with just a little sooty roasted. Fruity hops become more apparent late on the palate and the 36IBU leaves the beer beautifully balanced.
Mouthfeel - 4.0
Medium bodied, fine and smooth carbonation.
Drinkability - 4.5
Very easy to drink, a pleasant and sessionable stout.
OVERALL - 3.85
Interestingly, I tried a prototype of this beer before it came out, which was definitely hoppier than the final version. Personally, I'm not a fan of hoppy stouts and I prefer the official beer. I'd be very happy if LC Oatmeal Stout became a permanent fixture at the brewery.
1,156 characters
Little Creatures Oatmeal Stout from Little Creatures Brewing Company
Beer rating:
3.72
out of
5
with
12
ratings