Ingersoll Wine & Spirits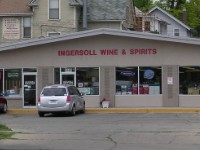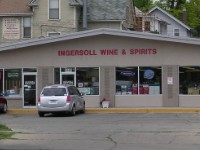 Store
3500 Ingersoll Ave
Des Moines
,
Iowa
, 50312-3407
United States
(515) 255-3191 |
map
ingersollwine.com
Notes:
Recent ratings and reviews.
| Log in to view more ratings + sorting options.
Reviewed by Yetiman420 from Ohio
3.7
/5
rDev
-1.3%
Bottle shops are all relative.

Coming off a weekend tour of world-class bottle shops in San Diego, I found myself in Des Moines on business in search of a bottle or two to take to my room post brewpub tour.

Ingersoll came up as the best and it was close to my hotel and final brewpub stop - Rock Bottom.

Downside for me was they didn't have 12 oz singles and I didn't want an entire six pack (althought I didn't see anything that jumped out at me).

I settled for a Rochefort 8 and a Golden Draak from the cooler. A $12 two pack. The only service I got was a "ahhh good beer choice" from the young cashier who was wearing his high school coach sweatshirt.
Oct 22, 2010
Reviewed by Mud from Nebraska
4.5
/5
rDev
+20%
There are Hy-Vee's around the city a dime a dozen. They have somewhat knowledgeable staff but most importantly they have BIG BUCKS behind them.

Knowing this makes you appreciate Ingersoll W&S ever more. The have always had Good beer selections at reasonable prices. The stock is rotate to insure that you don't buy old product unless you want it that way. Old,non moving product gets discounted out on a regular basis. I have shopped at that store for years...before Micros came to the fore.

Ingersoll has always had a good selection of Belgiums, English as well as German Beers. I miss the place and the owners and staff as well they were always helpful and knowledgeable.

The place is easy to get to and find parking but best of all it is not in a strip mall it is a corner neighborhood store. Locals can ride their bikes or walk to the store without the trappings of suburbia.
Jul 26, 2009

Reviewed by BretSikkink from Mexico
3.85
/5
rDev
+2.7%
I wish I could say that I love Ingersoll - it's very close to being a good beer store.

As a qualification, I will note that Wine and Spirits are featured in the nomenclature, and that they make no claims to beer connoisseurs.

There are about 5 fridge doors with beer, 4 of them with decent imports and microbrews. Not adventurous, but good beers, and they come cold which can be a selling point in this area. The warm shelves are full, just not very extensive. Some unusual imports, especially Belgian and English, along with a few wild cards from Eastern Europe and Scandinavia.

I have never been helped at Ingersoll, although I've never asked. There is always one employee, standing at his register kiosk - rarely talkative beyond check-out pleasantries.

I wish there were more quality beers here. I know what is available at John's Grocery in Iowa City, Cyclone Liquor in Ames, Beertopia in Omaha, and a variety of stores in Minneapolis. The beers are available, but they're not finding their way to Des Moines, which is frustrating on the convenience scale.

There is talk of a high-end back room or cellar, but I've never heard beers mentioned. Perhaps there's something I don't know about Ingersoll, but what's available to the average consumer is good for Des Moines but not great overall. Prices are acceptable, but leaning towards high, and you're not likely to find a deal like you might in a grocery store.
Mar 28, 2009

Reviewed by DesMoinesMike from Iowa
3.85
/5
rDev
+2.7%
Nobody's reviewed this plaec in a year and a half, I shall remedy that.

Located at Ingersoll and 35th it's esay to find. Althought the exterior is plain and somewhat worn down, it is the main stop to buy booze (for takehome purposes) in the downtown area.

I mostly go here because they carry the Summerset Winery products I love, Caba Moch, Mead, Kiss Me, but no Concord.

The selection is very impressive. I'm becoming more a fan of microbrews and imports lately, and this establishment is feeding my appetite. Several Sam Adams, Spaten, Millstream, Fat Tire, Monty Python, can all be found here. They even said they'll start carrying absynth in a week or so.

A clerk said hi to me when I entered but that was about it until I asked a question about 5 minutes later, and I was one of 3 in the store.

The prices are average compared to Hy-Vee, Fareway, and Dahl's.
Apr 09, 2008

Reviewed by bditty187 from Nebraska
3.4
/5
rDev
-9.3%
Oddly I haven't revisited this store since my original review below. My word does it need updating.

The selection at Ingersoll *was* better. It was much better. I know I wasn't high the last time I was here. With that said I need to lower the selection score. Now many of these beers are available in Council Bluffs, IA. A couple of years ago most of these beers were "rare" to me because I couldn't get them at home. That is no longer the case. The only thing that Ingersoll had that I can't get in Council Bluffs or Omaha was Millstream.

I know there are way more beers available in Iowa that Ingersoll doesn't carry. Bummer.

The service kind of sucked again. I purchased two six-packs of Millstream and the sole employee rang me up without talking to me. Impressive.

Since it is located so close to downtown I suspect I'll stop here again but it is far from the destination beer spot that I once thought it was. Omaha/Council Bluffs has increased their selection while this store has seemed to have taken a step back. Plus, the prices seem a tickle high to me.

---

Review from 10-20-2003. Quality: 4; Service: 3; Selection: 4.5 =
4.15

I found out about this store via their website. Now that I visited the store ignore the beers listed on the website. That is old information, Ingersoll Wine & Spirits carries much more good beer than that!

I was very pleased with the selection of imports found in two little aisles. Many of them I've never seen or heard of before. I thought the prices where a touch high but I really can't compare. Most where from Germany, Belgium, England, but a few other countries where represented.

The domestic selection was nice. They had a little of everything… Millstream, North Coast, Rogue, Left Hand, Goose Island, Schell, Sprecher, and many others. Most are sold in a cooler. Six-packs.

The service was lacking… I was offered no help… I wasn't even noticed as I walked through the door. I am not going to downgrade them for that but I will downgrade them for jamming the Belgium beers I purchased upside down in a box! I fixed that!

I had no trouble finding the store; it is on the corner of 35th & Ingersoll Ave. Enough parking. Stand-alone building.

Des Moines is a two-hour trip for me; I'll make it again to check out this store (and other beer attractions in town). I can't see locals not shopping here!
Jun 19, 2006

Reviewed by WeisGuy from New York
3.85
/5
rDev
+2.7%
Big store across from the Bank of America and Dahl's on Ingersoll at 35th. Rather large store, though a good deal of it is dedicated to wine. Not the fanciest looking place, but that doesn't matter to me. Nobody came over to ask if I needed help, but I wasn't in there long either. Pretty good selection, for Iowa. A few good Belgians and and English brews. Decent amount of micros. The high point for me was finding North Coast Old Raspy. I never thought I'd see that in Iowa, and it's one of my regulars down in NC. They have a good selection of German stuff too. Recommended if you're near downtown.
Jun 18, 2006
Reviewed by UnionMade from New York
3.85
/5
rDev
+2.7%
Stopped here on a recommendation from the bartender at Court Ave. Brewing Co.
Easy to find, located right on the corner of Ingersoll and...some other road with a number. Anyways, my girlfriend and I had no trouble finding it being completely new to Des Moines. A rather unassuming, square building with a plain sign.
Walking in, the coolers are to the left, and the majority of the beer is kept chilled. I'm not familar with the standards of beer in Iowa, but the micro/craft selection was pretty solid in my book. No Beer World, but I'd be happy to have a place like this up the street. Local beers, which I was there for, were well represented. Placed front and center, in the middle of a cooler. Some 22oz selections as well, keeping things interesting. Again, I'm not familiar with Iowa as a whole, but the beer prices for the local stuff was a steal. If we only paid a dollar more a sixer for good beer back home, I don't know why anyone would drink anything else. Good service, the clerk happily making conversation and pointing us back to the highway. To be quite honest, I can see what beers are on the shelf and I really don't need any help. Not the kind of place I expect to be hoarding secret stashes in the back.
Altogether a good beer buying experience.
Sep 22, 2005
Reviewed by isubsmith from Minnesota
3.7
/5
rDev
-1.3%
I stop here occasionally when I am in Des Moines.

The selection is reasonably good, probably among the best in Des Moines. Pretty much the "standard" imports I see everywhere - Sam Smith (though they are almost always out of the Imperial Stout.... As others have suggested, maybe they only get one shipment per year or something sad), Ayinger, an occasional Orval (but I've heard the Iowa importer of Orval is also the importer of Sam Smith Imperial Stout, ie, you aren't likely to see Orval there often), and some Chimays. (Typically the red or white bottle. I don't know that I've seen the Grand Reserve there). A few other German beers, etc. Quality micro selection is not very good. Macro selection is of course overwhelming. Ingersoll Wine and Spirits selections are good for Des Moines, not in general. Des Moines has very few good beers available.

Service is almost always bad. I think they must assume anyone looking at beer is just there to buy a case of Natty Ice or something and therefore not worth helping. They tend to be more helpful towards the wine or liquor purchasers.

Anyway, probably about the best place to get beer in Des Moines. If you have to drive very far to get here, keep driving up to Ames (Cyclone Liquors, ~30 miles north) or Iowa City (John's Grocery, ~100 miles east) instead. If you are in town, then definately stop in.
Feb 20, 2005
Reviewed by daledeee from Iowa
3.4
/5
rDev
-9.3%
The middle of Iowa. Well, this is a pretty good selection. All the available micros, good selection of European including some Belgian offerings. It is a tough market in Iowa when we talk about country music and Busch light as the mainstay. A nice refresher when stuck there for a weekend.

But....The service is unbelievably poor. Even though I know what I am looking for, sometimes it takes me time to pick out what I want. We were in the store for 15 minutes. Four people stood clustered around the register and noone ever offered to give a hand. As is the case, most of their store is devoted to wine. Maybe they don't care if they sell any beer.

I don't get it.
Apr 05, 2004
Reviewed by BuckeyeNation from Iowa
3.4
/5
rDev
-9.3%
Since we're unable to review establishments multiple times like we are beers, I had no choice but to 'edit' my old review by completely rewriting it. I've been meaning to do this for a long time because the original wasn't even for this store, it was a review of the 'other Ingersoll', Ingersoll Wine Merchants on 50th Street in West Des Moines. Keep in mind that this review will still have the date of the original, but was actually written on 6-25-2006.

Ingersoll Wine & Spirits is located on a busy street just a stone's throw from downtown Des Moines. It's very handy for me to stop by after work, so I do so once every few months. There's plenty of parking in front, though I've never seen more than a few cars in the lot. While the newer store is definitely wine focused, this store appears to give equal attention to liquor, wine and beer.

The beer is located in coolers along the left-hand wall and on several adjacent shelves. In what seems to be a common modus operandi for Des Moines beer stores, 90% of the selection is similar to what you'll find elsewhere in the city, while the other 10% is unique to each store. I won't run down that selection yet again, but will refer any interested readers to some of the other reviews.

As long as I space my visits out to one every few months, I can usually count on finding several new offerings each time I stop in. I'm glad that the owners are interested in and invested in keeping selection stagnation at bay. Speaking of stagnation, I don't remember seeing much out-of-date beer here other than the odd lower tier Belgian.

Even though I rarely require any assistance in a beer store, this place is remarkable for the sullenness of the staff. To be fair, I've never interacted with anyone other than the checkouts, but perhaps a little Prozac in the coffee wouldn't be such a bad idea. I do remember one time when the guy checking me out was friendly and chatty, but it was so memorable *because* it was so unusual.

All told, I'm glad that Ingersoll Wine & Spirits exists and I'm glad that it's so close to my workplace. Another advantage as far as location is that this is the closest beer store for those visiting from out of town who are staying in downtown Des Moines to be in close proximity to The Red Monk, El Bait Shop, etc. Worth a look-see if you're in town.
Dec 03, 2003
Ingersoll Wine & Spirits in Des Moines, IA
Place rating:
3.75
out of
5
with
10
ratings