P.J. Whelihan's Pub and Restaurant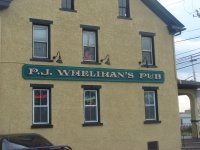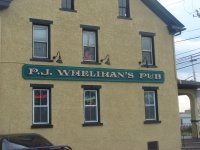 Bar, Eatery
4595 Broadway
Allentown
,
Pennsylvania
, 18104-9511
United States
(610) 395-2532 |
map
pjspub.com
Notes:
Reviews: 11 | Ratings: 17

3.78
/5
rDev
+5.3%
vibe: 4 | quality: 3.75 | service: 4 | selection: 3.5 | food: 3.75
Ate here with the family a few times and the service was always decent; better than expected since every time we ate there it was packed. A decent amount of beers on tap and available, nothing too extraordinary, but should definitely be able to find something to wash down the typical bar/pub food.
299 characters
3.54
/5
rDev
-1.4%
vibe: 3.5 | quality: 4 | service: 3.5 | selection: 3.25 | food: 3
A fun place to go to with friends for drinks and food. There is a good selection of beer, and there is always something that I like on tap, usually I get an Irish or English ale. The food is typical pub food, good comfort food but nothing special.
Overall a fun place that we go to a few times a year to meet friends. The beer selection and environment are the best part. The food is nice as well. Definitely better than the larger chain restaurants.
452 characters
4.18
/5
rDev
+16.4%
vibe: 4 | quality: 4 | service: 4 | selection: 4.5 | food: 4.5
You cannot find better wings anywhere in the Lehigh Valley or the Philly region. The Allentown/Walbert locations do not have the beers as some of the larger locations, (Bethlehem, Cherry Hill, Maple Shade, etc.) however the service is always excellent. Great atmosphere and always cold beers.
292 characters
4.16
/5
rDev
+15.9%
vibe: 4 | quality: 4.5 | service: 4.5 | selection: 3.25 | food: 4.75
Do not look for fine dining. This is without a doubt the best pub food around. smallish beer selection however, but the service is fantastic. Best wings in the area, try the hot and honey ! This location is in a cool historic old stagecoach stop location. This adds to the charm, but cuts down on the availability of seating. My go to place for a beer and something to eat after golf.
384 characters

3.56
/5
rDev
-0.8%
vibe: 4 | quality: 3.5 | service: 3.5 | selection: 3.5
Ended up here on my 22nd birthday with some friends of mine who took me out for the night. We had been at the Keystone Pub earlier that night doing Car Bombs and all kinds of other beers. After a while though we got a call from some other friends who were PJ's so we made out way there.
Walked in right before last call, order a Harp and a shot. Did the shot with everyone and sipped the beer till the bar close. The place was pretty nice looking. Lots of beer ads on the walls. The place looks like somewhere I'd like to go back to if I was in the area.
The beer selection wasn't too bad, I would be able to choose several that would be worth having there if I was to go back. I didn't have any food but I would probably have something the next time I go.
Overall my stay there was short, the place looked pretty clean, the service was pretty quick and overall I didn't have a problem with anything there at the time.
923 characters
3.85
/5
rDev
+7.2%
vibe: 4 | quality: 3.5 | service: 5 | selection: 3 | food: 4
A good local sports bar....I go on the occasional Sunday to watch the Eagles games.
Wrap-around bar with 7-8 beers on tap. Guinness is the old standby, but Magic Hat, Bass, and a few others are also available. Last time I was there, they had Dogfish head 60 minute IPA on tap!! A pleasant surprise.
They are known for their wings, and they do not disappoint. The wings look like they are on steroids...and thats a good thing.
The other food is your average pub fair, but serves the purpose.
Bartender on Sunday's is Justin, and he is quick with a pour, friendly and a bit entertaining.
But the 60 min IPA was the best part...
630 characters

3.58
/5
rDev
-0.3%
vibe: 2.5 | quality: 3.5 | service: 3.5 | selection: 4 | food: 4
I've read the other reviews on this place and don't agree. I totally prefer this place over some others in the area. The food isn't stellar, the service is good, and I always find beers on the menu I really like (and I'm a hard one to please). Parking is all on street and really sucks. It's a small, out of the way neighborhood bar and we go there often. I like it better than the Brewworks. For a business traveler, if you want a nice taste of local Allentown, this is a good place to seek out. I don't agree with the other reviews, this place can have a really kick butt beer menu with a nice variety of different styles that won't break your wallet. It's worth a stop.
672 characters

3.15
/5
rDev
-12.3%
vibe: 4 | quality: 3 | service: 3.5 | selection: 2.5 | food: 3.5
PJ's is a nice place for me, as I live close by. The atmosphere is nice, but nothing outstanding. Food is solid, (nothing amazing) but I would recommend their wings. Staff is nice and attentive, but they are not going to help you out on your beer selections (not their focus). Now, the important stuff-beer. Selection is actually pretty extensive, the only thing is, it is mostly macro. They do have some Magic Hat, and Victory, but the rest of the selection is (again) macro. So, you are mainly looking at Bud, Miller, but they do have Guinness, and some others/Blue Moon etc. Again, nothing impressive. Over-all it's a nice place to stop by, but if you are looking for an amazing beer selection...keep on going.
713 characters
3.6
/5
rDev
+0.3%
vibe: 4 | quality: 3.5 | service: 4 | selection: 3 | food: 4
One of the closest places to my Fiancce's parents house to grab a beer and a bite. Cozy atmosphere accented by lots of antique signs all over the place. Nice wrap-around bar with plenty of seating. Beer choices are OK, but very pedestrian: Bass, Guiness, Sam Adams, Newcastle etc. Food is pub fare, inexpensive, and decent. The wings are awesome here, so are the buffalo shrimp. These alone make it worth the trip. Not exactly what I would call a beer bar, but a good choice for meeting friends or family for some brews and munchies.
533 characters

3.15
/5
rDev
-12.3%
vibe: 3 | quality: 3.5 | service: 2.5 | selection: 3.5 | food: 3
One of the first bars me and my wife would frequent when we first moved here but the service started to get pretty bad and the quality became kinda shaky.A nice big wrap around bar with alot of chairs along with alot of seating space around the bar,very yuppiesh in cliantel with alot of people drinking Stella in the fancy glass.At times the food can be decent although it is mainly sandwiches and bar food,a decent array of taps that dont seem to rotate though.a place to go when wanting something other than AB products only but not all that great.
551 characters
3.18
/5
rDev
-11.4%
vibe: 3 | quality: 3 | service: 3.5 | selection: 3 | food: 3.5
All in all, not a terrible place. Although, I would not take a woman there for a first date...or my wife for that matter. It is a local pub with an average if not just above average menu, and definately average beer selection, with the usual...Harp, Bass, Guiness, etc...
The menu has some winners, like the wings, which I am normally not a fan of, but these are good.
If you are in the area and want a relatively inexpensive place to chow down and have a regular brew, then this is the place to go.
Prosit!
516 characters
P.J. Whelihan's Pub and Restaurant in Allentown, PA
Place rating:
3.59
out of
5
with
17
ratings