P.J. Whelihan's Pub and Restaurant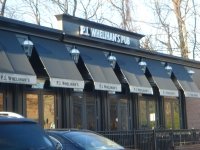 PLACE INFO
Type:
Bar, Eatery
700 Haddon Ave
Haddon Township
,
New Jersey
, 08108-3712
United States
(856) 427-7888 |
map
pjwhelihanspub.com
Notes:
No notes at this time.
Added by NeroFiddled
Reviews: 10 | Ratings: 17

2.55
/5
rDev
-23.4%
vibe: 3 | quality: 3 | service: 2.5 | selection: 1.5 | food: 3.5
The better of the two PJWs I've been too. Relatively close to my new house so I stop by every so often to catch a game or for a late night meal.
The atmosphere is okay with two dining areas and a small outdoor patio section. The front/main room has a long bar and ample seating while the back room is smaller yet more comfortable with some high tops and booths. Flat screens everywhere with a decent view from any seat.
The service leaves a bit to be desired. The servers are pleasant and speedy but have little to no knowledge of beer. Surprisingly the bartenders seems to know even less.
The food is good with above average pub grub. The wings are excellent and thy offer some other good apps and sandwiches.
The selection is pretty awful with a tap or two of local micros, with most of the lines and bottles dedicated to BMC/macro options. Victory makes a copper lager for them which is pretty sessionable but you have to wait 20 minutes to drink it because everything is served at the lowest possible temperature.
Overall an okay place but there are many better option on the same street.
1,099 characters
3
/5
rDev
-9.9%
vibe: 3.5 | quality: 3.5 | service: 2.5 | selection: 2.5 | food: 3.5
PJ's is a okay alternative to driving and parking in Philly, but I would never go here looking for a good selection of micros. It is a decent bar for hanging out with friends who aren't really into micros - since they have a few micros for those of us who like them and BMC beers for everyone else. The food here is hit or miss, but I've usually been lucky. The one place it really can fall down is on the service - more often than not the servers have no idea what micros are available and often the service has been quite slow. The atmosphere is decent and for the type of place it is, I think it does fine.
609 characters
3.2
/5
rDev
-3.9%
vibe: 3.5 | quality: 3.5 | service: 3 | selection: 3 | food: 3
A - cozy atmosphere, with alot oh hd tv's. not a bad place to go and have a few on monday nights.
Q - they always seem to have a decent microbrew on hand, especially on microbrew mondays.
S - at the bar is always good, but at the back room has been some delays getting beer.
S - the local brewers are always serving up something decent. and once in awhile they get something interesting from out west.
F - the fries are ok. the bergers are ok. i enen had the chili, and it was ok.
V - you get what you pay for, but on mondays, $3.50 pints is a good deal.
559 characters
3.25
/5
rDev
-2.4%
vibe: 4 | quality: 4 | service: 2.5 | selection: 2.5 | food: 4
Ok, so why did I rate service so low? Beer-wise, they are not properly trained. The good beer is usually on-bottle. A little thing on the table will tell you to ask the server about all the micro's they have on-bottle. But guess what? The waitress hasn't been told what's on-tap. Do they x? I'll go ask the bartender. No/yes. Repeat. But this situation is not their fault. They haven't been trained properly.
Selection on-tap isn't that good. Occasionally there is a Victory or a Flying Fish, but that is if you are lucky. Guinness, Sam Adams and SNPA seem to always be there.
The food is good but not great. The chicken wings and chicken cheesesteaks are very good. Service, non-beerwise, is good.
This bar could be much better beerwise, but it chooses not to be. Not a bad place (it's quite good in many respects) but could be much better.
850 characters
3.28
/5
rDev
-1.5%
vibe: 2.5 | quality: 3.5 | service: 3.5 | selection: 3 | food: 3.5
Not a bad place for a neighborhood sports bar. Haddonfield is an upscale neighborhood, so this place is a bit classier in appearance, that is, it's not a dive bar or anything. That said, you can still get an annoying crowd now and then...but then again, it's the Philly area, and all Philly sports fans are terrible. But anyway. They have two decent sized bars, as well as tables and booths. The beer selection is decent. Aside from the typical macros, they keep a fair amount of micros/locals on tap. The staff is friendly, but you won't really learn anything about beer here. Food is good, typical pub fare.
If you're in this area, you might as well go to Cork or the Pour House in Westmont, both of which are not that far away.
731 characters
3.28
/5
rDev
-1.5%
vibe: 3 | quality: 3.25 | service: 3 | selection: 3.5 | food: 3.75
I have been to PJ Whelihans'" in Haddon township. Not sure why it says Haddonfield, Because Haddonfield is a dry town.
A- Atmosphere can be a hit or miss
Q- Quality could be better
S- Service at the bar could be better if the bartender was not tending to the back bar
S- the Draft Selection is very good Draft selection is changed often
F- Food is very good Love the burgers. The wings are good. They have haft price wings on Tuesdays. But it is packed with teenagers Better to go after 8 pm if you don't want to be brother with kids
V-Value is very reasonable
569 characters
3.35
/5
rDev
+0.6%
vibe: 3 | quality: 4 | service: 2.5 | selection: 3.5 | food: 3.5
This is the first of the South Jersey PJ's, and my least favorite. Located on a busy suburban thoroughfare, it's in what was once a local shot and a beer cave. Parking is TIGHT, with entirely too many spaces shoehorned into a small lot. On-street parking is the alternative, and on a busy night that could very well entail a ten minute walk from car to bar.
Inside, it's typical shorts bar chic, with plenty of flat screens at various angles to ensure clean site lines from most anywhere in the bar and tables a plenty. Dark wood and green glass are a PJ's signature. There are two bars, both of which get insufferably crowded, especially at happy hour and on weekends. The back room is actually rather pleasant on temperate days, as they can open the front wall to add an al fresco element to the run-of-the-mill ambiance. But overall, it's a meat-market/sports bar, chock full of the kid of guys who root for teams from colleges they never went to and the women who love them.
The beer quality is actually quite good, as they are serious about cleaning their lines, and it shows. Granted, as always, every beer is served ice cold, which is a plus for the macros and a genuine shame for the better beers. And everything goes into a pint glass, but that's okay, because most of the patrons here have no idea there are other kinds of glassware.
The service is a weak link here, and indifferent would be a step up. The bartenders all too often are arrogant and impatient, and every bit as clueless about the beers they serve as the waitstaff is. Granted, the people are pretty, the fine-looking folks you'd expect in a place as image-conscious as this one. But the looks are inconsequential when you're faced with a dumbfounded look from the person you just asked what's on tap. And don't even think about asking a thing about the beers themselves, unless you enjoy getting a vacuous stare in return.
Now, the selection is better than average, at least for this neck of the woods, but what exactly is that saying? On any given day you might find some combination of Victory, DFH, Stoudt's, Sierra Nevada, or Troeg's, and that's not a bad thing. Keep in mind, though, that the meat and potatoes here are the BMC offerings, and that's what it's all centered around.
The food is typical sports bar pub fare, with potato skins, wings, sandwiches, and appies, many of which the menu touts as world famous, but they're really not, at least not in my world. And an aside here- stop describing your hot wings as insufferably hot when they're really about as piquant as Tabasco sauce, and that's no knock on Tabasco!
Anyway, there are a few entrées that are rather flavorful, but the bottom line is, it's a bar with decent food. Don't lose sight of that fact.
Prices are quite practical and reasonable. I guess volume has its pluses.
So you might think I don;t like this place. Well, it's not my first choice. In fact, I have no desire to return, as anything they offer I can get in a place I actually like to be, among real people, not the plastic variety this place engenders.
Go if you must, but know well its limitations going in.
3,153 characters

3.38
/5
rDev
+1.5%
vibe: 4 | quality: 4 | service: 2.5 | selection: 3 | food: 4
this is a place i frequent about 2 times a month. its a standard sports bar with pretty good food and reasonable prices. they always keep a few good taps on hand, usually at the back bar. the bartenders don't really know anything about the beer they are serving, most times they can't even tell you what micros they have. i've run into one situation where the male bartender got an attitude with me and said something rude, in regards to me not being quick with what beer i wanted after he failed to pour a beer from their hand pump correctly. aside from that one situation its a really good neighborhood bar. just make sure you dont ask someone to pour you something from their cask.
684 characters
3.48
/5
rDev
+4.5%
vibe: 3.5 | quality: 4 | service: 2.5 | selection: 4 | food: 3
PJ's is your run-of-the-mill sports bar, they happen to have a handful of micros whenever I've stopped in.
Parking for a dozen or so around the side. You'll need this around here. I found out the hard way once there aren't any cabs. The atmosphere is good. This PJ's refurbed a couple years ago with loads of hardwood. Two long bars and plethora of tables and TV's. Because of that, I increased the quality designation a bit. We've never had trouble getting a table, even when a good game is on the tube. They also control the noise somehow.
The food is pub grub, but quick and plentiful. At best, I'd rate the service as mixed from the waitresses and bartenders. Unless you happen to be a regular or get someone on a good night, you might have trouble getting a beer if you aren't sitting down somewhere.
Yard's, Victory, and Flying Fish are generally on tap. I've also randomly seen some Troeg's and Stoudts making appearances. That is why it gets a 4, especially if you understand that there isn't much else around here good beer wize w/o driving into Philly. You're a lucky dog if you actually find out what they have in bottle. Haven't had anything skunked and the lines appear regularly cleaned.
Overall: The beer bar choices in this part of NJ are pretty limited. Suck it up and watch a Flyer's game while enjoying your cold brew.
1,356 characters
3.83
/5
rDev
+15%
vibe: 3.5 | quality: 4 | service: 4 | selection: 3.5 | food: 4
PJ's is a local chain of restaurant/bars. I think this is the best of them. Each bar chooses its own selection of beers. The Haddonfield bar stocks more local microbrews than any of the others. The food is similar in all the bars. Haddonfield often has a Yard's, a Flying Fish, usually a Victory, and often a Troegs on tap. The beer is all fresh and good. The service is usually exceptionally friendly. The menu is a little above the normal bar food, including some really good seafood. I especially like the raw bar selections. This is a fun place that gets crowded. My only gripe is that I need more selection of beers. Ignoring the Pale Lagers, there are only three or four good beers on tap.
695 characters
P.J. Whelihan's Pub and Restaurant in Haddon Township, NJ
3.33
out of
5
based on
17
ratings.