Černé Zámecké
| Chodovar Brewery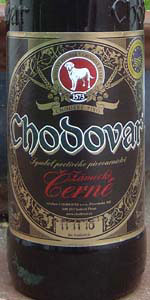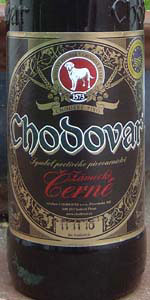 BEER INFO
Brewed by:
Chodovar Brewery
Czech Republic
chodovar.cz
Style:
Munich Dunkel Lager
Alcohol by volume (ABV):
4.20%
Availability:
Year-round
Notes / Commercial Description:
No notes at this time.
Added by philipquarles on 09-26-2009
HISTOGRAM
Ratings: 14 | Reviews: 8
Reviews by pinkano:
2.25
/5
rDev
-34.2%
look: 3 | smell: 3 | taste: 2 | feel: 3.5 | overall: 1
A - very dark red and amber color with thin head
S - kind of chocolate mixed with caramel, but everything is sweet.
T - sweet taste of caramel with long end, however the end of the beer becomes bitter and not so good after several drams
M - low body with medium carbonation
D - I almost haven't drunk the whole bottle how awful it became
Moreover this beer contains saccharin and other suspicious ingredients.
411 characters
More User Reviews:

3.48
/5
rDev
+1.8%
look: 4 | smell: 3.5 | taste: 3.5 | feel: 3 | overall: 3.5
500ml swing-top bottle. BBD of 11/08...oh well. Pours a clear, dark mahogany with a large, fluffy light beige head. Smells of sweet, dark caramel malt with some very light grassy hop character. Brown sugar. Sweet, sugary taste with a lot of doughy malt. Surprisingly strong hop presence for a dunkel--not strong by any other standard, though. A bit like flat cola. Medium body that's slightly syrupy.
400 characters
3.84
/5
rDev
+12.3%
look: 4 | smell: 3.75 | taste: 3.75 | feel: 4 | overall: 4
Best by 6/12/14. Brought back from Prague and shared with rudzud. Love the swing top bottles.
Pours a decent fluffy creamy 1/2 finger head that fades semi quickly with decent lacing, dark hazy brown beer with light ruby light sneaking through.
Nose cola syrup, nutty toffee, light caramel and hint coffee, bit if an earthy root like syrup, some molasses and toffee, little cereal and grainy, hint vegetal and some grassy slight earthy hops.
Taste stats with a creamy dark malt, chewy slight toasty brown malts, again the slight earthy root like flavor, with a bit of caramel and toffee and dark wheat flavors cereal grain and hint fruity, then into light iced coffee cream and bit nutty with a light molasses. Med to light sweetness overall that remains a bit on the sticky finish, more light syrup Molasses like flavours lingering and touch more grassy hops with a bit of dark wheat.
Mouth is med bod, decent fluffy carb.
Overall not bad, fairly tasty, nice cereal wheat darker malts with bit of molasses and hint coffee like, decent toffee, etc. It seems to have poor reviews, but it's also "archived", so I wonder if they brought it back and made it better, or it's a different beer now... or maybe those were shipped to US and got spoiled on the way... not sure. Either way this was a pretty good beer.
1,313 characters

3.44
/5
rDev
+0.6%
look: 4.25 | smell: 3.25 | taste: 3.5 | feel: 3.5 | overall: 3.25

2.96
/5
rDev
-13.5%
look: 3.75 | smell: 2.75 | taste: 3 | feel: 2.75 | overall: 3
Look: Coca cola (slightly more red hue) with a thumb high fizzy off-white head. Fast retention, mostly diminishing, leaves a small ring. Random light lacing. Clear.
Smell: Burned caramel, light roast underneath. Also some light grassy hop. All very light and not too much fun.
Taste: Not much different. Light/medium sweet burned caramel, not the best one, very light bitterness, which doesn't stick with you for long. Slight metallic spike near the end. Also some honey, propolis notes at start.
Mouthfeel: Light/medium sparkly body, lively carbonation - relatively fresh but kinda watery (mineral water).
Overall: Too much excitement for me, won't try it again. It's perfectly ok, just can't really remember what I drank (honey and burned sugar) - probably a solid choice for a hot stupid summer day - fresh enough and not too demanding.
845 characters
3.88
/5
rDev
+13.5%
look: 4 | smell: 4 | taste: 3.75 | feel: 4.25 | overall: 3.75
Thanks to JLindros for sharing this bottle with me.
A - Poured into a Kate the Great tulip a nice clear brown hue with a one finger head that fades to s thin blanket and light lacing.
S - Aromas of cereal grains, toffee, caramel, coffee, roast sweet malts.
T - Taste is similar to the noise, sweet malts, light roast, toffee, light coffee, cereal finish that lingers with some molasses. Rather old school in taste
M - Mouthfeel is quite nice, crisp, very drinkable.
O - Overall a bit too honey sweet for my tastes, interesting flavour profile here, glad to try this one. Pretty good.
590 characters

3.1
/5
rDev
-9.4%
look: 3.5 | smell: 3.5 | taste: 3 | feel: 2.5 | overall: 3
Thanks to kubrick215 for bringing this back from the Czech Republic and sharing with me.
Pours a dark chestnut brown color with slight burgundy edges and a half finger off-white head that slowly settles into a lasting ring. Spotty lacing left behind.
Slightly roasted malt aroma with lots of sweetness and subtle earthy, grassy hops. There's a subtle roast character with hints of toffee, chestnut and hazelnut.
On the lighter end of medium-bodied with subtle roast and lots of sweet malt flavor. Hints of cocoa, caramel and toffee followed by earthy hops and pale pilsner-like malt flavor. Decently balanced but kind of odd tasting with a very dry, toasted finish.
671 characters
3.34
/5
rDev
-2.3%
look: 3.75 | smell: 2.75 | taste: 3.5 | feel: 3.5 | overall: 3.5
very dark, almost opaque, brown reddish color, head is foamy and quite firm ...
nose is unspectacular, light hints of malts and fresh hops
taste is dominated by coffee, caramel and dark chocolate with some structured bitterness added ... sweetness and bitterness are in good harmony ....
not the most spectacular dark lager, but certainly a very good example of the style ...
378 characters
3.8
/5
rDev
+11.1%
look: 5 | smell: 3.75 | taste: 3.75 | feel: 3.5 | overall: 3.75
500ml Bottle from Prague Airport (60Czk):
Chestnut brown & a creamy, light tan head that sits nicely on top with zero movement initially & it holds well even as I worked my way down the glass, leaving a little lacing on the sides too.
Earthy malts and very subtle hops with a touch of spice in there as well. Chocolate & sweetness with some caramel came next & there was was very faint hint of coffee. Strong & well-balanced on the nose, very nice stuff.
Mix of chocolate and caramel with a sweet taste & subtle spice plus a nutty taste with some coffee. It mirrors the aroma & has some roasted malts, a touch of sugar & some bitterness round the drink off nicely.
Smooth, very smooth in fact and with a subtly sweet taste that hints at some spice. The body is medium & the beer has low carbonation levels that help the beer down. The finish is clean & wet with some light to medium bitterness closing things out.
I was pleasantly surprised with this one, I wasn't expecting a whole lot going in but it was certainly a good beer & one well worth seeking out if you can find it. Very nice stuff and quite easy to drink as well, this is a beer I'd be happy to pick up again.
1,176 characters

Černé Zámecké from Chodovar Brewery
Beer rating:
3.42
out of
5
with
14
ratings