Svetlý Ležák 12
| Pivovar Krakonos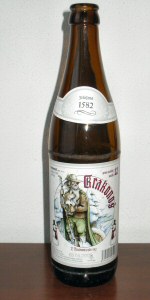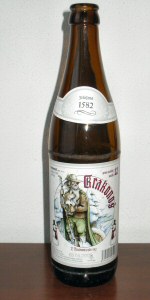 BEER INFO
Brewed by:
Pivovar Krakonos
Czech Republic
pivovar-krakonos.cz
Style:
Czech Pilsener
Alcohol by volume (ABV):
5.10%
Availability:
Year-round
Notes / Commercial Description:
No notes at this time.
Added by stcules on 04-11-2007
HISTOGRAM
Ratings: 13 | Reviews: 7
Reviews by dmbfrat420beers:
3.75
/5
rDev
+12.3%
look: 3.5 | smell: 3.5 | taste: 4 | feel: 4 | overall: 3.5
Good until May 9, 2007
Picked up 4/3/07, drank 4/10/07
Presentation: Great bottle! Wizened mountain mountain man holding a frothy liter of beer with evergreen forest in the background. Below him, bunnies in overalls are carrying around easter eggs while little chicks pop out of eggs. Maybe this is supposed to be an easter beer?
Clear golden orange color with white head of medium to small bubbles that shortly dissipates to a thin film. Quite standard for the style. The nose is fresh and crisp. Taste is malty and sweet up front with notes of pine. As the flavor progresses, there lots of floral, slightly bitter and citrusy hops that balance the sweetness. All around, very flavorful and well-balanced. The beer is medium bodied and surprisingly chewy for a pilsener. It's heaviness and slightly higher ABV (for a pilsener) make it slightly less drinkable than other beers, but overall it is a fair trade-off. Many American and German brewers give pilseners a bad name, but Czech brews like this one do a lot to redeem their tarnished reputation.
1,058 characters
More User Reviews:

4.08
/5
rDev
+22.2%
look: 4 | smell: 4 | taste: 4 | feel: 4.25 | overall: 4.25
This is a somewhat "legendary" beer from a microbrewery named after Krakonos, another czech legend, mountain spirit, protector of the mountains.
This non-pasteurized lezak ("pilsner" or rather czech pale lager) is available at some restaurants or from the retailer directly because of the short term period of consumption.
And again, it is a great beer! No trace of lager-y yeasts, very smooth in taste and quite light in feeling with a slight dry bitterness at the back end. This is a very good example that there are much better beers in the Czech Rep than Pilsner Urquell or Budweiser - this one is a classic, beats those two. Recommend it!
643 characters

2.5
/5
rDev
-25.1%
look: 2.5 | smell: 2.5 | taste: 2.5 | feel: 2.5 | overall: 2.5
3.43
/5
rDev
+2.7%
look: 3.5 | smell: 3 | taste: 3.5 | feel: 3 | overall: 4
Pours light amber with slightly off-white frothy head that slowly fades to dense layer, fast downsliding lacing. Aroma is very light malt, there is not much of it.
Taste is simple malt with slightly sharpish bitterness, bitter finish that lasts into the slowly drying aftertaste. Mouthfeel is light and the beer seemed to be overcarbonated in the beginning.
Overall, an interesting one, it seemed to me first that more complexity could be desired, but as the time passed and it warmed, it opened up slightly.
511 characters
3.33
/5
rDev
-0.3%
look: 3.5 | smell: 3 | taste: 3.5 | feel: 3 | overall: 3.5
Drunk on 13 March 2009, Freshness date 9 April 2009, in a Pivovar Herold glass. Snowmen on the label indicate this may be their winter beer.
Rich amber golden color. Nice active head that has some staying power. Very clear with no effervescence after the pour.
The smell is malty with a slight smell of caramel. If has the faint smell of a fresh stream.
This is a quite pleasant Czech pilsner. Having it immediately after the 10 from the same brewer it seems a bit watered down in comparison but in the end it is truer to the Czech pilsner in that it is hoppier (I do not mean in the American sense of the word). Not unique but very solid for what it is - I would be quite happy if this was my local.
This beer is quite rounded in the mouth though it could be more effervescent.
To me, high alcohol beers can be quite drinkable with due respect through pacing. Being that this beer is flavorful and likeable and with its very low alcohol content this could be drunk and enjoyed in quantity.
995 characters


2.48
/5
rDev
-25.7%
look: 3.5 | smell: 3 | taste: 2 | feel: 2.5 | overall: 2.5
The dark amber gold should have been a portent of things to come.
This was overly sweet honey like beer. It was thick to oily in the mouth and the hyper malt profile obliterated any hop character that may have ben there.
Particularly unrefreshing and disappointing
264 characters
3.15
/5
rDev
-5.7%
look: 3 | smell: 3 | taste: 3 | feel: 3.5 | overall: 3.5
Deep golden color, almosta amber, with two finger of foam, not so compact, but abundant.
Malt, mou, sugar and some cooked cereals in the smell.
Full, but still quite fresh. A good maltiness, and a plesant and quite strong hop.
Full and round in the mouth, without being cloying. Easily drinkable.
Quite full body, with a strong maltiness in the aftertaste, balanced by the finishing hop.
Pleasant.
397 characters
3.65
/5
rDev
+9.3%
look: 3 | smell: 3 | taste: 4 | feel: 3.5 | overall: 4
Pours golden orange with a white, frothy head that dissipates pretty quickly with no lacing. The nose is fruity, mainly bananas. The mouth feel is nice and the taste is a slight bit of fruit with very mild hops, very unoffensive. Easy to drink and fairly tasty, I could imagine drinking this all night with friends at a bar. Towards the end it really grew on me, opening up with a bit more complexity.
401 characters
Svetlý Ležák 12 from Pivovar Krakonos
Beer rating:
3.34
out of
5
with
13
ratings