Old Chicago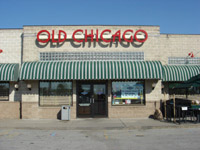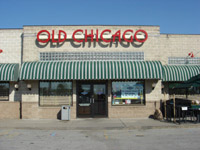 PLACE INFO
Type:
Bar, Eatery
75 2nd St
Coralville
,
Iowa
, 52241-2603
United States
(319) 248-1220 |
map
oldchicago.com
Notes:
No notes at this time.
Added by mentor
PLACE STATS
Reviews:

8

Ratings:

pDev:

18.34%
HISTOGRAM
Ratings: 10 | Reviews: 8
Reviews by chrishickman:
4.35
/5
rDev
+24.6%
vibe: 4 | quality: 4.5 | service: 4 | selection: 5 | food: 3.5
I pretty much concur with the above review...food is top-notch for a bar, slightly below average for a restaurant. Atmosphere is merely average for a restaurant, but fairly nice for a bar. Service can be great or unattentive, depending on the night, time, and waiter/waitress. 110 beers, 30 of which are on tap, plus 5-15 seasonals, those of us in small towns like Coralville/Iowa City or Bettendorf, IA are not going to find anything better for miles around. Their novel approach to getting you to come back is their "World Beer Tour", where you drink all 110 beers and win prizes along the way. I'm in the upper 80's on my first tour, but there's people that have completed more than one and this location is fairly new, so I guess I'm inferior! Regal Liquor's in Coralville and John's Grocery in Iowa City are the two great places to buy beer outside of a restaurant, especially the latter, which co-sponsors a lot of beer events with Old Chicago. Be sure and try the Millstream beers when you're in the area, which come from the Amana Colonies in Amana, IA (especially Schild Brau).
1,086 characters
More User Reviews:

3.45
/5
rDev
-1.1%
vibe: 3.75 | quality: 3.25 | service: 3.5 | selection: 3.5 | food: 3.5
4.08
/5
rDev
+16.9%
vibe: 3.5 | quality: 4 | service: 4 | selection: 4.5 | food: 4
Old Chicago is a chain sports bar with like 110 beers from all over the world avalible an pretty tasty food. Also noticed they had a 5 or so seasonals! Decent price, great beer selection, and good food! One thing I have to say is that the Coralville Old Chicago's layout inside has changed due to the Flooding this spring and I like it a little better. Plus another thing about Old Chicago I like is the World Beer Tour. It consists of 110 beers that you get prizes after you drink so many beers. Kind nice to get rewarded for drinking beer when I am going to anyway. Oh yeah it is Free.
587 characters

2.23
/5
rDev
-36.1%
vibe: 2.5 | quality: 2 | service: 2 | selection: 2.5 | food: 2.5
I walked in half expecting to have the same Old Chicago experience as I did in Ames, but I was very impressed. The music was good, the food looked ok. There wasn't so many TVs, but they still had sports on the TV which was fine. I got a $2 pint on tap which was nice. It was a Fuller's Pale Ale but seemed like there was something off about it...perhaps it was an unlceaned lines. The selection was great and they even had shaker pints and they weren't chilled either. Overall it was a good experience and enjoyable.
Went back to get a pint for lunch. The beer I wanted was Bell's Two Hearted, but I tasted it and wondered how they had made it so bad...it was a 2 week old keg and it didn't taste good at all. Then I decided not to wait, but just to get the pizza buffet. It was good, but made with a lot of dough and not worth $7-$8. I tried talking beer with the bartender, but when he did have the time, he didn't listen like he was interested...maybe in a bigger tip. I won't ever go back to this place again in my life.
1,029 characters
3.43
/5
rDev
-1.7%
vibe: 3 | quality: 3 | service: 4 | selection: 3.5 | food: 3.5
It is true, If you have been to one OC you have been to them all. That being said, if you find yourself in the action packed Iowa City having never been there before with about 3 hours to burn and wanting to stay close to the Holiday Inn express, OC is your dime biaatch. I frequent the OC's in Omaha a ton because they are close to home. That means that I am comfortable there and pretty much know the menu by name. I went here for a bite and a beer tonight, only to be sucked in by the Cubs game and Zamabrano's almost no-hitter. A decent atmosphere but the typical macro filled, smokefest that I am used to. This place is like my McDonalds, I do not expect much. But I always am comfortable and know what to order. Stop here cause it's close to the interstate.
763 characters
3.83
/5
rDev
+9.7%
vibe: 3.5 | quality: 4 | service: 3.5 | selection: 4 | food: 4
To roughly quote bditty's review, "If you've been to one Old Chicago, you've been to them all." I've taken quite a while to beerfly this even though I've been to this place (as well as the several Omaha locations) millions of times before and was frankly quite sick of the place. The only difference is that each location will usually have 1 or 2 different local brews on tap. The atmosphere is like your average themed restaurant/sports bar with typical decor and plenty of tv's. They have a digital jukebox (usually played quite loud, and most people don't seem to have that great of taste in music, though that is a highly subjective gripe) and NTN trivia (the only reason to come back other than the World Beer Tour).
The place is usually kept clean. Even though the place allows smoking and is not very well sectioned, second hand smoke wasn't out of control. As far as service goes, I've known quite a few people that work/have worked here since it opened, and I personally wouldn't trust any of them when it comes to even the most general beer knowledge. At least they do their jobs fairly efficiently, and can make a hell of a mixed drink if that's your thing (not for me, though).
The selection is good, with a count of over 100 beers, but unfortunately most of the beers in their "World" Tour are shitty macros and decent American micros, with a few exceptions of course.
I would have probably rated the food higher, but it usually comes in such massive portions that I can't even fit my mouth around it and end up eating a sandwich with silverware (what a complaint, right? I must be un-American or something). The calzones are good, but even more massive. I've had three different meals from my leftover calzone before. Gets quite a bit pricey with the food.
Overall, it's a decent place to go, but if you are in the Coralville/Iowa City area and looking for more of a beer drinking experience as opposed to another cheesy chain restaurant with an above average selection, I would HIGHLY recommend checking out the Sanctuary or Old Capitol Brew Works instead.
2,084 characters
2.6
/5
rDev
-25.5%
vibe: 2.5 | quality: 3.5 | service: 2 | selection: 2 | food: 3
UPDATE 10/08
I'm not sure if my tastes have just matured or if this place has really gone down hill or what (probably both), but the service and selection both absolutely stink now.
***
Decor and service were decent all around. You've been to chain restaurants before, I'm sure. This is the same as any other, like Applebees or Bennigans, only beerier. TVs with games and trivia. Not too loud. Crazy crap on the walls.
Nice waitress who knew enough about the beer she was selling. She wasn't a beer dictionary or anything, but around these parts you score points for correctly pronouncing "Weizen," or at least not calling it "way-son." That and she didn't tell me which of the beers they served was most like Bud Light. I swear I must look like a total Melvin, cus whenever I go to a brewpub the waitress always tries to steer me towards the least offensive beer available.
Food was actually quite nice. The pizza was, surprisingly enough, very much like a Chicago pizza. I mean, the best pizza in Chicago is from a place that you and I have never heard of, of course, but this was along the lines of the stuff you'd get at the totally decent Chicagoland chains, Giovannis and Pizzeria Uno kind of places.
Massive selection. Over 125 beers. The only suckie part was that the VAST majority of the beers available were ones I could also get at my local Hy-Vee. Having a wide selection is great, but there was nothing unique.
Everything was reasonably priced, too. There's no getting flogged six bucks for a pint of Sam Adams like at Chili's.
Old Chicago isn't exactly a cultural experience. It's a generic restaurant created to cater to beer people--the local sports culture is simultaneously raped and idolized, replica movie and athletic memorabilia is strewn about, and the music is innocuous at best. Still, I'm a beer people, so I'd rather go here than, oh say, Olive Garden.
1,890 characters

3.55
/5
rDev
+1.7%
vibe: 3.5 | quality: 3.5 | service: 3 | selection: 4 | food: 4
If you've been to one Old Chicago you have been to them all. The décor is similar in every place, lots of TVs, trivia and video games, pool, darts, etc. There is Chicago memorabilia mixed with local crap. Bright colors. Music. As a whole it is tolerable.
I visited the Coralville location during a Hawkeye road basketball game, most of the seats were empty but the bar area was full and loud, not so much from fans however. We were seated right away, in the far back corner of the non-smoking section. I'm fine with that.
Our waiter was timely but complete ignorant about beer, I mean totally uninformed. This was really annoying. As for the selection I was unimpressed. They had about 25 taps, 1/2 were macros-lagers/ales, 1/4 were ordinary micros, and 1/4 were interesting imports and micros. I was very happy and surprised to see Piraat on-tap but there was nothing from 3Fs and only one offering from Millstream. On to the bottles, they have around 80 bottle beers, very few caught my eye, they had 3Fs "Robert the Bruce" but no Alpha King. They only had two Millstream beers! Come on! The import selection was okay but ordinary.
I think they had three Sleeman offerings, why? And Cave Creek's Chili Beer, why? And I.C. Light, why? Every Old Chicago I've visited has had its duds but I thought Coralville had a few too many. Quantity over quality?
The food is typical of every location, American, American-Italian grub; it is decent stuff.
Yes, I'd visit here again, just for the few goodies they do have but it was underwhelming as a whole.
1,571 characters
4.15
/5
rDev
+18.9%
vibe: 4 | quality: 4.5 | service: 3 | selection: 5 | food: 4
'Old Chicago' in Coralville Iowa is located at the intersection of 1st Avenue and Highway 6 (ie, the Coralville strip), next to the Heartland Inn. Parking is ample and outside seating is available during warmer months. I frequent 'Old Chicago' occassionally and have always been greeted immediately upon entering and offered a table. I usually and head to the bar (more on this later). Behind the bar, a long line of taps (about 30) offer draft beers (mega, micro, and imports), including about a half-dozen taps offering seasonal beers. In addition to the taps, probably 75+ beers different beers can be ordered in bottles. The bartenders are friendly and are knowledgable about the selections offered.
A number of games (trivia, video golf, shuffle hockey, pool, etc) and a digital jukebox are available for entertainment, as are dozens of televisions running sporting events. The bar area is rather smokey and noisy, but not the point of interfering with conversation.
The couple times I've dined at 'Old Chicago', I have enjoyed the food. The pizza was doughy, but the appetizers are all quite tasty (pizza rolls, italian nachos, and cheese bread). Service at the bar is decent, but I have found that service at the tables to be lacking (especially the tables in the bar area). Visits from the wait staff are infrequent and courtesy appears to be at a minimum. This is why I choose to sit at the bar, rather than be seen to a table.
1,442 characters
Old Chicago in Coralville, IA
Place rating:
3.49
out of
5
with
10
ratings