Biere De Noël
| Big Sky Brewing Company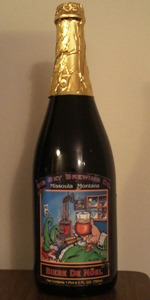 BEER INFO
Brewed by:
Big Sky Brewing Company
Montana
,
United States
bigskybrew.com
Style:
Belgian Strong Dark Ale
Alcohol by volume (ABV):
8.75%
Availability:
Winter
Notes / Commercial Description:
35 IBU
Added by GClarkage on 05-22-2007
Reviews: 37 | Ratings: 78

4.33
/5
rDev
+11.6%
look: 4.5 | smell: 4 | taste: 4.5 | feel: 4 | overall: 4.5
Bottle #540 of 1800. A green 750ml. champagne bottle with gold foil over the cap and neck and ABV is printed on the front label, it reads : Alc. 8.75%. It pours out a dark amber brown with a huge beige head of three fingers. The head eventually settles to a lasting 1/2" and leaves gobs of lace clinging to the glass. A very well carbonated and attractive brew.
The smell is sweet and dark fruity with some notes of yeast and alcohol as well. Smells right for the style.
The taste is even better than the aroma, with lots of caramel, prune, raisen, fig and a pleasant touch of alcohol in the finish. A nice balance as well with some hops contributing nice bitterness to the end, along with warmth from the alcohol.
Plenty of body and carbonation keep things full and lively from start to finish, along with the great taste make this special release a pleasure to drink. It reels you in for more after every sip. A great winter brew with a solid touch of Belgium...cheers to a fine Montana brew! A big thanks to travisd13 for making this brew possible for me to enjoy.
1,070 characters
3.16
/5
rDev
-18.6%
look: 4 | smell: 3 | taste: 3 | feel: 4 | overall: 3
Pros: Naturally carbonated giving a nice appearance to the ale. Caressing body is very nice.
Cons: Doesn't have much depth or concentration. It's not a complex ale, not a lot of definition, not much to describe.
While a beer of high quality, I feel the brewery could make some improvements on the recipe.
306 characters
4.28
/5
rDev
+10.3%
look: 4.5 | smell: 4 | taste: 4.5 | feel: 4.5 | overall: 4
988 of 1800
Got this on from John @ Dennis Brother's Liquors.
A: Poured a dark amber with a small whie head.
S: Smells of roasted caramel, burnt sugar, dark fruits, etc.
T: Smooth caramel, malty, and a bit fruity. Great taste.
M: Very creamy, a good body to this beer.
D: Considering the alcohol content, this one is exceptionally drinkable. I wish there was more than 1800 of this one.
394 characters
4.04
/5
rDev
+4.1%
look: 3.5 | smell: 4.5 | taste: 4 | feel: 3.5 | overall: 4
Appearance: Pours a hazy, brown body with a fizzy, light beige head.
Smell: Aroma of concentrated burnt caramel cubes with a light, pleasant fruitiness, and an even light wisp of alcohol.
Taste: Sugary sweet maltiness with a very rich, satisfying caramel flavor. Light touch of dark fruits. A montage of spice, sour yeast, bitterness, and alcohol before arriving at the dry finish with a lingering scorched caramel flavor.
Mouthfeel: Medium-plus body. Well carbonated.
Drinkability: Now that's pretty good. Far, far better than the version I had last year. Way to turn it around, Big Sky.
592 characters

4.2
/5
rDev
+8.2%
look: 4 | smell: 4 | taste: 4.5 | feel: 4 | overall: 4
Bottle 177of 1800 - Pours very brown slightly cloudy with a frothy tan colored head. Smells of Belgium yeast, sweet fruits and a lot of caramelized malts. First sip is both sweet then very quickly bitter with just a small hop presence. Well carbonated thanks to the bottle conditioning this beer has a great mouthfeel.
318 characters

3.75
/5
rDev
-3.4%
look: 4 | smell: 4 | taste: 4 | feel: 3.5 | overall: 3
750ml poured into Stella glass
Appearance: Ruby/brown with a one inch white head. Slightly translucent.
Smell: Brown sugar right away, then bittersweet chocolate, dark fruits, and citrus. Smells nice and complex.
Taste: Plenty going on, sour cherry, grape and toffee start it off and it finishes with some chocolate, spice, and a small hop bite at the end. The taste is just as complex as the smell and that's a very good thing.
Mouthfeel: Very smooth with the perfect amount of carbonation. Medium bodied so not too much to take.
Drinkability: So-so. I definitely am not cruising through this bottle but I would pick one up again to share with someone.
Overall: Having had a Belgian double earlier in the day it gave me a good basis for comparison and even though this is an American brewery's take on a Belgian double, I enjoyed this more. Pick it up if you can, there's only 1800.
889 characters
4.3
/5
rDev
+10.8%
look: 4 | smell: 4 | taste: 4.5 | feel: 4 | overall: 4.5
Bottle #834
Thanks to Alvey at Four Firkins for directing me to this fine brew. This immediately reminded me of St. Bernardus Abt 12. The appearance is a clear brown with a light tan head. The aroma has sweet vanilla, cherries and caramel candy. These all follow up in the flavor with the addition of small, but tasty spice and herb hops note, and almost tart blackberries and a very very slight licorice note. This is a very smooth drink, I had no problem splitting the 750 ml bottle with a friend. This is a very impressive dark Belgian. If it weren't for the label, I'd have no idea this was made in the states. It's rare to find American brewers who can't capture the rich and smooth characteristics of fine Belgian so well.
729 characters
4.1
/5
rDev
+5.7%
look: 4.5 | smell: 4.5 | taste: 4 | feel: 3.5 | overall: 4
750ML gold foil wrapped and capped bottle, no. 179 of 1800.
This pours a clear deep amber brown with...2/3 tannish foam, 1/3 liquid. It's way foamy and it wants to creep out of the bottle but I have my eye on it.
The smell has notes of yeast, some candy sugar and caramel malt sweetness, some bitterness, and light dark fruity tones. A very nice nose.
The taste is very interesting. A light candy sweetness is first thing I notice but it immediately follows with some caramel malt, hop bitterness, and yeast. I like. More sips in and there's some of the dark fruit I mentioned in the smell showing up, with some spicing, and 2nd pour shows a cloudy liquid. Lots of nice lacing and head retention is super good...oh and it's quite warming.
The mouthfeel is pretty light for the style, the carbonation is rather brisk, it finishes decidedly bitter with just a light kick of tartness.
Drinkability? For a 8.75% brew, it's pretty darned good. I like what's going on here so I'm not really that distracted by the abv.
Bottom line: This Big Sky brew is very tasty and I'm glad I got a chance to try it. If it was available locally, I'd buy more.
1,146 characters
4
/5
rDev
+3.1%
look: 4 | smell: 4 | taste: 4 | feel: 4 | overall: 4
Bottle acquired in trade.
Poured a deeper amberish / orange color with a small sized off white head. Aromas of roastiness, toasted caramel, wood, and some dark fruits. Tastes of dark fruits, vanilla, lighter wood, spices, and toasted caramel.
Notes from 4/14/08
264 characters

4.06
/5
rDev
+4.6%
look: 4.5 | smell: 3.5 | taste: 4 | feel: 4.5 | overall: 4.5
Bottle #1002 of 1800.
Dark plummish appearance, huge, copious cocoa/tanned head, intensively rockish and reeling...quite a performance.
Rosy nose at first sniff...fruity, malty, but rather quiet. Can't say too much about it. Don't want to say anything bad about it, either.
In the mouth, it floods and fills the palate...nice and malty. minor fruity feel. Little hops, some spice. Getting bigger as we go. Yummy. Plum, and fig, and bit of a portish flavor, too. Gets maltier, fruitier, spicier...
...this is something I'd adore as a draft offering from a local brewpub, or as an affordable 6-pack from a local brewery..but I won't be buying another $14 750 ml bottle.
Glad they're doing this, but I'm sure they can do it in 12 ouncers. I'd buy it by the case if they would.
777 characters

3.88
/5
rDev 0%
look: 4 | smell: 3.5 | taste: 4 | feel: 4 | overall: 4
Pours dark brown with large bubbled white head.
Nose seems somewhat off to me. It has dark fruits, maybe a suggestion of vegetables or mushroom. I can't decide if this "funkiness" is supposed to be there or if I received a bad bottle.
The taste is fine, which leads me to think it is supposed to be this way. Sweet and sour with some fruit and a velvetty smooth texture. Carbonation rolls well at the end on the finish, and again a very smooth quality impresses well.
Only detracting feature is the somewhat funky nose.
522 characters

4.52
/5
rDev
+16.5%
look: 4 | smell: 4.5 | taste: 4.5 | feel: 5 | overall: 4.5
05/08/07- Growler fill at the Big Sky Brewery in Missoula, MT.
Presentation- Growler fill from the tap.
Appearance- Liquified caramel color. Lots of micro fine yeast sediment. 1/4 inch creamy head which settles at a fine rim. Light streaky lacing.
Smell- Lots of dark fruits in the nose with a large caramel malt character. Prunes, raisins and figs. Great nose.
Taste- The nose knows! Like a caramel smoothie with fruit. Caramello base with a roasted nutty flavor. Lots of prunes. plums, raisins, figs and dates. Liquid caramel fruitcake is what we have here.
Mouthfeel- Fuller mouthfeel with a creamy and silky texture. Really low carbonation. Almost cask like.
Drinkability- Another excellent output from Big Sky! Not sure of the abv because they wouldn't divulge it. 8.7% at max though by Montana law.
823 characters
Biere De Noël from Big Sky Brewing Company
3.88
out of
5
based on
78
ratings.