Five Valleys
| Big Sky Brewing Company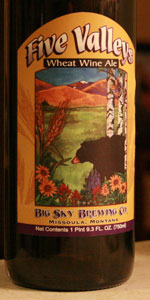 BEER INFO
Brewed by:
Big Sky Brewing Company
Montana
,
United States
bigskybrew.com
Style:
Wheatwine
Alcohol by volume (ABV):
12.00%
Availability:
Limited (brewed once)
Notes / Commercial Description:
No notes at this time.
Added by chugalug06 on 07-11-2012
This beer is retired; no longer brewed.
Reviews: 8 | Ratings: 19

2.91
/5
rDev
-14.4%
look: 2.5 | smell: 4 | taste: 3 | feel: 1.5 | overall: 2.25
Full review because of carbonation issues.
A - Pours a beautiful reddish-gold. No head. No pop when cork removed.
S - Nice bouquet to it, I must admit. Very floral and bright. A hint of sweetness.
T - There is some depth to the flavor, and the honey is there. Meadlike with phenolic character. A bit medicinal with too much heat.
M - It's damn near flat. Very little carbonation. Like a wine that hasn't been properly degassed.
O - Too much heat and being flat make this a big disappointment.
498 characters

2.75
/5
rDev
-19.1%
look: 3 | smell: 3.5 | taste: 2.5 | feel: 2.25 | overall: 2.5
Corked bottle (2012) ordered online through letspour, poured in a St Bernardus chalice.
Tiny pop and very small head, copper color.
Aroma of honey, pear, mead, alcohol.
Low carbonation and big alcohol mouthfeel.
Flavors of alcohol, burnt malts, bitter hops. I'll give this 5 minutes...
Alrighty then...no head, aroma is actually stronger on the alcohol side, with slight butterscotch.
Flavor has not improved...rough alcohol and no balance on any front...hops, malt, mouthfeel, aroma. I'm hoping this suffered through transport because there's no way I'll finish this bottle.
Yeah, I just looked at other reviews...one other up to now had a flat batch but the others had a head, some carbonation...would have made a big difference.
732 characters

3.75
/5
rDev
+10.3%
look: 4 | smell: 4 | taste: 3.5 | feel: 3.5 | overall: 4
750mL into a saison glass. Pours a clear golden amber w/ a big fluffy head, vigorous carbonation. A good looking beer.
Aroma is floral, fruity, a little spicy. A nice bready yeast w/ touches of apple and pear.
Taste leads off with a strongly boozy element. At 12% ABV, not surprising. Wheat malt, yeast, residual sugars. More apple and pear.
Mouthfeel is medium-bodied, feels a little heavy. Alcohol prevalent.
Overall a decent wheatwine but not my favorite. Not sure why it has to be so strong, I think around 7% would have been sufficient. Maybe they used too much honey?
577 characters

3.42
/5
rDev
+0.6%
look: 3 | smell: 3.5 | taste: 3.5 | feel: 3 | overall: 3.5
Pours a light to medium golden amber with absolutely no carbonation, completely still. Aroma of sweet caramel malt, toffee, slight light fruit, ethanol. Flavor is sweet caramel malt, herbal bitterness and light apple and pear juice. Finishes with an odd medicinal estery bitterness. Flavor is subdued and dominated by the herbal bitterness and alcohol, which is not strong, but more influential than the other flavors. Medium body with a mediocre mouth feel from complete lack of carbonation. Looking at other reviews, this bottle seems to be an anomaly in carbonation,but the flavors seem to be similar. I'd like to review a carbonated example, but I doubt if I will buy this again to try. I like Big Sky and wheatwines and am puzzled by this one.
748 characters
3.48
/5
rDev
+2.4%
look: 4 | smell: 3.5 | taste: 3.5 | feel: 3 | overall: 3.5
Cool brew that Big Sky brewed for a charity in Montana.. I got this bottle from RWNewhouse.. Thanks a ton Ryan for the righteous trades!
Poured into my slim tulip... 3 finger head does NOT die back... good retention... foamy meringue with a couple flecks of yeast.. the brew is very clear orange..
Nose is honeyed green apples... a bit of toasty malts... fruity esters make me think underripe pears and some green apples.. wheat notes are thick and sorta pancake like...
Flavor shows some pretty stark EtOH up front... Wheat forward... apricot esters and some lesser pear.. thin toasty malts help carry the coming EtOH.. the booze is pretty heavy and shows as "spicy" elements... I get the honey notes but they are lost quickly..
I am having a bit of a hard time with this one because MOST of the production wheatwines I've had over the years have German yeast components... This one is nice and clean wheat with too much booze.
Very carbonated... very bubbly... burpy.
Still, I dig it... Cork it very cold!! Take a pour and let it warm for a while so the sophisticated notes really come out.
4/3.5/3.5/3/3.5
1,116 characters

2.75
/5
rDev
-19.1%
look: 3.5 | smell: 3.5 | taste: 2 | feel: 4 | overall: 2.5
Served in a shaker pint glass at Jaks Tap.
Gotta love the random wheatwine find whilst on the town, eh? This stuff pours a cloudy pale gold topped by a finger of white foam. The nose comprises honey-covered biscuit, very light sweet caramel, a touch of flowers, and a kiss of booze. The taste holds notes of honey, bitter flower petals, sharp greens, booze, soft wheat, and miscellaneous rinds of indiscernible individuality. Honestly, the random bitterness and booziness that pervade this beer o'ershadow any good will that could hav been built up by the rest of the features. It was increasingly difficult to continue drinking it as the minutes ticked by. The body is a lithe medium, with a light moderate carbonation and a generally smooth feel. Overall, what seems like something that could have been a solid wheatwine was torpedoed by the bitterness and booziness within. Damn shame, really...
899 characters

3.38
/5
rDev
-0.6%
look: 4 | smell: 3.5 | taste: 3 | feel: 4 | overall: 3.5
2012 vintage, thanks to RWNewhouse & EricCioe for the bottle. Tasted 3 July 2012, reviewed from notes.
Pours clear, deep golden yellow. One finger of whitish head, decent retention and lacing. Lots of visible carbonation.
Smells of honey, primarily, with an alcohol twinge and a touch of faint wheat.
Taste is powerful, starting out with a honey-wheat (like the Cheerios) blast, followed by a potent surge of alcohol. This is not a beer that hides the alcohol well, as I can taste and feel the burn for quite a while.
Mouthfeel is interesting. Heavy and warm, with a little less carbonation than I'd like. Finish is lasting, but it's primarily the alcohol frizzling around my mouth.
A decent wheatwine, but without a ton of flavor. The honey is nice, though it overshadows the subtler wheat flavors that I think would otherwise be present.
844 characters

4.23
/5
rDev
+24.4%
look: 4.5 | smell: 4 | taste: 4.5 | feel: 4 | overall: 4
Awesome clarity in the red/orange brew. Massive five-finger, foamy, off-white head raises from my SH Snifter.
Interestingly smooth aroma. Slightly tropical nose with heavy caramel. Whoa, Heat.
Tons of smooth caramelized flavors. Noticeable heat tries to hide behind heavy carbonation. Lots of big powerful malts embrace an overload of sweet honey. Very refreshing for a hot summer day.
This brew is more of an Overall 4.25 then 4.0, but it's more of a round down then round up kinda brew... Highly recommended if you're swinging though Missoula.
555 characters
Five Valleys from Big Sky Brewing Company
3.4
out of
5
based on
19
ratings.