Brush Tail Farmhouse Saison
| Big Sky Brewing Company
BA SCORE
78
okay
33
Reviews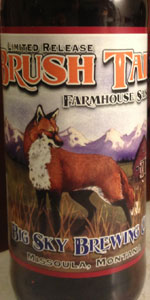 BEER INFO
Brewed by:
Big Sky Brewing Company
Montana
,
United States
|
website
Style:
Saison / Farmhouse Ale
Alcohol by volume (ABV):
5.30%
Availability:
Spring
Notes / Commercial Description:
No notes at this time.
Added by Jellopants356 on 02-23-2013
Reviews: 33 | Ratings: 117
3.87
/5
rDev
+16.2%
look: 3.75 | smell: 4.25 | taste: 3.75 | feel: 3.75 | overall: 3.75
Appearance- Pale yellow amber with a slight haze, finger and a half of eggshell white head
Smell- the glass doesn't even have to be close by to note the strong yeasty scent, definite Belgian-style spicy esters coming from the glass
Taste- light malt mild sweetness with spicy notes of clove and allspice. Breads and grains are prominent
Mouthfeel- light bodied, a little watery, smooth
Overall- Saison for the spring, the strength is in the aroma while the taste is just a tad too light for it to be a solo beer
★
515 characters
3.42
/5
rDev
+2.7%
look: 4 | smell: 3.75 | taste: 3.25 | feel: 3.25 | overall: 3.25
Brush Tail Farmhouse Saison is the newest limited release from Big Sky Brewing out of Missoula, Montana. This hazy brew pours a pale gold. An inch of white head provides spotty lace but is fairly well retained. Aromas of wheat, grain, some pepper and Belgian yeast fill the nose. On the palate, sweet malt and wheat flavors dominate with light peppery and yeasty flavors playing a minor role. Lighter in body, this Farmhouse Saison provides a good level of carbonation. While it falls away from the historical aspects of the style, Brush Tail offers a refreshing new take on a Farmhouse Saision.
★
595 characters
3.39
/5
rDev
+1.8%
look: 4 | smell: 3 | taste: 3.5 | feel: 3.25 | overall: 3.5
Poured from bottle to an imperial pint. Best by 06/19/2013.
A: Cloudy and straw in color with golden hues. Thick, foamy, slightly lemon head. Active carbonation.
S: Wheat, bubble gum, coriander, pepper. Slight scent of earthy hops.
T: Wheat, lemon peel, grapefruit, coriander, white pepper, earthy hops.
M: Light-bodied but slightly creamy, with a slightly bitter and dry finish. Very easy drinking.
O: Not a bad beer at all. Pleasant to look at and solid all around, but pretty basic and doesn't delve into the depth possible in this style. Almost more like a spiced wheat beer than a true saison.
★
603 characters

3.43
/5
rDev
+3%
look: 4 | smell: 4.75 | taste: 2.75 | feel: 3 | overall: 3.25
Mostly clear medium-gold body, nice frothy head leaving noteworthy lacing.
Lovely aroma. The yeast yields banana, pear, and pepper layered upon doughy bread.
Taste falls short. A little biscuity sweetness, followed by something kind of dirty and bitter. The little sour and funk tastes muted and almost bitter themselves. Brushtail is lacking the finer flavors of a traditional saison.
Not as dry and crisp as one would expect from a light bodied farmhouse ale.
What seemed promising at first in appearance and smell ended up falling short in taste and mouthfeel. As more brewers are churning out more saisons, I don't feel the motivation to seek this one out again.
★
670 characters

4.14
/5
rDev
+24.3%
look: 4 | smell: 4.25 | taste: 4 | feel: 4.25 | overall: 4.25
Bottle poured into pint.
A- Cloudy light golden ale.
S-Bread, Malt, very little yeast. Light pear presence.
T- Very light very crisp. High carbonation. Light yeast. Fruit aspect some light berry yet bitter berry to the tongue.
M- Effervescent. Light to medium mouth feel. Quickly dissipated on the tongue.
O- Thirst quenching; the nose follows the body. Very well balanced. Fruit with malt finish. I love how clean the finish is on this ale. Very dry after finish. Cheers.
★
480 characters
4.2
/5
rDev
+26.1%
look: 4 | smell: 4 | taste: 4.25 | feel: 4.5 | overall: 4.25
Pours a light honey with noticeable lacing from a 2-finger thick cream head. Smells of fruit and wheat. Light honey also on the nose. Definitely a strong body of wheat with some fruit notes and a more bitter finish. Also, some hops are detected but mostly it's the tart body. The mouthfeel is light and bubbly. Overall a good Saison and something i could drink again, though i doubt that they will brew it again.
★
412 characters
2.99
/5
rDev
-10.2%
look: 3 | smell: 2.75 | taste: 3.25 | feel: 2.5 | overall: 3
Pours out a light yellow color. Nice small form head very little lacing. It has a very strong citrus and hay smell great for summer. Mouthfeel was almost non-existent, the only flaw that bother me was the tast was incoherant for me. For only $6 dollars this was a decent beer great for hot summer days.
★
302 characters

1.99
/5
rDev
-40.2%
look: 3.5 | smell: 2 | taste: 1.5 | feel: 3 | overall: 2
A: Light amber, a little hazy, a little bit of sediment swirling at the bottom of the tulip glass.
S: Some kind of grass or hay, not at all what I expected from a saison.
T: Sharp earthy bitterness that lingers but fails to make a point. Somewhat rude given what I expected from a saison. No character or complexity or if there was it was overwhelmed by the sharpness of the bitterness.
M: Thin, lacking the character I expected from the maltier, better examples of saison I've had.
O: Saison in 12oz bottles is a little hard to find so I was looking forward to this. Big letdown. I would not call this a saison but rather an APA and not a very good one at that. Not sure what I'm going to do with the other 5, I really don't want any more. Good this is a limited run.
★
772 characters
Brush Tail Farmhouse Saison from Big Sky Brewing Company
78
out of
100
based on
33
ratings.