Rí Rá Irish Pub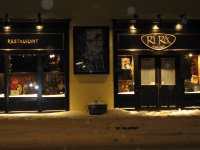 PLACE INFO
Type:
Bar, Eatery
72 Commercial St
Portland
,
Maine
, 04101-4749
United States
(207) 761-4446 |
map
rira.com
Notes:
No notes at this time.
Added by ecoboy
Reviews: 12 | Ratings: 28

4.33
/5
rDev
+11%
vibe: 4.5 | quality: 4.5 | service: 5 | selection: 3.5 | food: 4
I like Ri-Ra and yes, I know it's a chain ... a small chain. But the Ri-Ra in Portland is just really nice. The beer selection is decent -- Maine craft beers and seasonals as well as the expected Guinness, Smithwicks, Boddie's, Stella, etc. (sometimes Murphy's is on tap, too -- which is what I prefer).
They have Jameson's, Jamesons's 12, Bushmills, Blackbush, Bushmills single malt, Powers and Tullamore Dew as well -- all fine Irish whiskeys and much appreciated.
To me what sets Ri-Ra apart, though is the service. In my experience it has always been outstanding. Every. Single. Time. The bartenders -- no matter who is on, no matter how busy, no matter how quiet -- they are fantastic. Attentive, friendly, and professional. They're among the best I've encountered in any city in North America.
The waitstaff is good, too, in the same way. And the food is pretty darned good. (Try the Sunday brunch upstairs!)
There are three distinct rooms: the rustic country pub, the 2-level Victorian-style pub, and the upstairs dining room. The rustic country pub is my favorite and feels like many country pubs in County Clare. The Victorian pub room looks and feels exactly the the Sliken Thomas pub I visited in Kildare, Ireland and attracts a lovely looking crowd. The upstairs is my least favorite, but it has killer views of Portland Harbor (not really a pub).
I like Ri-Ra a lot. Try it!
1,394 characters
4.2
/5
rDev
+7.7%
vibe: 4.5 | quality: 4.5 | service: 4 | selection: 4 | food: 4
Right at the waterfront and close to downtown hotels, RiRa is a great place to have a sandwich and a few pints o' the black. They'll pour you a Guinness correctly, and will even draw the shamrock on top for the tourists.
The place is decorated like a Olde-World style pub, with lots of kitsch scattered around to make it look more authentic, perhaps contrived, but scattered about are glaring hints (glossy, professional adware and printing, 'uniforms' that look casual, but aren't, etc.) that there's corporate money backing this charming "little" pub.
So it's a chain. So what? It was close to our hotel and really saved the day.
633 characters
4.18
/5
rDev
+7.2%
vibe: 4.5 | quality: 4 | service: 4 | selection: 4.5 | food: 4
Ri Ra Irish Pub is one of our favorite places to go to whenever we make it to Portland Maine. A great Irish bar, with a great beer selection, if you want to try some of the local Maine brews, there's no better place than Ri Ra.
Ri Ra offers live music on the weekend, a great menu, and plenty of TV's to catch the game on.
Beers are served in their proper glassware. Be sure to order a Baxter Beer so you can try Baxter's cool glass that's shaped like a beer can.
There's lots of options in Portland, but be sure not to skip Ri Ra.
534 characters
4.18
/5
rDev
+7.2%
vibe: 4.5 | quality: 4 | service: 4.5 | selection: 4 | food: 4
Located in an old building in the Old Port, you'd never know that this is a chain. Typical pub. Clean, with adequate seating. Nice bar.
Good rotating Irish brew and local tap selection, and plenty of cans/bottles.
Service was great. Server was actually brought over from Ireland (for atomsphere?), and she was terrific.
Food was great. Big portions. Potato cakes, Guiness stew, and fish and chips were very tasty. Great brunch menu.
Prices are very easy as well. Reasonable for pints and grub. I'd go back.
511 characters
4.05
/5
rDev
+3.8%
vibe: 4 | quality: 4 | service: 4 | selection: 4 | food: 4.5
A nice Irish pub near downtown Portland. There are two levels of this pud, an upstairs (more of a restaurant feel) and the downstairs (more of a pub), I recommend the pub for the atmosphere.
As you walk in there is Irish memorabilia all over the walls, old Guiness and Jameson mirrors and wall hangings. Easy to notice what was on tap; Guiness (x2), Harp, Murphy's Stout, and Smithwick's (a rare find here across the pond). The menu was full of Irish specialties; rashers, mashers, Brown bread, etc.
The service was good, always willing to bring another pint or give us more time to eat, howvever it was a slow day it appeared. I would reommend this to anyone looking for a good, traditional Irish pub.
704 characters
3.93
/5
rDev
+0.8%
vibe: 4.5 | quality: 4 | service: 4 | selection: 3.5 | food: 4
Been to a RiRa before? This is my favorite, not the least reason being its size and scope. Located on the water near the ferry to Casco Bay islands and right across from a Maine Beer and Beverage location, this is a good spot to mix tippling and tourism in Portland's Old Port. All seasons seem to be comfortable at this RiRa.
On tap: the Maine usual suspects and Irish and British usual suspects: Guinness with a shamrock pour, Boddingtons, Harp, Newcastle, Bass, Shipyard, and light American Macros. The selction is the weakest feature. The staff is never gruff and understands the importance of pride in service. Nicely dressed, often first generation Irish immigrant, they're good people.
But! Three distinct rooms/areas/atmospheres to choose from. Watch worldwide "footie" in the worn, comfortable front bar that looks out onto the street. Lots of open area between a few tables and benches. Perfect for a quick beer with no food. Then there's the multi level "pub" area with lots of sight lines to see and be seen. Fireplace, live music every few nights, beer promo happy hours every few nights, trivia contest on Tuesdays. Just a swell place to meet and talk, and the opportunity for a quick bite from the menu. If youo're looking for a better view or a more sumptuous meal, you can go to the top level restaurant where the grub turns into cuisine ($18.95 will get you a fine leg o' lamb,) and I've never felt comfortable in shorts. The room is glass on three sides for a neat view of the working waterfront: fishing vessels, ferries and the Portland Fireboat are all docked there. Watch for curious seals in the water!
1,632 characters
3.88
/5
rDev
-0.5%
vibe: 4 | quality: 4 | service: 4 | selection: 3.5 | food: 4
Ri-Ra is a chain so don't go thinking this is a real authentic "oirish" pub. There is one in Boston and one in Burlington, VT as well...however none of them have the location this one has...right on Commerical St. and righ on the water in the Old Port in Portland.
Decent food, 1/2 price burger specials on Tuesdays when I used to go. Never had a bad meal there so no complaints on that end.
Beer selection is sort of heavy on the import side...Guinness, Harp, Smithwicks etc...but they do usually have a Shipyard Seasonal, Geary's Pale as well as Allagash White.
This is not a beer bar but a pub that happens to have an ok beer selection.
Go to Trivia Night, that is awesome.
681 characters

3.83
/5
rDev
-1.8%
vibe: 4 | quality: 4 | service: 4 | selection: 3.5 | food: 3.5
Ate here during lunch, so I can't speak for what it's like on the weekends or at night, but some friends of mine in the Portland area say it's a great place during that time. As it was though, it wasn't busy at all.
The beer selection is very Irish with some typical domestic drafts and Maine beer products.
Service was good and the waitress didn't mind taking the time to talk to you. The food was pretty good, but if I was in the area, I don't think I'd go here for the food.
Atmosphere was pretty classy for the dining room area with a raised level, didn't get a chance to see the smaller pub area though. Has a decent view of the waterfront as it's on the oceanside of the street.
687 characters

3.59
/5
rDev
-7.9%
vibe: 3.5 | quality: 4 | service: 4 | selection: 2.75 | food: 3.5
One of the few bars open early for breakfast in town. There are two main room here with nice wood bars and several TVs in both. Decorated as all other Ri Ra pubs. 8 beers on draft at each bar and nothing really exciting here at all. Breakfast was decent, and service was good. With all the good beer bars in town, this place doesn't match up if you are looking for a bunch of local beers.
388 characters
3.56
/5
rDev
-8.7%
vibe: 4 | quality: 3.5 | service: 3.5 | selection: 3.5
RiRa has a nice and inviting charm upon entering. There appears to be two or three bars on the first floor. There is also another level upstairs. Wooden floors and great wooden bars stand out. A nice gas fireplace adds warmth to the atmosphere. They have live music on some nights throughout the week.
As far as draught beer selection goes, here are the highlights...Allagash White, Geary's, Shipyard Export & Winter, Murphy's, Guinness, Sea Dog Blueberry and Sam Adams Winter Lager. They offer $2.75 pints for specific beers on certain days. On the Saturday that I visited, Shipyard beers were the special. The Winter Ale that I had was fresh and you can't beat a pint for under $3. It appears all draught beer is served in 16 oz tumbler pints. It would be nice to see an upgrade in glassware.
Service was honest and attentive. My interaction was minimal, but overall service was solid. They also have a full menu, I didn't try any food during my stay, but everything that passed by looked really good. Next time I'm in Portland I would like to try the food.
Certainly worth checking out if you enjoy welcoming Irish pubs. The location is excellent on Commercial Street. Not to mention the fact that it's directly across the street from Downeast Beverage. A great 1-2 combo if you are up to it.
1,305 characters
3.53
/5
rDev
-9.5%
vibe: 4 | quality: 3.5 | service: 3.5 | selection: 3 | food: 4.5
so. there's like 3 bars and a leather seating area and a fireplace and irish accents and a bar "brought over from ireland" and guinness beef stew and stuff like that.
that's all cool.
but i liked it because it was big and clean and nice and stuff. pretty crowded though. it tooke forever to get a table (without a reservation). but we were quite confortable on a sofa having a pint.
i do believe i prefer brian boru for atmosphere and lack of crowdedness. but brian boru would be a better place to take yer parents.
522 characters
3.38
/5
rDev
-13.3%
vibe: 3 | quality: 3.5 | service: 3.5 | selection: 3 | food: 4
Ri Ra has two separate identities. First, it's lunch and dinner service. During this time, Ri Ra's charm as an old world authentic Irish pub comes to life. The service is great, the food is fantastic, and the Guinness is poured perfectly at the best temperature. However, just about all the charm of Ri Ra is lost when the pub turns into a normal bar. The locals flock in, and the place becomes over-crowded with some average at best local bar band playing in the corner. Everything that makes Ri Ra great is lost when the sun goes down. Beyond the perfect pour of Guinness, the beer selection is typical fare for the average bar in the area, with a couple of Shipyard brews on tap, some Sam Adams, and maybe a few local micros tossed in for good measure. If you are visiting Portland and want to try out this legendary bar chain, I'd highly recommend dinner service with a nice, traditional Guinness.
901 characters
Rí Rá Irish Pub in Portland, ME
3.9
out of
5
based on
28
ratings.