5,0 Original
| Feldschloesschen AG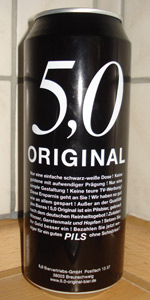 BEER INFO
Brewed by:
Feldschloesschen AG
Germany
feldschloesschen.de
Style:
German Pilsener
Alcohol by volume (ABV):
5.00%
Availability:
Year-round
Notes / Commercial Description:
No notes at this time.
Added by TheSarge on 04-26-2009
Reviews: 4 | Ratings: 19

3.5
/5
rDev
+2.9%
look: 3.5 | smell: 3.5 | taste: 3.5 | feel: 3.5 | overall: 3.5
Appearance: Pale; honey-gold; effervescent; small head, dissipates quickly
Aroma: Malty; citrusy; light hops hidden in background
Taste: Malty, juicy, and hoppy on start; semi-sweet finish with a slightly hoppy aftertaste; nothing special, but refreshing
Remarks: Did not score A, T, S, M at that time; disregard those scores
330 characters

2.7
/5
rDev
-20.6%
look: 3 | smell: 3 | taste: 2.5 | feel: 3 | overall: 2.5
500 ml can , bought in Germany. Minimalistic in appearance, all black can with white letters. Really cheap, I think it was 40 cents.
3 fingers of white head, average retention Very light lacing left behind. Medium activity in the glass. Golden yellow colour.
On the aroma grass, earth, some floral hop notes.
Taste is slighty bitter, becomes more intense on the aftertaste.
Very dry on the palate, with average carbonation and thin body.
Overall easily drinkable, easily forgetable.
482 characters

3.8
/5
rDev
+11.8%
look: 4 | smell: 4 | taste: 4 | feel: 3 | overall: 3.5
After first trying the Weizen--orange can, --thought it was orange soda-now on to the Pils. If I had never had experienced the delicious canned experience that is the Oskar Blues experience
Initial aggressive pour yields a very light straw to gold toned brew. Thick, nice creamy head, slowly becomes pock-marked as it settles down into the glass. Light, lazy bubbles in the body, overall a really stellar looking Pils.
Initial aroma of light malt, mineral water, lemon, citrus fruit, sweet lightly kilned malts, a light floral freshness, nice bitter finish of Hallertau and high mineral-content water I find so essential in my Pils. The classic combination of musty grain, citrus, sugary light malt and bitterness found here really impress me and fit the Pils aromatic profile to a tee.
Flavor follows suit. Light sweet graininess, bread, citrus, pepper esters, mineral sharpness. Finishes with a nice bite that make this style so appetizingly drinkable. My mouth is left with the lingering clean flavor of light malt and bitter hops.
A note on mouthfeel..as I experienced with the Weizen, Carbonation is dangerously low, creating a "flat" mouthfeel. However, a quick revert to my shit-beer drinking days gave me the impulse to try a sip from the can..problem solved. As the flavor is greatly inhibited from the "can sample" but the carbonation is perfect! Do you drink this from a can, and give up on flavor? Or drink from the glass and sacrifice carbonation?
I'll have to concede that for the .39$ price, and the local "punks" that drink this beer, that can-drinking is acceptable. However, this "cheap beer from a can" packs a hell of alot more flavor than the chap canned brews I've tried in the U.S. Well done random-obscure-German-Brewery.!
1,746 characters
3.71
/5
rDev
+9.1%
look: 5 | smell: 4 | taste: 3 | feel: 3.5 | overall: 4.5
This can plays itself off like it's a poor man's brew for the masses. It doesn't say Feldschloessen on the can, but a little Google revealed they're the ones who brew this beer. The can is a generic black and white vessel, with a German listing of reasons why this brew is housed in this bland can.
The pour is outstanding with brilliant white cranium and a golden rich looking and clear body. Lots of carbonation is stimulating the head retention that lasts throughout the 1 liter serving.
Aromas are not off key either: freshly mown hay and a subtle lemon zest from the Hallertau hops. There is an interesting stony/limey fragrance too.
The taste is nothing to write home to momma about. It is very run of the mill. Slight cereal malt ending with a slight lemony hops flavor.
Overall this is a pretty good pilsner. If a microbrewery in the States brewed this, it would probably get rave reviews, but for a German Pilsner, it's good enough to buy at your nearest gas station (but then again, I can buy Andecher's Doppelbock Dunkel from my gas station all year round). None the less, thank you Feldschloesschen for looking out for the way over taxed German dude with this GUD brewskie!
1,197 characters
5,0 Original from Feldschloesschen AG
3.4
out of
5
based on
19
ratings.