Schwarzbier
| Privatbrauerei Eibau i. Sa. GmbH
BA SCORE
83
good
11
Reviews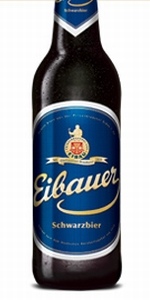 BEER INFO
Brewed by:
Privatbrauerei Eibau i. Sa. GmbH
Germany
eibauer.de
Style:
Schwarzbier
Alcohol by volume (ABV):
4.50%
Availability:
Year-round
Notes / Commercial Description:
No notes at this time.
Added by AgentMunky on 06-19-2010
Reviews: 11 | Ratings: 25
3.6
/5
rDev
+1.1%
look: 3.5 | smell: 3.5 | taste: 3.75 | feel: 3.5 | overall: 3.5
12oz bottle, gold-lettered black label, brewed by Minhas under 'strict' supervision from the fine folks (how fine can they be if they selected this brewery as their North American partner?), popped open at Pizza Brew in Calgary.
This beer pours a clear, dark orange brick brown colour, with one finger of weakly puffy, loosely foamy, and bubbly ecru head, which leaves virtually nothing in the way of lace anywhere near the glass as it rashly blows off.
It smells of lightly toasted caramel malt, sugary dark fruit - plums, maraschino cherries, and bruised banana - faint sickly yeast, a wan fleshy nuttiness, and ethereal earthy hops. The taste is gritty, roasted pale and caramel malt, more stale oily nuts, mushy bananas, dead yeast, and a still weak earthy, mildly floral hoppiness.
The bubbles are quite soft and innocuous, manifesting in a nice even frothiness, the body a decent medium weight, and mostly smooth, with a hint of pithy cloyingness that fades readily before a climbing airy creaminess. It finishes on the sweet side, the roasted caramel malt seeing little lingering competition.
Huh, the German brewers must have held the hands of every employee in Monroe during the brewing of this beer, as well as possessed a magic wand to cast away the inherent industrial effluent house character. Not a bad schwarzbier, simple in its rendition, but drinkable enough.
1,380 characters
3.49
/5
rDev
-2%
look: 3.75 | smell: 3.5 | taste: 3.5 | feel: 3.25 | overall: 3.5
Poured from a 12oz bottle into a US tumbler pint glass.
A: The beer is a dark brown color, with a short off-white head that fades slowly and leaves a thin lace on the glass.
S: The aroma contains lager yeast, caramelized malts, some hops and touches of honey and coffee.
T: The taste starts out with an odd sweetness from flavors of honey, coffee and caramel. Then some breadiness comes in from lager yeast and a thin malt character for the style. The hops presence is mild but brings a little bit of balance. The after-taste is slightly sweet and slightly bready.
M: A little crisp and a little smooth but a bit watery, medium body, medium carbonation, finish is slightly sticky.
O: A little tasty, goes down ok, not too filling, mild kick, not the best representation of style, it's a decent beer but not really what you look for in a Schwarzbier.
856 characters
3.42
/5
rDev
-3.9%
look: 3.5 | smell: 3.25 | taste: 3.5 | feel: 3.25 | overall: 3.5
Dark cola brown with thin, sticky beige head. aroma of dark roast grains and burnt toast. Taste is bitter, coffee, chocolate. Mouth feel is dry , and medium weight. Very decent schwarzbier.
189 characters
3.68
/5
rDev
+3.4%
look: 3.75 | smell: 3.75 | taste: 3.75 | feel: 3.5 | overall: 3.5
23 Feb 2013 finds me in the excellent 'Aufsturz' Berlin: a 500ml bottle of this is one of my choices during a stay that lasted a bit longer than I intended!
Pure black body with a tan head of sticky foam.
This is a malty, sweet brew and although the hops give a little sharpness and a hint of bitterness they are almost completely overpowred by the roasted malty molasses that give the beer a strong chocolate and caramel flavour.
A little too sweet, even for me really: body depth was fine and the 4.5% ABV not really showing at all. Ease down on the sweetness and this would be a very, very good Schwarzbier in deed.
622 characters
3.75
/5
rDev
+5.3%
look: 4 | smell: 4 | taste: 3.5 | feel: 3.5 | overall: 4
Served on-tap into 30cL wine-style glass.
A: Although it is a black beer, when held up to light, the beer has an unmistakable reddish hue throughout. Mildly translucent with good lacing and a frothy head with decent retention.
S: Dark sweet malts with a hint of fruit. Quite nice.
T: Not as full-bodied as I'd hoped. It's sweet, almost like an amber ale, but then hops introduce themselves, moderating the flavour. Aftertaste is pleasant and vaguely sweetish.
M: Smooth, sweet, light, and enjoyable. No complaints.
D: Very good. Sweeter than expected, but an interesting dark beer. Would have again.
614 characters
3.08
/5
rDev
-13.5%
look: 3.5 | smell: 3 | taste: 3 | feel: 2.5 | overall: 3.5
Dark beer, robe of a monk in colour with light mahogany reflect. The foam is discrete, light beige and average creamy.
At the smell you recognize the classics dark malts with a touch of caramel and roast, and with light hints of liquorice. The same notes are perceived in the taste too.
In the aftertaste you can feel a slight carbonation that makes it quite unsteady: at the beginning based on dark malts follows a bitter, maybe made by bitter root.
It is a balanced beer, with a little liquorice and bitter roots that make it fairly refreshing.
549 characters

3.78
/5
rDev
+6.2%
look: 3.75 | smell: 3.75 | taste: 3.75 | feel: 3.5 | overall: 4
Pours a deep ruby/dark brown from a 12 oz. capped bottle into a pint glass. Topped by an inch of light tan foam and showing good clarity.
Nice malty aroma with a bit of sweetened chocolate along with sweet cherry licorice and just a touch of roast. Nice and clean on the smell and offering a bit of minty spice with warming.
Taste is fuller than expected with a firm carbonation hitting the palate initially, followed by some drier chocolate notes and finishing with a slightly more viscous sweetness as the carbonation dissipates. Bit of biscuity hops on the finish. Overall a bit light in color but steady and fulfilling otherwise.
Note: Similar label but with a black background. No markings on bottle but bottom of six-pack carrier notes that this is brewed in Monroe, WI (Minhas?) and under 'strict supervision' from the brewery, by Eurobevs.
851 characters
2.95
/5
rDev
-17.1%
look: 4 | smell: 2.75 | taste: 2.75 | feel: 3 | overall: 3.25
Colour dark brown with ruby highlights, clear. Foam beige, fluffy and stiff, long time does not reduce its volume. The aroma does not happen too much, also is not very clear. It is light roasted coffee, little notes of fruit, hops. The taste is generally the same as the aroma of roasted at a moderate level, slightly fruity notes. The loading medium toward low.
362 characters
3.85
/5
rDev
+8.1%
look: 3.5 | smell: 3.5 | taste: 4 | feel: 4 | overall: 4
500mL bottle. Brew date August 3rd, 2011; best by date August 3rd, 2012. 4.5% ABV. Different label than that pictured.
Appearance: Less than a finger of light tan foam; disappeared to a ring within a minute. Auburn-cast brown in color. Left one broad ring of lacing which followed the level of the beer down the glass as it was quaffed.
Smell: Caramel and sweet malt. Bread and biscuit.
Taste: Mild roast malt flavor, slightly bitter. Nice.
Mouthfeel: Medium-bodied. Good amount of carbonation scrubs the palate. Lingering slight bitterness. Dry finish.
Overall: One of the better schwarzbiers that I remember having. I will have it again.
644 characters
3.7
/5
rDev
+3.9%
look: 4 | smell: 4 | taste: 3.5 | feel: 3.5 | overall: 3.75
This beer is a nice dark reddish brown almost black with a nice head that leaves a lace all the way down the glass. It smells of rich roasted malts with hints of nuts. It tastes even better with rich malty almost sweet tones. It has a slight bitterness that increases as it goes down. It finishes rather bitter for me but a lot of black beers tend to be bitter so it may just be the style.
389 characters
3.44
/5
rDev
-3.4%
look: 3.75 | smell: 3.5 | taste: 3 | feel: 3.75 | overall: 4
I've only had a few dark lagers but this is my favorite so far.well balenced taste that's not to overpowering. Strong scent of dark roasted grains and flavor notes of dark chocolate and coffee. Would love to try this again.
224 characters
Schwarzbier from Privatbrauerei Eibau i. Sa. GmbH
3.56
out of
5
based on
25
ratings.