Hacker-Pschorr Superior Festbier
| Hacker-Pschorr Bräu GmbH
BA SCORE
82
good
10
Reviews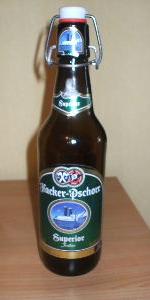 BEER INFO
Brewed by:
Hacker-Pschorr Bräu GmbH
Germany
hacker-pschorr.de
Style:
Märzen / Oktoberfest
Alcohol by volume (ABV):
6.00%
Availability:
Winter
Notes / Commercial Description:
No notes at this time.
Added by seanyfo on 02-07-2008
Reviews: 10 | Ratings: 33
3.61
/5
rDev
+2.8%
look: 4 | smell: 3.5 | taste: 3.5 | feel: 3.75 | overall: 3.75
500ml swing-top bottle. This is the Limited Edition Series Festbier, purportedly the same stuff they serve at Oktoberfest, now available thusly in North America.
This beer pours a clear, pale golden yellow colour, with three fingers of puffy, frothy, and densely foamy bone-white head, which leaves a decent wall of pockmarked concrete lace around the glass as things evenly subside.
It smells of bready, doughy, and slightly biscuity pale malt, a bit of red apple skin, a soft twinge of caramel/toffee sweetness, and earthy, leafy, and mildly floral noble hops. The taste is more of the same - bready, lightly caramelized and grainy malt, a touch of doughy yeast, muddled underripe apple and pear, and reserved earthy, weedy hops.
The carbonation is plain in its rendition, but plainly effective at the same time, the body medium-light in weight, well smooth, and perhaps a tad creamy. It finishes a bit on the sweet side, the already tame hops kicking off entirely.
In the marketing blurb on the back label, this is touted as a 'drier' version of the original Oktoberfest-Marzen - hard to believe that, as I'm not getting a whole lot of hop or alcohol essence, or any other unknown source of drying potential. Besides, that, this is a simple, easy-drinking, and booze up-ticked lager - nice for the brewer to let we Oktoberfest non-attendees in on what's goin' on.
1,374 characters

3
/5
rDev
-14.5%
look: 3 | smell: 3 | taste: 3 | feel: 3 | overall: 3
Aroma has sweet malts, grains, bread crust and a bit of alcohol. Taste starts slightly sweet and malty but gets bitter on the finish. The hops are generic and give a harsh bitterness on the finish and linger in the aftertaste. Medium body and carbonation. Not a style I enjoy too much.
285 characters
2.95
/5
rDev
-16%
look: 3 | smell: 3 | taste: 3 | feel: 2.5 | overall: 3
Poured from a half litre bottle into lager glass. Thick head quickly faded into faint head, leaving minimal lacing on glass. Not the usual spiciness from a Christmas beer. Color is normal golden hue of lager beer. Light carbonation. tastes much like a normal pilsener to me (sampled with other European christmas beers). Nothing special here....
345 characters
2.97
/5
rDev
-15.4%
look: 2.5 | smell: 3 | taste: 3 | feel: 3 | overall: 3
Deep golden, clear. White foam, with some bubble.
In the smell, quite fresh, hay, some hop. All above a strong malty base.
The taste is definitely malty, with dusty notes, and again hay on the back.
It left a warming feeling. Not bad, quit pleasant.
Average to high in body.
The aftertaste starts malty, then some hop, not too much, but right to balance.
354 characters
3.33
/5
rDev
-5.1%
look: 3.25 | smell: 3.25 | taste: 3.25 | feel: 3.5 | overall: 3.5
I would say that this beer lays somewhere between a marzen and a bock. It poured into my extended tumbler with an off white head and orange body with lots of carbonation to the body. All that dissipated relatively quickly. The aroma was sharp and so was the flavor at first. Then it settled down to being very malty. The mouthfeel was very slick.
346 characters
3.79
/5
rDev
+8%
look: 4.75 | smell: 3.75 | taste: 3.75 | feel: 3.5 | overall: 3.75
This is H-Ps winter Märzen
L:
-pours a clear golden-amber with a medium,foamy,white head
-medium to high carbonation visible
S:
-cinnamon,vanilla,candied fruits,sweet grain,orange
T:
-licorish,brown bread,candied fruits,orange,caramel,slightly roasty
-substantial hop bitterniss
F:
-medium to high carbonation
-light to medium body
-slight alcohol warmth
O:
Really nice Märzen
378 characters
3.15
/5
rDev
-10.3%
look: 3.5 | smell: 3.5 | taste: 3 | feel: 3 | overall: 3
Produces a good two finger thick white head that dissipates kind of quickly. The body of this brew is clear, and is a bit darker gold than what a helles would be.
Aroma wise it's a bit on the spicy side, something in the way of tobacco, and sweet cereal grain husk.
The taste is pretty on par for the style, nothing really jumps out, though. Just a little grainy sweetness, and cracker like dryness.
401 characters
3.83
/5
rDev
+9.1%
look: 4.25 | smell: 3.75 | taste: 3.75 | feel: 4.25 | overall: 3.75
Poured from a 500ml brown swingtop bottle into a 16 oz. pilsner glass. Best by 03/15
A- Light golden yellow, high clarity, three finger white head.
S- Light raisiny notes, cracker, communion wafer, nobel hops.
T- Similar to aroma, bready challah notes with light raisin, and a slight nobel earthy spice.
M- Crisp and clean and easy drinking.
O- Really kinda of a cross between and Oktoberfest and a German pilsner to me. I really enjoyed this and though it added more drinkablity to oktoberfests, which I typically find a bit to raisiny and even sweet for what I'm looking for in a lager.
598 characters

4.32
/5
rDev
+23.1%
look: 3.5 | smell: 4 | taste: 4.5 | feel: 4.5 | overall: 4.5
A - 50cl bottle ppoured into my Paulaner Seidel. Agressively poured producing a 3 finger rocky head that disappates to a 1/2 finger head. Lively beading, minimal lacing.
S - A light malty caramel nutty sweetness. Smells very fresh, some nice bakery sweet cinnamon bread like smell, this is very subtle though.
T - Light marzen sweetness, not overly powering in sweetness, bakery fresh bread taste comes through in the finish, very nice.
M- Medium carbonation, fresh, nice mouthfeel, not syrupy or stale.
D- Very nice festbier, my favourite of the Christmas time festbiers, its fresh crisp and the flavours are subtle which makes it moreish.
Excellent!
655 characters

3.5
/5
rDev
-0.3%
look: 3.5 | smell: 3.5 | taste: 3.5 | feel: 3.5 | overall: 3.5
One bottle purchased from Gausler Getrankmarkt in Sulzbach-Rosenburg.
.5L bottle served in a tall beer glass.
A - Clear, Deep Gold, course two ifnger head the dissipated quickly no lacing.
S - malty, touches of toffee and touch of sweetness.
T - Toasted malts, hint of breadiness, has a subtle earthy feel to it. Mellows to a pleasant bitterness.
M- medium body, medium carbonation. Doesn't leave much of an aftertaste compared to other marzens.
D- Pretty good beer, definately worth trying.
497 characters
Hacker-Pschorr Superior Festbier from Hacker-Pschorr Bräu GmbH
3.51
out of
5
based on
33
ratings.