CB's Ryan (Signature Series)
| CB Craft Brewers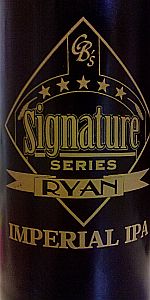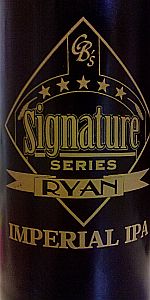 BEER INFO
Brewed by:
CB Craft Brewers
New York
,
United States
cbsbrewing.com
Style:
American Imperial IPA
Alcohol by volume (ABV):
8.00%
Availability:
Limited (brewed once)
Notes / Commercial Description:
No notes at this time.
Added by BeerAdvocate on 04-04-2010
This beer is retired; no longer brewed.
HISTOGRAM
Ratings: 10 | Reviews: 9
Reviews by SLeffler27:
4.1
/5
rDev
+9.3%
look: 4 | smell: 4 | taste: 4 | feel: 4 | overall: 4.5
Ruddy, reddish copper and clear with a creamy, beige head that leaves rings of lacing. Highlights are ruby red.
The aroma has a big, grapefruit presence with honey and caramel. There are hints of oak and vanilla. Some pine aromas come out with warmth.
Surprisingly, the bitterness is modest with light wheat bread. This one is dry with some honey in a light, lingering, bitter finish.
Smooth and slick with a medium body. Alcohol and dryness are as expected.
Given the style, this one is highly drinkable and is one of CB's finer offerings.
546 characters
More User Reviews:
4.15
/5
rDev
+10.7%
look: 4 | smell: 4 | taste: 4 | feel: 4.5 | overall: 4.5
22oz brown bomber with no freshness date.
The expected sticky showing of lace is present, clear and tawny ... certainly darker than expected but this beer wants to tell a different story. Smells of freshness smashed tangerines, rustic bready, nutty yeast and ripe pears. As smooth as the creamy smoothness lays into the palate the hop bitterness gives a quick smack to the taste buds. Caramel twang and a spicy grain flavor come from the malt side, toasty with more layers opening up as the beer warms. A bit earthy and leafy with a vague overripe fruit in the middle. Alcohol for its size is subtle but still quite warming. Finishes with a beautiful mess of toasted spicy grain, pungency of hops and a breath of alcohol.
A very interesting take on the Imperial IPA style, edge of rye? Hops are in the raw and everywhere but not too much in anyone place. The could have called this an Imperial Red or Brown Ale or even a Strong Ale ... don't we just love American beer styles?! Ha! If you happen to find a bottle drink it now.
1,028 characters
4.08
/5
rDev
+8.8%
look: 4.5 | smell: 4 | taste: 4 | feel: 4.5 | overall: 4
Picked up at Beers of the World
A: A deep amber beer that pours with great head and lacing.
S: The malt profile comes through prominently with caramel and some spice. Whether that spiciness is from the rye or cluster hops, this reviewer will never know. Hops are a little muted here, with some faint citrus notes and fruity elements wafting through.
T: The Rye in Ryan is no joke. Not a subtle spiciness but full on spice induced tongue tingle. The malt is assertive, but melds well with floral flavors lending some unripe orange zest to the mix. Bitterness is present but not inhibiting. Some lingering bitterness is more akin to raw pine sap that sticky resin.
M: No complaints, a solid bodied beer that covers up the 8% well.
D: Yes, I could drink this often. The spice and raw bitterness might be unpleasant separate but compliment each other well, giving forth an entirely different kind of DIPA.
907 characters

2.64
/5
rDev
-29.6%
look: 4 | smell: 2.5 | taste: 2.5 | feel: 3 | overall: 2.5
Sampling a bomber bottle split with Stopper at room temp and poured into a snifter. The beer pours a hazy chestnut hue with fizzy eggshell white head that remains as an edge layer and some wispy islands.
Aroma is boozy and fruity malt with brown sugar and caramel, where are the hops? I only get a little grassy hop hit with minor earthy notes as well.
First sip reveals an average body and fine spacious carbonation. Flavor is again more malt based with brown sugar and caramel dominant. Grassy hops are the only flavor complexity that show up for the party. Some mild general astringency on the finish reminds me that this is supposed to be an IPA. The beer left something to be desired in complexity and hop presence. I wouldnt pick up this bottle again.
758 characters
4.23
/5
rDev
+12.8%
look: 4.5 | smell: 4 | taste: 4.5 | feel: 4 | overall: 4
a gift from one of my top guys. He must be tight with CB, as he is always talking about them. Plus... he had to humor the name on it
A- pours an interesting dark, dark amber look. The head of the brew is outstanding, as well as the lacing that latches to the sides of my tulip.
S- a superior malt scent with aspects of caramel tones and even some faint floral hops. The robust brew ends with even a slight tropical note as well. The commitment to the rye more than likely contributes to that property of the brew
T- fantastic. The strength of a well crafted malt backbone mixes with a slight citrus theme as well. The malty flavor really shines through and leaves a great taste on the palate
M- really a full body of flavor. Not too bad of an after taste either
D- CB made a fantastic interpretation of a DIPA focusing on RYE. This brew is very, very tasty. Looks like I am tapping into the second I was given today as well!
929 characters
3.69
/5
rDev
-1.6%
look: 3.5 | smell: 4.5 | taste: 3.5 | feel: 3 | overall: 3.5
A- Deep amber color with just a finger or so of head, heavy lacing throughout.
S- heavy hit of rye toast followed by caramel and floral hops.
T- Taste is dominated by a hop bitterness that attempts to be balanced by a small amount of caramel flavor, but it's just not enough.
M- dry, medium bodied, stringent aftertaste
D- A unique concept for a rye based IIPA, but it just fell a bit short for me. It's a beer worthy of trying, but it's not one I'd search out again.
471 characters

3.53
/5
rDev
-5.9%
look: 4 | smell: 3.5 | taste: 3.5 | feel: 3.5 | overall: 3.5
Bottle from Wegmans
A - Poured a dark copper color with a tan head that leaves lacing behind
S - Is of sweet caramel malt rye spice and some hops
T - Follows the nose sweet caramel malt upfront then the rye comes on strong with mild hops
M - This beer has a medium body with medium carbonation to it
D - This is an interesting beer with everything thats going on with the flavors it tastes good and is pretty easy to drink worth picking a bottle up if you see it
468 characters

3.62
/5
rDev
-3.5%
look: 4 | smell: 4.5 | taste: 3.5 | feel: 4 | overall: 2.5
Extra from Lazerlobe
Poured from a bomber. Wasn't quite expecting what I got on this brew as I have never had a Rye style of an American IPA.
Murky reddish brown, almost over the top bold flavor, medium to hgih on hops. Got some orange candy tast with low-medium carbonation. Mouthfeel was the best part of this beer with lots of rye!!! Almost undrinkable for one person and my stomach felt super heavy afterwards.
417 characters
3.47
/5
rDev
-7.5%
look: 3.5 | smell: 4 | taste: 3 | feel: 4 | overall: 3.5
22 oz bottle into DFH snifter
A - Pours a cloudy brown with a wispy light tan head. Head retention is brief.
S - Tons of sweetness (fig?) and a sharp hop bite. Smells more like a barleywine. Sweet, fruity, and caramel. Lots going on, none of it reminiscent of an imperial IPA.
T - Follows the nose. Caramel and dark fruity sweetness. Sugary finish. Almost sickly sweet. Hops are present, as is the signature rye flavor, but they take a back seat to the sweet fig and caramel. hint of yeast as well.
M - Medium, creamy body. Carbonation is weak. Not cloying or dry to the palate. A well-developed mouthfeel.
D - Very strong flavors and a hint of booziness make this a bit of a sipper. Taste is good enough, but it is very odd to see this labeled as an imperial IPA. It tastes nothing like most imperial IPAs I have had in the past, with a far sweeter and darker character. As far as representing the style goes, I can't give this very good marks. It is, however, a tasty beer nonetheless.
993 characters
CB's Ryan (Signature Series) from CB Craft Brewers
Beer rating:
3.75
out of
5
with
10
ratings