1803 Fat Ox Ale
| CB Craft Brewers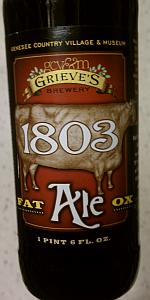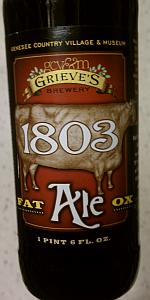 BEER INFO
Brewed by:
CB Craft Brewers
New York
,
United States
cbsbrewing.com
Style:
American Brown Ale
Alcohol by volume (ABV):
not listed
Availability:
Rotating
Notes / Commercial Description:
No notes at this time.
Added by dogfishandi on 11-27-2011
HISTOGRAM
Ratings: 11 | Reviews: 6
Reviews by SLeffler27:
More User Reviews:

4.17
/5
rDev
+2.2%
look: 3.5 | smell: 4 | taste: 4.5 | feel: 4 | overall: 4
22oz bottle purchased at the brewery roughly 2 months ago. this is brewed how brown porter was brewed in the 1800's in WNY. made for the "genesee county village & museum" by CB's.
pours out a deep brownish ruby red color, a touch cloudy. about 1 finger of light tan head off the pour that quickly faded to a thin retentive ring. lacing is quick to fall back into the beer.
some nice notes of chocolate and caramel, also some molasses, brown sugar, bits of roast and coffee. a bit of toasted malt behind all that.
some very nice rich molasses caramel chocolate thing goin on, not like a caramel malt, more like actual sugary caramel. very nice. maybe some maple syrup detectable and bits of some roasty coffee at the finish. some toasty malts and fruity esters make for a nice base.
medium bodied, semi-sweet with some bitterness in the finish.
wow, im surprised this was as good as it was. prolly the best beer ive ever had from CB's, and thats saying a lot. nice big caramel, chocolate flavors while still being very sessionable. id definatly suggest picking this up if you can find it.
1,095 characters
4.05
/5
rDev
-0.7%
look: 3.75 | smell: 3.75 | taste: 4.25 | feel: 4.25 | overall: 4
On tap at the Depot Restaurant at the Genesee Country Village and Museum in Mumford, NY.
Pours a caramelly looking brown, with a half inch head, and not much lacing.
Smells like caramel, chocolate, toasted bread, and roasted malt.
The taste is similar. A very tasty brown ale, one of the better ones I've had from CB's. A good amount of cocoa powder and dark chocolate, with some hop bitterness, toasted bread, caramel, brown sugar, and grassy hop flavors. I asked the brewery in their renovated 18th century brew house, and they grow Cascade hops in the village, so it's likely they're used here.
Medium bodied, crisp, fairly dry mouthfeel, medium carbonation. Very drinkable.
One of CB's better beers, they clearly got a pretty good recipe from the village.
764 characters
4.25
/5
rDev
+4.2%
look: 4.25 | smell: 4.25 | taste: 4.25 | feel: 4.25 | overall: 4.25
Beer from a better time? Pours a light chocolate color, with an excellently retained head. Tastes of coffee, cooked barley, and chocolate. Is neither sweet nor bitter. Tastes good and fresh to the end of the glass... and growler. And neither should be expected to last long.
274 characters
4.08
/5
rDev 0%
look: 3.5 | smell: 4.25 | taste: 4.25 | feel: 3 | overall: 4.25
This beer was served on cask at Tap and Mallet in Rochester, NY. It arrived in a Rochester Real Beer Expo 2013 pint glass, showing an amber chocolate coloring. It held a half finger tall head of white foam, showing fine retention into ridges of lacing and a textured film across the top of the liquid. A chill haze was noted to linger, with no sediment seen. Carbonation appeared to be light. The aroma was deep, with raw barley and coffee malt, chocolate fudge sugars, soft butterscotch sweetness, light booze, and white chalk. With warmth came a more fusel nail polish remover, black pepper spice, and stronger echoes of milk chocolate and chalked dark chocolates. Our first impression was that the flavoring was nice and deep, with the cask suiting it well in depth, soft woodiness, and sourness. As we sipped, the taste began with a brown and chocolate malt base, lactic acid, red wine vinegar, anise, floral hops, red apple sweetness, and café au lait coffee milkiness. A bittered soapiness came next, pulling us to the middle, where the apple sweetness enhanced, along with red grape twang, tannic teas, black pepper, plastic bitters, watered mineral, and more of a bittered soapy hop air. The end came with dark chocolate depth, lime rind bite, licorice, clovey phenols, plastic bittered, lightly roasted barley, and a revival of that vinegar sourness. The aftertaste breathed of caramel and cereal grain, powdered chocolate nibs, roasty chocolate malts, olive oil, sunflower seeds, licorice, soft woody mossiness, soy sauce, musk, and mineral. The body was on the light side, and the carbonation was medium. Each sip gave decent slurp, smack, cream, and froth, with a light, even coating of slickness left all around the mouth. This gave way to crisp and chalky astringency across the palate. The abv was appropriate, and the beer glugged easily.
Overall, the best thing about this beer was its depth of grain through the nose and the taste, and how highly drinkable it was throughout the tasting. The grain bill was really the showcase here. We got good sweetness and unrefined freshness of raw malt, but with good toast and cook, only to be added to by the bitterness of the casking. This evenness and robust balance helped impart smoothness on the swallow. This a great brown ale, and a nice beer for CB's, but in the end the flavoring was a bit light, and the feel just wasn't as contributory to the overall picture as we would have liked.
2,457 characters


3.96
/5
rDev
-2.9%
look: 3 | smell: 4.5 | taste: 4 | feel: 3 | overall: 4
"Visit Grieve's Brewery - America's only recreated, working 19th century brewery..."
Poured from bomber into chimay chalice.
A - Rather a cloudy brown, garnet shines through when held to light. Khaki head about 1 finger high, quickly dissipating leving trace amounts of lacing on glass and top of beer.
S - Strong - I can smell the beer from a few feet away. Malty, roasty, definitely a coffee aroma from a distance, even stronger up close.
T - Porter like roastiness, still with the coffee flavor on top. Caramel hiding in the back, especially noticeable at the end.
M - Not as heavy as the flavor. I'm not sure the ABV here, but the body isn't super large, actually relatively thin, considering the flavors here.
O - Best beer by CBC's that I've had. Pleasantly surprised, and I see myself easily finishing this bomber.
828 characters

4.1
/5
rDev
+0.5%
look: 4 | smell: 4 | taste: 4 | feel: 4 | overall: 4.5
Grieve's 1803 Fat Ox Ale is a cloudy, raspberry brown ale with a bubbly light khaki head that thins a bit and stays put. It has a huge caramel aroma with a very roasted quality. Notes of coffee and chocolate are quite apparent. It's medium bodied and smooth. The finish is quick and clean. It tastes like it smells, a touch sweet and not really bitter at all. There's a lot of caramel with notes of coffee and chocolate. The tastes lingers for a while and at last, some bitterness comes out. I honestly didn't expect such a tasty brew! This goes down with great ease.
567 characters
1803 Fat Ox Ale from CB Craft Brewers
Beer rating:
4.08
out of
5
with
11
ratings