CB's Oak Aged Wee Heavy Winter Ale
| CB Craft Brewers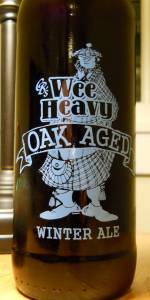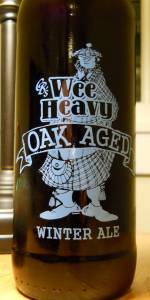 BEER INFO
Brewed by:
CB Craft Brewers
New York
,
United States
cbsbrewing.com
Style:
Scotch Ale / Wee Heavy
Alcohol by volume (ABV):
8.10%
Availability:
Limited (brewed once)
Notes / Commercial Description:
No notes at this time.
Added by TheBrewo on 09-05-2012
This beer is retired; no longer brewed.
Ratings: 9 | Reviews: 5
Reviews by wisrarebeer:
3.62
/5
rDev
-2.4%
look: 3.5 | smell: 4 | taste: 3.5 | feel: 3.5 | overall: 3.5
A: deep copper color, clear, some head but not much
S: mild nose but definite bret noticeable
T: intriguing and very different beer, smooth, mellow, definite malty backbone, but bret throughout, don't know how to rate this beer because it has wee heavy qualities but bret throws everything off-kilter -- in a good way
M: very, very drinkable, smooth, mellow with silky bret undertones, surprisingly a bit thin for abv
417 characters
More User Reviews:
3.94
/5
rDev
+6.2%
look: 4.25 | smell: 4 | taste: 3.75 | feel: 4.25 | overall: 4

3.68
/5
rDev
-0.8%
look: 3.5 | smell: 3.5 | taste: 3.75 | feel: 3.75 | overall: 3.75
Well, I have been holding on to this for awhile and upon opening it it is very clear that this beer picked up some wild yeast during the oak aging. I'm really curious, because I think that if CB intended for this beer to be a huge brett bomb it would say so on the bottle, so I am guessing they didn't intend for it. Sadly, I have to rate to style, and this doesn't really hit the style for scotch ale. So, yea don't come to this one if you are looking for the traditional scotch ale. However, if you are looking for a scotch ale based wildly fermented beer...well here you have found it! Pours deep chestnut brown with amber edges and a very foamy off white head. Nose is brett. And brett. And a little more brett. This is truly an educating beer because now I truly understand the meaning of "horse blanket" and "wet hay" in the reviewing of beer. There may have been a time when this was a good scotch ale, but what I am getting in the taste is a little caramel malt with huge wild notes. This is the most brettanomyces forward beer I have ever had. Finishes with an awesome funky taste on the back end of the palate. Ok, so I don't think this is what CB intended...but...I actually recommend this one. It's a really interesting beer to try that is super funky and off in a good way. Sort of a wildly fermented strong amber ale?
1,331 characters
3.21
/5
rDev
-13.5%
look: 4 | smell: 3 | taste: 3 | feel: 3.5 | overall: 3.5
We serve this beer into our CB's Signature Series chalices. We pour a brew of rich medium brown. It shows golden-maroon flecks when held to light. The head stands two fingers tall, and is comprised of light brown bubbles. This recedes at a medium pace, leaving only spots of lacing around the glass. There is a chill haze to the clarity, but no sediment is noted. Carbonation appears mild. The nose shows much of the oak aging, but it is drying and sour, very much like Brettanomyces. The fruitiness to cut is almost as sour, taking the form of fresh cranberries, red cherries, and green grapes. Malts are lighter, but definitely show a darker, more roasty caramel side. With warmth comes a "fried food" greasiness, and some light musky booziness. Our first impression is that the wood imparts an odd bitterness. As we sip, souring oak sap bittering comes in strong with charcoal smoke. There is mild sweetness from caramel, fig, and cherry sweetness. The middle peaks with bittering wood, char, and biting yeast that, again, borders on Brett sourness. The finish milds out quite a bit, with all sourness dissolving into a fat malty backing of caramel, pale malts, light grassy hops, and sweeter BBQ charcoal. The aftertaste breathes bitterly of wood, sour yeast, light smoke, pear out of nowhere, hot plastics, and mild whiskey air. The body is medium, and the carbonation is lighter. There is soft, syrupy smack to each sip, with wet astringent coating. The mouth is dried down the tongue and hard palate. Cream and froth are minimal but contributory. The abv is appropriate, and the beer drinks slowly.
Overall, what we enjoyed most about this brew was the big woodiness through the nose and flavoring. This, however, bordered on Brett sourness. While we adore wild ales and goofy yeast strains, we couldn't find anywhere on the bottle, or the brewery's website that this was brewed with such, so it brought into light the idea that this may have been an infected batch (1/11). Regardless, the flavoring was nice throughout, with fairly deep complexity. We just wished that it had more "Wee Heavy" notes. The malts were a bit muddled, and lack the sweetness and earthiness we have come to love from the style.
2,229 characters


3.8
/5
rDev
+2.4%
look: 4 | smell: 4 | taste: 3.75 | feel: 3.5 | overall: 3.75
Appearance - copper/mahogany color with tan head
Smell - caramel, raisin, plum, oak, bourbon
Taste - caramel , raisin, plum, oak, bourbon
Mouthfeel - medium bodied, medium carbonation, slight sweetness upfront, boozy presence of the barrel on the back end, finish is a bit harsh/unrefined
Overall - decent barrel aged brew that might improve over time. Worth a shot.
Price Point - $6.70/22 oz bottle
404 characters
3.9
/5
rDev
+5.1%
look: 3.75 | smell: 3.75 | taste: 4 | feel: 3.75 | overall: 4
the label of this masterpiece has changed since the bottle pictured, and the liquid in the bottle is amazing. its a deep amber beer, you can really smell and taste the sweet grain, and the oak on this is intense. i love a beer that sees oak and not a whiskey barrel or wine barrel, it does something different to the beer, adds a much more mature flavor without sugars or fruits or anything interfering, more pure in some sense, and in this case it works wonders. the beer is sweet, dont get me wrong, but its layered enough with earthy malts balancing the sweeter ones, that you dont really get sugared out. its comes through a little boozy in the finish, but thats always permissible in the style. sometimes these can be distractingly smokey, but this one is not, its not even really smokey at all, just the wood, which may have seen some char. lots of body, a lingering finish, and as nuanced as any beer i have had from these guys. different than others ive had out there, cool take on the style. big thanks to my brother for trucking this one all the way down to florida to share with me, it was a treat out in the boat my man!
1,132 characters

CB's Oak Aged Wee Heavy Winter Ale from CB Craft Brewers
Beer rating:
0
out of
100
with
9
ratings