Dismiss Notice
Helltown Organic Hefeweizen
| Butte Creek Brewing Company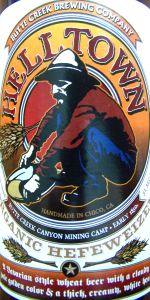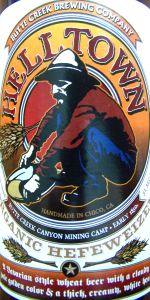 BEER INFO
Brewed by:
Butte Creek Brewing Company
California
,
United States
buttecreek.com
Style:
Hefeweizen
Alcohol by volume (ABV):
5.00%
Availability:
Summer
Notes / Commercial Description:
No notes at this time.
Added by dbalsock on 08-20-2007
This beer is retired; no longer brewed.
HISTOGRAM
Ratings: 8 | Reviews: 7
Reviews by AndoBrew:
3.38
/5
rDev
+12.3%
look: 2 | smell: 4 | taste: 3 | feel: 3 | overall: 4
*did not mind would not buy*
app: haze pale yellow water. not yummy looking.
smell: tart, grass, lil sour, pepper, yummy.
taste: water, mild, not bad, it has nannas. i think its saving grace is that its flavor is mild, it is water filled and weak, not bad at all.. if the flavor was turned up??? may be bad.
mf: water, thin, eh.
drinkable?: very. not much goin on here.
374 characters
More User Reviews:
3.48
/5
rDev
+15.6%
look: 4 | smell: 3.5 | taste: 3 | feel: 4 | overall: 4
Poured from the 22oz bottle into an Erdinger weizen glass. Pours a cloudy golden-straw color, topped by a sizeable stark white head that has some good body to it. Aroma of light wheat, some spicy Euro hops, and a mild peppery quality. Palate is very subdued, so much so that my dinner keeps resurfacing through it (and I ate several hours ago). Light wheat, a touch of Saaz and other Euro hops, and mild herbs on the finish (a touch of pepper and coriander). Body is crisp and clean, perhaps the most authentic quality there is to this beer. Not bad, certainly, but an odd offering that's a little off the mark. I think Butte Creek might be better off sticking to ales.
669 characters
2.18
/5
rDev
-27.6%
look: 2.5 | smell: 2 | taste: 2 | feel: 3.5 | overall: 2
Poured from 22 oz bottle into weizen glass.
A - Pale hazy yellow. 1-2 fingers of fizzy head forms and recedes rather quickly to a thin cap. Minimal lacing. Also, the yeast sediment in this brew is in the form of little brown specs, not the usual chunks/sludgy looking yeast in others of the style.
S - Disgusting. It smells like vinegar/soured apple juice.
T - Fairly prototypical sour wheat malt begins the taste but degenerates quickly into the vinegar note from the nose, with a touch of lemon peel.
M - Decent enough for a hefe, light and fizzy.
D - This is the worst hefeweizen I have ever had. I've been trying to enjoy this brew but it looks like the second half is destined for the drain. This is a bad, bad beer.
727 characters
3.37
/5
rDev
+12%
look: 3.5 | smell: 4 | taste: 3 | feel: 3 | overall: 3.5
Suprised to see few reveiws for this one. A lighter yallow, looks like fresh squeezed lemonade. A nice citrus like smell and the taste has citrus flavors such as lemongrass. It would be interesting to have a clementine with this. The mouthfeel is fairly smooth with a slight twang like moldy hay that I find typical of the style. Overall, a refreshing brew for a hot August day.
378 characters
3.58
/5
rDev
+18.9%
look: 4 | smell: 3.5 | taste: 3.5 | feel: 4 | overall: 3.5
This was pretty standard for an hefeweizen in respect to appearance. I tried it in a weizen-glass and it produced a decent amount of head, but not so much I had to wait for it to settle. The color was an unfiltered straw yellow. It smelled of wheat with some slight banana esters, but mostly the smell was a mix of barley and wheat malt. The taste was very similar to the smell, with a little more wheat than barley, as would be expected. I though I noticed hops occasionally because of the crisp quality of the carbonation, but I may have imagined it. Either way they're either non-existent or very very faint. I found it easily drinkable, nicely sessionable and enjoyable, but didn't hit the spot like an imported hefeweizen tends to. Because I'm prone to drink local, or near local, beer, I will probably pick this up again next summer compared to other American made hefeweizens.
883 characters

2.1
/5
rDev
-30.2%
look: 2 | smell: 2 | taste: 2 | feel: 3 | overall: 2
Almost looks green in its pint glass on my computer desk. Fairly aggressive pour that would have 99% of all other hefes spilling over the sides of the glass, leaves me with only a mediocre head. Body is lemon yellow when held to a lamp, and in lieu of the usual cloudiness, this is clear with 1000's of individually recognisable particulates floating around.
Smell is a Miller Lite with one of those decorative hand soaps in the shape of a rose or something that no one ever uses. Yes, I'm serious.
Taste: See smell and add a handful of sweaty nickles. Mouthfeel is on par for the style; best thing this one has going for it.
Considering I am fast becoming a huge fan of this brewery, I hope like hell that this is this disappointing purely because it's older than I think it is...
782 characters
3.45
/5
rDev
+14.6%
look: 3.5 | smell: 3.5 | taste: 3.5 | feel: 3 | overall: 3.5
From a 22 oz bottle this poured a lemon yellow with a nice fat white head and good lacing. Nose of citrus hops, yeast, and spices, with clove more noticeable. Mouthfeel is a bit thin but is clean and smooth. Flavor is mild, but of wheat, and citrus, with a hint of fruit. Finish is ever so slightly bitter. This is apparently brewed in the spirit of a German hefe, and is comparable to that style. Refreshing to drink. I apparently liked this a little better than the last couple of reviewers.
493 characters

2.53
/5
rDev
-15.9%
look: 2.5 | smell: 2.5 | taste: 2.5 | feel: 2.75 | overall: 2.5
Helltown Organic Hefeweizen from Butte Creek Brewing Company
Beer rating:
3.01
out of
5
with
8
ratings