Oktoberfest
| Blue Point Brewing Company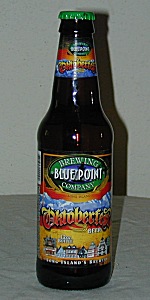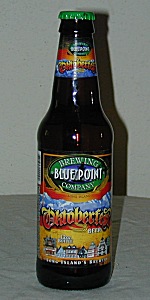 BEER INFO
Brewed by:
Blue Point Brewing Company
New York
,
United States
bluepointbrewing.com
Style:
Märzen / Oktoberfest
Alcohol by volume (ABV):
5.50%
Availability:
Fall
Notes / Commercial Description:
Originally brewed a couple hundred years ago to celebrate the betrothal of the Crown Prince of Bavaria, we're helping keep the tradition alive by brewing Oktoberfest every fall for our most royal/loyal followers.
Added by Bitterbill on 10-14-2002
HISTOGRAM
Ratings: 408 | Reviews: 151
3.65
/5
rDev
+3.7%
look: 4 | smell: 4 | taste: 3.5 | feel: 3.5 | overall: 3.5
I had out of a 12 oz bottle.
A- Rusty orange. Great foamy head and lacing. Slightly bubbly.
S- Slight spicyness to it.
T- Crisp and carbonated, it has something of a European Oktoberfest taste to it, than a Micro-brew American.
On second tasting, this was quite good. Who knows, maybe my tastes changed since 2007.
Previous review, on tap (10/6/07). 4/4/2/4/3.5
A: Gold with a tremendous head.
S: Mild, but fruity.
T: Ok, now maybe it's because this particular bar never cleaned out its lines and Blue Point Blueberry was still in there, but this tasted nothing like an Octoberfest. It had a very blueberry taste, and no offense because it wasn't bad, but if I am having an Octoberfest, I want that bitter pumpkin taste.
M: Sits nicely with lots of flavor.
D: Very fruity, blueberry, it goes down well but I can't have a lot of them.
Don't get me wrong, its a good beer, but it wasn't what I want out of an Octoberfest. I will give it another chance, though, if I see it somewhere else.
993 characters

3.93
/5
rDev
+11.6%
look: 4 | smell: 3.5 | taste: 4 | feel: 4.5 | overall: 4
Even though I live in New York it seems that this brewery has all of a sudden become available everywhere.
Nice deep amber color with nice rich head. Very smooth although a little on the light side for a marzen. While other reviewers noted that this was on the simple side I think that it is an advantage for this beer. Very drinkable with a sweet taste while finishing with a slight spicy taste.
399 characters

3.63
/5
rDev
+3.1%
look: 4 | smell: 3.5 | taste: 3.5 | feel: 3.5 | overall: 4
Poured a dark copper hue with a one finger foamy white head. There was good retention and lacing.
The smell featured a solid malt graininess and mild allspice aroma.
The taste was grainy and mildly sweet with a gentle spicines.
The mouthfeel was a bit thin but smooth. Good carbonation.
Overall a good drinkable marzen. Simplistic as far as the style goes, but a nice effort nonetheless
398 characters

3.45
/5
rDev
-2%
look: 3.5 | smell: 3.5 | taste: 3.5 | feel: 3 | overall: 3.5
Snagged a growler on my visit to the brewery yesterday...
A honey amber color with a full finger of white head with an agressive pour...most of which disappears too rapidly and leaves no lacing whatsoever.
Mild spice in the nose with a mellow sweet maltiness to go with it.
The taste is ok...a bit lacking in depth and very thin for the style.
Spice is much less than what was showing up in the nose, but a generous hop profile helps clean up the back end, which also carries a peat/smoked flavor that I like.
Thin mouthfeel with enough carbonation to come across very fresh.
Not my favorite offering from Blue Point, but still quite drinkable.
650 characters

4.02
/5
rDev
+14.2%
look: 3.5 | smell: 4 | taste: 4 | feel: 3.5 | overall: 4.5
Picked up a few growlers from the brewery on Railroad Ave for the weekend and figured I should give this a shot since it won't be around much longer, plenty of time for ESB and Winter later on.
A light orange and brown meld of color topped with only a wisp of head and little evident carbonation. Light scent of fruit and spice over a basic layer of malt and sugars.
A bit fruity with a muted balance between hops and malt. A sweet aftertaste that matures through the sip. A bit understated really, at least compared to the other Oktobers I've tried this fall already and exactly the opposite of a beer like Hoptical Illusion, which just brings the noise.
Mouthfeel is a little thin but not unpleasant.
This is a good beer although I'm not sure if the understatedness is them not trying hard enough or purposeful and sophisticated. I like Blue Point, so I'll guess the latter. Fresh local growlers..get some..
913 characters

3.88
/5
rDev
+10.2%
look: 4 | smell: 3.5 | taste: 4 | feel: 4 | overall: 4
On draft, pour a clear dark honey amber, with a moderate tan head. Leaving minor lacing. Nosa is sweet malt. Decent octobetfest, moderate sweetness, smooth and tasty. Lingering maltyness on the palate. Not the most exciting of styles in my book, but this one is pleasant and drinkable. Always good to support NY state. More respectable brew from BP.
349 characters

3.15
/5
rDev
-10.5%
look: 3 | smell: 3 | taste: 3 | feel: 3.5 | overall: 3.5
eh. that's pretty much the best word i can think of to describe blue point's oktoberfest. actually, if i didn't watch the bartender pour this one from the tap, i could have easily mistaken this for their toasted lager. it pours an amber colour with hardly any head to speak of and has a malty, bready smell to it, with hints of citrus. there was also a bit of staleness present in the smell, which is strange considering the bartender shared with me that it was just received and tapped that day. this one tastes average at best, and seemed a bit watery at times. not horrible, but maybe my least favourite o'fest this season. i'd try any other fest brews on hand before sampling this one, but at the same time can't say that i'd never sample it again. overall, average but uninspired.
785 characters

3.85
/5
rDev
+9.4%
look: 3.5 | smell: 3.5 | taste: 4 | feel: 4 | overall: 4
Dark copper color with a biege foamy head that sits low, but leaves spotty lacing around the glass as I drink. Nose is sweet and fruity. Flavor is sweet malt, with hints of apricot and honey. Mouthfeel is tingly. A lingering mild hop bitter creeps in as the aftertaste.
269 characters
Oktoberfest from Blue Point Brewing Company
Beer rating:
3.52
out of
5
with
408
ratings