Trafalgar Port Side Amber
| All or Nothing Brewhouse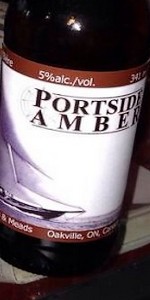 BEER INFO
Brewed by:
All or Nothing Brewhouse
Ontario
,
Canada
allornothing.beer
Style:
English Pale Ale
Alcohol by volume (ABV):
5.00%
Availability:
Year-round
Notes / Commercial Description:
Portside Amber is an easy drinking amber ale brewed as an English Pale Ale. The reddish brown colour evolves from the unique chocolate and carastan malts. A subtle hoppiness is evident from the use of traditional Fuggles and noble Willamete hops. Complements are hardy meat dishes such as roast beef, steak and hamburger.
Added by Sammy on 07-31-2005
Ratings: 7 | Reviews: 6
Reviews by demcorhip:
3.43
/5
rDev
+17.9%
look: 3.5 | smell: 3 | taste: 3.5 | feel: 4 | overall: 3.5
Thanks to manaryp for this sample from the local LCBO.
Almost mohogany in hue, clear, very low level of carbonation. Initial half finger pale tan head quickly dissipated.
Interesting aroma, some melanoidin tempts the nose, but there isnt much else there. Some pale, bready malts and hints of earthy, leafy hops. Slightly more carbonation may have helped to carry the aromas out from the body of this brew.
An interesting brew, toasty, slightly nutty, with some hints at rich dark fruit like fig and date. Some hints at lemon, but mostly a leafy and almost earthy hop bitterness. A woody character also presents itself, perhaps from the hops or hints of fusels, and adds complexity to this brew.
Almost medium bodied, fairly malty, but decent amount of hops present to stand up to the malts with their earthy character. Almost creamy in feel, just wish there was more carbonation.
This is the best ive had from the brewer, but that said was also probably the first offering ive had from trafalgar without obvious sanitation issues. A nice brew, with enough going on to make it a good choice for this fall evening. Sessionable enough, this taste will keep me open minded to furhter offerings from this brewery.
1,213 characters
More User Reviews:
3.38
/5
rDev
+16.2%
look: 3.5 | smell: 3 | taste: 3.5 | feel: 3.5 | overall: 3.5
4-month old bottle sampled at the brewery. Somewhat of a richness in there, good malt. On sweet side, perhaps corn to do so, not that balanced, but some bitterness in finish. Thin and on watery side with too much carbonation. Attractive dark amber colour. Mid-sip fruit, fig, raisin
282 characters
3.12
/5
rDev
+7.2%
look: 3 | smell: 3.5 | taste: 3 | feel: 3 | overall: 3
Picked up a 6-pack from the brewery. Pours a clear dark gold, rather than amber. Small, fizzy head that fades fast.
Light aroma... somewhat grainy, I think there are some adjuncts in there. Mild apple or pear notes, and just a little bit of malt sweetness.
Surprisingly sweet upfront in the flavour. Sweet apple and graininess are still there, but little in the way of hops to back it up. Some mild skunk, even though it's a fresh bottle. Slight vanilla notes as it warms up a little.
Not great. Something about it makes it less refreshing than I think it should be.
575 characters

2.16
/5
rDev
-25.8%
look: 3.5 | smell: 2.5 | taste: 2 | feel: 1.5 | overall: 2
Portside Amber from Trafalgar poured deep copper/amber in color topped by a short, dense, cream color head. Aroma was faintly fruity with notes of apples and berries. Flavor of apple, honey with a metallic bite and a bitter finish. Body was light and fizzy.
This might do in a pinch, but it isn't something I'd spend my money on again.
338 characters

2.43
/5
rDev
-16.5%
look: 2.5 | smell: 2 | taste: 2.5 | feel: 2 | overall: 3
Seems the signature of this brewer is headless, watery ales. This one poured a clear light brown-amber...moderate carbonation with an instantly vanishing cap and poor lacing. Very faint aromas of toasted malt and some mustiness. Watery mouth feel...very weak toasted malt presense, some yeasty earthinesss in balance with some muted Golding hops..quick finish no after taste...not much of an ale..very watery much like the Elora brands they produce.
449 characters
2.77
/5
rDev
-4.8%
look: 2.5 | smell: 3 | taste: 2.5 | feel: 3 | overall: 3
A - Clear red, puny head, no lace.
S - Some toasted grain maybe and a faint honey tinge.
T - Straight up dry, astringent grain, faint fruitiness and mild non-aromatic hop bitterness.
M - Medium bodied, mildly carbonationed, crisp feel.
D - Very average sort of beer.
278 characters
Trafalgar Port Side Amber from All or Nothing Brewhouse
2.91
out of
5
based on
7
ratings.