Dismiss Notice
Elora Irish Ale
| All or Nothing Brewhouse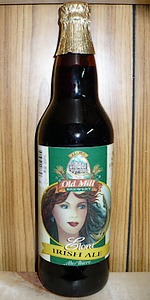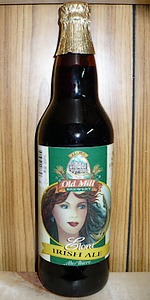 BEER INFO
Brewed by:
All or Nothing Brewhouse
Ontario
,
Canada
allornothing.beer
Style:
Irish Red Ale
Alcohol by volume (ABV):
5.00%
Availability:
Year-round
Notes / Commercial Description:
Trafalgar's version of this brown ale is reminiscent of the old style of ale brewing. Brewed as an "anytime ale" this beer is smooth and refreshing. Willamette hops are used to provide a subtle background to the dominant grain flavors of the unique blend of four malts. It is best accompanied by rich full flavored dishes.
Added by pootz on 12-30-2005
HISTOGRAM
Ratings: 32 | Reviews: 27

3.27
/5
rDev
+6.2%
look: 3.5 | smell: 4 | taste: 3 | feel: 3 | overall: 3
A: Reddish-copper/caramel, light tan head, very little retention, light lacing.
S: Sweet caramel, earthy citrus and a light, floral hop aroma.
T: Caramel, earthy citrus, slight breadyness, modest bitterness.
M: Residual sweetness makes the moderate body slightly syrupy; moderate carbonation.
D: A little sweet for my taste.
328 characters

2.47
/5
rDev
-19.8%
look: 2.5 | smell: 3 | taste: 2 | feel: 3 | overall: 2.5
I believe this is the retired Elora Irish Ale brewed by the Old Mill. However, it had the Trafalgar lighthouse cap on it, so I'm unsure if this beer or the Old Mill has been bought out. Seeing as the Old Mill Elora ale is retired, I'll post my review here. Comes out a ruby/blood red with a very small amount of foam. Smells very sweet. Plenty of fruits and berries, with some bready malts and toffee. Taste starts out with an overbearing sweetness. Dark fruits, berries, caramel and toffee just overpowers the palate, making me wonder if it would be more tolerable if served cold. Ends a bit bitter, with some grassy and earthy hops, with a bit of coffee. Mouthfeel is light bodies and somewhat oily. Starts out too sweet for me to consider it drinkable. I may try it again at a colder temperature, but I believe that if a beer needs to be served ice cold, then it's probably not that good a beer. Overall, not to my liking. If you like sweets, though, give it a try.
968 characters

3.1
/5
rDev
+0.6%
look: 3 | smell: 3 | taste: 3.5 | feel: 2 | overall: 3
Picked up a bomber from the lcbo. bb jan 08
served from a 650ml bomber into a pint glass.
A- Dark red in color with a decent head which settles down to a thin layer of foam with some lace spots.
S- Aromas of dark fruit with some roasted malt notes.
T- Fairly roasty caramel malt character with flavors of nuts and cocoa and some hints of dark fruit / plums, with some flavors of hops but somewhat over-powered by the malt backbone.
M- slick and oily, medium bodied with pretty decent carbonation.
D- actually not too bad, have a couple bombers with a few friends.
Overall a decent beer but I also have a feeling that there is extracts used. Worth a try.
660 characters
2.94
/5
rDev
-4.5%
look: 4 | smell: 2.5 | taste: 3 | feel: 3 | overall: 3
Thanks to chonyr for bringing this north.
A slightly hazy deep coloured ale with reddish hues. Huge 5 finger head resulted from the pour (22oz bomber into my 30oz mug). Finely carbonated, and sticky clumps of lace stick to the inside of my mug.
Some of the signature Trafalgar bandaid/cheesy plastic aroma detracts from what would otherwise be a solid ale. An underlying toastiness and UK hoppiness with a decent floral and earthy, leafy woodsiness present. Damn shame about the off yeast scent.
Again a shame about the off yeast flavours that come through to seriously detract from what would otherwise be a solid ale. A nice, deep toastiness comes through from the malts, with just the slightest hints of dark fruits. Solid floral, earthy and woodsy hops with a decent level of bitterness make for a good finish.
A nice light bodied ale. Decent carbonation level and dry finish makes for an almost refreshing drink (damn off yeastiness). Nicely balanced with the hops.
Its a good thing my palate quickly numbs itself to the strange signature cheesy plasticness of Trafalgar's brews, it saves them from the drain. Wont be in any hurry to look for more however, unless i hear good news about quality control successes. This could have been a very nice, refreshing ale on a warm summer night.
1,306 characters
3.58
/5
rDev
+16.2%
look: 4 | smell: 3.5 | taste: 3.5 | feel: 4 | overall: 3.5
Picked this up along with a few others tonight. Bottle has a label resembling the Retired Irish Ale, indicating it was brewed in Elora, however the bottle cap was clearly one from Trafalgar.
This poured a nice dark red with a head that quickly dissipated to a slight ring leaving much lace. Smell is of caramel, slightly roasted malts. This is reflected in the flavor, overall not too bad, very mild hopping with a strong malt character. Very smooth, and very thick, Pretty drinkable, however it is quite heavy
I'd say this is a pretty decent example of the style, and I'd likely have another one of these again.
620 characters

2.4
/5
rDev
-22.1%
look: 2 | smell: 2 | taste: 2.5 | feel: 3 | overall: 2.5
I got a bottle called 'Aarrgh!! Ale" with an ominous looking skull on the label. Its promoting a Pirate Festival coming to Toronto (pretty cool advertisement if you ask me). I was going to add it as a new beer then I saw 'Elora Irish Ale' written in tiny letter under the bar code.
It pours a mahogany ruby color with a head that lasts about 3 seconds. There is no lacing at all. The aroma is sweet, with some sage and some vegetal notes. The taste is sweet with a lot of off flavors. The sweetness isnt a natural malt sweetness, more processed tasting. In the background there is some spicy hop bite and also bits of cooked veggies and plastic. The mouthfeel is pretty thick with light carbonation. The finish is sweet and only tangentally bitter.
This beer is mediocre. Its too sweet and lacking in beer flavors (read: hop bitterness, natural malt flavors). Im sure this brewery uses malt extract.
905 characters

2.8
/5
rDev
-9.1%
look: 2.5 | smell: 2.5 | taste: 3 | feel: 2.5 | overall: 3
650 ML bomber. A hard pour revealed a clear copper-brown beer with virtually no head and weak carbonation. Aromas of musty fruit sweetness and graininess slight sour tones. Fair start with some burnt toffee sweetness, some roasty malts finishes abruptly with the fuggles hops coming through and a slight smokey woody bready taste. Mild sweetish and musty... The lack of carbonation gives the impression of a watery mouth feel..that's too bad because this brew has potential but just doen't deliver...nice taste, very drinkable but possibly too overly mild and understated to reveal the craft in its recipe...a nice ale not a great one> I like this ale but I don't know why.
678 characters
Elora Irish Ale from All or Nothing Brewhouse
Beer rating:
3.08
out of
5
with
32
ratings