Trafalgar The Black Bullet
| All or Nothing Brewhouse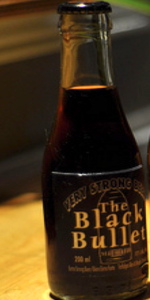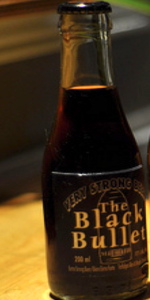 BEER INFO
Brewed by:
All or Nothing Brewhouse
Ontario
,
Canada
allornothing.beer
Style:
Tripel
Alcohol by volume (ABV):
15.00%
Availability:
Rotating
Notes / Commercial Description:
A rich Belgian triple featuring chocolate malt and roasted barley, then hit with both barrels full of coriander and Curacao orange peel.
Added by Viggo on 09-29-2007
This beer is retired; no longer brewed.
HISTOGRAM
Ratings: 9 | Reviews: 7
Reviews by mrmanning:
2.95
/5
rDev
+6.5%
look: 3 | smell: 3 | taste: 3 | feel: 2.5 | overall: 3
200 ml bottle from LCBO gift pack. Pours a dark crimson letting in some light. The head is almost non existent, but a thin ring does form around the edge of the glass. Nose of prune and plum, boozy winegum candy, oak, and molasses. Tastes sweet, alcoholic candy,sugary fruits, and like others have mentioned, port wine. Pretty intense, thick mouth feel, lingers forever. A bit too sweet for me, but in small doses, much like the others in this series, I am ok with it.
468 characters
More User Reviews:
3.15
/5
rDev
+13.7%
look: 3.5 | smell: 3.5 | taste: 3 | feel: 3 | overall: 3
An over-the-edge shwartbeer. Cola and brown sugar with ridiculous alcohol added in, 12% listed but smells and delivers what appears a lot higher. A Trafalgar with some taste.Blackish colour.About right carbonation though tongue tingling, this is a crazy beer to throw in for a tasting for two.
293 characters


2.27
/5
rDev
-18.1%
look: 3 | smell: 3.5 | taste: 2 | feel: 2.5 | overall: 1
A: Deep chestnut, light tan head, no retention or lace.
S: Strong alcohol (tequilla?), port, sour fruit.
T: Harsh alcohol (tequilla? ), sherry, spice, licorous, moderate bitterness.
M: Well-attenuated and dry, light to moderate carbonation.
D: More like a tequilla shooter than a beer. I really couldn't drink more than a couple of ounces.
343 characters
3.47
/5
rDev
+25.3%
look: 3 | smell: 3.5 | taste: 3.5 | feel: 3.5 | overall: 3.5
On tap at C'est What? Festival of Small Brewers. Also saw it listed at 17% ABV, not sure which it is so I'll go with something a little more realistic.
Pours a clear brown/red hue, thin off white head, few lace spots, settles to a thin ring and disappears. Smell is sweet, lots of fruits, alcohol, caramel, smells very strong, alcohol isn't too overpowering though. Taste is similar, tons of fruitiness, alcohol, caramel, spicy alcohol. Mouthfeel is thick and oily, low carbonation, lots of warming going down. Not much to say about this one, but pretty well done for such a strong beer.
590 characters

1.99
/5
rDev
-28.2%
look: 3.5 | smell: 2 | taste: 2 | feel: 2 | overall: 1.5
From a tiny 200 ml bottle with the low tech homemade looking label.
Pours similar to coca cola, pretty much black. A wispy head turns into a thick ring and lasts a long time. Lacing is minimal. The aroma is immensely sweet and boozy with sour, almost vinnegar twang. The taste is very difficult to handle because of the overpowering sweetness and rotund booze presence. There really isnt much else going on. The mouthfeel is sickly cloying and woefully undercarbonated. The finish is sickly sweet and forgettable.
The booze hides itself prett well until the nasty finish, the worst part about this beer. I wouldnt recommend this beer to anyone.
647 characters
1.9
/5
rDev
-31.4%
look: 4 | smell: 1.5 | taste: 2 | feel: 2 | overall: 1.5
Sampled at The C'est What? Fall Festival of Beers. Off the bat, this drink seems to be all about alcohol. It dominates the nose, the flavour and the finish. Appearance in the glass is very dark brown, almost black. with a wispy head. the very fact that there is a head present makes me ecstatic. These guys simply cannot get a head to form, so perhaps I've over generous in my appreciation of this, but it actually looks to style.
Aroma is port mixed with rocket fuel. Shitloads of fusel alcohol. Smells worse than most things I've come across, except the hideous Church-Key creation I followed this up with. Flavour contains hints of fruit, and I say hints because again this is all about the alcohol. Some brewery's can do big beers well - these guys can barely do small ones, and this is an absolute trainwreck. The texture is standard crap from these guys...syrupy and barely carbonated. Oddly, the finish was actually very pleasant, but that was probably the buzz more than anything.
I think I'd only drink this beer in a sample size...anything bigger would be too much.
1,077 characters
3.47
/5
rDev
+25.3%
look: 3 | smell: 3.5 | taste: 3.5 | feel: 3.5 | overall: 3.5
Dark and opaque with nary a bubble of foam to be seen. Pungent fruity nose is heavy with grapes and molasses. Extremely sweet with some acid up front. Concord grape flavour is very strong, followed by maltiness and a fairly mild bitterness in the finish. Fairly drinkable, all things considered, but very sweet and somewhat one dimensional. I don't really mind this one at all, but not something to drink a lot of.
414 characters
Trafalgar The Black Bullet from All or Nothing Brewhouse
Beer rating:
2.77
out of
5
with
9
ratings