Elora Special Bitter
| All or Nothing Brewhouse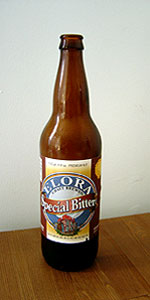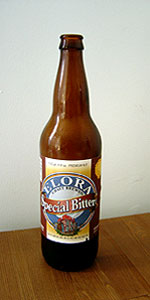 BEER INFO
Brewed by:
All or Nothing Brewhouse
Ontario
,
Canada
allornothing.beer
Style:
Extra Special / Strong Bitter (ESB)
Alcohol by volume (ABV):
5.00%
Availability:
Year-round
Notes / Commercial Description:
Extra Special Bitter is a term used by British brewers to signify their strongest and most expensive hopped or "bitter" pale ale. Consistent with the style, the flavors from Willamette and Fuggles are not allowed to dominate this ale. The malt rules! Foods with full flavor and heavy spices are an excellent compliment to ESB.
Added by shamus on 08-16-2008
HISTOGRAM
Ratings: 24 | Reviews: 18

2.72
/5
rDev
-15.3%
look: 3 | smell: 3.5 | taste: 2.5 | feel: 2 | overall: 2.5
This will be #2 in my OCB mix pack #7, and it's Trafalgar...oh no. Well at least the last old Elora brew I had from them was decent.
Appearance: Well you certainly get points for the head, as two fingers of head managed to retain fair well and produced ample yeast. The body however isn't so hot as an unpleasant looking orange color boats thousands of sandy particles and no signs of carbonation. I guess good balances out the bad.
Smell: Pretty good, light caramel malts with notes of flowery hops and tea. It's a little light but it warms up well. The style is supposed to be a bit light so it's fairly good.
Taste: Umm...I think there might have been a mixup here. I was looking for a Bitter, not a Pale Ale. Starts with some fruity malt taste with light caramel and a slight taste of peach but then it turns to a big kick of floral hops that are really not for my palate.
Mouthfeel: The carbonation is all in the head, it's non existent as you drink it. In additional to that, the floral hops leave an oily cloying bitterness. That and it turns into an immediate hop kick that needs to be reigned in.
Drinkability: If the hops didn't stick around for so long, it might be salvageable, but I honestly don't see much in this one. Maybe a dinner drinker, but there are better beers I'd rather have with my meal. At least it's light on the system, albeit not your tongue.
Final Thoughts: Well, it seems that the tweaked Elora brews that used to be brewed by The Old Mill Brewery are still the best beers out of Trafalgar. Still that's not saying much. If this was intended to be a pale ale, maybe this one would have fared better, but think kind of hopping just seems a bit much, especially for this style. I think the worst part about this one, is it makes me want to hold out and see if maybe these guys can get it right. You'll still want to pass on this one though.
1,876 characters

3.82
/5
rDev
+19%
look: 3.5 | smell: 4 | taste: 3.5 | feel: 3.5 | overall: 4.5
Pours a light amber with a thin white head, seems somewhat flat, which isn't surprising.
The aroma of this beer is wonderful! Sweet flowery hops, lemon tea, orange and cinnamon...pretty interesting.
Not as tasty as it smells but still very good. A nice hop presence balanced by some sweet malts, finishes nice and bitter.
I was not expecting much from this beer after trying their other brews but this was actually very good and very drinkable. I know it's hit and miss with this brewery but this beer is worth a shot!
521 characters
2.7
/5
rDev
-15.9%
look: 3 | smell: 3 | taste: 2.5 | feel: 3 | overall: 2.5
341 ml served in a chilled glass
Apperance - beer pours a hazy amber colour with about one finger of head. The head is fluffy and an off-white. No carbonation present in the beer.
Smell - I can smell some caramel and earthy tones, maybe some slight hops.
Taste - beer taste pretty flat, not much carbonation or mouthfeel to this beer. You can pick up the caramel early on with a slight bitter hop finish.
Mouthfeel - the added carbonation brings a little more earthy tones and hops to the front. The mouthfeel is somewhat thicker and creamy, however, not much added back.
Drinkability - Not a beer i would go out and seek again, nothing special here.
655 characters

3.05
/5
rDev
-5%
look: 3.5 | smell: 3.5 | taste: 3 | feel: 3 | overall: 2.5
12oz Bottle
Appearance - The beer pours a hazy copper colour with an average size frothy beige coloured head. There is an average amount of carbonation showing and there is some really nice lacing on the sides of the glass. The head stuck around for a few minutes before it was gone.
Smell - malts, caramel, light hops, grass
Taste & Mouth - The beer has an average amount of carbonation on the tongue and feels fairly creamy. Most of the flavour consists of malts and hops mixed with caramel. The flavours are decent but they don't seem balanced. It finishes with a malty bitter aftertaste.
Drink - The beer definitely needs some balance, the flavours are decent but something just seems off.
698 characters
1.82
/5
rDev
-43.3%
look: 4 | smell: 2 | taste: 2 | feel: 1 | overall: 1
poured into a samuel smith pint glass.
looks nice, big fluffy 3 finger head that lasts for a good bit then leaves a web of lace.
nice color, pale amber. carbonation appears low.
nose is weak faint. stirring glass for further analysis. other then a weak tea smell there is nothing here. not a good sign.
down the drain.
took a short sip and it felt like sludge going down. thick and filling. just gross. a weird bitterness that goes away immediatley.
tried two more sips to be fair and it got worse each time.
the beer hasnt gone bad. there would be flavor if it went bad.
576 characters

2.92
/5
rDev
-9%
look: 2.5 | smell: 3 | taste: 3 | feel: 2.5 | overall: 3
Re-rating the newly packaged "special bitter" product. 650 mil bomber.
Hard pour yields a light amber beer with a slightly off white 2 finger cap....reduced quickly. Light, fine- bubbled carbonation.
Light aromas of sweet carmel malts and some golding hops. Light bodied, malty caramelly-sweet without cloying, buttery mouth feel... finishes harsh as acidic bittering takes over. ...not bad for a Canadian ESB.
Probably the best traditional ale effort from this brewer but the hop boil is still too long and this stuff still gives me heart burn.
551 characters
3.68
/5
rDev
+14.6%
look: 4 | smell: 3.5 | taste: 3.5 | feel: 4 | overall: 4
This beer pours a clear medium orangish amber colour, with 3 fingers of foamy, creamy off-white head, which a few pillars of lace around the glass as it recedes. It smells of bready, cracker-like grain, and wild grassy hops. The taste is dry, bitter cracker grain, a little bready, and mildly bitter English hops. The carbonation is fairly sedate, the body medium weight, smooth, and a bit creamy, and it finishes mostly dry, the soft, but enveloping bitterness slightly overshadowing any residual maltiness.
I quite enjoyed this very drinkable bitter, at the end of a soul-sucking, but ultimately satisfying work week in my home away from home.
647 characters
2.95
/5
rDev
-8.1%
look: 3 | smell: 3 | taste: 3 | feel: 2.5 | overall: 3
Better when originally brewed by the Old Mill in Elora, This is a watery rendition of an ESB, with a faint bitterness in the finish. There is a tad of a scent of malt and clear washed out redness in the colour. The mouthfeel is close to that felt by water alone.
Consistent with most beers from this brewery.
308 characters

3.81
/5
rDev
+18.7%
look: 4.5 | smell: 3.5 | taste: 3.5 | feel: 4 | overall: 4.5
Light bodied burgundy in color with shy carbonation with some golden hues.
Smell is sweet and hoppy, shy bitterness, it is blanced in between hops and malt. Shy caramel flavours that tickles the palate.
the mouthfeel is watery, very smooth, some bittersweet, and a shy bitterness, very blanced, not overwhelming, buttery in mouth
331 characters
3.55
/5
rDev
+10.6%
look: 3.5 | smell: 3.5 | taste: 3.5 | feel: 3 | overall: 4
Bomber purchased from the LCBO, been almost dreading opening this because of warnings against Trafalgar, but here it is.
Pours a dark golden brown/orange, almost looks like an IPA. A finger of foam that doesn't have much staying power.
Nose is toasted bread, a leafy/herbal-ness, and a hint of something citrus.
Has an almost medicinal bitterness at first, a little off putting but it slowly opens up into a decent, though slightly under-whelming bitter. A grassy, leafy hop profile layered on a sweet caramel, honey on biscuits, and buttered toast, a hint of pale malts. Follows through with a dry bitterness that teeters on being "off/soapy" but comes down on the side of pleasant. Faintly thin body but nothing overly disappointing. Too carbonated, could easily be toned down a notch.
While this is certainly nothing to write home about this also isn't the trainwreck I was half expecting. Looking at the other reviews perhaps if you want to try one from Trafalgar, this is the one. I would drink this with a meal, would pair well with pub food. Nothing too bold but enough character to make it through a meal.
1,117 characters
3.9
/5
rDev
+21.5%
look: 3.5 | smell: 3.5 | taste: 4 | feel: 4.5 | overall: 4
Poured a 650-ml bottle into a large pub ale glass.
Appearance - a light amber-copper colour that produced about a 1/2-inch head as a result of an aggressive pour. This subsided and there are foamy large bubbles at the surface and a coating of lace.
Smell - a dense, concentrated malt with a streak of caramel of all things. Not a lot of hop presence, but I'm anticipating the taste.
Taste - good smooth start, followed by a good hoppiness over the malt flavours. The wave of hop taste outlasts the malt and alternates with a mild sweetness on a wet finish.
Mouthfeel - this ale, in part due to the lower carbonation, is smooth. The balanced effect of the hops keeps it interesting throughout.
Drinkability - this is an enjoyable beer, good to unwind with after a busy day or week. Good on its own or with a light snack.
824 characters
3.65
/5
rDev
+13.7%
look: 3.5 | smell: 3.5 | taste: 3.5 | feel: 4 | overall: 4
Bomber purchased with some trepidation at the LCBO, because in the past Trafalgar have been known to have quality concern issues. The best before date on the bottle indicates April - a full three months away. Pours a light amber colour with a generous off-white head that laces well. Smells fine - some lemon, bread and earthiness. Yay, this beer is not ruined! In fact, the flavour i very solid. The hops seem slightly soapy, but transition through to citrus, and leafiness. This is all played out against a subtle background of honey-slathered toast. Under-carbonation has also been a big issue for me with this brewery, but this one is just about perfect, with a refreshing stream of bubbles accentuating the bitterness on the tongue. The body is a light-medium mouthfeel, which I think is correct for the style.
Surprisingly good. Definitely more than a rebranding of the Elora ESB, this beer has seen more than a few tweaks, and has arrived in good bitter territory, and is now on a par with most other offerings. After two straight nice Trafalgar beers I'm officially removing my red flag from this brewery.
1,114 characters
3.11
/5
rDev
-3.1%
look: 4.5 | smell: 3.5 | taste: 3 | feel: 2 | overall: 3
650 ml bottle from LCBO.
Pours a clear amber orange, some light brown hues, decently thick and rocky white head forms, drops a decent amount of lace, nice layer is formed, good retention, this is Trafalgar? Smell is decent, some light toasty malts, bread, honey, earthy, some citrus, nothing exciting but not infected, so a step up from normal Trafalgar, nice malty aroma. Taste is similar, very light flavour, very toasty, bitter burnt bread, honey, corn syrup, malty, earth, light bit of sourness, some fruit, nothing exciting, solid bitterness in the finish. Mouthfeel is light bodied with high carbonation, much too carbonated and sharp for the style. Sourness works okay, maybe they've kind of fixed their beers.
718 characters

3.75
/5
rDev
+16.8%
look: 3.5 | smell: 3.5 | taste: 4 | feel: 4 | overall: 3.5
This being the first review of this one is a bit intimidating. I've not been impressed by previous offerings from Trafalgar/Old Mill, but I quite like this. It's not got much head but it is fresh and thirst quenching. it has a bit of a tea taste to it which I like. I can really smell the malt; it almost smells of bran and honey. Another sip and yes i quite like this; an interesting balance of sweet and bitter.
413 characters
Elora Special Bitter from All or Nothing Brewhouse
Beer rating:
3.21
out of
5
with
24
ratings