Dismiss Notice
Extreme Beer Fest:Los Angeles
Join us December 9th in Los Angeles for the ultimate throwdown of craft beer creativity!
Learn more...
Dismiss Notice
Trafalgar Cedar Cream Ale
| All or Nothing Brewhouse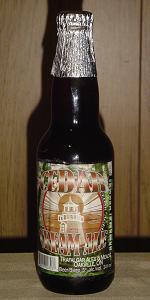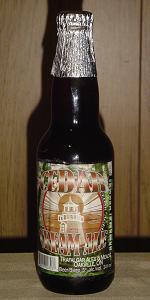 BEER INFO
Brewed by:
All or Nothing Brewhouse
Ontario
,
Canada
allornothing.beer
Style:
Cream Ale
Alcohol by volume (ABV):
5.00%
Availability:
Limited (brewed once)
Notes / Commercial Description:
No notes at this time.
Added by CAMRAhardliner on 02-27-2009
This beer is retired; no longer brewed.
HISTOGRAM
Ratings: 15 | Reviews: 15

2.85
/5
rDev
+13.5%
look: 2.5 | smell: 2.5 | taste: 3 | feel: 3 | overall: 3
Bottle:
Pours a hazed light copper-gold ale in the glass...non existent head and no lacing, weak carbonation.
Aroma is almost undetectable...weak aromas of grains, some light sweetness some musty smells.
Tastes far better than it looks. Nice herbal-woody hop signature rides just on top of a malt profile that gets almost too sweet (sucrose adjunct?). Drying lightly bitter finish (cedar becomes barely detectable here) with a weird funky taste buried deep in the hop profile. I suspect this is the signature dirty yeast taste of this brewer that has been suppressed with a fresher than average LCBO sample. None the less, credit where credit is due,.... this is a palatable ale.
685 characters
3
/5
rDev
+19.5%
look: 3 | smell: 3 | taste: 3 | feel: 3 | overall: 3
Bottle from the LCBO- Deep mahogany pour has only a thin ring of white head. Nose of fruit, some cedar, caramel, vanilla, a bit nutty. Sweet nutty flavour profile has caramel and woody components with fruity, grassy finish.A bit thin overall. Pretty good, but only in small doses for me.
287 characters
2.95
/5
rDev
+17.5%
look: 3 | smell: 3 | taste: 2.5 | feel: 3.5 | overall: 3.5
Poured a 341-ml bottle into a pint glass.
Appearance - good tan orange colour but almost instantly the head went to nothing. A little tight ring of lace is all that separates this from looking like a fountain drink.
Smell - faint malt aroma and a sweet-smelling scent of morning toast.
Taste - sweetness over malt at the front and waiting, waiting for any real taste to burst through and it never happens. Tail is light and watery with only a very slight roasted malt aftertaste.
Mouthfeel - very smooth and undisturbing in its consistency. Thing is it doesn't reach a high peak in excitement.
Drinkability - this is very drinkable, you could pound away on these all day. Just don't spend too much time waiting for character to arrive.
740 characters
2.14
/5
rDev
-14.7%
look: 3.5 | smell: 2 | taste: 2 | feel: 1.5 | overall: 2.5
Pours a good-looking burnished copper color, though it permits less light than the red color suggests. Some wispy carbonation rises to the surface. No head remains after five minutes and no bubbles rise visibly.
Smell is very faint when cold, but I catch a bit of *slight* red apple as it warms. No hop character in the nose at all.
Taste is where you first start to see that this is a "cedar" beer, though it's almost missed under the wet blanket/dog kind of taste. Aftertaste has some bitterness in it, but I can't really tell if it's from hop extract or something else.
It's very undercarbonated and mouthfeel suffers as a result. It doesn't really roll around the mouth, just kinda slides like melted and diluted soft serve.
I can't honestly recommend it, but it's worth the experience. At any rate, cedar in beer is a good idea, even if the execution fell a bit short.
877 characters

2.49
/5
rDev
-0.8%
look: 1.5 | smell: 2.5 | taste: 2.5 | feel: 2 | overall: 3
Got this one at the LCBO, close to Limeridge Mall.
Appearance: After a fairly aggressive pour I was left with barely even half a finger of head, that of course did not retain nor lace. The beer itself is a orange and amber color that has a slight bit of haze and seems to be a bit lacking on carbonation.
Smell: Well, true to it's name I'm definitely getting a Cedar smell mixed with some sweeter malts and an almost sap like scent with notes of vegetable and a slightly acidic undertone. It's fairly pronounced, but I wouldn't call it nice.
Taste: Well, I've had better but it's not that bad. It starts with a sweeter, almost sappy malt flavor that then turns to a rather bland wood like taste which abruptly kicks you with bitter pine (or perhaps Cedar in this case) taste and then ends with a watered down grain end.
Mouthfeel: First off, this beer transitions very poorly. It shifts from sweet, to boring, to bitter, to watery with little balance or excitement. Second off, this beer has incredibly poor carbonation and that serves only to accent to more watered down elements of the beer. Third, the aftertaste is not that pleasant either, but it's saving grace is that it does not linger.
Drinkability: Well, it is somewhat refreshing and it does sit in the stomach well. The lack of carbonation makes it somewhat easy to put back, but it's not what I would look for in a beer. Also, it is fairly smooth as it is still a cream ale in that regard, but it's not worth the other negatives the beer has. The aftertaste doesn't linger but given the price of it, it's not worth being an all night option.
Final Thoughts: I'd like to think this is a case where a brewer was trying to be innovative and struck out. However, given how many bad reviews and generally low opinion I gathered from Trafalgar, I suspect this is not the case. I applaud the effort to try to make something new, but this offering is one you will want to avoid.
1,941 characters

2.5
/5
rDev
-0.4%
look: 2.5 | smell: 2.5 | taste: 2.5 | feel: 2.5 | overall: 2.5
I'm afraid that a good beer is a rare thing out of Trafalgar. They almost invariably have some weird funk going. This one is no exception. <sigh>
Orange amber, slight haze. Short head that almost instantly settles down to just a ring. Mild bitterness, that weird Trafalgar tang happening. Some malt, just a whiff of hops.
Not an enjoyable drink at any level, but doesn't pass that threshold that makes it undrinkable. Still not worth the effort though.
460 characters

2.27
/5
rDev
-9.6%
look: 2.5 | smell: 3 | taste: 2 | feel: 2 | overall: 2
Part of the CanBIF 5 package that I received from wfeddern, thanks!
From a 341 ml brown bottle, silver foil around the cap. Pours out a hazed transluscent amber, slight white head that settles very quickly.
Aroma has a sweet wort character, some sweet caramel, a bit of veg, some earthy notes.
Falls down flat in the flavour department, worty sweetness up front, veg on the finish, with a spicy, smokey aftertaste that lingers.
Speaking of flat, that sums up the profile of the mouthfeel as well, however with a bit of a carbonation bite on the finish.
Well, I can't say I'd be going back for more if this was available locally. Judging from previous scores I'm not off the mark for consistency regarding this cream ale, so I can't even chalk it up to a bad bottle. This one is just best avoided.
801 characters
2.58
/5
rDev
+2.8%
look: 3.5 | smell: 3 | taste: 2.5 | feel: 2.5 | overall: 2
Pours a golden yellow, fairly clear body with creamy head that takes a while to fizz out. Carbonation bubbles. Acidic lemon and malt taste. Medium at best mouthfeel. Not horrible but too drinkable, just nothing that interests me. Aroma is boozy with some grains and malt.
271 characters
1.27
/5
rDev
-49.4%
look: 1.5 | smell: 2 | taste: 1 | feel: 1 | overall: 1
This beer is terrible. Really, really bad.
Specific things that I hated about this beer:
-way too fucking sweet
-no hop flavour
-the aroma smells like cheap sugary toffee
-no carbonation
-no head retention
I couldn't stomach this beer and poured it down the drain.
Really this brewery should be ashamed to release something this bad.
338 characters

3.02
/5
rDev
+20.3%
look: 2.5 | smell: 3 | taste: 3 | feel: 3.5 | overall: 3
A new one at the LCBO in Ottawa this week.It has a nice name but a horrible busy label that was probably home-made with a pirated copy of Photoshop.
The beer poured absolutely flat; a placid Amber lake. It makes me wonder if the cap was on properly.
Continuing...
this beer was sweet syrupy but not horrible. It's a tolerable scotchy experience. Nothing worth running away with the neighbour's wife for.
408 characters
2.26
/5
rDev
-10%
look: 3 | smell: 2 | taste: 2 | feel: 3 | overall: 2.5
12 oz foiled bottle from LCBO, yum!
Pours a clear light amber, golden colour, medium sized white head forms, quickly fizzes its way down to a thin collar, no lacing, looks okay but shitty retention. Smell is very light, cedary wood, at least they got that right, sugar, lightly fruity, toast, not much else going on. Taste is weird, kind of woody, some cedar, raw sugar, sour fruit, toast, kind of oaky and buttery in the finish, lemons, not so good. Mouthfeel is low to medium bodied with medium carbonation, thin and unremarkable. Wow, how are they in business? However unlike most of their other brews, this is at least drinkable.
634 characters
2.5
/5
rDev
-0.4%
look: 2.5 | smell: 2.5 | taste: 2.5 | feel: 2.5 | overall: 2.5
Bottle: Poured a light copper color ale with an average size foamy head with good retention and minimal lacing. Aroma of grainy malt with no traces of hops or cedar noticeable. Taste is again dominated by some grainy malt. Not bad overall but just lacking character and no trace or supposed cedar aging or even close to resembling the style.
341 characters
2.64
/5
rDev
+5.2%
look: 2 | smell: 3 | taste: 2.5 | feel: 3 | overall: 2.5
Pours a mostly clear copper-gold with a weak head even on a hard, hard pour. Light raw maltiness and some generic fruitiness and hints of honey in the nose. From fruit, some hops some toasty grain - not a whole lot of anything. Maybe a bit of a woody touch, but I wouldn't pick out cedar if I didn't know it was supposed to be here. Kinda sweet and kinda bland and not particularly interesting. Kinda gimmicky and not something I care to revisit.
446 characters
2.67
/5
rDev
+6.4%
look: 2.5 | smell: 3 | taste: 3 | feel: 2 | overall: 2
Despite Trafalgar's smoked outmeal stout being the worst beer I have ever had, and Cedar and cream hardly sounding like a natural union, I picked this up to see what it was all about. Well I can't say that my intuition was wrong - but I was wrong for not listening to it.
This pours a fairly muted golden brown color. There is no head, lacing or even a ring of foam at the top. I think there was some light carbonation in the beginning but it stopped before I had a quarter of the beer finished.
The smell is of light cedar, vegetables and malts. I was hoping the taste might be better and is slightly.. some malty sweetness up front and a sour lingering aftertaste. The mouthfeel however, is just wrong... completely devoid of carbonation it feels flat. There is a touch of creaminess if you search for it but finding it through the maze of other faults is not easy.
Drinkability is low.. I didn't even finish mine.
919 characters

2.46
/5
rDev
-2%
look: 3 | smell: 2 | taste: 2.5 | feel: 3 | overall: 2.5
Cedar aged Cream Ale. This stuff is novel to say the least.
Pours a muted amber color with a smallish head that leaves very little lace on the glass. The aroma is a little bit grainy and distinctly musty, with a vegetal character. Hints of aromatic cedar lie in the midst of this muddled mess. The taste is better with a malt base layered with fruit and spicy cedar notes. Diacetyl is rather conspicuous and the sweetness of the malts verges on cloying. Hops are light in both flavor and bitterness, making for a sweet, bland finish.
An OK beer, but too sweet and exhibits some of the questionable yeast flavors prominent in this brewery's beers.
648 characters
Trafalgar Cedar Cream Ale from All or Nothing Brewhouse
Beer rating:
2.51
out of
5
with
15
ratings