Trafalgar Malted Corpse
| All or Nothing Brewhouse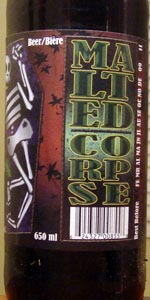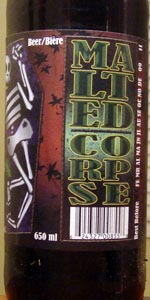 BEER INFO
Brewed by:
All or Nothing Brewhouse
Ontario
,
Canada
allornothing.beer
Style:
Irish Red Ale
Alcohol by volume (ABV):
4.50%
Availability:
Limited (brewed once)
Notes / Commercial Description:
No notes at this time.
Added by MeisterBurger on 10-06-2009
This beer is retired; no longer brewed.
HISTOGRAM
Ratings: 12 | Reviews: 11
Reviews by pootz:

2.65
/5
rDev
+4.7%
look: 3 | smell: 3 | taste: 2.5 | feel: 2.5 | overall: 2.5
650 ml bottle from LCBO, Decided (unwisely) to give it a try as I was buying a bottle of their recommended Hop Nouveau. I'll put it down to misplaced optimism.
Pours a brown clear ale in the glass. No retained cap. Looks flat and tastes flat. Poses a halloween trick on the drinker....just what is this?
It's not a porter....too thin, sweet and undefined. Is it a weak dark ale dressed as a cola or a sugary flat brown ale masquerading as a porter? All I know is it was sweet and flat, thin and had that signature undefinable unpleasant funky taste riding just below the malt profile.
Another poor effort by this brewer and at this price a rip off also.
659 characters
More User Reviews:
1.81
/5
rDev
-28.5%
look: 3 | smell: 2 | taste: 1.5 | feel: 1.5 | overall: 2
Bomber from the LCBO. An Irish Ale to kickstart the wee Craic a bit early?
This beer pours a dark reddish-greyish-brown - really hard to pin down the colour. It gives up a few fingers of soapy light beige head, which leaves no lace as it melts away. It smells of mildly sour cherry/lemon juice, and a faint graininess. The taste is musty, dusty, dry fruit, and a husk-like grainy character. The carbonation is moderate, and the only thing to remind me that this actually resembles beer. The body is thin and dusty, with some cloying, chalky sweetness rearing up at the end.
The 'malted' corpse on the label is actually pictured in a coffin with a big hop cone - if only I clued in to that discrepancy as a sign of general ineptitude earlier...
This is patently unpleasant. It seems like a beer that has spent a few decades or so six feet under, in the company of dry rot...
I try my best to find a reason, any reason, to avoid drainpouring something I paid money for, but, in this case, all I can say is, I'm glad I didn't lug this in my suitcase back home. Good riddance, and time to head to an Irish pub for a real Irish beer! (Or a whiskey to get this taste out of my mouth)
1,181 characters
3.03
/5
rDev
+19.8%
look: 3.5 | smell: 3 | taste: 3 | feel: 3 | overall: 3
A brown ale, with initial foaming white head on mahogoney coloured body. Malty aroma. Sugary, caramle,coca-cola-ish.Little carbonation, did it go flat? Somewhat sour, like infected sour, still drinkable. Not that interesting. Average mouthfeel.Not a great beer.
261 characters
2.06
/5
rDev
-18.6%
look: 3 | smell: 2 | taste: 2 | feel: 2 | overall: 2
Bottle: Poured a deep clear brown color ale with a large foamy head with OK retention and some lacing. Aroma of unrefined and stale grain is not very enticing. Taste is also dominated by stale grain with some light residual sugar. Noe ester or hops presence could be identified. Body is about average with medium carbonation. No brewing flaws per say but just an incredibly bad brown ale.
388 characters
2.85
/5
rDev
+12.6%
look: 3 | smell: 3 | taste: 3 | feel: 2.5 | overall: 2.5
Bottle from the LCBO- A very still, cola brown pour. Produces only a few bubbles at the edge of the glass. SImple nose has cola and milk chocolate, a smidge of hops. Sweet milk chocolate flavours are upfront, cola too, dark fruit makes an appearance as well. There is a nice dose of grassy bittering hops towards the end to balance out this fairly sweet beer. Thin and flat on the finish, with a bitter-sweet lingering aftertaste. A weird little beer. Not bad, but it is odd. Like a coca-cola beer. I was expecting a little more after having the excellent Hop Nouveau.
568 characters
2.21
/5
rDev
-12.6%
look: 3.5 | smell: 2.5 | taste: 2 | feel: 2 | overall: 2
650 ml bottle from the LCBO. These new labels are abysmal.
Pours a clear dark red, some brownish highlights, pretty thick and foamy light tan head forms, quickly settles down to a thin ring around the glass, no lace spots. Smell is very sweet and malty, caramel, some bread, dark fruit, almost a bit of spiciness, cherries and strawberries, a bit medicinal, brown sugar, not good but not as bad as most Trafalgar. Taste is very weak in the flavour, some brown sugar and a bit of caramel, very bready, weird kind of rotten fruit flavour, some spice, almost a banana flavour, but very watery, almost nothing there. Mouthfeel is medium bodied, almost feels a bit syrupy, low to medium carbonation, not awful but certainly not good at all, pretty tough to drink. Not a whole lot of incentive to finish this bottle.
811 characters

2.93
/5
rDev
+15.8%
look: 3.5 | smell: 3 | taste: 3 | feel: 2 | overall: 3
The beer doesn't look nearly putrid enough to be in any way associated with corpses. It has a soft russet complexion that turns a blush reddish tone when held into the light. With a little more head this could have been one heck of a looker. Still, the fact that it's well accented with colour and that its clarity is unspoiled make it quite presentable.
And there's certainly nothing repulsive about the aroma, either. The smell, which is far from bold and requires slightly deeper breaths to really be sensed, is amiably malty-sweet. It has a pleasantly nutty aura, one that is complimented by hints of caramel and polished off with a very delicate, lightly suggestive roast element.
As pleasant as it was I found there was something cheap about the bouquet, as if it were brewed from an extract kit and not the product of pure ingredients. I note something similar in the taste, too - a kind of syrupy, soda-pop character that lends it a striking similarity to root beer. Certainly, it wouldn't be unfair to describe the flavour that way.
I can imagine tastes of biscuits and coffee, hints of molasses, plum, chocolate or raisin, but I can't claim to be genuinely tasting them. There's enough malt to conjure them to mind, but not enough to authentically reproduce them; the mouthfeel is too soft and thin. It doesn't help that carbonation is almost entirely non-existent.
What style the brewers were aiming for is still unclear to me. A brown ale would be my best guess although others seem to consider it an Irish Red. One could view it as a failed attempt at an amber ale or even a misguided mild. The clean lager-like character and caramelly flavour also brought to mind altbier. Whatever it is, it's not a great example of it.
When Trafalgar released a beer called 'Malted Corpse' I thought to myself 'how ironic, that's what most of their beers taste like!' Turns out, it wouldn't be nearly as bad as I had anticipated. That being said, this brewery still has yet to prove to me that they are capable of successfully making even average beers on a consistent basis.
And given how many seasonals they put out, believe me, it's fair to say they've had plenty of chances to make their case. Although the last few offerings (this included) have shown signs of progress and been, relatively speaking, decent beers, I'm still unsure of just how many more times I'll be willing to fork over the cash to give them another shot.
2,440 characters
2.83
/5
rDev
+11.9%
look: 3.5 | smell: 3 | taste: 2.5 | feel: 3 | overall: 3
Dark reddish-brown with pretty much no head to speak of. Decently malty smell, not sure I'd described it as an Irish Red though. Smells almost like a brown or dark mild.
Acidic, slightly metallic malt taste. Sort of like a sour red ale. Not what I expected. The hops may lend some of the sourness.
A bit too fizzy, but not bad. Really not what I expect - not even that malted. Not a drain pour, but not worth repeating.
422 characters

1.55
/5
rDev
-38.7%
look: 2 | smell: 2 | taste: 1.5 | feel: 1.5 | overall: 1
Pours a very dark color, rusty red if you shine a light through it. A miniscule head dies down to no head at all in record time. There is no lacing. This beer would be best served in the dark.
The aroma is caramel malt and brown sugar, grains, with just a whiff of regret.
The taste is lacquerlike, with elements of malt underneath. It almost tastes like a 1000-year-old Caledonian 80/-. A tad nutty and chemically in the finish. It tastes like sorrow.
It's flat, there is almost zero carbonation, it's watery...it is a supremely lifeless corpse of a beer.
I don't even know where to start with the label. God does it suck.
Avoid.
(I listed it as a Scottish Ale because it's malty with a low hop profile, but frankly I don't know what they were going for with this one, so I could be wrong. A brown ale maybe?)
ETA: Looks like someone changed it to an Irish Red Ale. Not sure if I agree. But whatever.
908 characters

2.18
/5
rDev
-13.8%
look: 3 | smell: 2.5 | taste: 2 | feel: 2 | overall: 2
Coming out of the gate I gotta say that as a rule Trafalgar brews leave me pretty much unimpressed. They are consistent in their banality.
Malted Corpse generally fits that mold. It is somewhat removed from the other Trafalgars in that I was able to get (initially) a respectable head and some lace out of it.
After that its just plain dull. Unremarkable nose, flat slightly sourish mouthfeel with some weird grape-like fruity taste going on.
Mildly amusing bottle graphics. That's it. We can all go home now.
512 characters
3.22
/5
rDev
+27.3%
look: 2.5 | smell: 3 | taste: 3.5 | feel: 2.5 | overall: 3.5
Pours clear ruby with an inch of tan foam that drops quickly. Nose is caramel and fruit, hints of apple and light grassy hop. Fairly bitter, with burnt, toasty notes. Some nice notes of coffee and caramelized sugars. Good mix of roasted and hoppy bitterness, but not a lot of hoppy aroma or flavour. Watery mouthfeel. Not too bad - a kind of a roasty, toasty brew.
364 characters
Trafalgar Malted Corpse from All or Nothing Brewhouse
Beer rating:
2.53
out of
5
with
12
ratings