Trafalgar Left Coast Pale Ale
| All or Nothing Brewhouse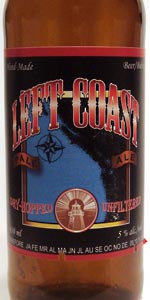 BEER INFO
Brewed by:
All or Nothing Brewhouse
Ontario
,
Canada
allornothing.beer
Style:
American Pale Ale (APA)
Alcohol by volume (ABV):
5.00%
Availability:
Limited (brewed once)
Notes / Commercial Description:
No notes at this time.
Added by EatsTacos on 11-25-2009
This beer is retired; no longer brewed.
Ratings: 13 | Reviews: 11
3.53
/5
rDev
+22.1%
look: 4 | smell: 3.5 | taste: 3.5 | feel: 3.5 | overall: 3.5
Love the foil top on this 650 ml bomber, let's give it a whirl. Popping the top the brew smells like straw with hints of ginger and spices. Pours to a cloudy orange brown with a huge multi-sized bubble head with a pillow top. Taste is kind of funky, but not in a bad way. Taste starts metallic, then gets into some earthy hops then bitter hops. On the tail end there is some banana citrus and a touch of biscuit as the hops fade to a zesty bitter finish. All in alll the hop bite is good. Mouthfeel seems a little thin but doesn't detract from the flavor. Carbonation is good as it zests up the hoppiness. Very serious head on this brew stands well and laces big time.This an easy drinker with big flavor. No huge backbone but doesn't really detract.
750 characters
3.32
/5
rDev
+14.9%
look: 3 | smell: 3.5 | taste: 3.5 | feel: 2 | overall: 3.5
A - Clear amber, loose bubble on a very hard pour.
S - Nose is sweet-ish, light fruit, lemon, and hint of pineapple.
T - Decently hoppy, again with some lemon. Some pine, light toast and apple. Decently bitter finish.
M - Watery and very light.
D - OK effort. Lacking in many areas, but not the worst beer I've had from this brewery.
337 characters
3.26
/5
rDev
+12.8%
look: 4 | smell: 3 | taste: 3.5 | feel: 3 | overall: 3
Left Coast Pale Ale pours dark copper with some haze, and a thin, sticky head. The aroma is subdued and hoppy. There is a hint of bready malt but the nose is mostly lemony and citrusy. Its flavour is again hoppy and bitter, but without much depth, and the supporting malt profile is hard to appreciate. The finish is dry. Unfortunately the beer is quite thin bodied and the soft carbonation gives the mouthfeel a watery texture. Drinkability is good, and this beer is worth trying.
481 characters
3.18
/5
rDev
+10%
look: 3.5 | smell: 3 | taste: 3 | feel: 3.5 | overall: 3.5
22 oz foiled bottle.
Pours a lightly hazed copper, some orange highlights, medium sized slightly off white head forms, slowly settles down to a thin ring around the glass, no real lacing.
Smell is decent, sweet and malty, some honey and a bit of biscuit, floral, a touch of citrus, very light grapefruit, a bit yeasty, no halfway bad.
Taste is similar, sweet and malty up front, a bit sugary, some caramel and a touch of biscuity malt, no complexity, but a solid floral and citrus hop bite, almost no bitterness.
Mouthfeel is medium bodied with low to medium carbonation. This isn't too bad at all, drinkable, if not very exciting. Some more bitterness would kick this up.
676 characters
3.09
/5
rDev
+6.9%
look: 2.5 | smell: 3.5 | taste: 3 | feel: 3 | overall: 3
Looks: Pours a cloudy copper gold with small, off-white head. No lace, poor head retention.
Aroma: Caramel malt, citrus and light hops in the nose.
Taste: Taste is fruity with caramel and some hops. Some bitterness, but not enough for the style.
Thin mouthfeel.
Overall, it's ok. I wouldn't seek it out. Trafalgar has done worse though.
340 characters
3.01
/5
rDev
+4.2%
look: 4 | smell: 3 | taste: 3 | feel: 2.5 | overall: 3
A distant runner as a pale, this beer is not worth the premium price for a bomber. Looks OK, almost grapefruit with tons of white foam that leaves lace. Smell is marginal acceptable. Taste has some hops and bitterness, but a tad musty. Expirey is May, but its just about had it. A tad thin and overcarbonated, the carbonation bothers my palate. Not too drinkable.
363 characters

2.83
/5
rDev
-2.1%
look: 4 | smell: 3.5 | taste: 2.5 | feel: 1.5 | overall: 3
Another horrid label from Trafalgar who seem to mistake clip-art and cheesy text effects for good design. Oh well. As a very wise man once said: Thankfully you don't drink the label.
Pours a surprisingly rich, deep amber, with the turbidity you should expect from an unfiltered beer. Modest head. Decent lacing. Head dies down to a thin film with a few small islands of foam.
The aroma isn't half bad, with pine and grapefruit notes quietly playing along side some muted caramel sweetness. About what you would expect from the style. Easily the best thing about this beer. Because it's downhill from there I'm afraid.
The easiest way for me to describe the taste would be Sierra Nevada Pale Ale watered down. And slightly sweeter towards the end, yet it finishes dry. Decently bitter for an Ontario beer, but lacking in enough malt to really make it work. I'd love to see more malt, a little more bitterness and way more hop flavor here.
The mouthfeel really lets things down. It's thin, watery and light and it lacks a modicum of body or richness.
Say what you want about Trafalgar, I can't help but feel they at least WANT to do good things. And this is a decent attempt, mostly because the dry hopped aroma acts like a crutch for the taste. But there is much room for improvement here.
1,294 characters

2.7
/5
rDev
-6.6%
look: 3 | smell: 3 | taste: 2.5 | feel: 3 | overall: 2.5
A: Copper with a thin ring of light tan head, plenty of haze, no retention or lace.
S: Some citrus hops, grainy biscuit & caramel.
T: Light apricot, grapefruit & rind, grainy biscuit, balanced bitterness, unfortunately some oxidization/cardboard-like flavour.
M: Light to moderate body has a modest carbonation.
D: Below average for a pale.
345 characters

2.68
/5
rDev
-7.3%
look: 3.5 | smell: 3 | taste: 2.5 | feel: 2.5 | overall: 2.5
Pours a hazy russet color with a thin foamy cap. The aroma is grapefruity hops and a heavy dose of malt sweetness. The same Cascade hop profile shows in the taste, as does the near cloying malt flavor. Apricot flavors emerge in the background, as does an astringent sourish flavor, Im guessing a yeast defect. The mouthfeel is thin and vapidly carbonated. The finish is grapefruity and malty and somewhat soapy.
This is a mediocre beer that I wouldnt recommend. Too many funky flavors mess with the commendable level of hopping for an Ontario brew.
549 characters
2.17
/5
rDev
-24.9%
look: 2 | smell: 2.5 | taste: 2 | feel: 2.5 | overall: 2
Come on Trafalgar!
I'm not the one to be a stand out from a Raised Fist lyric either
"You got nothing to say and that scares me"
When Trafalgar hit it bang on with their Rye beer I wrote the brewery personally and congratulated them. Even the Celebration Ale was great, the Hop Nouveaux excellent!
But talk about hit and miss - this brewery pumps out a lot of beer - and they keep having the same problems! Inftections, bottling...I mean come on Trafalgar - I am rooting for you - keeping quiet doesn't accomplish anything - but are they listening?
Poured a cloudy deep opaque orange light amber colour - nice, but too cloudy - this stuff looks like homebrew bottled straight from primary.
The smell was ripe with cascade hops blanketing a lack luckluster homebrew - Another brew using hops to cover up. Some sweet tones in the back, honey like.
Tasted sharp and sweet - hoppy and bitter; that was nice - cascades galore, but more blanketing as a limp liquid followed.
I like the crisp bitterness from the hops - and I liked the no prickity prick of an over carbonated brew - that was easy though, cause there must have been another fuck up at bottling causing this one to come across as a beer flavoured drink.
Drinkab...aw screw it
Look Trafalgar - this is barely reviewable stuff - and I doubt this flaming review even has your ears burning - Get it together.
I will pick up your next offering, and do wish you the best - but with your continued lack of care your making this relationship trying.
1,510 characters
2.09
/5
rDev
-27.7%
look: 3.5 | smell: 2 | taste: 2 | feel: 2 | overall: 2
Bottle: Poured a clear amber color ale with large light brown foamy head with good retention and minimal lacing. Aroma of sour with lemon is not the most pleasant with some acid hops. Taste is a weird mix between some unrefined cereal malt with some acid lightly citrus hops and an out-of-place lingering sourness. Body is about average with good carbonation. Not as bad as some of the other offering from this brewery bit still not that great.
444 characters
Trafalgar Left Coast Pale Ale from All or Nothing Brewhouse
2.89
out of
5
based on
13
ratings.