Brauhaus Sion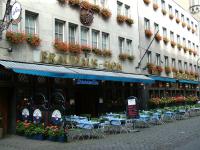 PLACE INFO
Type:
Brewery, Bar, Eatery
Unter Taschenmacher 5-7
Köln
, 50667
Germany
+49 221 2578540 |
map
brauhaus-sion.de
Notes:
No notes at this time.
Added by allboutbierge
Ratings: 14 | Reviews: 7
Reviews by Hobbz:

4
/5
rDev
+7.8%
vibe: 4 | quality: 4 | service: 4 | selection: 4
Sion Kölsch is among my personal middle-echelon ranking of Kölsch biers, yet Brauhaus Sion is a convenient find (steps down from the Dom in the direction of the old market square). Offering a traditional and somewhat friendly atmosphere and plenty of good, fresh-brewed beer. We situated ourselves at the Schwemme standing area at the main service bar and watched intently our sever continually pour a mass of beer into handsomely-decorated glasses, all picked up by waiters almost as soon as they were stationary. From time to time he would glance over, and with the smallest nod, we were provided with fresh beers as soon as our glasses were within a single sip of being emptied. After a short time, they would just be poured for us without motioning. He knew our business well enough.
As I took in the social scene I noticed that this place seems to be frequented by locals and tourists alike. And not all tourists were from foreign lands. A few folks were chatted with were from the north (Schleswig) and the others were from the south (Ulm).
After a couple more, I asked the tender that I would like to settle the bill, after adding in four glasses (most establishments will do this for you if you want to take a souvenir or two). He wrapped them up in several bar serviettes and we were off to journey in search of more Kölsch.
1,343 characters
More User Reviews:

4.18
/5
rDev
+12.7%
vibe: 3 | quality: 5 | service: 3.5 | selection: 4 | food: 5
3.75
/5
rDev
+1.1%
vibe: 3.5 | quality: 3.75 | service: 3.75 | selection: 3.75 | food: 4

3.4
/5
rDev
-8.4%
vibe: 4 | quality: 3 | service: 4 | selection: 3
This is the place I went to while my sister and brother in law went to the Cathedral. This was during the Christmas market time, so everyone else went shopping. I had a decent little Kolsch, instead of freezing outside with everyone else. A good trade, in my opinion.
267 characters
3.86
/5
rDev
+4%
vibe: 3.5 | quality: 4 | service: 4 | selection: 3.75 | food: 3.75
3.75
/5
rDev
+1.1%
vibe: 3.75 | quality: 3.75 | service: 3.75 | selection: 3.75


3.48
/5
rDev
-6.2%
vibe: 3.75 | quality: 3.75 | service: 3.75 | selection: 2.75
I though Scion was a brand of car. Oh, SI-ON? Sorry, my bad. The last of the kolsch breweries which I was able to visit in the city, Sion is a short walk from the Gaffel Haus and has a lot of seating on its patio. It was a little shady because the patio isn't located in a large and open area. Only one beer is served, and it is the house kolsch, which is a pretty good one, and served in small 200 ml glasses (like the rest of Cologne) at €1.70 a glass. While Sion is a respectable place on its own, it doesn't have a killer patio or have a killer kolsch, in case you were on limited time in the city. But for the kolsch enthusiast, it should be worth stopping at.
667 characters

3.68
/5
rDev
-0.8%
vibe: 2.5 | quality: 4 | service: 3.5 | selection: 4 | food: 3.5
2nd stop of our Kolsch tour on 10/07/2010
Location is about 5-10 min walk from Hbf.
Lots of outside seating for summer, but this was definitely the quietest pub we were in that day!
We sat outside, but inside is traditional, barrel pouring area, long and round tables of dark wood. Deceptively big.
Kolsch was certainly fresh albeit not the best example of the style.
I didnt get food, but my drinking buddy god a beef consumme soup with veg. He seemed to enjoy it.
Service was ok, reason i say that was when my mate ordered food, in my broken German, the kobe seemed to try to communicate he was finishing in 5 mins so his mate would take the order. Then he took the order and another Kobe brought it. So really no complaints, efficient as always!
Only Sion Kolsch to be had, but thats expected.
Certainly a pub to stop at if passing, but i wouldnt go out my way to find it.
883 characters

3.58
/5
rDev
-3.5%
vibe: 4 | quality: 4 | service: 3.5 | selection: 3 | food: 3.5
This was our last stop before heading for the airport to return to London.
There were some colourful characters around at the time, as a carnival was on somewhere in the city (couldnt find it).
The building is your usual fare (barrel area and couple of rooms for dining / drinking). Beer was solid, a spicy style of Kolsch with a touch of fruit cocktail to it. The glasses they use are the nicest I saw during our trip.
We needed a small meal so we ordered a frankfurter with mash each at 6:50 each (cheaper option on the menu so thought it would be small). It was huge and nice - did the job.
Nice place without being a worldbeater.
639 characters
3.53
/5
rDev
-4.9%
vibe: 3 | quality: 4 | service: 3.5 | selection: 3 | food: 4
Close to the cathedral.
The place is huge! Many rooms and an army of waiters. No real effort has been put on decoration. Wooden tables, but no wooden floor, which I missed. The service was quite fast and efficient, although quite cold as usual there. I got leberwurst first and then a giant apfelstrudel. Both were quite good (although pretty heavy), and they made me feel like I cared more about their food than their beer. Maybe not though. Nothing exceptional really, but nothing bad. Selection as always in Koln is just one beer, which doesn't deserve more than a 3...
574 characters
4.05
/5
rDev
+9.2%
vibe: 5 | quality: 4.5 | service: 4 | selection: 3 | food: 4.5
Brauhaus Sion is located roughly a five or less minute walk from the Dom, but can be hard to find if one does not know the area. Its located right between the Altstadt area and the Dom down an alley that runs perpendicular to Peters Brauhaus.
The entire establishment has been recently remodeled but still retains that 'old Kölsch brauhaus' feel. Tables are all sanded smooth, wood decor everywhere, and loud people just having a good and carefree time. This place fills in quick so make reservations or come earlier. However, they do allow for standing room only drinking in the dining rooms. As long as your not out for a quite night with the missus you'd probably love the atmosphere.
Service is good and the 'Kerbies' (Kölsch slang for waiters) are multilingual and very professional. Most have been doing this job for years and years and therefore take their jobs very seriously. Beers are replaced with impunity. The menu is written in French, German, and English in case your German isnt so good or if you dont want to order by the close your eyes and point method.
Its a Kölsch bar which means that the only beer your probably going to be offered is Kölsch. If thats not what you want, don't go. The liqour and wine list is fairly extensive and offers a dozen or so different wines from the past several years (mostly Reislings) from the area by the glass or bottle.
The food menu is seemingly endless. Offerings go from a chicken salad (don't feel your chickening out by ordering this though, its a unique German take on it) to three kings of würst. Everyone at my table loved what they ordered; the portions were also quite large.
Bad news though. The evil empire recently bought the holding company that owns Sion, Gilden, and serveral small Kölsch breweries. I haven't heard what their corporate plans are but from past precedence it can't be good. But, Kölners are proud of their beer so Im sure Sion and other said victims won't become flavorless water.
1,989 characters
Brauhaus Sion in Köln, Germany
3.52
out of
5
based on
54
ratings.