Amsterdam Boneshaker IPA

Amsterdam Brewing Company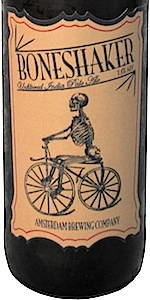 Write a Review
Beer Geek Stats:
| Print Shelf Talker
Style:

ABV:

7.1%

Score:

Avg:

3.91

| pDev: 11.51%

Reviews:

108

Ratings:

From:

Avail:

Year-round

Wants

Gots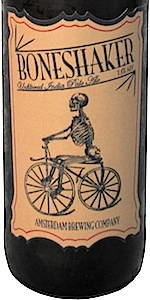 Notes: Hop Heads rejoice! This naturally carbonated, unfiltered I.P.A is loaded with citrus and pine aromas from a continuous hopping technique that our brewers use to create this one of a kind beer. Amarillo hops and a complex malt bill are used to create a balanced body with a large hop character giving way to a unique taste experience.

65 IBU
Reviews: 108 | Ratings: 383

3.06
/5
rDev
-21.7%
look: 4.5 | smell: 3.5 | taste: 3 | feel: 2.5 | overall: 2.5
The Amsterdam Brewery started out as a brewpub in Toronto in 1985, the first of its kind here. Since then is has evolved to a fully operation brewery servicing Ontario and the surrounding markets. I have also been around since 1985, but I have never had a beer like this from Amsterdam. I am used to their Frambroise, the Nut Brown, Blonde, or their seasonal Pomegranate Wheat. Even their recent Oranje Weisse was very familiar; all in the 5% range, none of them really taking any chances - each of these beers are very politically acceptable we'll say.
The Boneshake though, this is a very different story. Amsterdam is calling it an Unfiltered India Pale Ale, however I would more appropriately call it a Double IPA. It is 7.1% abv, and packs a bitter punch that could not be rivaled by a case of any of their other beers. That being said, I was very excited to try this. I love it when breweries stop focusing on what the market thinks they want, and brewers just brew. The Americans have been doing it for years, and with huge success! In a market which is declining in the U.S., craft beer continues to increase in sales. I'm about to see if Amsterdam has caught onto the idea.
The Boneshaker is a limited production run with only 80 cases being produced and sold directly out of the Brewery's on-location stone. It comes in a 500 ml bottle with a very old fashioned style label depicting a skeleton riding a rather rickety looking bicycle. I'm not sure what the IBU's (International Bitter Units) are on this beer, but they are definitely higher than any beer they have produced before.
Immediately this beer made me smile - with a gentle pour down a tall Amsterdam glass it build a densely fogy amber down beer with a lush, creamy, and tightly carbonated 2 to 3 inch pillowy head. The foam was a touch off-white resting perfectly with superb retention on top of a glowing red brick beer. Hints of golden orange and copper shine through the edges with a smooth haze. This beer stood tall and proud just perfectly in the glass; absolutely a gorgeous double IPA.
The nose bring a big rush of bitterness upfront and hints at citrus and spice. It is very raw bitter right away with almost a lack of flavor aromas. Slowly though you can pick up grapefruit peel, including the white bitter rind. It shows a floral and herbal freshness with a touch of sweet malt - but the overbearing sensation here is a raw and potent bitterness.
The initial taste greatly reflects the aroma. The first cool wave of beer pours over your palate easily with mildly creamy carbonation, but brings a thick wave of bitterness and hops. More just the bitter sensation though. The hops are somewhat subdued right now, but as the beer warms up greater freshness and citrus peel becomes apparent. Grapefruit, lemon and lime show their place, and again the faint notes of herbal freshness comes in. There is a touch of white pepper in the background and the roundness of whole hops.
Malt sweetness does shows up a bit more now was the beer nears cellar temperature; its brings a lightly caramel and sugary sweetness in the back that gently rolls off your tongue and really hits you in the cheeks. The malt, citrus, and herbal flavors here all are in the background of the beer though, the overpowering sensation is this very rich, but very raw bitterness. I was actually really enjoying by now, halfway through the beer - but for the regular Amsterdam Beer drinkers it may be too much to fast.
Its as if all the hops went into the kettle right away for bittering, but none if any were added close to the end for flavor or aroma (the longer a hop remains in the boil the more bitter it becomes, and less actual flavor remains). This does all help to create a massively quenching beer that finishes dry and tart, with an aggressive bitter end that lingers. I could still feel the bitter 30 minutes later on my palate.
To me the Boneshaker is just unbalanced right now and has become very one sided. A bigger malt backbone needs to be present to balance the bitterness, and some fresh aroma hops needs to be added so that the only bitter here isn't just raw sensation of power. Overall a great start by the Amsterdam team, I will be excited to see what comes of this!
4,246 characters

3.73
/5
rDev
-4.6%
look: 4 | smell: 3.5 | taste: 4 | feel: 3.5 | overall: 3.5
500ml bottle from the brewery. Pours a hazy and deep amber orange with brownish, copper hues and two fingers of rocky, cream coloured head. Some lacing sticks to the pint glass. Smell and taste are floral aromas, seaweed, green tea, touch of sulphur, lemon grass, brown sugar, some toasty nuttiness from the caramel malts, and a biting, citric, leafy hop spiciness to end. Medium mouth feel, prickly carbonation, a tad milky, lingering citrus bitterness in the aftertaste, slightly acidic. A straightforward English IPA with a flowery, tannic essence. At 65 IBUs, its more bitter than traditional interpretations of the genre, but that's definitely not a bad thing. Give this a try if you like the style.
704 characters
3.7
/5
rDev
-5.4%
look: 4 | smell: 4 | taste: 3 | feel: 4 | overall: 4.5
500ml bottle which I picked up from the brewery store. Pours an extremely murky toasted caramel color with 2 fingers of foamy head which recede into rocky crags and then to a collar, attaching chunks of sticky lace to the sides of the glass.
Nose is an initial burst of piney hoppy goodness with a generous dose of citrus rind. It quickly dissolves into a toasty caramel malt with hints of nuts.
A bit of an odd duck - Imperial ESB? Toasty malt with some caramel and nuts, a hint of piney hops, a pleasant bitterness which has a resiny/oily spicy and grassy quality, a hint of honey. Not your typical West Coast IPA but surprisingly enjoyable. Smooth body, balances nicely between bold and drinkable, tipping at times toward drinkable. I would gladly sup with this pint at any pub, one of the best things to come from Amsterdam.
Edit: After a few more bottles I have to edit down slightly, this beer is just too rough around the edges to justify the score I gave it - bitterness borders on astringent, especially as it warms, alcohol comes across as a little fusel at times, all the aspects could be a little more integrated - still not a bad beer, just not as refined as I would prefer.
1,190 characters

3.83
/5
rDev
-2%
look: 4.5 | smell: 4 | taste: 3.5 | feel: 4 | overall: 4
Boneshaker looks turbid and agitated; tones of sandy brown and pumpkin orange have been tossed about, the clarity has been upset by a ruffling haze and its surface is lined with fully roused, well churned carbonation. It looks like the bottle was physically shaken before opening. Knowing that's not the case, I'm impressed with how fomented this looks.
The aroma honors all of the harshly bitter and scathingly acidic character of fruits like grapefruit and orange without advertising much (if any) of their bright flavours and lush juiciness. It is intensely pithy, a sensation compounded by a stunted, but belligerent, amount of alcohol. No malts have the strength or courage to stand in the hops' way.
You never really can seem to shake off that stunted, but intently belligerent, dose of alcohol. On certain sips it fuses with the citric hoppiness to make for a kind of spicy, almost fusel-like sting in the mouthfeel. The hops' dry pithiness is kept afloat by a kind of graham cracker, sponge-cake like maltiness that dilutes all those seething, bitter alpha-acids. Still, the impression left on the palate is roughly leafy, citric and herbal.
I like my IPAs to taste like some kind of lychee, orange, pineapple, grapefruit martini and, gosh darned, it must finally be happy hour here in Toronto. The best part about this beer isn't even its hoppiness - which, frankly, I actually find astringent - but rather the relief of not having to chew your way through mounds of thick caramel malts to get to it.
Good on Amsterdam for telling the world we Canadians aren't all smiles and sunshine and that, from time to time, we are capable of making an aggressive, obnoxiously hopped beer. Nothing about this says politeness, refinement or complaisance - it doesn't try to be affable and, indeed, to most drinkers it won't be. Which, in short, is why it's good.
1,867 characters

4
/5
rDev
+2.3%
look: 4 | smell: 4 | taste: 4 | feel: 4 | overall: 4
500 ml bottle from the brewery.
Pours a deep hazed copper ale in the glass with a massive frothy cap that laces the hell out of the glass sides (lots of malt in this one)
Aroma is not startling but pleasant: wafts of sweet amber malts over floral-citrus leafy hops, some fruity esters....soft pleasing nose.
Sturdy body, moderately soft mouth feel, malty character.
Big chew on caramalt in front, decent balance with citra-resinous hopping, some fruitiness mid palate, long malty finish with a hop sting at the end.
Well made, malty but in good balance. Not a UK IPA or a US micro APA but a (Dutch?) style IPA...has all the rounded mellowness of a Dutch brewed beer.
672 characters
3.93
/5
rDev
+0.5%
look: 4 | smell: 3.5 | taste: 4 | feel: 4.5 | overall: 4
Pours a hazy peach-orange mix with a finger of creamy off-white head. Nice retention and lace. The nose is a touch muted, but immediately brings marmalade to mind, with its zest citrus notes, though there's also a admirable biscuit malt backing.
More than anything, this seems like a cross between an American and a British IPA, and I'm comfortable with the fact that it doesn't neatly fit into one camp or the other, and in fact, its bizarrely representative of Canada. What it does have is a bracing bitterness that compares well with anything south of the border. Its accompanied by big citrus notes - mainly orange marmalade and light grapefruit - but backed with a prominent biscuity maltiness that provides a great balance. Notes of peach and mango peek through, as does the occasional hint of a floral, malty British ESB. The alcohol is well hidden.
I'm really impressed by the body, which is quite substantial for the style, and provides a depth which really boosts the flavour. Its kinda neat, because Amsterdam often have problems with carbonation, but this one really hits the mark.
Overall, a very competent ale, pitched somewhere between Plymouth and Plymouth Harbor. A style defier that's well worth trying, and a local IPA that actually lives up to the expectations of the style. Finally.
1,306 characters

4.18
/5
rDev
+6.9%
look: 4.5 | smell: 4 | taste: 4 | feel: 4.5 | overall: 4.5
Bittered with Chinook, finished with Amarillo, 7.2% abv.
A: Hazy copper-amber with an off-white head, good retention, excellent lace.
S: Tangerine and plenty of leafy/grassy hops.
T: Tangerine, grapefruit rind, pine, nectarine, biscuity malt, peach, vanilla, candied pineapple, smooth bitterness, hints of alcohol.
M: Moderate body is smooth with plenty of hop acidity and a nice crisp finish.
D: A great drinker, despite its strength.
Thankfully this isn't another Canadian IPA muddled up with sweet crystal malt. Great stuff.
534 characters
3.94
/5
rDev
+0.8%
look: 3 | smell: 4 | taste: 4 | feel: 4 | overall: 4
Enjoyed on tap at C'est What Spring Festival. Hoppy aromas. Giant grpaefruit flavours. Above-average mouthfeel. Very fresh and decent drinkability. Amsterdam shows what it can do in a small batch, and one of the winners of this festival. Understated carbonation, but good balance with caramel malts, so that about 50-60 IBU came through nicely balanced.
353 characters
Amsterdam Boneshaker IPA from Amsterdam Brewing Company
Beer rating:
88
out of
100
with
383
ratings